description

Rome Chauffeur Transfers provides private transfer services in deluxe vehicles to and from Civitavecchia Cruise Port.
We have the necessary license and security clearance to access all ships inside the Civitavecchia Cruise Port for convenient pick-up and drop-off directly on the pier next to your ship.
We make your private Rome Civitavecchia Port Transfers easy, comfortable, and convenient with reliable service you can rely on.
Please utilize our easy-to-use online booking form to book your Civitavecchia Port Transfers.


*** EMBARKATION AND DISEBMARKATKION TIMES AT CIVITAVECCHIA
Please contact your Cruise Line prior to booking to receive your EMBARKATION TIME and DISEMBARKATION TIME so you may book your Civitavecchia Port Transfers are accurate times.
Changes in pick-up times must be requested via E-Mail no less than 48-HOURS in advance. ALL requests for pick-up time changes are subject to availability and are not always guaranteed.
CIVITAVECCHIA TRANSFERS Special Prices List:

For 1-2 passengers: 140 Euros
For 3-4 passengers: 150 Euros
For 5 passengers: 160 Euros
For 6 passengers: 170 Euros
For 7 passengers: 200 Euros
For 8 passengers: 250 Euros


* FIUMICINO AIRPORT - CIVITAVECCHIA TRANSFER - Prices Listed include Transfers between Fiumicino Airport and Civitavecchia.
** CIAMPN0 AIRPORT - CIVITAVECCHIA TRANSFER Prices are 10 EUROS EXTRA due to greater distance and driving times.
PRICES LISTED are for Day Time Port Transfers booked between 7:00 AM – 7:00 PM.
Night-time Port Transfers booked between 7:00 PM – 7:00 AM are 10 EUROS extra.
PRICES LISTED include 1 pick up / drop off location. If you require multiple pick-ups or drop-offs, please send us an email with the details of your multiple pick-ups or drop-off requirements for new price quotes.
Child safety seats for children up to 8 years of age are provided upon special request in the Message Box of the booking form.
* NOTE: Minivans for 4-8 passengers can accommodate a maximum of 6 suitcases and 6 small carryons. Excess luggage may require a 2nd vehicle.




How to Book your Transfer from Airport to Civitavecchia:
When booking your transfer online, please select the TIME as your actual Flight Arrival Time. Your chauffeur will arrive approximately 40 minutes after flight has landed.
If you use @HOTMAIL, @YAHOO, @AOL, @COMCAST, @NETSCAPE... these email providers experience frequent issues with receiving legitimate emails. Always check your Spam Folder and Whitelist our email address.
CIVITAVECCHIA TRANSFERS PRICES INCLUDE:
Private comfortable climate-controlled Vehicle
Personal Transfer Chauffeur
All applicable Taxes
All applicable highway tolls and road expenses


CIVITAVECCHIA TRANSFERS PRICES DO NOT INCLUDE:
Gratuities
Additional Unscheduled stops
Multiple stops (* please inquire within if you require more than 1 pick up or drop off location)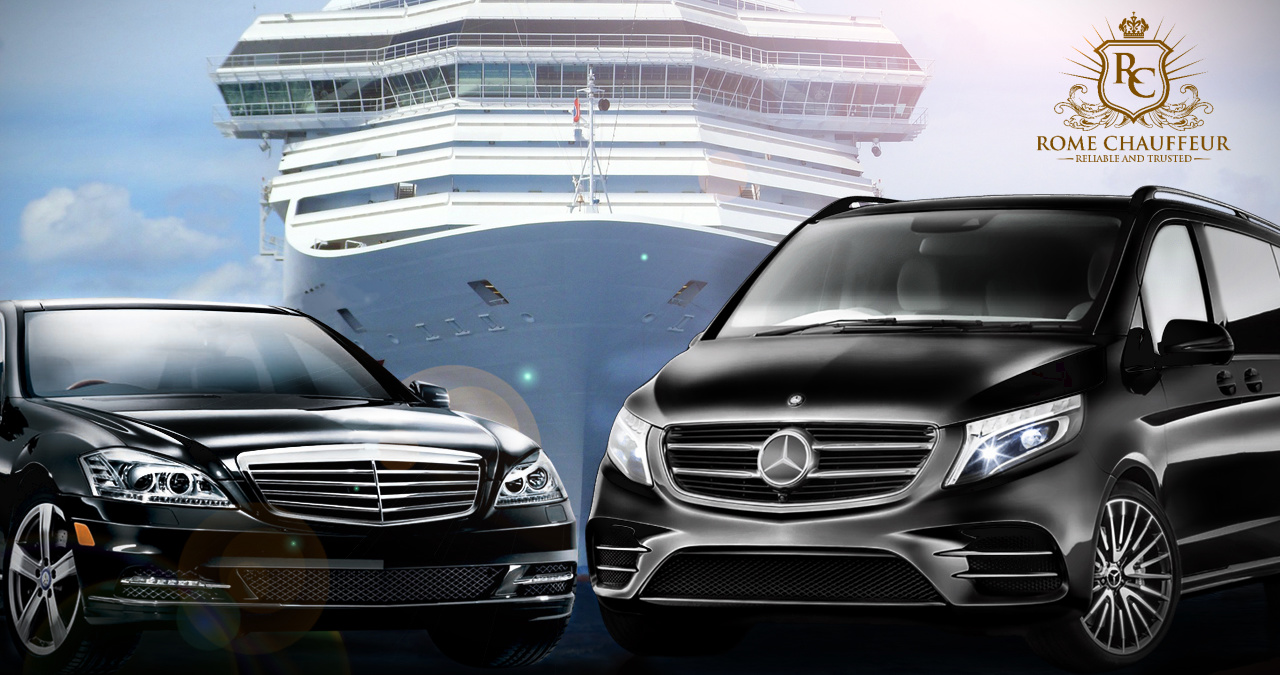 WHERE TO MEET YOUR ROME CHAUFFEUR:


From Rome Hotel to Civitavecchia Transfers:
For private Civitavecchia transfers from Rome hotel, your Chauffeur will meet you either in the lobby of your hotel or in an area authorized by the hotel.
If you will be staying in a B&B or rental apartment without a lobby, your chauffeur will meet you outside at your address. If your accommodation is situated on a street or square with traffic restrictions, or if the vehicle is unable to stop or park, your chauffeur will park the vehicle as close as possible in accordance with local traffic regulations and meet you at your address on foot to assist you to the parked vehicle. This also applies to Drop Off situations where it's not possible to access or stop in front of your accommodation.


Transfers from Civitavecchia Port to Rome or Airport - Meeting Point
For a private transfer from Civitavecchia to Rome or to the airport, your chauffeur will meet you on the Pier next to your Cruise Ship where all other Private Drivers are designated to wait for their clients. Please look for your chauffeur who will be holding a sign with your Name as in your Booking. All vehicles are parked nearby as required by Port Authorities.
Do NOT leave the pier area or the port, and do NOT take any buses or shuttles that will take you outside the port.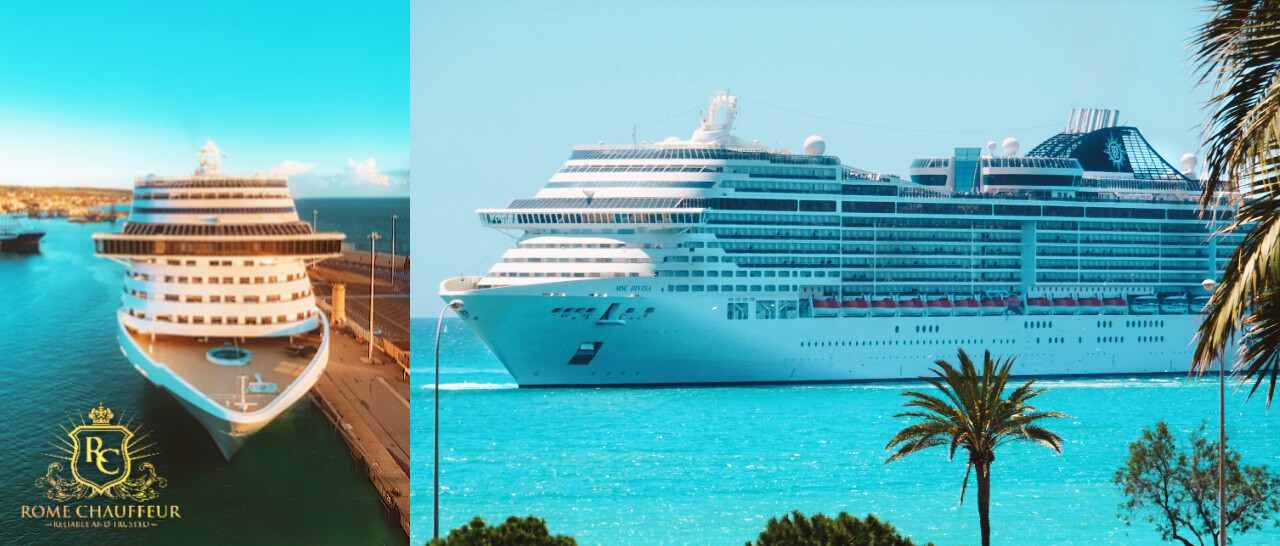 From Rome Airport to Civitavecchia Transfers


*** IMPORTANT NOTICE - This MEETING POINT information is intended for post-pandemic travel when normal travel activities resume. If booking for the near future you will be informed of any Temporary FCO Airport Meeting Points as per current Covid Safety Measures. If you are traveling in 2022 check with us before your trip departure date for any new information or updates.

For transfers from Rome Fiumicino Airport to Civitavecchia Cruise Port, there are two terminal meeting points:


FIUMICINO AIRPORT TERMINAL 3 MEETING POINT:
After you clear customs and collect your luggage, exit the "Baggage Claims area" into the main waiting hall of the terminal. All chauffeurs will be in the terminal main waiting hall in the designated area for Private Drivers marked by large gray and orange columns.


FIUMICINO AIRPORT TERMINAL 1 MEETING POINT:
After you clear customs and collect your luggage, exit the "Baggage Claims" area into the main waiting hall/corridor. Your Chauffeur will meet you in the long corridor near the large gray and orange column.

* NOTE: Flights arriving at TERMINAL 2 or TERMINAL 5 will exit through TERMINAL 3

Your Chauffeur will arrive at the designated Meeting Point area approximately 40 minutes after your flight is shown to have landed at FCO Airport to allow you time to clear customs and collect your luggage.
Designated parking area for Chauffeur Service Vehicles is approximately 300 meters walking distance. Curbside pick-up is prohibited at FCO Airport.
Please WATCH THE VIDEO below that shows you where to meet your personal chauffeur at FCO Airport Meeting Point area.
CIAMPINO AIRPORT TO CIVITAVECCHIA TRANSFER:
Ciampino Airport is small with only 1 exit point. Simply exit the terminal into the waiting hall through the sliding doors, and you can easily locate your chauffeur who will meet you there.

* Booking FIUMICINO AIRPORT FCO TO CIVITAVECCHIA PORT TRANSFER? - PLEASE WATCH THIS VIDEO THAT SHOWS YOU THE FIUMICINO AIRPORT MEETING POINTS


Important Information

* NOTE: Please READ carefully the Important Information below, as well as Read and Accept ALL our Terms of Service and Privacy Policy before booking.

Our English-speaking staff will respond to reservation requests within 24 hours.
Please complete all the fields required in the booking form and be sure the information provided is accurate; failure to provide accurate information may result in our inability to provide you with the intended service.


PAYMENT METHODS:
You may prepay for your Civitavecchia Transfers via PayPal or Credit Card at the time you confirm your booking online, or you may pay in EUROS to your chauffeur at the end of your chauffeured service. Refunds on Prepaid Services will be issued NET RATE only.



CANCELLATION ADVISORY:
Transfers may be canceled NO LESS THAN 24 HOURS prior to your Transfer.
If you have prepaid for a Civitavecchia Transfer, please be sure to cancel prior to 24 hours of your Service so you can be issued a refund. Refunds for last-minute cancellations less than 24 hours or No Shows are NOT issued.

* CANCELLATION FOR PREPAID SERVICES: Only NET RATE will be issued on prepaid services. Net Rate is what we receive from your prepayment after PayPal / CC takes out their fees which they don't reimburse us in case of refunds. Therefore, we are only able to refund what we receive from you after PayPal/ CC takes out their fees.


READ BEFORE BOOKING: INFORMATION ABOUT CIVITAVECCHIA TRANSFERS
IMPORTANT LUGGAGE INFORMATION:

Sedans can accommodate up to 2 suitcases and up to 2 small carryons. Beyond that, please request a minivan upgrade at an additional rate.
Vans can accommodate a maximum of 6 suitcases and 6 small carryons. Beyond that, you will require a 2nd vehicle at the cost of a 2nd transfer.


LUGGAGE ASSISTANCE: Your chauffeur will be happy to assist you with your luggage into and out of the vehicle to your hotel or address the main entrance. Beyond the main entrance of your hotel or apartment building, please secure luggage assistance with your Hotel Porter or Apartment Host. Our chauffeurs will not be able to carry luggage into the building, or upstairs/downstairs.


BOOK A PORTER SERVICE: If you are staying inside an apartment building without elevators and require luggage to be brought to your apartment, you may reserve our PORTER SERVICE at 25 EUROS, and we will reserve a special chauffeur who will be able to assist you with our luggage inside your apartment building. Without Porter Service Reservation, your chauffeur will only be able to bring your luggage to the main entrance of the building without further assistance inside the building.


For all our standard transfers we provide professionally licensed chauffeurs. Transfer Chauffeurs speak Italian or some very limited English. English-speaking chauffeurs are primarily Tour Chauffeurs where English is required for tour commentary. If you prefer English-Speaking chauffeurs, please book one of our Pre Cruise Tours from Rome to Civitavecchia.
What is the recommended pick-up time for a transfer from Rome to Civitavecchia?
The generally recommended pick-up time from Rome to Civitavecchia is between 11:00 AM to 1:00 PM
Travel time from Rome to Civitavecchia is approximately 1 Hour and 30 minutes.
What is the recommended pick-up time for a transfer from Civitavecchia to Rome?
The general recommended pick-up time from Civitavecchia to Rome is 8:00 AM - 9:00 AM. This is the most common time frame cruisers have disembarked from Civitavecchia post-cruise.
If you book a Civitavecchia Transfer to Rome after 9:30 AM, you risk having to wait on the Pier until your scheduled pick-up time. Last-minute pick-up time changes are subject to availability and may not always be possible.
PICK-UP TIME CHANGES - Embarkation and Disembarkation at Civitavecchia


Always CONFIRM YOUR EMBARKATION and DISEMBARKATION TIMES with your CRUISE LINE prior to booking your Civitavecchia transfers to ensure you book your transfers are appropriate times.
Ship days are very busy, and for the most part, last-minute changes are NOT always possible!
If you wish to request a change in your pick-up time please do so via E-MAIL no less than 48-HOURS in advance. All changes in pick-up times are subject to availability and are not always guaranteed. So please be sure to book your transfers at your appropriate pick-up times as established by your cruise line.
UPGRADE YOUR CIVITAVECCHIA TRANSFER to a PRE-CRUISE TOUR


Make your pre-cruise morning an unforgettable day in Italy with our choice of PRE-CRUISE TOURS from your Rome hotel to Civitavecchia by car with your personal English-speaking Chauffeur.
Enjoy highlights of Rome on our ROME PRE-CRUISE TOUR or explore the magnificent Roman countryside on our PRE-CRUISE ROME'S ENCHANTING COUNTRYSIDE.
UPGRADE YOUR CIVITAVECCHIA TRANSFER to a POST-CRUISE TOUR


Make the most of your post-cruise day and turn your Civitavecchia Transfer to Rome into an exciting Post-Cruise Tour from Civitavecchia to Rome at the end of the day. Our POST-CRUISE TOURS FROM CIVITAVECCHIA include a private BEST OF ROME TOUR and a ROME COUNTRYSIDE TOUR.