description

PRE-CRUISE ROME'S ENCHANTING COUNTRYSIDE TOUR PRICE LIST


For up to 4 people from Rome Hotel: 470 EUROS
For up to 6 people from Rome Hotel: 550 EUROS
For up to 8 people from Rome Hotel: 600 EUROS


** Please note that this Pre-Cruise Rome's Enchanting Countryside tour is only offered starting from a hotel in ROME. If you will be staying at a hotel in a different city other than Rome or starting your tour from Fiumicino, please send us an Email for price quotes and information.
Make the most of your pre-cruise time in Rome with our Pre-Cruise Rome's Enchanting Countryside Tour and Transfer combination that offers you the opportunity to squeeze in more fun and sightseeing on your way from Rome to Civitavecchia.
If you already visited Rome prior to your ship's departure, we offer you an opportunity to escape the hustle and bustle of the Eternal City and enjoy a relaxing pre-cruise journey into Rome's enchanting countryside to visit the lakeside magnificent medieval Bracciano Castle, have lunch in the ancient medieval hamlet of Ceri, and then be driven by your personal chauffeur to your ship in Civitavecchia ready to start your cruise holiday.
Your Pre-Cruise Rome's Enchanting Countryside Tour begins leisurely drive through the Roman countryside will take you to Lake Bracciano, a pristine volcanic lake that is one of the most popular spots for local Romans when they wish to escape city life for a day.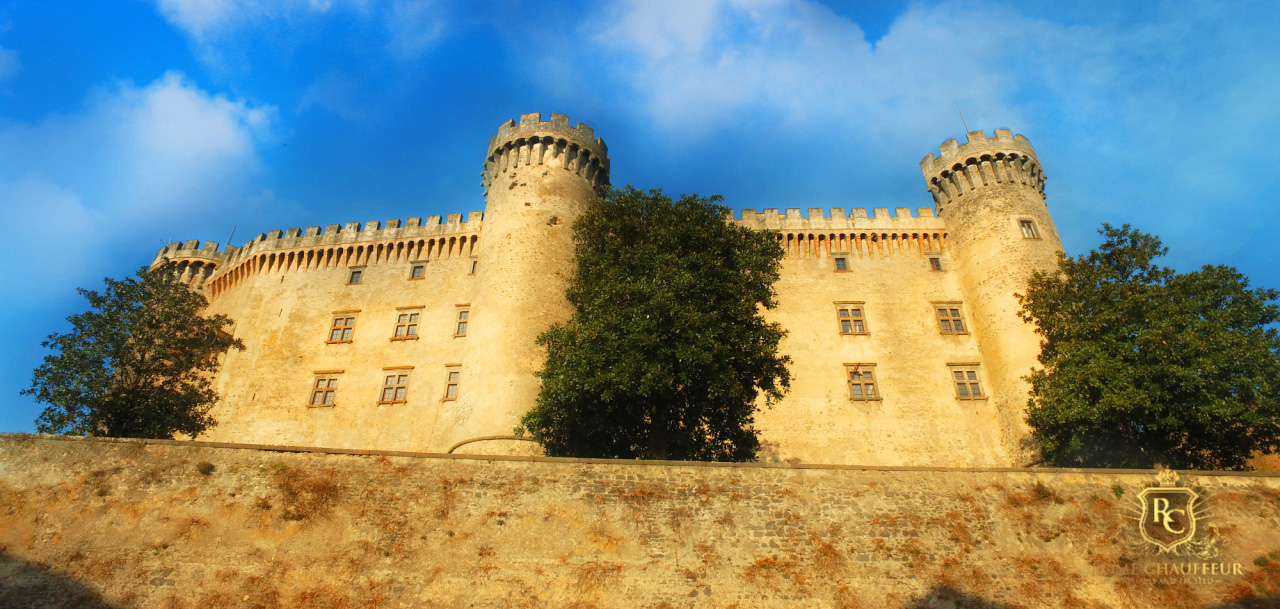 Overlooking the lake is Bracciano Castle (formally named Odescalchi Orsini Castle), located in the historic town of Bracciano itself.
A visit of this imposing medieval military fortress will transport you to distant times in history and enchant you with vestiges of princes, dukes, feudal lords, and noble families.
The castle is still the private property of the Odescalchi family, and the interior of the castle has become a historical museum open to the public to visit.
As you make your way through the castle and private quarters of Kings and Popes, you will see 6 centuries worth of beautiful artwork, opulate furniture, Medieval and Renaissance era weaponry, books and manuscripts, providing you with a genuine glimpse into the private spaces and lives of some of Italy's most powerful historical figures.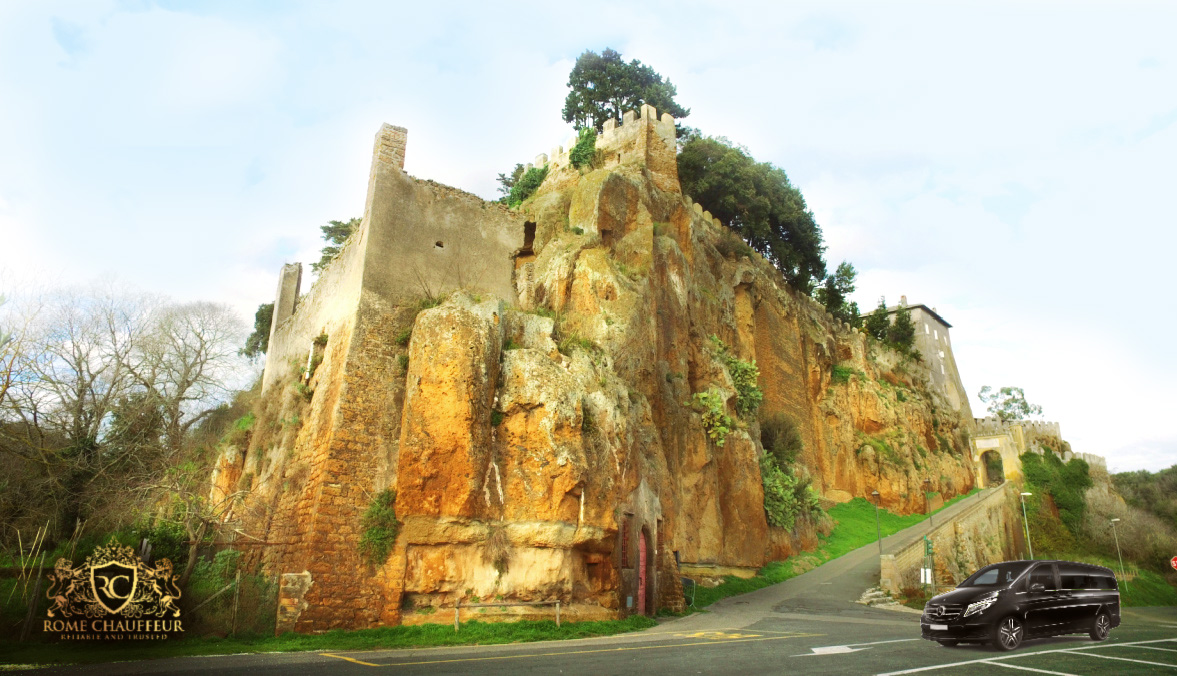 Following Bracciano, you will continue through the countryside side to Ceri, a small fortified medieval hamlet nestled on top of a steep cliff. Time appears to have stood still for more than a thousand years in Ceri, making it one of the most charming historical villages in the region.
Food is excellent in Ceri, and the family owned restaurants here draw in many locals who travel to Ceri from nearby towns and cities to enjoy the atmosphere and the delicious cuisine.
After lunch you will be driven to Civitavechia where you will be delivered by your chauffeur right on the pier next to your ship for quick and easy embarkation.
Important Information

Please Read and Accept our TERMS OF SERVICE and Privacy Policy prior to booking tour or transfer services.


PAYMENT FOR PRE-CRUISE ROME'S COUNTRYSIDE TOUR
The listed price of the tour is per vehicle, not per person. Rome Chauffeur accepts online prepayment via PayPal or Credit Card at the time you confirm your tour, or you may pay on the Date of Service in Euro funds at the end of the tour made directly to your Chauffeur. If at any time you need extra funds on the day of your tour, your chauffeur will be happy to help you locate an ATM machine.


CANCELLATION ADVISORY FOR TOURS
Cancellations must be made at least 7 days prior to your Date of Service. Prepaid services canceled last minute less than 7 days or are No Show on the Date of Service are NOT Refundable.
Cancelations must be made in writing via E-Mail followed by an official cancellation confirmation E-Mail from our office in order for your cancellation to be valid. Cancellations are NOT accepted by Phone, Text, Or through 3rd Party individuals such as hotel clerks, friends, or concierge services.


IMPORTANT LUGGAGE INFORMATION:
Sedans can accommodate up to 2 suitcases and up to 2 small carryons. Beyond that, please request a minivan upgrade at an additional rate.
Vans can accommodate a maximum of 6 suitcases and 6 small carryons. Beyond that, you will require a 2nd vehicle at the cost of a 2nd transfer.
ADMISSION TICKETS
Tickets to Odescalchi Castle in Bracciano are currently 10 Euros per person.
Please be aware that Bracciano Castle may unexpectedly close for private events or restorations without advance notice. If closed upon your arrival in Bracciano, your chauffeur will be happy to take you to explore other lakeside villages such as Trevignano or Anguillara following your visit to the historical town of Bracciano.


* Private Tours of the Castle: Odescalchi Castle offers private tours in English with advance booking at 180 Euros INCLUDING entry tickets. Availability of English-speaking tour guides is limited, please inform us in advance so we can secure this tour. Advance NON-Refundable Prepayment is required to reserve the guided tour. The Castle does NOT issue refunds in case of cancellation.


YOUR TOUR CHAUFFEUR
Tour Chauffeurs are not licensed tour guides, therefore they are forbidden by law to accompany or guide guests to sightsee during the tour. In order to comply with local laws, drivers are required to stay with the vehicle while our guests sightsee.


IMPORTANT CIVITAVECCHIA PRE-CRUISE TOURS INFORMATION:
Allow up to 24 hours for your booking request to be processed and to receive further email correspondence from our booking specialists.
If you do not hear from us within 24 hours, check your spam folder and white list our email address to ensure future delivery

Traveling with children? Upon request, we can provide Child Safety Seats. Please include in the Message Request Box of the booking form your child safety seat request along with the number of children, their ages, and weight in kilograms.


PRIVATE SHORE EXCURSIONS MONEY-SAVING TIP:
HOW TO SAVE ON SHORE EXCURSIONS: Place an. ad on Cruise Critic Roll Call for your chosen date of the service. Make new friends and share your tour and fun with other like-minded travelers.