description
ROME PRE-CRUISE TOUR PRICE LIST


For up to 4 people from Rome Hotel: 470 EUROS
For up to 6 people from Rome Hotel: 550 EUROS
For up to 8 people from Rome Hotel: 600 EUROS


If you are staying in Rome pre-cruise and wish to make the most of your morning in Rome before you depart for Civitavecchia, we offer our guests a half-day Pre-Cruise Rome tour followed by a transfer to Civitavecchia.
Your tour begins at 8:00 AM with your pick up at your hotel accommodation in Rome. At approximately 1:00 PM you will depart for Civitavecchia with a 2:30 PM estimated arrival at your ship.
There is no need to worry about your luggage as your luggage will travel safely with you inside your vehicle's luggage compartment, and upon arriving in Civitavecchia, you and your luggage will be conveniently delivered right on the pier next to your ship for quick and easy embarkation.
** Please note that this Rome Pre-Cruise Tour is only offered starting from a hotel in ROME. If you will be staying at a hotel in a different city other than Rome or starting your tour from Fiumicino, please send us an Email for price quotes and information.
EXPLORE ANCIENT ROME


Our half-day Rome Pre-Cruise tour and Civitavecchia Transfer includes a stop in Colosseum Square for a stroll and to admire Rome's iconic symbol and one of the most famous monuments in Rome: the Colosseum. Enjoy a stroll along the cobbled square a gaze at the imposing monument surrounded by other vestiges of Ancient Roman architecture such as the Arch of Constantine.



ENJOY ROME'S FAMOUS SQUARES


Rome is renowned for its fabulous squares, so a visit to Piazza della Rotonda, the Trevi Fountain, Piazza Navona, and the Spanish Steps are not to be missed!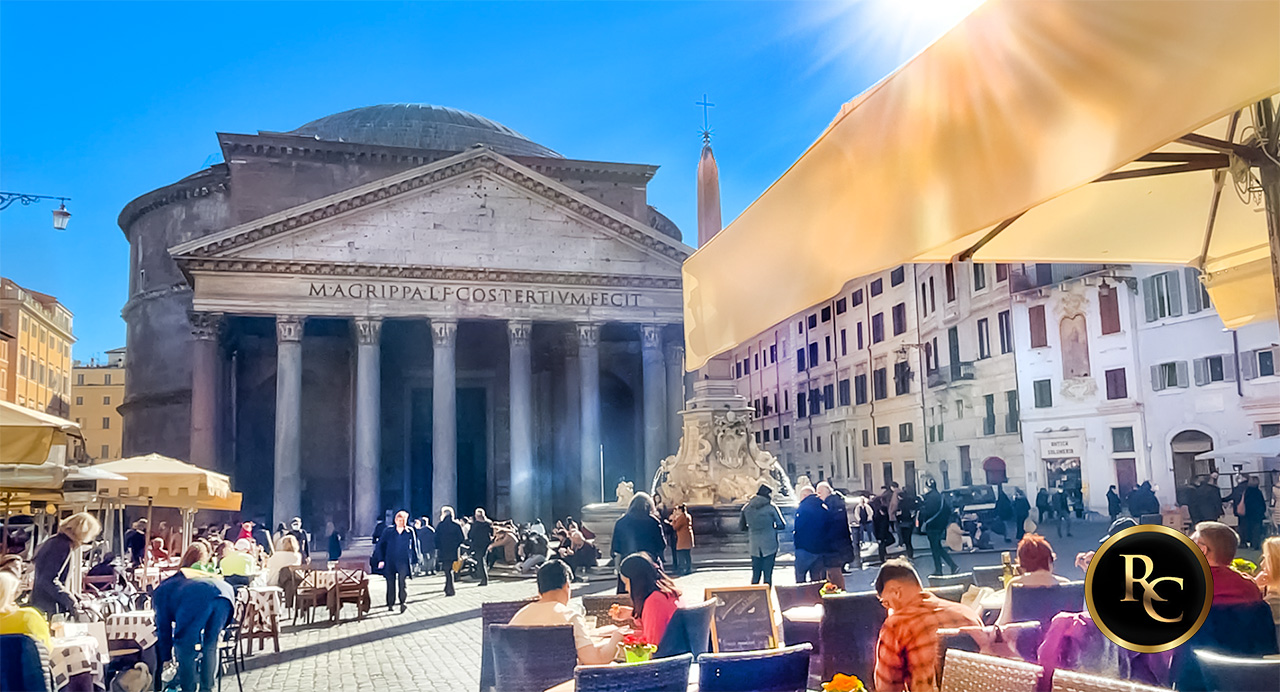 Piazza della Rotonda is a lively square with a magnificent fountain and striking obelisk. The majestic Pantheon dominates the scene, surrounded by pastel-colored historic buildings hosting bustling cafes.
Explore the square, stroll around the circular Panthone, discover the Basilica of Santa Maria Sopra Minerva boasting an ancient obelisk carried by an elephant, browse inviting shops, or savor a creamy gelato from a nearby gelateria.
IMPORTANT: A visit inside the Pantheon is not included in this tour due to the difficulty of obtaining restrictive time slot tickets and potentially long entry lines that would impact your opportunity to enjoy all the other sites on this tour.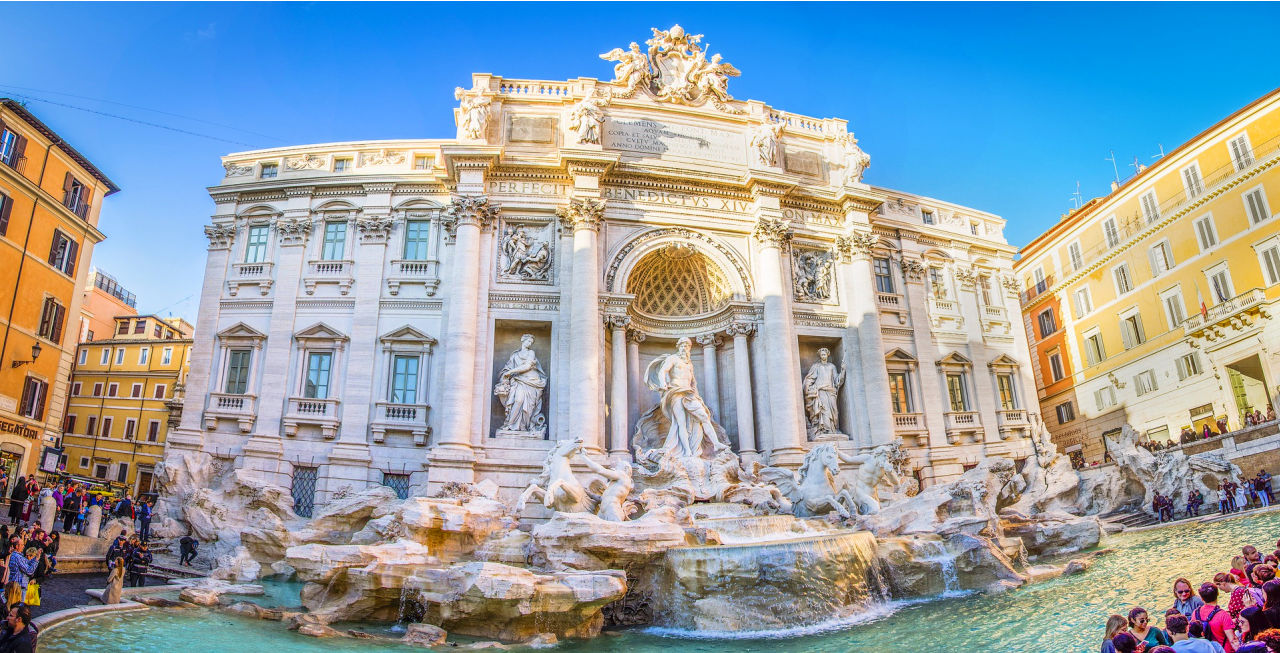 The Trevi Fountain (Fontana di Trevi in Italian) is the largest Baroque fountain in Rome and one of the most well recognized in the world appearing in many classic films such as Three Coins in A Fountain and La Dolce Vita.
Millions of visitors each year follow the timeless tradition of tossing a coin with the right hand over the left shoulder into the Trevi Fountain to ensure a future return to the Eternal City. Not sure if it works? Just ask the return visitors!
The Spanish Steps (Piazza di Spagna) is an elegant stairway that connects the square below and its Fountain of the Old Boat to the Trinita dei Monti church on top.
Picturesque and world-famous, the Spanish Steps was also featured in the classic movie Roman Holiday (Vacanze Romane) with Audrey Hepburn and Gregory Peck.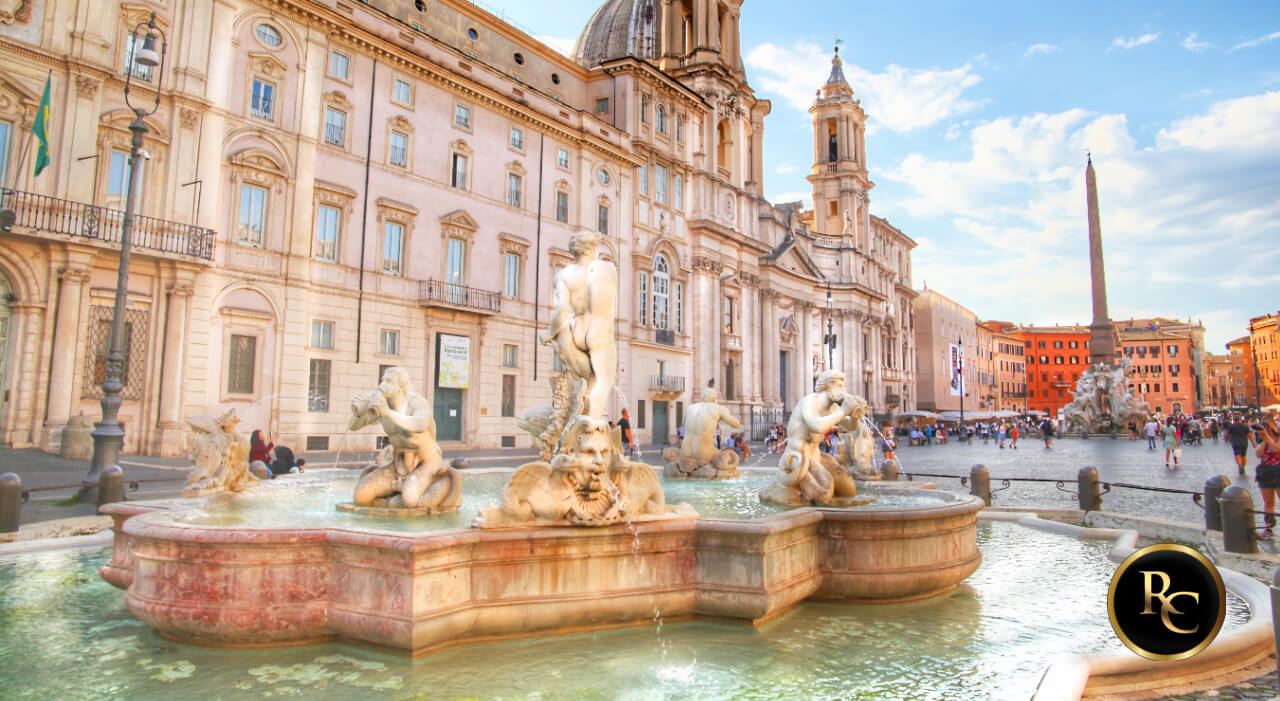 Stop for a stroll through the oblong Piazza Navona that takes its unique shape from the outline of the ancient Roman stadium it was built upon. Surrounded by pastel-colored palazzi and boasting 3 phenomenal fountains in the center and at each side, Piazza Navona is a delightful square visitors enjoy.
At the end of your Rome Pre-Cruise Tour, you will begin your transfer journey out of Rome and through the countryside to Civitavecchia to embark on your new adventure!
IMPORTANT TOUR NOTES: If you have already seen the sites suggested in our itinerary, you may discuss with your Chauffeur at the start of your tour what different sites you'd like to see and your chauffeur will offer suggestions based on the time frame of your tour and will show you as much as possible before it's time to depart for Civitavecchia.
Important Information

* NOTE: Please READ carefully the Important Information below, as well as Read and Accept our TERMS OF SERVICE and Privacy Policy before booking.

PAYMENT FOR OUR ROME PRE-CRUISE TOUR AND TRANSFER
The listed price of the tour is per vehicle, not per person. Rome Chauffeur accepts online prepayment via PayPal or Credit Card at the time you confirm your Rome Pre Cruise Tour, or you may pay on the Date of Service in Euro funds at the end of the tour made directly to your Chauffeur. If at any time you need extra funds on the day of your tour, your chauffeur will be happy to help you locate an ATM machine.


CANCELLATION ADVISORY FOR TOURS
Cancellations must be made at least 7 days prior to your Date of Service. Prepaid services canceled last minute less than 7 days or are No Show on the Date of Service are NOT Refundable.
Cancellations must be made in writing via E-Mail followed by an official cancellation confirmation E-Mail from our office in order for your cancellation to be valid. Cancellations are NOT accepted by Phone, Text, Or through 3rd Party individuals such as hotel clerks, friends, or concierge services.
* CANCELLATION FOR PREPAID SERVICES: Only NET RATE will be issued on prepaid services. Net Rate is what we receive from your prepayment after PayPal / CC takes out their fees which they don't reimburse us in case of refunds. Therefore, we are only able to refund what we receive from you after PayPal/ CC takes out their fees.
IMPORTANT LUGGAGE INFORMATION:
Sedans can accommodate up to 2 suitcases and up to 2 small carryons. Beyond that, please request a minivan upgrade at an additional rate.
Vans can accommodate a maximum of 6 suitcases and 6 small carryons. Beyond that, you will require a 2nd vehicle at the cost of a 2nd transfer.
YOUR ROME TOUR CHAUFFEUR
Tour Chauffeurs speak English but are not licensed tour guides, therefore chauffeurs are prohibited by law to accompany or guide guests on foot to sightsee. Only licensed tour guides with identifiable badges are authorized to do so.
Your Chauffeur will take you as close as lawfully permitted to the attractions you visit to minimize walking distance Chauffeurs are required to remain with the vehicle while guests sightsee / Self Tour away from their vehicle.
IMPORTANT CIVITAVECCHIA PRE-CRUISE TOURS INFORMATION:
Allow up to 24 hours for your booking request to be processed and to receive further email correspondence from our booking specialists.
If you do not hear from us within 24 hours, check your spam folder and white list our email address to ensure future delivery

Traveling with children? Upon request, we can provide Child Safety Seats. Please include in the Message Request Box of the booking form your child safety seat request along with the number of children, their ages, and weight in kilograms.



SAFETY TIPS FOR TOURING ROME
Rome is a safe city to enjoy, however, always mind your belongings and valuables so as to not become a victim of pickpockets that plague most cosmopolitan cities.
Don't leave any bags, backpacks, cameras, wallets, or anything of value inside the vehicle cabin while you are away. Stow all your bags inside the luggage compartment of the vehicle.
Ladies: Travel with purses that strap across your chest, don't carry valuables in easy-to-reach purse compartments, and don't leave your purse hanging on a chair laid by your feet at restaurants. Don't travel with expensive jewelry and accessories
Gentlemen: Don't carry your wallet in your back pocket or anywhere that's easily accessible by pickpockets. Bring only enough cash you need for the day and 1 credit card.
Wear money belts discreetly secured and tucked beneath your clothes for your money, credit cards, and passport. Carry on your wallet or purse only small amounts you need to get you through the day.
Carry with you your credit card company international number to call in case your credit card is lost or stolen.