description

POST CRUISE ROME'S ENCHANTING COUNTRYSIDE TOUR PRICES


For up to 4 people from Civitavecchia: 550 EUROS
For up to 6 people from Civitavecchia: 600 EUROS
For up to 8 people from Civitavecchia: 680 EUROS
* This tour is NOT offered on Mondays and Tuesdays as the Banditaccia Necropolis is NOT open on these days.



Rome's countryside is dotted with remarkable historic towns, enchanting hamlets, medieval fortresses, lakeside castles, and archaeological sites dating from the Etruscan era, and are part of Italy's rich and fascinating heritage.
This popular Civitavecchia Post Cruise Tour is the answer to the often-asked question: what is there to do Post Cruise outside of Rome?
On this Post Cruise Enchanting Roman Countryside Tour with Rome Chauffeur, you will have the opportunity to experience three of Italy's most fascinating historical eras: Visit the renowned Medieval / Renaissance Odescalchi Castle (Castello Orsini-Odescalchi in Italian, Bracciano Castle for short) that overlooks the volcanic Lake Bracciano, enjoy an authentic Italian lunch inside the Medieval hilltop village of Ceri, and have an adventurous afternoon exploring ancient Etruscan tombs inside the unique Banditaccia Necropolis in Cerveteri.
Your Post Cruise Rome's Enchanting Countryside Tour will begin at 8:00 AM when you meet your English-speaking Rome Chauffeur on the pier next to your cruise ship in Civitavecchia, and your tour will complete with your arrival at your hotel accommodation in Rome at approximately 5:00 PM. No luggage worries as your luggage will be stowed safely inside the vehicle's luggage compartment during your tour.
TOUR THE MEDIEVAL FAIRYTALE CASTLE IN BRACCIANO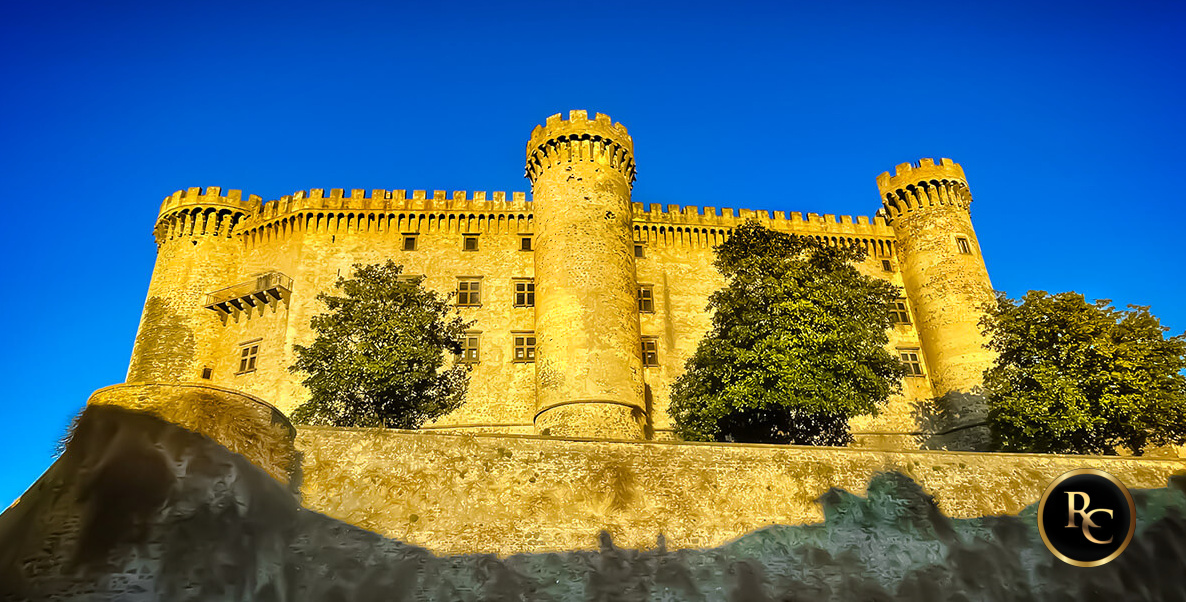 Your Post Cruise Rome's Enchanting Countryside Tour begins a relaxing drive through the rustic Roman countryside to the small town of Bracciano, famous for its volcanic lake and formidable castle.
Overlooking the pristine Lake Bracciano is the imposing castle, Bracciano Castle.
A glimpse of this massive Renaissance military fortress will transport you to distant eras of feudal lords, noble families, Kings, princes, and dukes.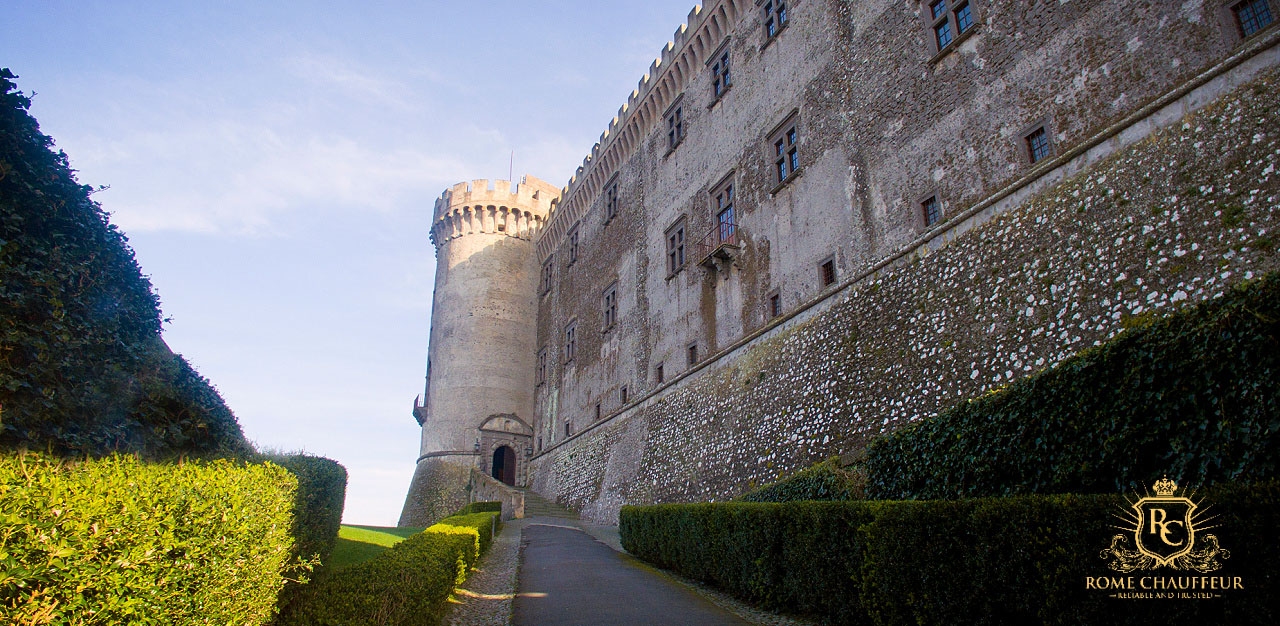 Bracciano Castle has remained the private property of Prince Livio Odescalchi, and the interior of the castle has become a historical museum open to the public to visit.
You have the opportunity to tour the splendid rooms throughout the castle fit for Kings and Popes, with 6 centuries worth of artwork, furnishings, weapons, books, and manuscripts, providing an authentic glimpse into the private quarters and lives of some of Italy's most powerful historical figures and the lives they lived in the past.



MEDIEVAL HAMLET OF CERI - WHERE TIME STOOD STILL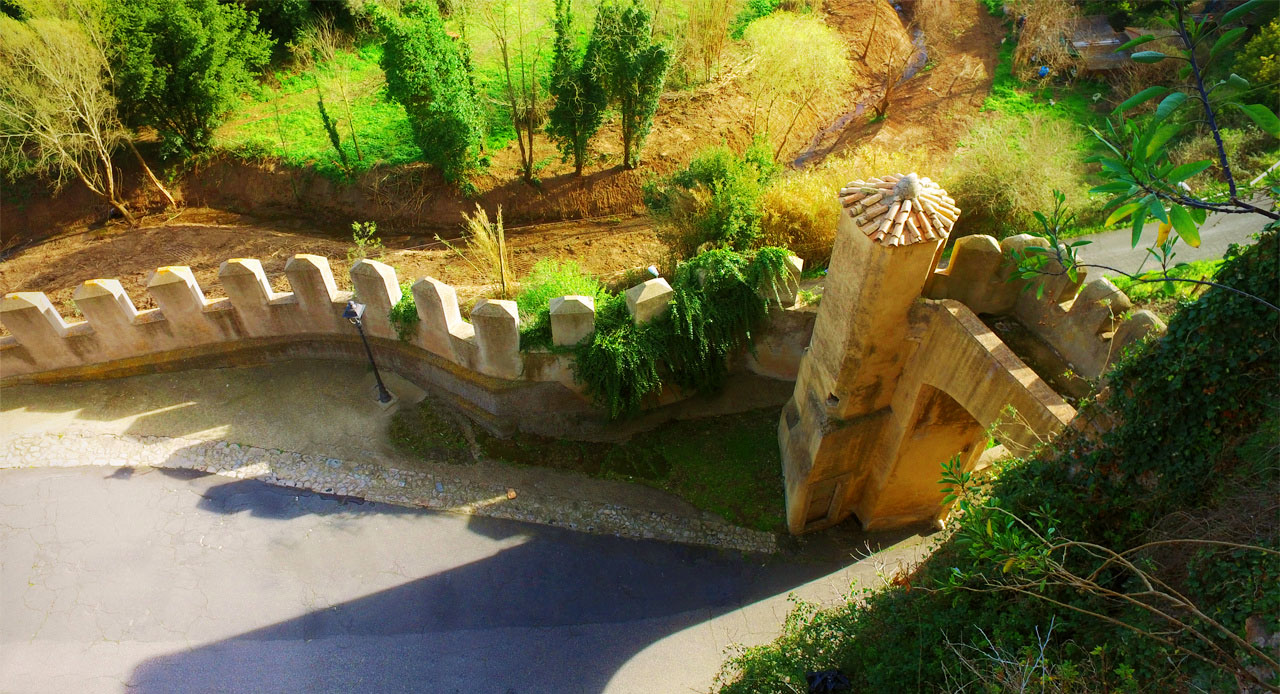 From Bracciano, your countryside journey continues until you reach a hidden gem that seems to appear out of nowhere: the medieval hamlet of Ceri (Borgo di Ceri in Italian) rising out of a steep rock formation.
Due to the defensive protection provided by this small fortified plateau, Ceri has been inhabited since the time of the ancient Etruscans and Romans who once ruled these lands. Its original name "Caere Novum" was shortened to Ceri.
Frozen in time to when Ceri was founded in the early 1200s, this authentic medieval fortress invites you to experience its old-fashioned charm and enchant you with an atmosphere that evokes eras of fairy tales.
While in Ceri, you can visit the small Romanesque Church of the Madonna of Ceri which was built above an Etruscan temple dedicated to the pagan goddess Vesta. The church's interior walls are decorated with faded but stunning frescoes from the 1100s.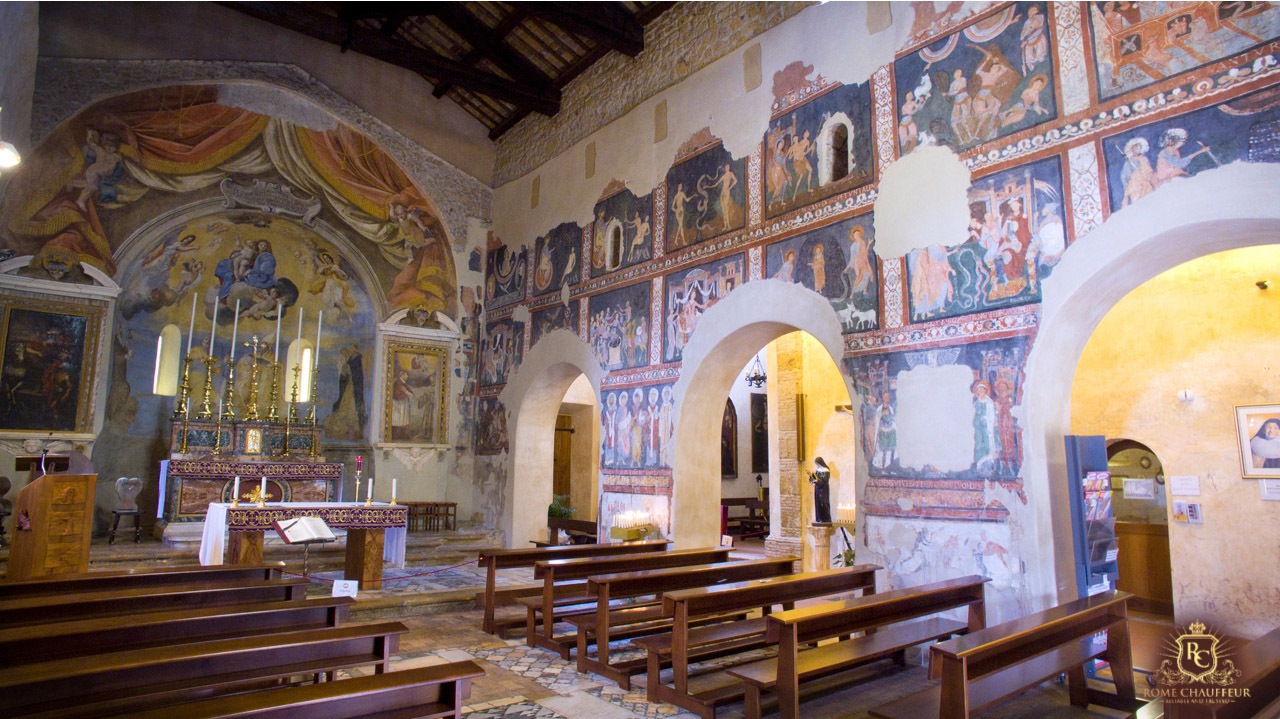 The family-owned restaurants in Ceri are among the most sought after by local Italians who flock here for its delicious cuisine made with fresh local and in-season ingredients that create some of the tastiest dishes in this region.


EXPLORE ANCIENT ETRUSCAN TOMBS IN CERVETERI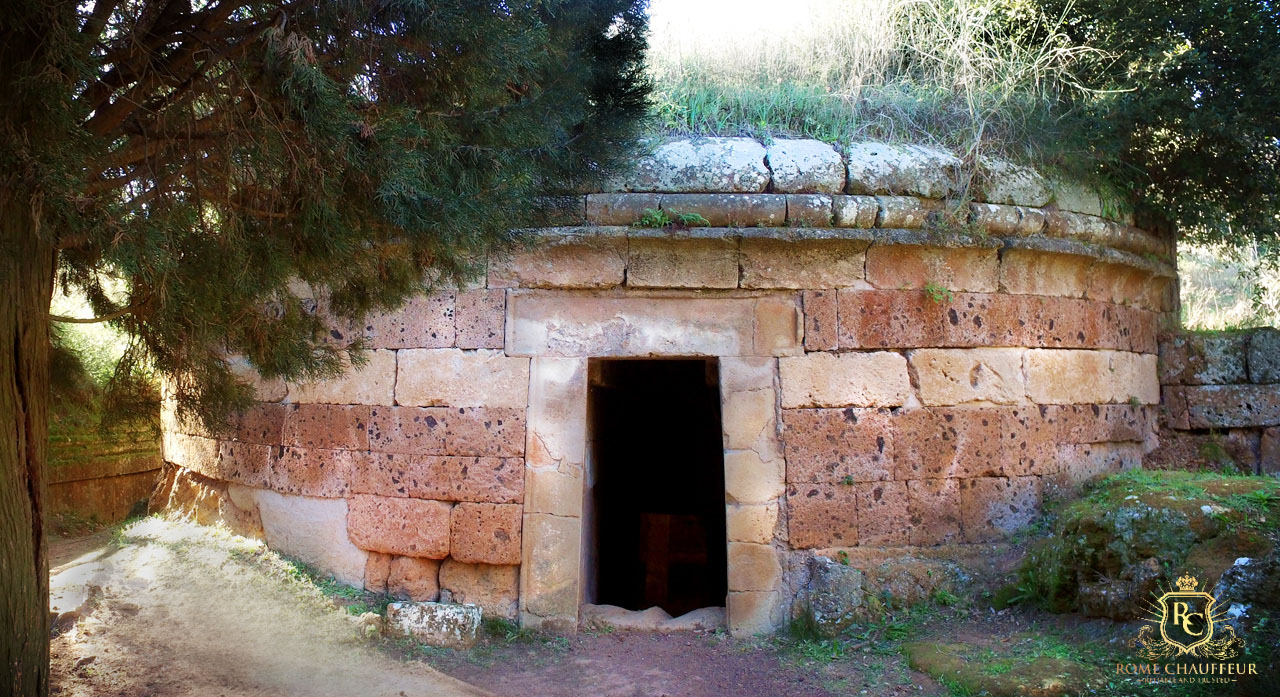 After lunch and visit in Ceri, your tour continues your next adventure where you will explore of of Italy's most fascinating ancient sites: the Banditaccia Necropolis in Cerveteri where across the span of several centuries, the ancient Etruscans expanded their extraordinary necropolis (city of the dead).
At its height during 600 BC, Cerverteri was one of the most powerful citystate of the Etruscan League by the name of Caere Vetus. Today, Cerveteri is well known for its large necropolis that has earned its status as a UNESCO World Heritage Site.
Of the nearly 1,000 acres that the necropolis covers, about 25 acres have been excavated with about 1,000 tombs open to visitors, making it the largest necropolis in the Mediterranean region.
Spanning 6 centuries of the Etruscan civilization, the Banditaccia necropolis offers the unique opportunity to personally witness the advancement of this ancient civilization through the evolution of its tombs starting from 9th century BC simple stone pits or potholes where the ashes were housed, to elaborate 3rd century BC round and cube-shaped tombs with intricate interiors, built like city blocks with roads used for processions.
One of the must-see tombs is the Tomb of the Reliefs (Tomba dei Relievi), which dates to the 3rd century BC. You will have to climb a flight of stairs to see the interior of this amazing tomb.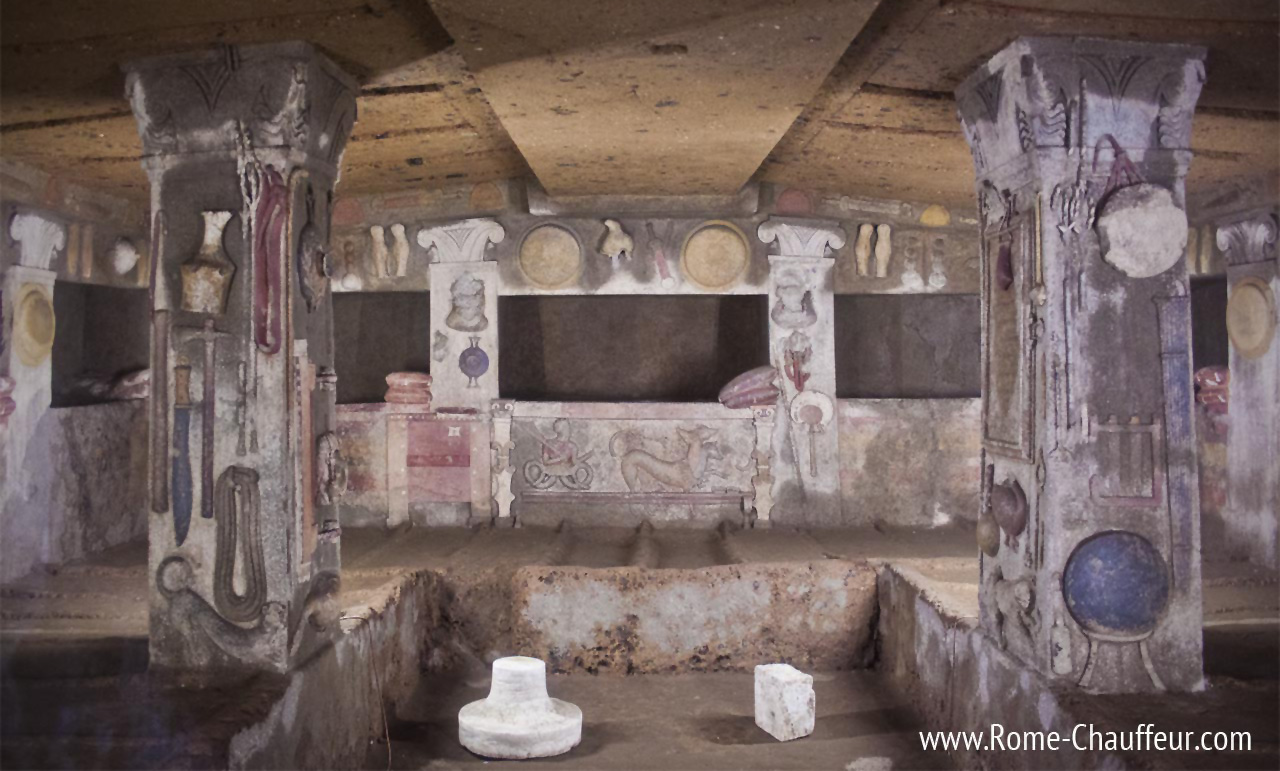 Exploring these ancient tombs that thousands of years ago were hand carved into the living tufa rock, and experiencing this remarkable site sacred to one of Italy's most significant ancient civilizations is undeniably a profound experience that will leave you yearning to learn more about the mysterious people whom these tombs and land once belonged to.
After a wonderful day exploring Italy's important historic eras, you will enjoy a relaxing drive to your hotel accommodation in Rome.
Thank you for booking our Post Cruise Rome's Enchanting Countryside Tour. We look forward to seeing you soon in Italy!
Important Information

* NOTE: Please READ carefully the Important Information below, as well as Read and Accept our TERMS OF SERVICE and Privacy Policy before booking.


PAYMENT FOR YOUR POST-CRUISE ROME'S ENCHANTING COUNTRYSIDE TOUR
The listed price of the tour is per vehicle, not per person. Rome Chauffeur accepts online prepayment via PayPal or Credit Card at the time you confirm your Post Cruise Tour, or you may pay on the Date of Service in Euro funds at the end of the tour made directly to your Chauffeur. If at any time you need extra funds on the day of your tour, your chauffeur will be happy to help you locate an ATM machine.

CANCELLATION ADVISORY FOR TOURS
Cancellations must be made at least 7 days prior to your Date of Service. Prepaid services canceled last minute less than 7 days or are No Show on the Date of Service are NOT Refundable.
Cancellations must be made in writing via E-Mail followed by an official cancellation confirmation E-Mail from our office in order for your cancellation to be valid. Cancellations are NOT accepted by Phone, Text, or through 3rd Party individuals such as hotel clerks, friends, or concierge services.
* CANCELLATION FOR PREPAID SERVICES: Only NET RATE will be issued on prepaid services. Net Rate is what we receive from your prepayment after PayPal / CC takes out their fees which they don't reimburse us in case of refunds. Therefore, we are only able to refund what we receive from you after PayPal/ CC takes out their fees.


IMPORTANT LUGGAGE INFORMATION:
Sedans can accommodate up to 2 suitcases and up to 2 small carryons. If you will travel with more luggage than indicated, please request a minivan upgrade at an additional rate.
Vans can accommodate a maximum of 6 suitcases and 6 small carryons. If you will travel with more luggage than indicated, you may either require an upgrade to an even larger vehicle, or 2nd vehicle at additional costs.
POST CRUISE TOUR FROM CIVITAVECCHIA PORT:
Your Rome's Enchanting Countryside Shore Excursion will start at 8:00 AM when you meet your English-speaking Rome Chauffeur on the pier next to your ship, and your tour will complete when you arrive at your Rome hotel at approximately 5:00 PM

ADMISSION TICKETS
Tickets to Odescalchi Castle in Bracciano are currently 10 Euros per person (Ticket Prices can change without advance notice).
Please be aware that Bracciano Castle may unexpectedly close for private events or restorations without advance notice. If closed upon your arrival in Bracciano, your chauffeur will be happy to take you to explore other lakeside villages such as Trevignano or Anguillara following your visit to the historical town of Bracciano.


* Private Tours of the Castle: Odescalchi Castle offers private tours in English with advance booking at 180 Euros INCLUDING entry tickets. Availability of English-speaking tour guides is limited, please inform us in advance so we can secure this tour. Advance NON-Refundable Prepayment is required to reserve the guided tour. The Castle does NOT issue refunds in case of cancellation.


Entry tickets to Cerveteri Banditaccia Necropolis are currently 10 Euros per person.
You have the option to self-tour the necropolis or book a local licensed tour guide for an informative guided tour of the necropolis. If interested in a private tour guide, please inquire within for rates and availability.

YOUR TOUR CHAUFFEUR
Tour Chauffeurs are not licensed tour guides, therefore they are forbidden by law to accompany or guide guests to sightsee during the tour. In order to comply with local laws, drivers are required to stay with the vehicle while our guests sightsee.


IMPORTANT CIVITAVECCHIA POST-CRUISE TOURS INFORMATION:
Allow up to 24 hours for your booking request to be processed and to receive further email correspondence from our booking specialists.
If you do not hear from us within 24 hours, check your spam folder and white list our email address to ensure future delivery

Traveling with children? Upon request, we can provide Child Safety Seats. Please include in the Message Request Box of the booking form your child safety seat request along with the number of children, their ages, and weight in kilograms.
ROME'S ENCHANTING COUNTRYSIDE TOURING TIPS:
Wear comfortable clothes and walking shoes
Visiting the upper level of the castle's private apartments that also lead to the castle's ramparts requires climbing a flight of stairs along a spiral stairway. If you have trouble with stairs, you may enjoy the lower level of the castle, as well as the atrium and castle kitchen.
You will be walking on uneven terrain, and climbing stairs may be required to access some of the most fascinating tombs during your exploration of Banditaccia Etruscan Necropolis. If you are unable to climb steps, you may enjoy visiting tombs that are easier to access. The necropolis is located in a natural park-like setting that makes for a lovely stroll as you admire the fascinating tombs throughout.
Bring your cameras for ample photo-taking opportunities!
PRIVATE SHORE EXCURSIONS MONEY-SAVING TIP:
HOW TO SAVE ON SHORE EXCURSIONS: Join thousands of satisfied cruisers who shared their favorite Civitavecchia Post Cruise Tours with fellow cruisers from their ship by simply placing an. ad on Cruise Critic Roll Call for their ship, a link to their favorite tour so others can learn more about it as well as the date of the service. Make new friends and share your tour and fun with other like-minded travelers.