description
BELLA ROMA TOUR PRICE LIST


For 1-2 participants from Rome Hotel: 370 EUROS
For 3-4 participants from Rome Hotel: 400 EUROS
For 5-6 participants from Rome Hotel: 450 EUROS
For 7-8 participants from Rome Hotel: 470 EUROS

For 1-4 participants from Civitavecchia: 550 EUROS
For 5-6 participants from Civitavecchia: 600 EUROS
For 7-8 participants from Civitavecchia: 650 EUROS


You may also do a PRICE CHECK using the form on this page.
For tours of Rome departing from Rome hotels, your personal Rome Chauffeur will pick you up at your hotel accommodation at 8:00 AM, and bring you back to your hotel at approximately 4:00 PM.

Rome Tours starting from Rome Hotel are NOT Valid from other cities or from airports. Inquire within if you require a tour starting from other locations than in Rome.


For Rome Shore Excursions from Civitavecchia, your personal Rome Chauffeur will conveniently meet you on the Pier next to your Cruise Ship at 7:30 AM and bring you back by approximately 5:15-5:30 PM.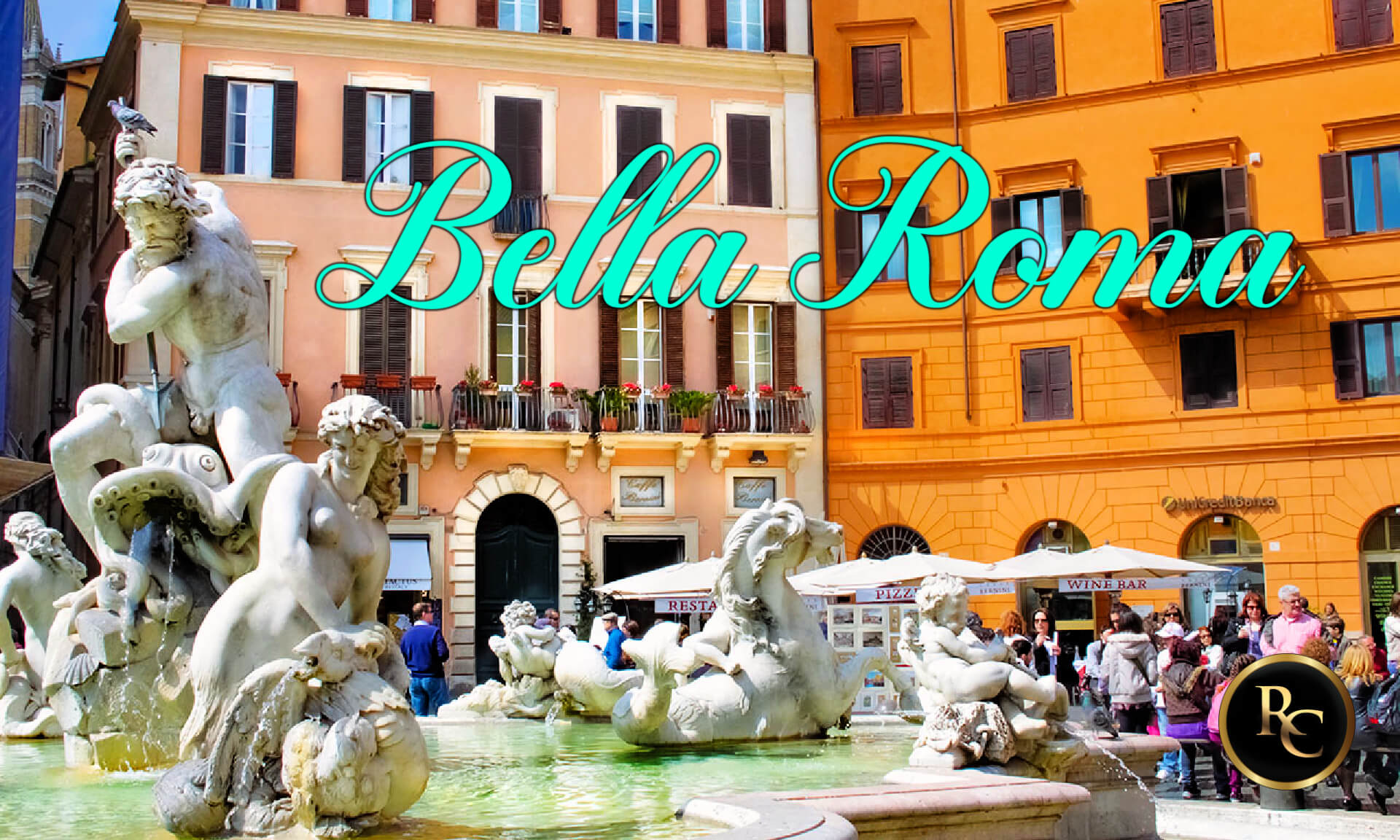 Our exclusive Bella Roma Rome private tour and Shore Excursion from Civitavecchia is a celebration of Rome's timeless wonders, its rich history, artistry, and the spirit of la dolce vita. Carefully crafted to immerse you in the beauty and essence of Rome, while exploring the city's most iconic landmarks and cherished neighborhoods, this fun-filled private tour of Rome gives you the opportunity to experience the true charm of bella Roma (beautiful Rome).
Indulge in the splendor and elegance for which Rome is celebrated. Marvel at the breathtaking views of ancient wonders, such as the Colosseum in Piazza Colosseo and the Pantheon at Piazza della Rotonda. Allow the vibrant ambiance of Piazza Navona, Trevi Fountain, and the Spanish Steps to enchant your senses, while the grandeur of Saint Peter's Square captivates your soul.
Revel in panoramic vistas of Rome's majestic skyline from Janiculum Hill and Aventine Hill, with a delightful surprise awaiting through the Secret Keyhole. Relish a delectable lunch experience in the heart of Trastevere, amidst its charming cobblestone streets.
The Bella Roma Tour takes you on a leisurely private tour of Rome, skipping the super crowded monuments with lengthy queues and hard-to-come-by-admission tickets. With your private deluxe vehicle and English-speaking Rome chauffeur at your service, you'll be taken closer to the sites you visit, allowing you to maximize your sightseeing time and minimize excessive walking.
Join us for a day filled with exploration, discovery, and the enduring treasures that define the dolce vita splendor of bella Roma, creating memories to last a lifetime.
Colosseum Square: A Stroll Through Time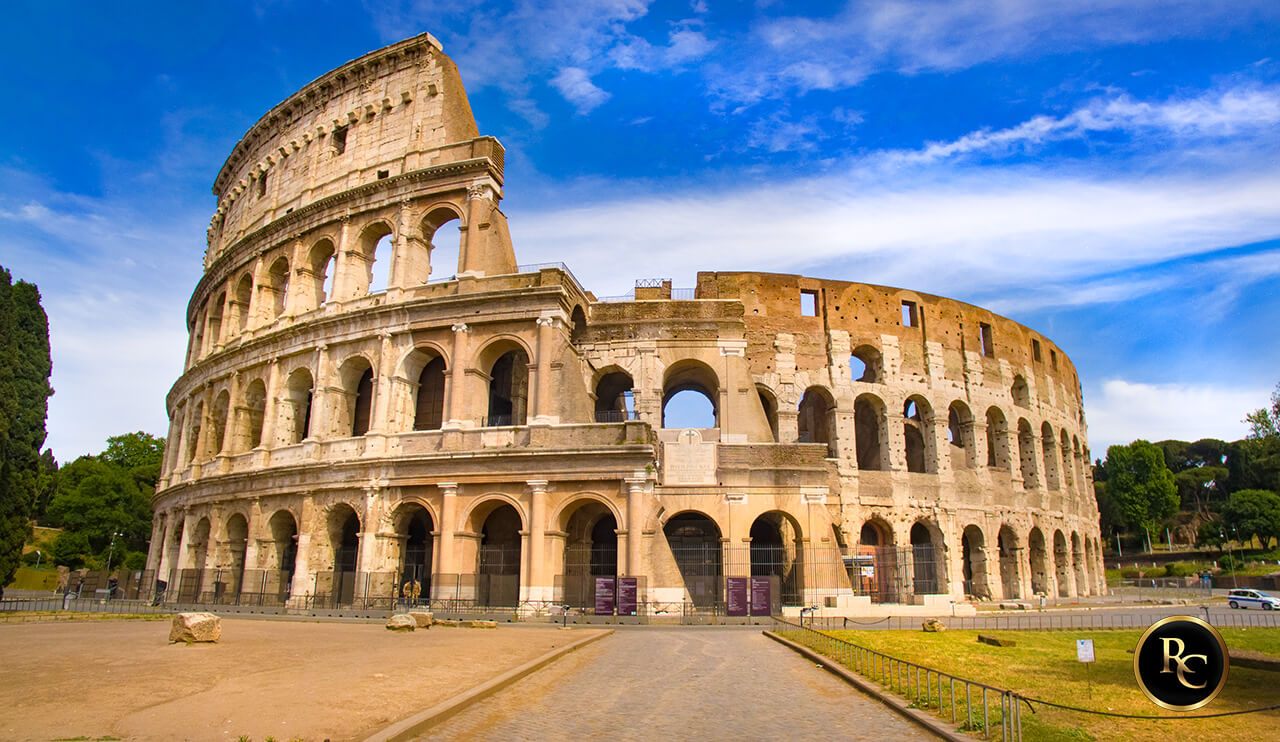 Experience the awe-inspiring grandeur of the Colosseum as you explore Colosseum Square surrounded by the monumental legacy of ancient Rome. This remarkable amphitheater, originally named the Flavian Amphitheater, was constructed under the leadership of Emperors Vespasian and Titus in 79 AD.
The Colosseum remains the largest ancient amphitheater globally, once accommodating up to 80,000 spectators. The Colosseum hosted a diverse range of events, from gladiatorial contests and animal hunts to dramatic re-enactments and public executions.
Its colloquial name, the Colosseum, is believed to have been inspired during the Middle Ages by the colossal 30-meter-tall bronze statue of Emperor Nero, known as the Colossus of Nero, which once stood next to the Colosseum.
Nearby, you'll also discover the renowned Arch of Constantine, erected in 315 AD to commemorate Emperor Constantine's decisive victory over Maxentius at the Battle of Milvian Bridge in 312 AD.
Circus Maximus: Echoes of Ancient Chariot Races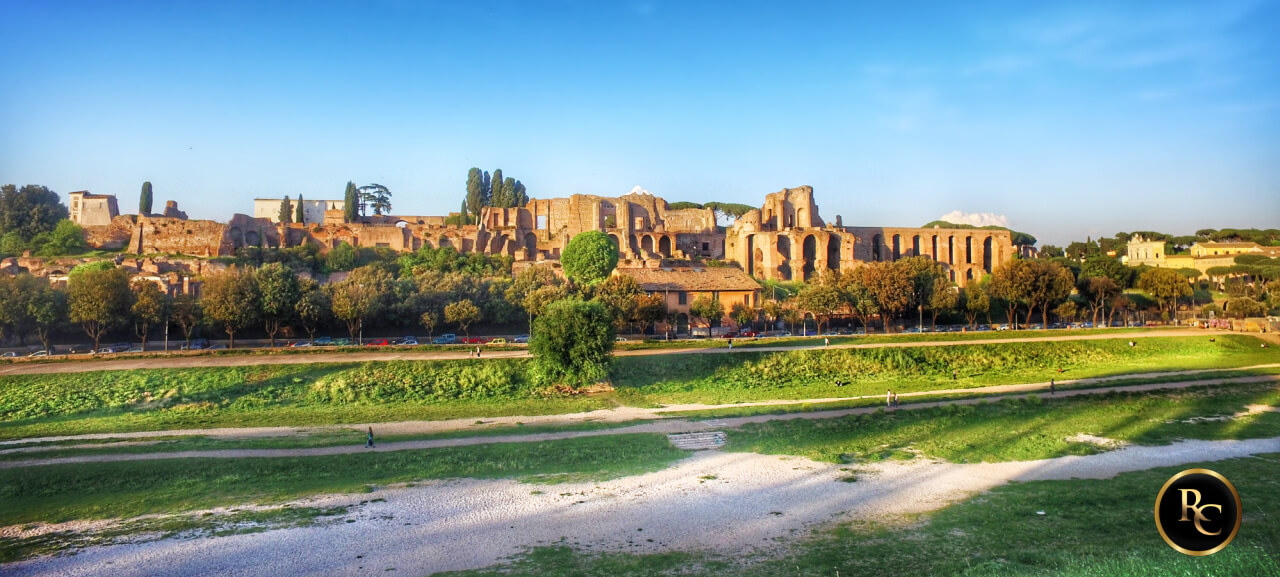 View the remnants of the majestic Circus Maximus, located not far from the Colosseum, nestled in the scenic Valley of Murcia between Palatine Hill and Aventine Hill. Once the colossal Roman chariot-racing stadium, this ancient arena could host a staggering 150,000 spectators who gathered to witness thrilling yet perilous chariot races. During its heyday, Circus Maximus set the standard for circuses throughout the Roman Empire.
Today, you can trace the outline of this once-majestic stadium which has been transformed into a public park enjoyed by locals and that hosts festivals, large events, and concerts. The palatial ruins on Palatine Hill provide a breathtaking backdrop to this historical marvel, offering a glimpse into Rome's rich past.
Janiculum Hill: Panoramic Views of Rome
As we continue our Bella Roma Rome private tour, you'll make your way to Janiculum Hill, a hilltop destination that offers a captivating overview of Rome's breathtaking skyline. From the terrace of this elevated perch, you'll witness the timeless beauty of the Eternal City as it unfolds before you.
Janiculum Hill provides an unrivaled vantage point, offering panoramic vistas that extend over Rome's iconic landmarks and historic treasures. Marvel at the intricate domes and spires that grace the cityscape, and let the picturesque scenery immerse you in the rich history and culture that defines Rome. This is a moment to savor, a panoramic snapshot of bella Roma that will forever etch itself into your memory.

Aventine Hill's Hidden Gems: Orange Garden & Secret Keyhole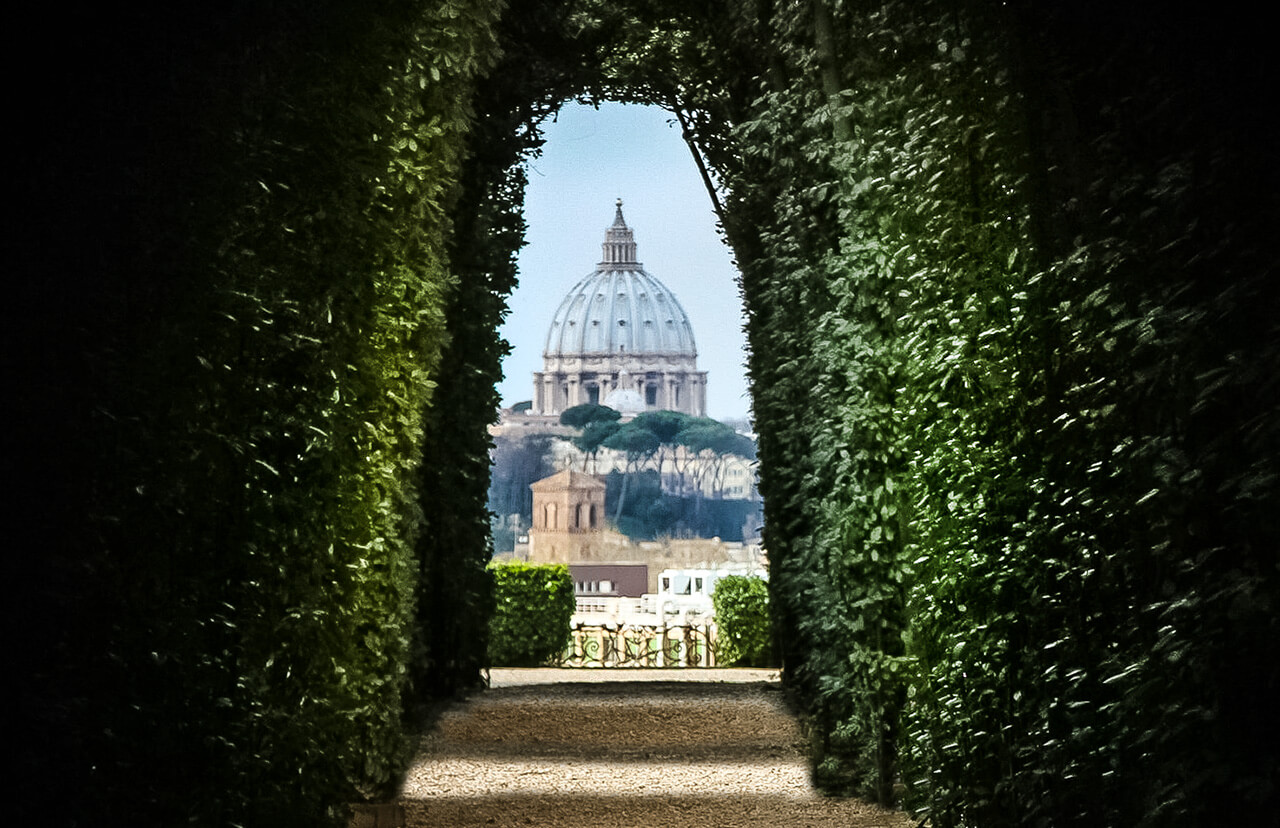 Next, your personal Rome chauffeur will take you to the Aventine Hill, a hidden gem that embodies the essence of tranquility and elegance. Discover the secluded Orange Garden, where in spring fragrant citrus trees and a profusion of colorful blooms create an oasis of serenity amidst the bustling city.
From this elevated vantage point, you'll soak in panoramic vistas that stretch across Rome's iconic skyline and the Dome of Saint Peter's Basilica, providing a breathtaking backdrop for your journey.
But the real highlight of our adventure lies in the Piazza of the Knights of Malta. Here, a surprise awaits— the legendary keyhole. As you peer through this unassuming keyhole through the large portals, a carefully framed, awe-inspiring view of St. Peter's Basilica materializes before your eyes, a testament to the captivating mysteries that lie within the heart of Rome.
A Taste of Trastevere: Lunch and a Stroll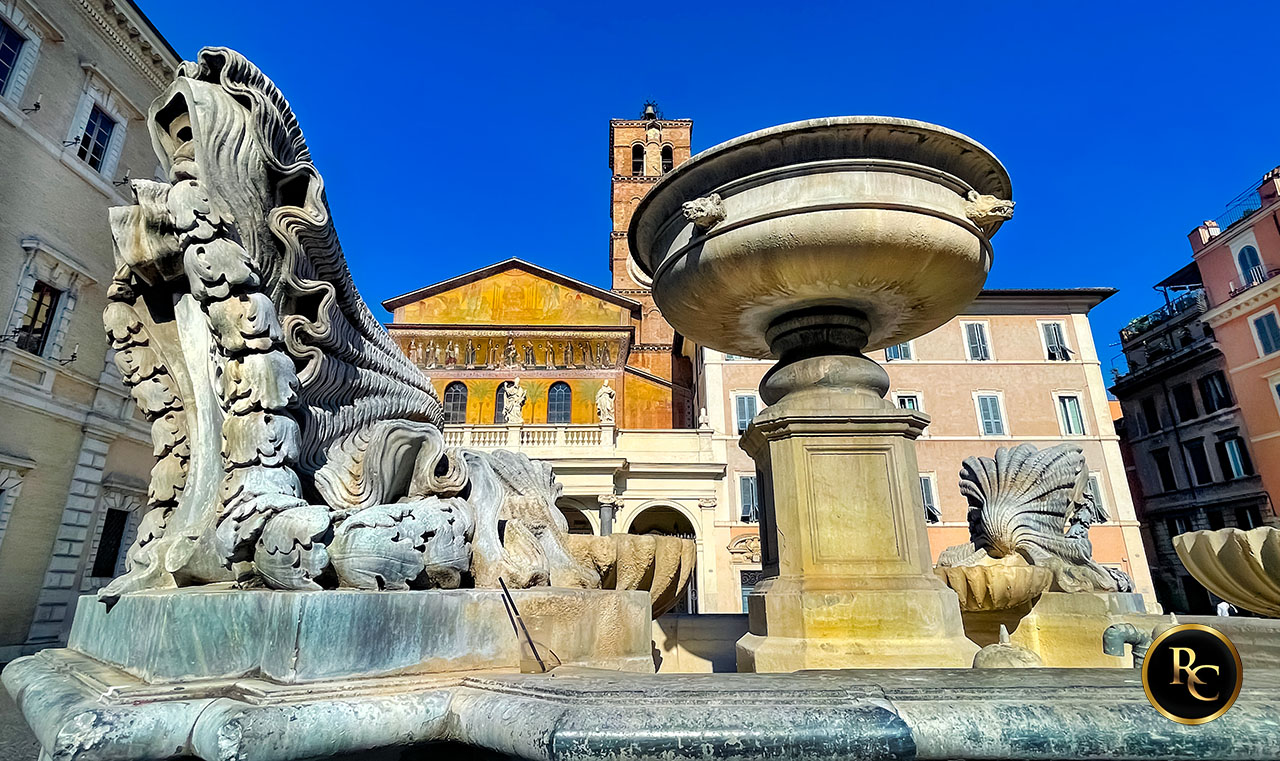 Stop in the enchanting neighborhood of Trastevere, a place where time seems to stand still, and the essence of Roman authenticity thrives. Here, immerse yourself in the vibrant, winding streets of Trastevere, characterized by their charming cobblestone lanes and colorful facades. Take a leisurely stroll through this picturesque neighborhood, where the atmosphere is infused with an undeniable sense of local life.
Don't miss the chance to explore the ancient Santa Maria in Trastevere Church, which boasts origins dating to the 3rd century. With its captivating mosaic facade and a wealth of art and history displayed through exquisite frescoes inside, this unassuming church in the heart of Trastevere is a tranquil and spiritually significant destination, providing a window into Rome's abundant cultural legacy.
Pause for a leisurely lunch at a traditional ristorante or trattoria, where you can savor the flavors of Roman cuisine. Indulge in dishes like Cacio e Pepe or Roman-style pizza, accompanied by a glass of Italian wine. It's a moment to relish both the flavors and the ambiance of bella Roma in the heart of Trastevere.
Peter's Square: Where Faith Meets Grandeur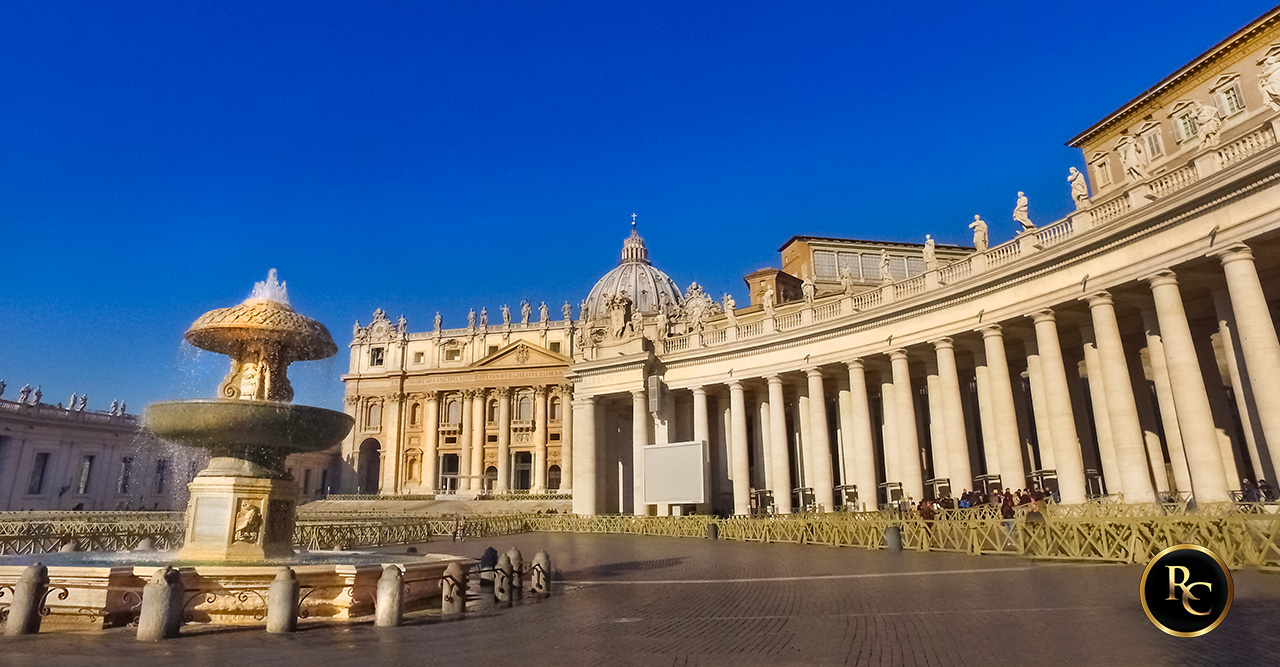 Prepare to be spellbound as you step into Saint Peter's Square, a pivotal highlight on our Bella Roma Tour. This expansive, open elliptical space, capable of accommodating up to 300,000 people, offers an awe-inspiring spectacle. It is distinguished by the monumental Doric colonnades that encircle it, a design ingeniously conceived to envelop visitors in the welcoming embrace of the Church.
At the heart of this magnificent square lies the iconic St. Peter's Basilica, a pinnacle of Renaissance and Baroque architecture. Its colossal presence, with its majestic dome reaching skyward and a facade adorned with intricate sculptures and artistic details, stands as a testament to human ingenuity and faith. The current basilica, commissioned by Pope Julius II in 1506 and completed in 1626, represents the labor of renowned Renaissance masters such as Gian Lorenzo Bernini, Carlo Modeno, Michelangelo, Bramante, and Raphael.
In the square's center stands the towering Vatican Obelisk, a 25-meter-tall ancient Egyptian obelisk carved from red granite, originally brought to Ancient Rome from Heliopolis during Emperor Caligula's reign. It now proudly symbolizes the enduring connection between Rome and ancient civilizations.
Don't overlook the two majestic fountains while exploring St. Peter's Square. These splendid examples of Renaissance and Baroque artistry, one crafted by Carlo Maderno between 1612 and 1614 and the other completed by Gian Lorenzo Bernini between 1667 and 1677, seamlessly blend water, stone, and artistic expression, enhancing the square's overall grandeur.
Standing amidst these architectural wonders, you'll immerse yourself in the rich history, artistry, and spiritual significance that make St. Peter's Square an emblem of the Eternal City and the heart of Vatican City.
Pending time and if the security lines are not too long, you may opt to visit St Peter's Basilica, but please remember to adhere to the modest dress code, covering your shoulders and knees. Failure to comply with the dress code may result in a denial of entry by the security personnel.
Rome's Enchanting Squares

Discover the grandeur of Rome through its most captivating squares, a must on our Bella Roma Rome Tour: Piazza della Rotonda, the Trevi Fountain, the Spanish Steps, and Piazza Navona.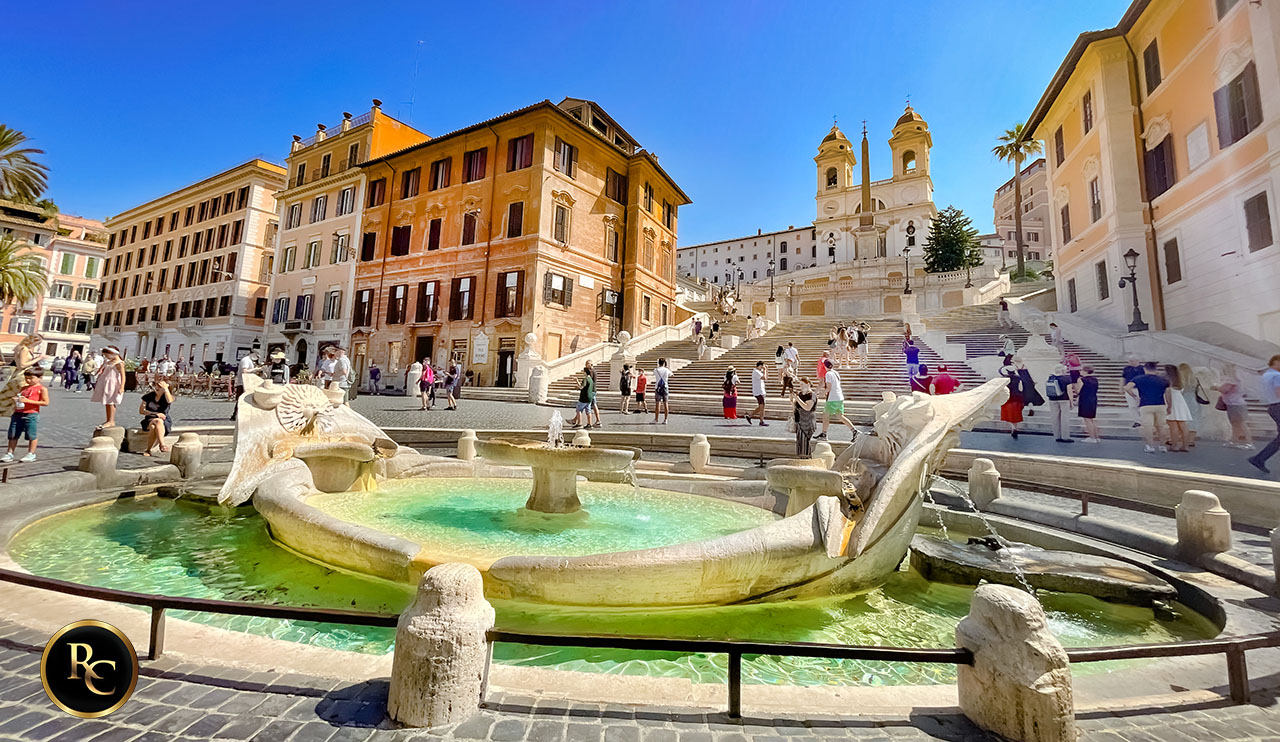 The Spanish Steps, a captivating 18th-century masterpiece, elegantly merges art and architecture, weaving a timeless enchantment. These renowned steps are celebrated for their graceful, meandering design as they ascend a gentle hill, linking two prominent landmarks with unparalleled grace.
At the base of the Spanish Steps is the Baroque Fountain of the Old Boat takes center stage—a masterpiece by Pietro Bernini, father to the illustrious Gian Lorenzo Bernini.
But the Spanish Steps are more than a physical staircase; they are a living canvas—an artistic symphony in stone that resonates with Rome's rich cultural heritage. Each step taken is a tribute to the enduring charm of bella Roma—an invitation to explore and immerse yourself in a bygone era of artistic and architectural brilliance, where the timeless beauty of Rome unfolds.
At the summit, the French church of Trinita dei Monti stands sentinel, offering a panoramic view of Rome's grandeur. Here, you are not merely a spectator; you become an essential thread in Rome's vibrant tapestry, embracing the Dolce Vita to the fullest.
Piazza della Rotonda, a lively square brimming with vibrant life, beckons you to explore its lively atmosphere. At its heart, an impressive fountain stands tall, crowned by a striking obelisk, exuding grandeur that resonates through history.
Dominating the square is the majestic Pantheon, an ancient Roman temple that captivates all with its awe-inspiring architectural marvel. As you meander around Piazza della Rotonda, you'll be enveloped by pastel-hued historic buildings, home to bustling open-air cafes.
Take a leisurely stroll, venture behind the circular Pantheon, uncover the Basilica of Santa Maria Sopra Minerva with Bernini's iconic elephant statue, explore inviting shops, or indulge in a creamy Italian gelato.
Please note that entry to the Pantheon is not included in this tour due to the challenges of securing time-slot tickets and potential additional entry wait times.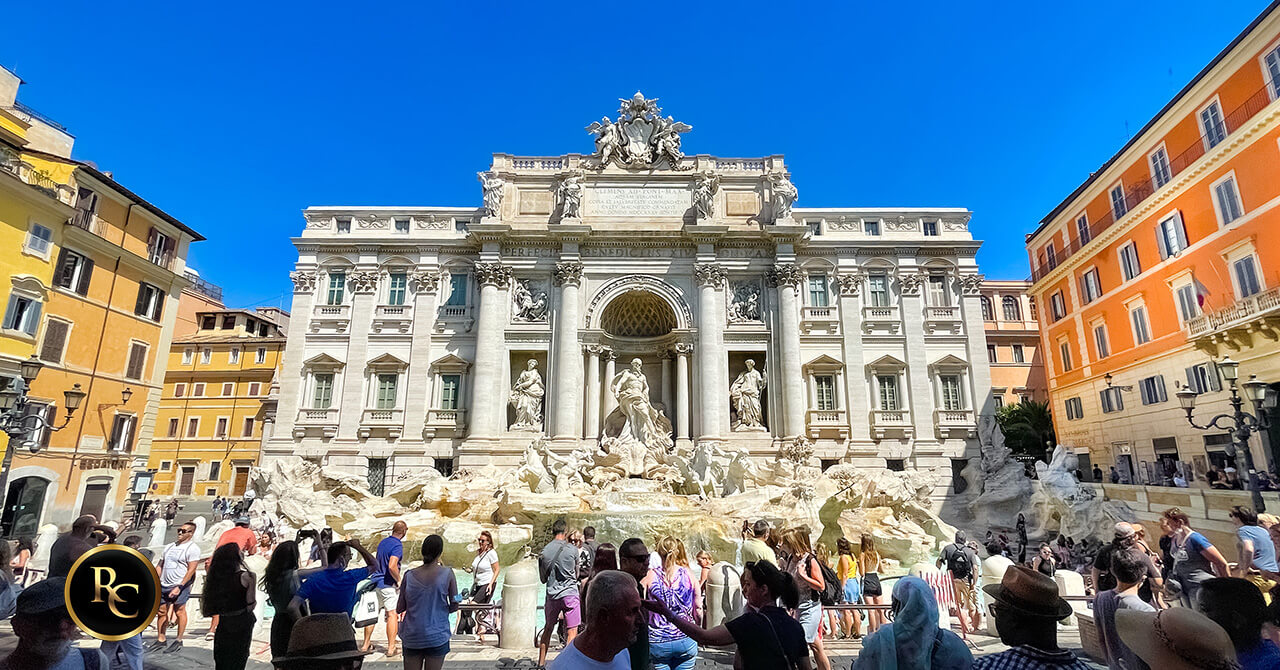 The Trevi Fountain, an iconic symbol of Rome and a highlight of our Bella Roma tour, holds the distinction of being the world's most famous Baroque fountain. Its illustrious presence has graced the silver screen in countless classic films, including cinematic masterpieces like "La Dolce Vita" and "Three Coins in a Fountain."
The Trevi Fountain continues to draw an endless stream of visitors who gather around its gushing waters and marvel at its intricate nautical sculptures. It's here that a beloved tradition comes to life, as visitors toss a coin over their shoulder into the fountain, making a wish for a return visit to the Eternal City of Rome. This timeless ritual encapsulates the enchantment and allure of this magnificent city.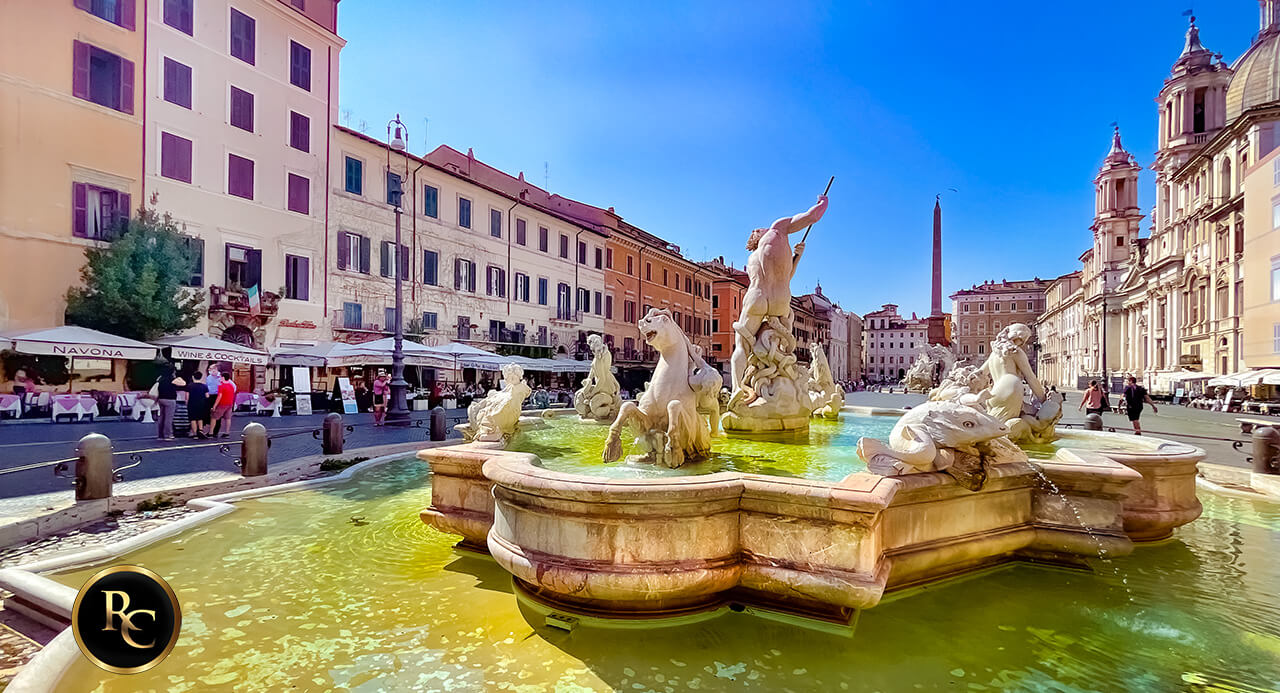 Piazza Navona boasts a unique history, built atop Emperor Domitian's ancient Roman Stadium in the 1st century AD, where competitive games (agone) once thrilled the masses. The oblong shape of the square, encircled by grand palazzi that house outdoor cafes and restaurants still echoes the outline of this ancient arena.
Piazza Navona showcases three remarkable fountains and stands as a prime example of Baroque Roman architecture. The centerpiece is Bernini's Fountain of the Four Rivers (Fontana del Quattro Fiumi), a captivating masterpiece representing the four major rivers of the known continents during the Renaissance Era: the Nile (Africa), the Danube (Europe), the Ganges (Asia), and the Rio de la Plata (the Americas). Crowning the fountain is a replica of an Egyptian obelisk, adorned with the symbol of the Pamphili family.
This tour is a celebration of Rome's timeless wonders, its rich history, artistry, and the spirit of la dolce vita. Join us for an unforgettable day filled with exploration, discovery, and the enduring allure of Bella Roma's treasures.

Discover Bella Italia from Rome to the Italian Countryside, to Day trips to Tuscany, Umbria tours from Rome, and the Amalfi Coast!


Important Information

* NOTE: Please READ carefully the Important Information below, as well as Read and Accept our Terms of Service and Privacy Policy before booking.


* How and When to Pay for our Bella Roma Rome Tour?

The listed price of this Bella Roma Rome Tour is per vehicle, not per person.
Rome Chauffeur accepts online prepayment via PayPal or Credit Card at the time you confirm your Rome tour, or you may pay on the Date of Service in Euro funds at the end of the tour made directly to your Chauffeur. If at any time you need extra funds on the day of your tour, your chauffeur will be happy to help you locate an ATM machine. Prepaid services will be only refunded the NET RATE.


* CANCELLATION ADVISORY

Cancellations must be made at least 7 days prior to your Date of Service. Prepaid services canceled last minute less than 7 days or are No-Show on the Date of Service are NOT Refundable.
Cancellations must be made in writing via E-Mail followed by an official cancellation confirmation E-Mail from our office in order for your cancellation to be valid. Cancellations are NOT accepted by Phone, Text, Or through 3rd Party individuals such as hotel clerks, friends, or concierge services.
* CANCELLATION FOR PREPAID SERVICES: Only NET RATE will be issued on prepaid services. Net Rate is what we receive from your prepayment after PayPal / CC takes out their fees which they don't reimburse us in case of refunds. Therefore, we are only able to refund what we receive from you after PayPal/ CC takes out their fees.
MEETING POINTS TO MEET YOUR ROME TOUR CHAUFFEUR


* BELLA ROMA Rome Tour Starting from Rome Hotel Accommodation:
Your professional English-speaking Tour Chauffeur will meet you at your hotel or accommodation at 8:00 AM and bring you back by approximately 4:00 PM.
For Day Tour starting from Rome, a valid and complete Hotel or Accommodation address is required in order to book this tour.


* Rome Civitavecchia Shore Excursion:

Your professional English-speaking Rome Tour Chauffeur will meet you on the Civitavecchia pier next to your ship holding a sign with your name at 7:30 AM and will return you to the ship by approximately 5:00 - 5:15 PM.
From the port, you will journey approximately 90 minutes on the motorway through the countryside of Lazio into Rome.
* YOUR ROME TOUR CHAUFFEUR

Tour Chauffeurs are not licensed tour guides, therefore chauffeurs are prohibited by law to accompany or guide guests on foot to sightsee. Only licensed tour guides with identifiable badges are authorized to do so.
Your Chauffeur will take you as close as lawfully permitted to the attractions you visit to minimize walking distance Chauffeurs are required to remain with the vehicle while guests sightsee / Self Tour away from their vehicle.
* PRO TIPS FOR TOURING IN ROME


Rome is a safe city to enjoy, however, always mind your belongings and valuables so as to not become a victim of pickpockets that plague most cosmopolitan cities.
Don't leave any bags, backpacks, cameras, wallets, or anything of value inside the vehicle cabin while you are away. Stow all your bags inside the luggage compartment of the vehicle.
Ladies: Travel with purses that strap across your chest, don't carry valuables in easy-to-reach purse compartments, and don't leave your purse hanging on a chair laid by your feet at restaurants. Don't travel with expensive jewelry and accessories
Gentlemen: Don't carry your wallet in your back pocket or anywhere that's easily accessible by pickpockets. Bring only enough cash you need for the day and 1 credit card.
Wear money belts discreetly secured and tucked beneath your clothes for your money, credit cards, and passport. Carry on your wallet or purse only small amounts you need to get you through the day.
Carry with you your credit card company international number to call in case your credit card is lost or stolen.