description
Take an exciting journey back in time to Italy's medieval past and visit three marvelous countryside villages, each with its own distinctive personality. Explore Tuscania which offers a perfect snapshot of the Middle Ages, enjoy a repast of traditional Italian dishes at a local family-owned restaurant in the medieval hamlet of Ceri, and visit the spellbinding lakeside medieval castle in Bracciano.
Your personal English-Speaking Chauffeur will conveniently pick you up and drop you off at your hotel accommodation in Rome.
MEDIEVAL MARVELS COUNTRYSIDE TOUR Prices


For 3-4 participants from Rome: 475 EUROS
For 5-6 participants from Rome: 500 EUROS
For 7-8 participants from Rome: 550 EUROS

For 3-4 participants from Civitavecchia: 550 EUROS
For 5-6 participants from Civitavecchia: 600 EUROS
For 7-8 participants from Civitavecchia: 650 EUROS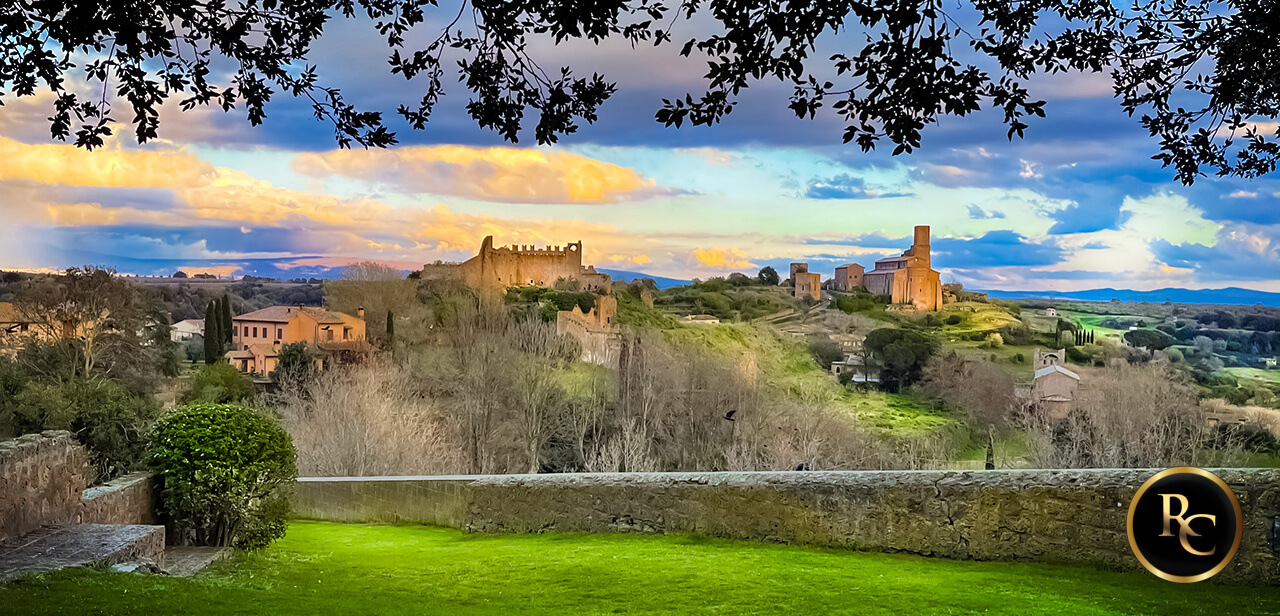 TUSCANIA - a Medieval splendor


Your journey into Italy's medieval past begins with a drive through the lush rolling landscapes of the Roman countryside to your first destination: Tuscania.
Tuscania is an ancient town built on top of a promontory of tuffa rock that still retains its medieval charm and architecture evident in its fortified medieval walls and towers that once protected the village, characteristic stone buildings, and monuments built with the local reddish-brown tuffa rock.



Outside the city walls is Colle San Pietro (Saint Peter Hill) which used to be an Acropolis settled by ancient civilizations. In the 8th century AD, the monumental basilica of Saint Peter was built on top of the ancient acropolis, and 300 years later it was reconstructed in Lombard-Romanesque style. Impressive towers and a bishop's palace surround the basilica, evocative remains of an 11th-century fortified citadel.

At the foot of the hill, the church of Santa Maria Maggiore was built in the early 1200s. Both churches are authentic masterpieces of Romanesque architecture, a medieval architectural style characterized by semi-circular arches, thick walls, barrel vaults, rose windows, and large towers.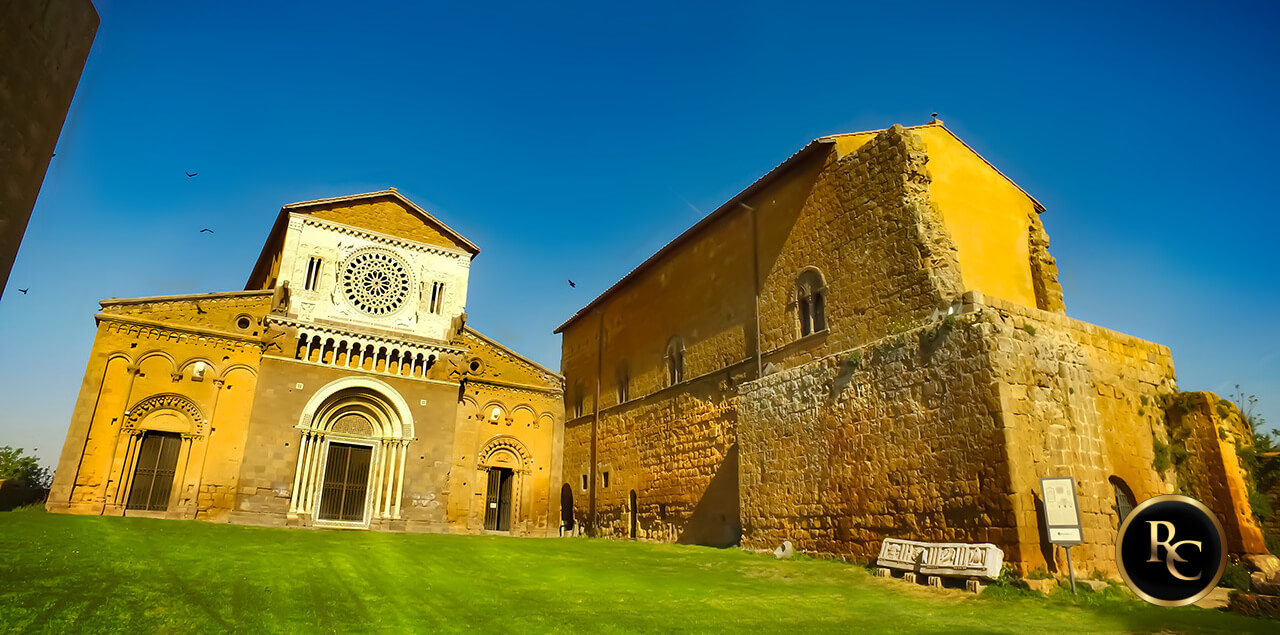 Delight in a stroll along the main cobblestone street of the historic center and admire local productions of ceramics hand-crafted in the style of ancient Etruscan painted pottery that are truly museum pieces that will impress your guests at home. Artisans still follow ancient terracotta techniques, a traditional craft that goes back a long time in Tuscania.

Not to be missed is Parco Torre di Lavello a belvedere situated on top of the city walls that offer spellbinding views of the majestic Italian countryside landscape, the Church of Saint Peter, and the evocative ruins of Rivellino Castle that inspired poets and artists for centuries.
Tuscania is a well-preserved historical village where you can still breathe a medieval atmosphere of rare charm. It's no wonder Tuscania (particularly its Church of San Pietro) has been widely chosen as an authentic film location for historical movies and series.

** NOTE: If you are touring on a Monday, the Churches are CLOSED for visits on Monday (as are most museums, archaeological parks, and monuments in Italy). The churches may be viewed from the outside on Mondays.

CERI - medieval hamlet where time stood still

From Tuscania, your chauffeur will take you on a scenic countryside drive to a hidden gem that seems to rise out of a steep rock formation: the medieval clifftop hamlet of Ceri (Borgo di Ceri in Italian).

Due to the natural defensive protection this small fortified plateau offers, Ceri has been inhabited since the ancient times when the Etruscans and Romans thrived in these lands and called it "Caere Novum" (which was over time shortened to Ceri).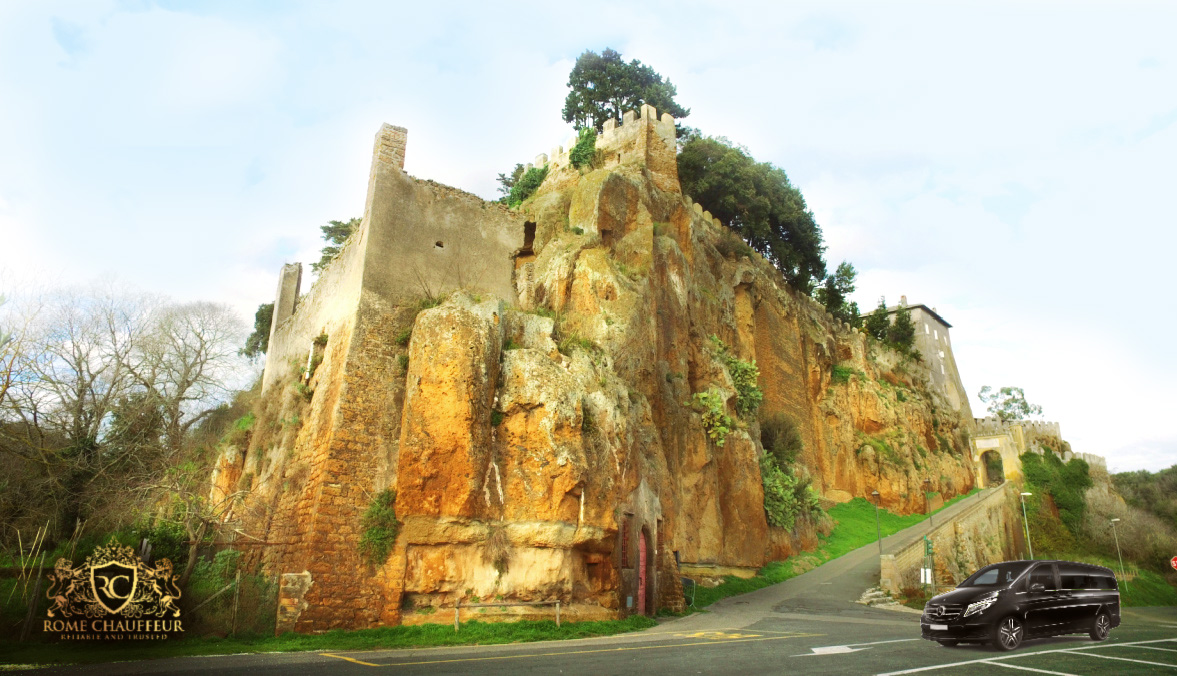 Frozen in time to when it was founded in the early 1200s, Ceri invites you to experience an authentic medieval hamlet with an enchanting atmosphere that evokes eras that fairytales are made of.
What is not to miss in Ceri is its famous Romanesque Church of the Madonna of Ceri which was built on top of an ancient Etruscan temple dedicated to the pagan goddess Vesta. Step inside and admire the stunning wall frescoes from the 12th century depicting biblical stories.

Ceri is not just celebrated for its authentic medieval charm, but also its authentic Italian cuisines lovingly prepared at its local family-owned restaurants. Sit for a repast of traditional dishes made with fresh, in-season, locally sourced ingredients, and faithfully followed well-guarded secret recipes passed down by generations of grandmothers. Your tastebuds will discover why so many Italian foodies flock to Ceri for lunch!

After a tasty lunch, your Medieval Marvels Countryside tour continues to Bracciano, the medieval lakeside village famous for its volcanic Lake Bracciano and its perfectly preserved medieval castle.
BRACCIANO - visit the fabled medieval castle

Overlooking Lake Bracciano on top of the medieval town of Bracciano is the imposing Castello Orsini-Odescalchi, also referred to as Bracciano Castle. A glimpse of this formidable castle that was once a medieval military fortress will transport you to distant bygone areas of feudal lords, noble families, princes, and dukes. For four centuries the castle has been the property of the Odescalchi family who transformed it into a historical museum open to the public to visit and see for themselves what a residential castle was like centuries ago.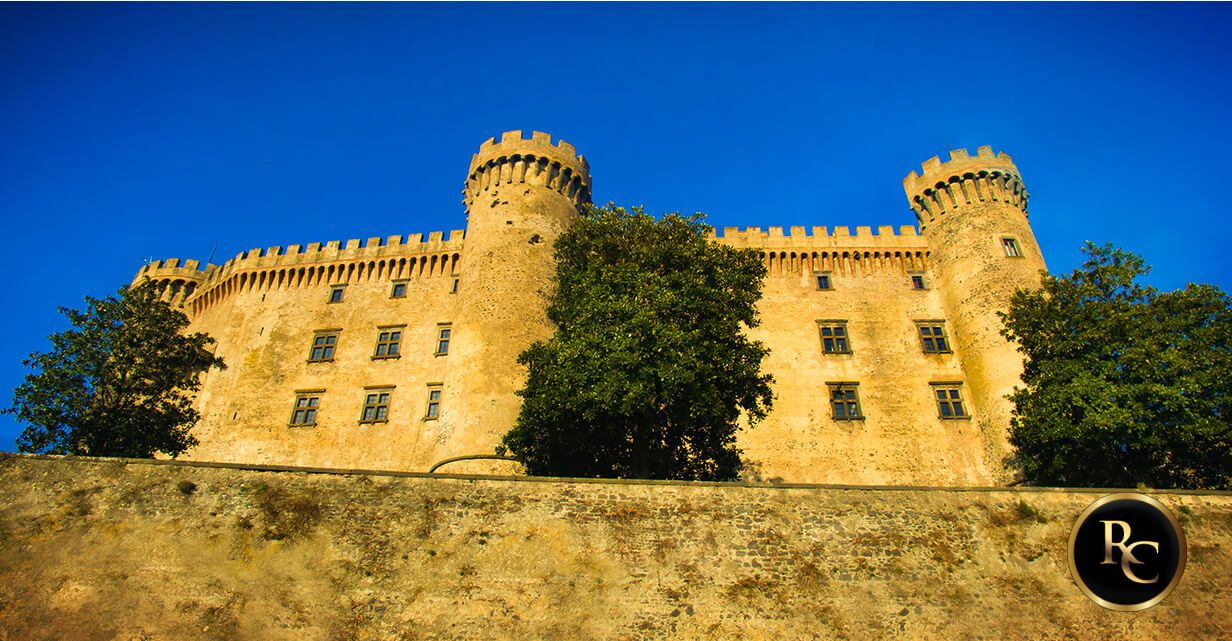 Glimpse into the private quarters and lives of some of Italy's most influential historical figures as you make your way through the sumptuous rooms across two levels. Discover priceless medieval and Renaissance paintings, original furniture from centuries ago, weaponry and knightly armor worn in battle, ornate ceilings, and exquisite wall frescoes. A medieval spiral stone stairwell takes you from the ground floor to the upper floor of the castle to continue your visit.
Outside the castle across the atrium is the large castle kitchen that prepared food for the entire castle from the noble family to the domestic staff, military personnel, and skilled workers. Castle kitchens were always built away from the main building to keep it safe from dangerous kitchen fires.
Don't miss the opportunity to climb on top of the castle wall and stroll along the ramparts that were once patrolled by the castle guards. The top of the castle offers one of the best views of the lake and the countryside. Lake Bracciano itself is a sight to behold, a pristine lake that lies within a dormant prehistoric volcanic crater.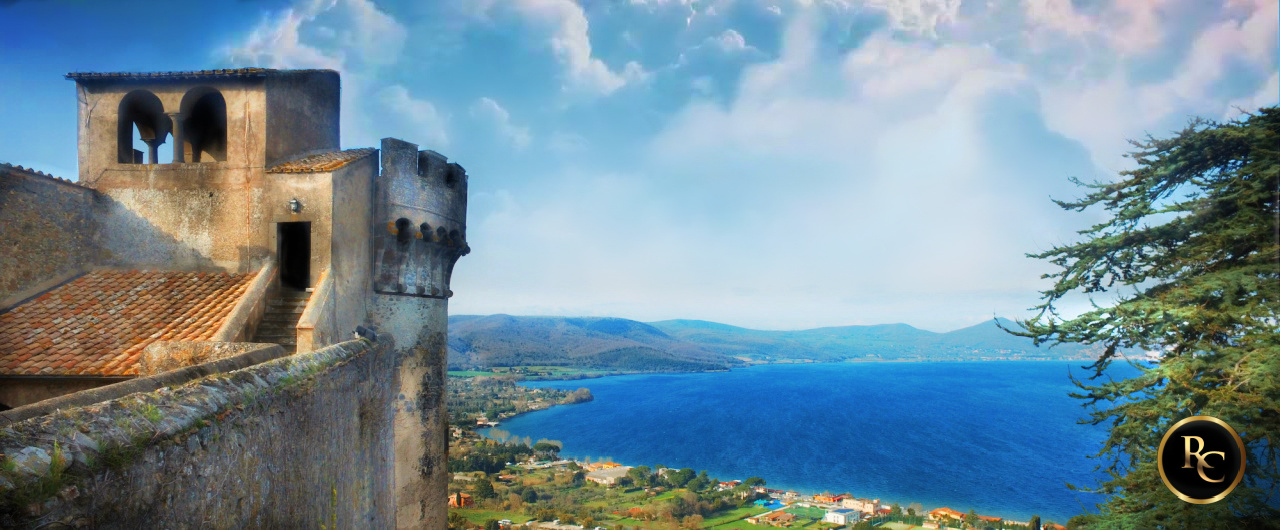 After your visit to Bracciano concludes, your personal chauffeur will take you on a relaxing journey back to your hotel in Rome or to your cruise ship in Civitavecchia.
We are grateful for your interest in our Medieval Marvels Countryside Tour from Rome and Civitavecchia, and for choosing Rome Chauffeur for your private tours from Rome and shore excursions from Civitavecchia. We look forward to meeting you in Italy!
Important Information
* NOTE: Please READ carefully the Important Information below, as well as Read and Accept our TERMS OF SERVICE and Privacy Policy before booking.


The listed price of the tour is per vehicle, not per person. Rome Chauffeur accepts online prepayment via PayPal or Credit Card at the time you confirm your tour or you may pay on the Date of Service in Euro funds at the end of the tour made directly to your Chauffeur. If at any time you need extra funds on the day of your tour, your chauffeur will be happy to help you locate an ATM machine.

Cancellations must be made at least 7 days prior to your Date of Service. Prepaid services canceled last minute less than 7 days or are No Show on the Date of Service are NOT Refundable.
Cancellations must be made in writing via E-Mail followed by an official cancellation confirmation E-Mail from our office in order for your cancellation to be valid. Cancellations are NOT accepted by Phone, Text, or through 3rd Party individuals such as hotel clerks, friends, or concierge services.


* CANCELLATION FOR PREPAID SERVICES: Only NET RATE will be issued on prepaid services. Net Rate is what we receive from your prepayment after PayPal / CC takes out their fees which they don't reimburse us in case of refunds. Therefore, we are only able to refund what we receive from you after PayPal/ CC takes out their fees.
FOR A DAY TOUR FROM ROME:
Your Medieval Marvels Countryside Tour will start at 8:00 AM when you meet your English-speaking Rome Chauffeur at your hotel accommodation in Rome, and your tour will complete when you arrive back at approximately 5:00 PM. You will receive Meeting Point information in your Confirmation Voucher.


SHORE EXCURSION FROM CIVITAVECCHIA CRUISE PORT:
Your Medieval Marvels Countryside Tour from Civitavecchia will start at 9:00 AM when you meet your English-speaking Rome Chauffeur on the pier next to your ship, and your tour will complete when you arrive back in Civitavecchia at approximately 5:00 - 5:15 PM. You will receive Meeting Point information in your Confirmation Voucher.

BRACCIANO CASTLE ADMISSION TICKETS
Tickets to Odescalchi Castle in Bracciano are currently 10 Euros per person (Ticket Prices can change without advance notice).
Please be aware that Bracciano Castle may unexpectedly close for private events or restorations without advance notice. If closed upon your arrival in Bracciano, your chauffeur will be happy to take you to explore other lakeside villages such as Trevignano or Anguillara following your visit to the historical town of Bracciano.
* Private Tours of the Castle: Odescalchi Castle offers private tours in English with advance booking at 180 Euros INCLUDING entry tickets. Availability of English-speaking tour guides is limited, please inform us in advance so we can secure this tour. Advance NON-Refundable Prepayment is required to reserve the guided tour. The Castle does NOT issue refunds in case of cancellation.

YOUR ITALY TOUR CHAUFFEUR
Tour Chauffeurs are not licensed tour guides, therefore they are forbidden by law to accompany or guide guests to sightsee during the tour. In order to comply with local laws, drivers are required to stay with the vehicle while our guests sightsee.


PRIVATE SHORE EXCURSIONS MONEY-SAVING TIP:
HOW TO SAVE ON SHORE EXCURSIONS: Place an ad on Cruise Critic for your chosen date of the service. Make new friends and share your tour and fun with other like-minded travelers.
ROME COUNTRYSIDE TOUR TIPS:


Wear comfortable clothes and walking shoes

There are many cobblestoned streets and squares in the towns you visit
Visiting the upper level of Bracciano Castle's private apartments that also lead to the castle's ramparts requires climbing a flight of stairs along a spiral stairway. If you have trouble with stairs, you may enjoy the lower level of the castle, as well as the atrium and castle kitchen. The castle is not wheelchair accessible.
Bring your cameras as you will be visiting amazing places!