description


SPLENDOR OF TUSCANY TOUR from Rome prices:


For 1- 2 participants from Rome: 490 Euros
For 3- 4 participants from Rome: 540 Euros
For 5- 6 participants from Rome: 590 Euros
For 7- 8 participants from Rome: 650 Euros

Experience Tuscany's enchantment with Rome Chauffeur's Splendor of Tuscany Tour from Rome. Discover charming medieval villages, and the captivating beauty of Tuscany's Val d'Orcia, allowing the splendor of this remarkable region to etch everlasting memories in your heart.
Discover the soul of Tuscany as you traverse the Val d'Orcia a UNESCO World Cultural Landscape of unrivaled beauty which boasts winding country roads lined with majestic cypress trees, rolling hills adorned with quaint farmhouses, and charming chapels scattered like hidden gems. Feel the allure of iconic Medieval villages such as Bagno Vignoni, San Quirico d'Orcia, Pienza, and Monticchiello, where history echoes with every step.
With Rome Chauffeur's Splendor of Tuscany, your day trip from Rome to Tuscany will be a fun-filled experience, filled with wonder filled with beauty, history, and joy at every turn.
Your exciting journey into Tuscany begins as your personal English-speaking chauffeur picks you up at your Rome hotel and whisks you away on a tranquil drive through the bucolic Italian countryside towards Tuscany where your first destination awaits: the hidden gem of Bagno Vignoni, ready to reveal its charm and wonders.
BAGNO VIGNONI

Bagno Vignoni's mesmerizing "Square of Water" (Piazza delle Sorgenti) is an entire village square embraced by an ancient stone pool fed by hot thermal waters from a subterranean volcanic aquifer. These healing baths have been cherished since ancient times, revered by the Romans, and enjoyed by historical figures like Saint Catherine, Pope Pius II, and Lorenzo de Medici.
Surrounded by immaculate medieval buildings, the liquid square creates a sublime painting-like effect. On tranquil winter mornings, a captivating mist rises from the pool, adding to the village's ambiance.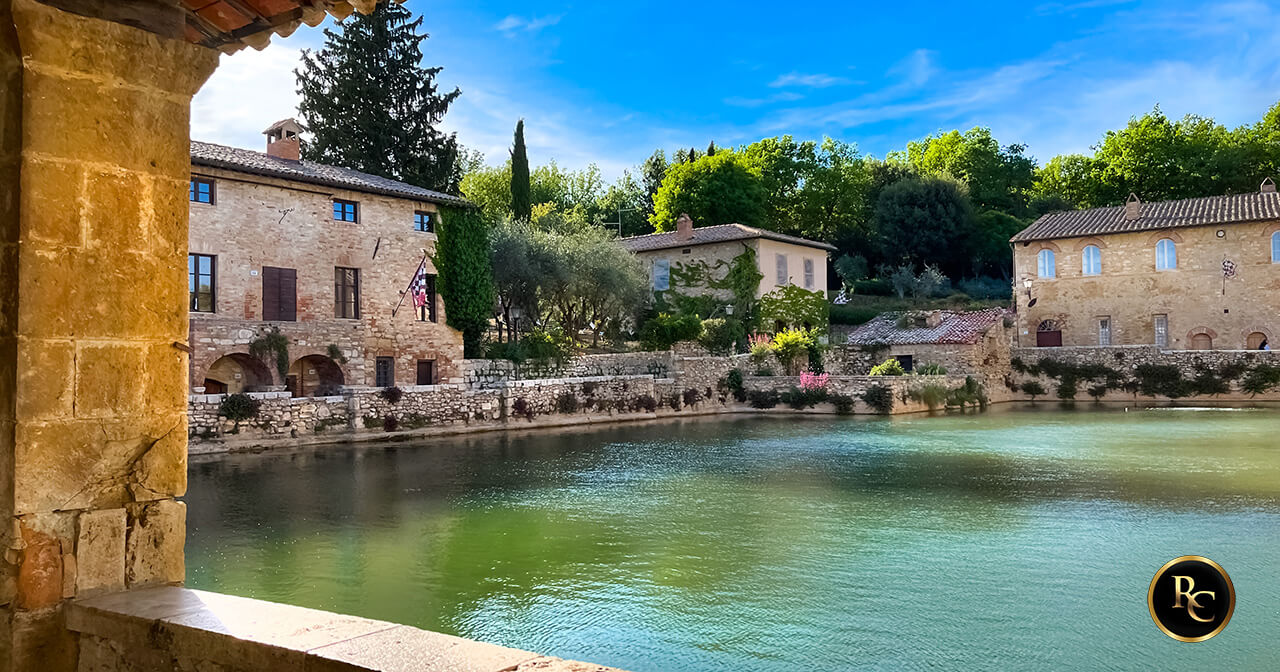 Beyond the square, the village extends with inviting cafes and shops. Venture to the edge of the village, where the Park of the Mills (Parco di Mulino) awaits—an archaeological site with ruins of an ancient medieval mill house. The hot springs still flow through rivulets that, cascade over the edge into the valley below, offering breathtaking views of the enchanting Tuscany countryside.
After savoring the charm of Bagno Vignoni, your journey continues to San Quirico d'Orcia.
SAN QUIRICO D'ORCIA
Tucked amidst olive groves and vineyards in the enchanting embrace of the Val d'Orcia's rolling hills, lies the graceful village of San Quirico d'Orcia—an authentic Tuscan town imbued with rich history and delightful local allure. Rooted in ancient Etruscan heritage, the town's name pays homage to Saint Quiricus (Cyricus).
As you leisurely stroll through this medieval gem, you'll be captivated by well-preserved medieval walls, elegant architecture, and remarkable churches, including the 11th-century Santa Maria Assunta Church, the 13th-century San Francesco Church, and the Collegiate Church of San Quirico d'Orcia.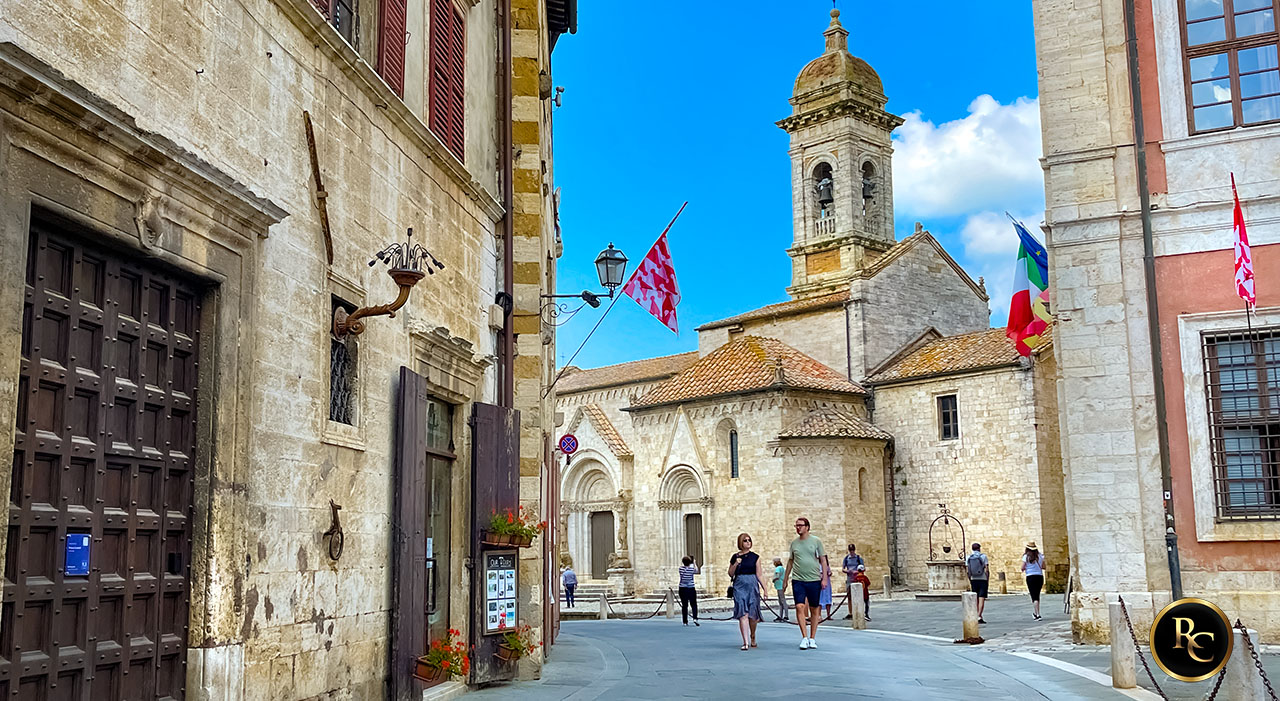 The pedestrian-friendly main street boasts historical buildings in a vibrant array of colors, accompanied by charming shops and inviting cafes. Nature enthusiasts will find solace in the small rose garden behind the Santa Maria Assunta church and the elegant Renaissance Italian gardens of Horti Leonini, accessible through Piazza della Liberta, the town's main square.
After exploring San Quirico d'Orcia, you'll reunite with your chauffeur for a scenic journey to your next destination. The captivating landscape surrounding San Quirico on the way to Pienza will leave you in awe, with endless wheat fields, undulating hills, cypress tree-lined avenues, meandering country roads, and isolated rural farmhouses dotting the horizon.
PIENZA

No Tuscany tour from Rome is complete without a visit to Pienza. In the midst of the captivating Val d'Orcia, the hilltop town of Pienza is hailed as a Renaissance Utopia, with its 15th-century urban planning inspiring cities across Europe.
Once known as Corsignano, this was the birthplace of Enea Silvio Bartolomeo Piccolomini, who later ascended to become Pope Pius II. Under his visionary leadership, the town was reborn as a pristine Renaissance gem, earning the name "Pienza" in his honor, and proudly designated as a UNESCO World Heritage Site.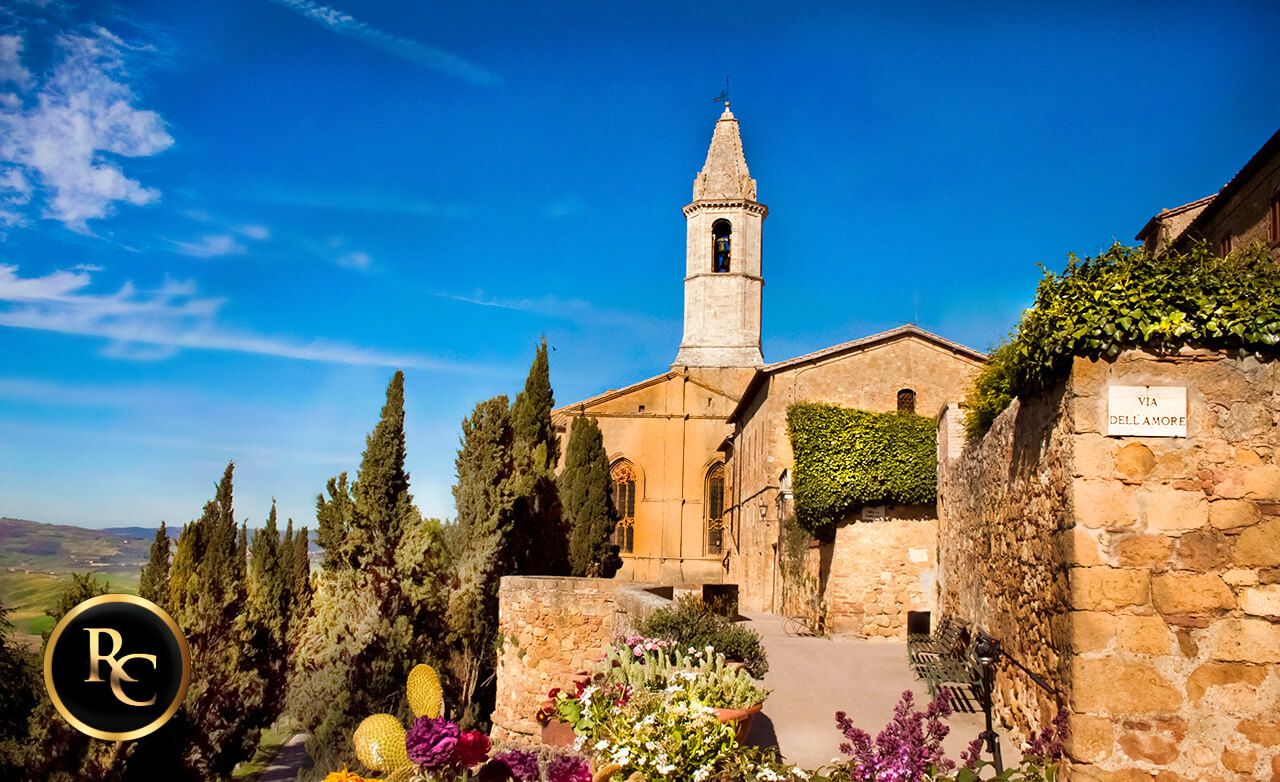 Strolling through Pienza reveals a splendid showcase of Renaissance architecture, while walled terraces offer mesmerizing vistas of Val d'Orcia. Wander along enchanting lanes like Via del Amore (Love Street), Via del Baccio (Kiss Street), and Via della Fortuna (Street of Fortune), and immerse yourself in the romantic ambiance of this Tuscan treasure.
Among Pienza's prized possessions is its delectable Pecorino di Pienza cheese, lovingly crafted from the milk of grazing ewes in the meadows nearby. Globally renowned as one of Italy's finest cheeses, you'll relish the opportunity to savor and acquire these flavorful delicacies from various shops in Pienza.
Tuscan cuisine is an intrinsic part of local pride, deeply rooted in age-old traditions. During your stay in Pienza, allow your taste buds to indulge in a scrumptious lunch at any of the warm and welcoming local restaurants or trattorias, embracing the true essence of Tuscan culinary delights.
MONTICCHIELLO
As you venture along the picturesque roads of the Valley of Orcia, you will arrive at the enchanting village of Monticchiello, a hidden gem nestled within the heart of Tuscany.
The origins of Monticchiello remain shrouded in mystery, with hints of its existence traced back to Ancient Rome when it bore the name "Mons Cloelli." However, it wasn't until the 10th century that the village's true identity surfaced through a historical document, revealing its current name.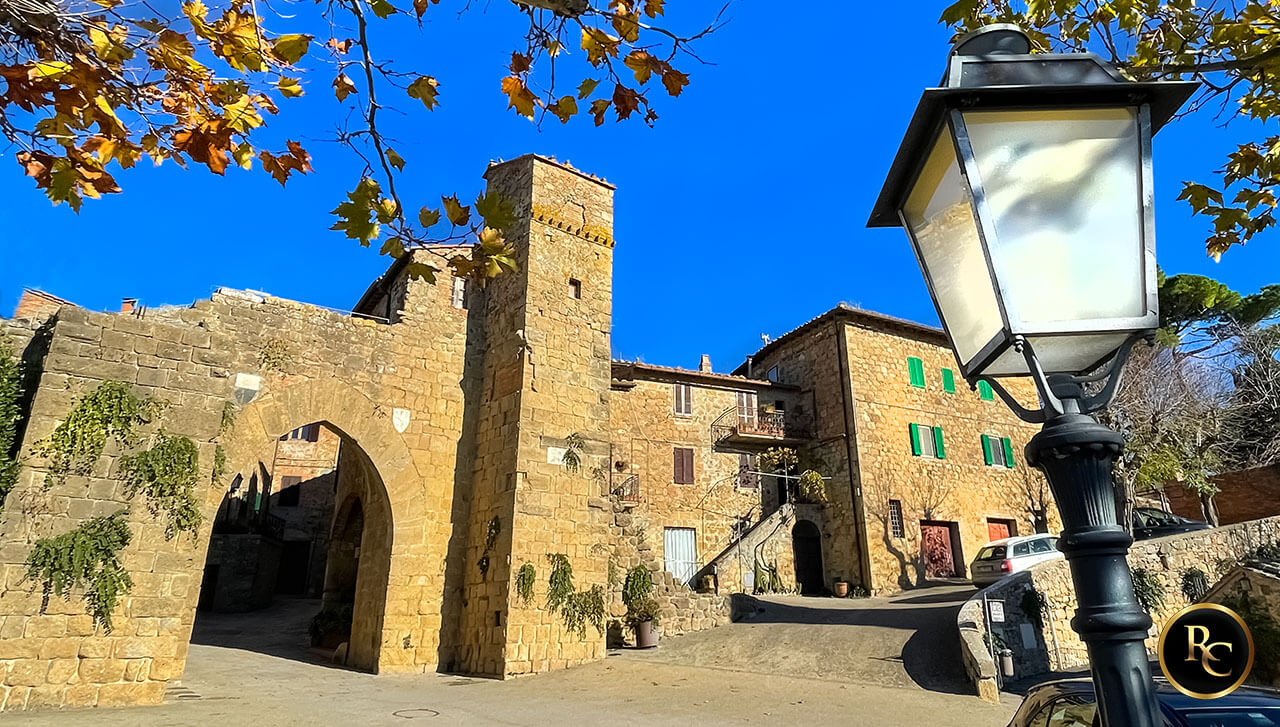 Upon passing through the grand Porta Sant'Agata, Montichiello reveals its surprising spaciousness, deviating from the typical narrow, dimly lit lanes associated with Medieval villages. A brief exploration unveils this quaint, slumbering hamlet, surrounded by captivating vistas of Tuscany's majestic landscapes, which can be savored from the terrace just outside the village walls.
Just a short distance from Montichiello lies the elusive and picture-perfect "windy road of Montichiello," an iconic representation of Tuscany that has been immortalized in photographs and films. This awe-inspiring view bears witness to the captivating beauty of this exquisite corner of Tuscany firsthand.



MEDIEVAL FORTIFIED CASTLE FARMHOUSE
A short drive from Monticchiello reveals an intriguing sight - an ancient castle rising amidst the valley, beckoning you to add the perfect finishing touch to your Tuscany tour.
Originally established in the late 12th century to aid pilgrims and travelers on the nearby Francigena route to Rome, this 14th-century fortified castle later evolved into a grand Medieval fortified monastic agricultural farm of Cistercian origin.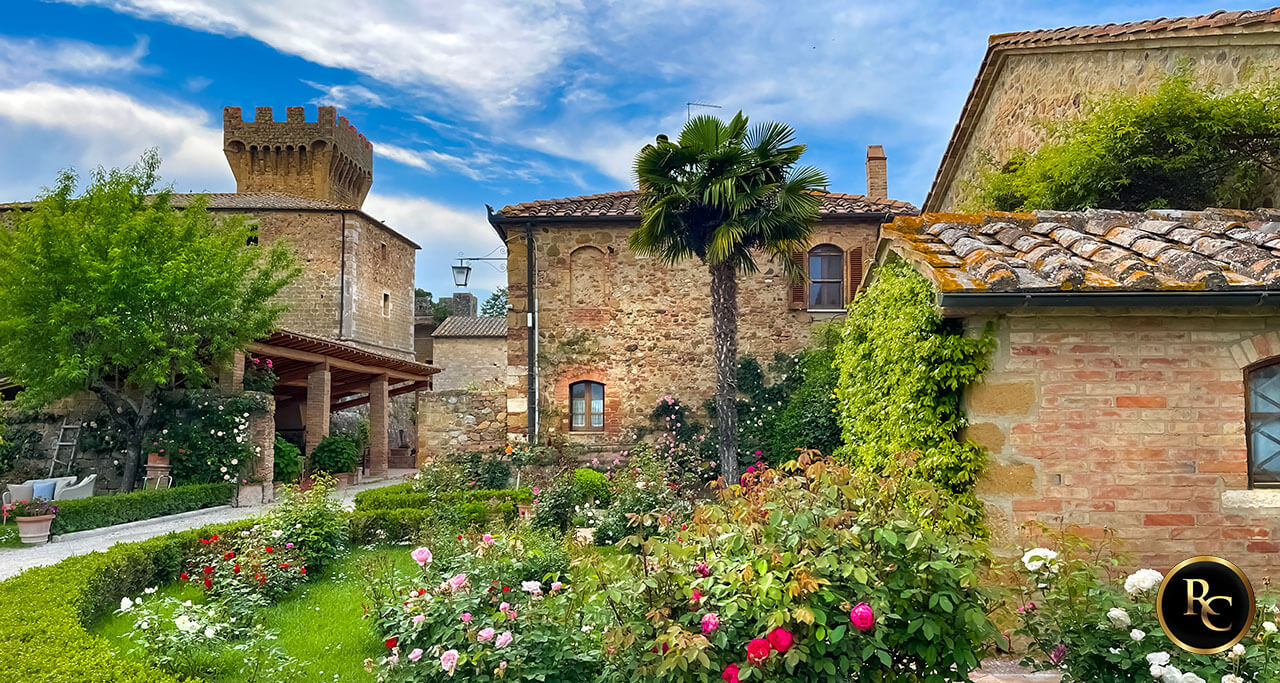 Over time, it transformed into a magnificent fortified castle complete with crenelated turrets at each end, a large door with a crenelated watchtower with a military garrison protecting the valuable resources it housed.
Today, the castle has been converted into an agriturismo farmhouse, while the old mill house has been transformed into a charming shop that offers a wide variety of organic artisanal whole-grain pasta made from local stone-ground flour, produced at the farm's larger mill near Monticchiello.
This castle-turned-farmhouse serves as a testament to the rich history and sustainable practices that thrive in this picturesque corner of Tuscany, showcasing the seamless blend of tradition and modernity in the heart of Val d'Orcia.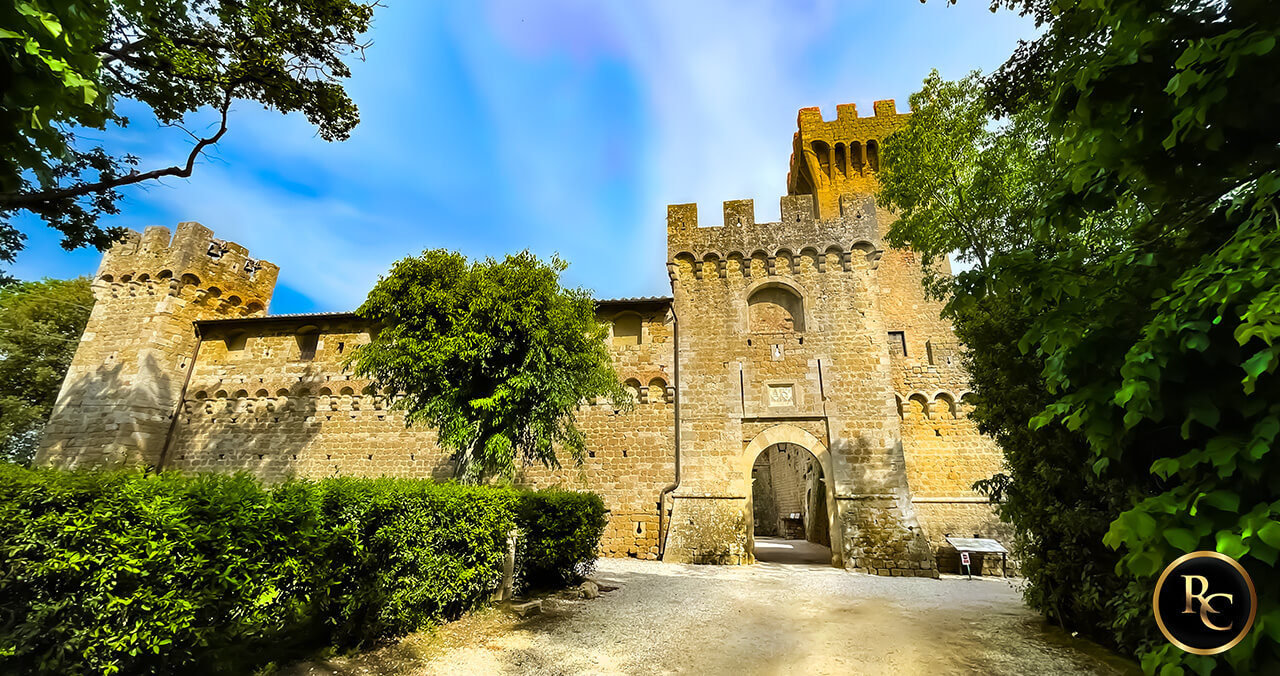 As your Splendor of Tuscany Tour draws to a close at approximately 3:30 PM you will join your chauffeur for a relaxing journey back to your hotel in Rome, carrying with you the memories you will cherish a lifetime, enriched by the sights, scents, and flavors that define this exquisite corner of Italy.
From captivating villages to the awe-inspiring vistas of Val d'Orcia, Tuscany's allure has left an indelible mark on your heart, inspiring your future adventures and weaving a timeless connection to this extraordinary destination.
Thank you for booking our Splendor of Tuscany Tour from Rome and choosing Rome Chauffeur for your private luxury tours in Italy. Let the splendor of Tuscany unfold before you, and let us show you the wonders that await.