description

ROME'S ENCHANTING COUNTRYSIDE TOUR PRICES


For 1-4 participants from Rome: 425 EUROS
For 5-6 participants from Rome: 450 EUROS
For 7-8 participants from Rome: 500 EUROS

For 1-4 participants from Civitavecchia: 550 EUROS
For 5-6 participants from Civitavecchia: 600 EUROS
For 7-8 participants from Civitavecchia: 650 EUROS



The Roman countryside in the region of Lazio is sprinkled with unforgettable historic towns, enchanting hamlets, lakeside castles, medieval fortresses, and archaeological ruins that have existed since the Etruscan, Roman, Medieval, and Renaissance eras, and are part of Italy's rich and fascinating heritage.
Our popular Rome's Enchanting Countryside Tour is the answer to the often-asked question: what is there to do outside of Rome?
On this tour, you will have the opportunity to experience three of Italy's most fascinating historical eras: Visit the famous Medieval /Renaissance era Odescalchi Castle (Castello Odescalchi) that overlooks the pristine Lake Bracciano, enjoy an authentic Italian lunch inside the Medieval hilltop fortress of Ceri, and have an adventurous afternoon exploring the ancient Etruscan tombs inside Banditaccia Necropolis in Cerveteri.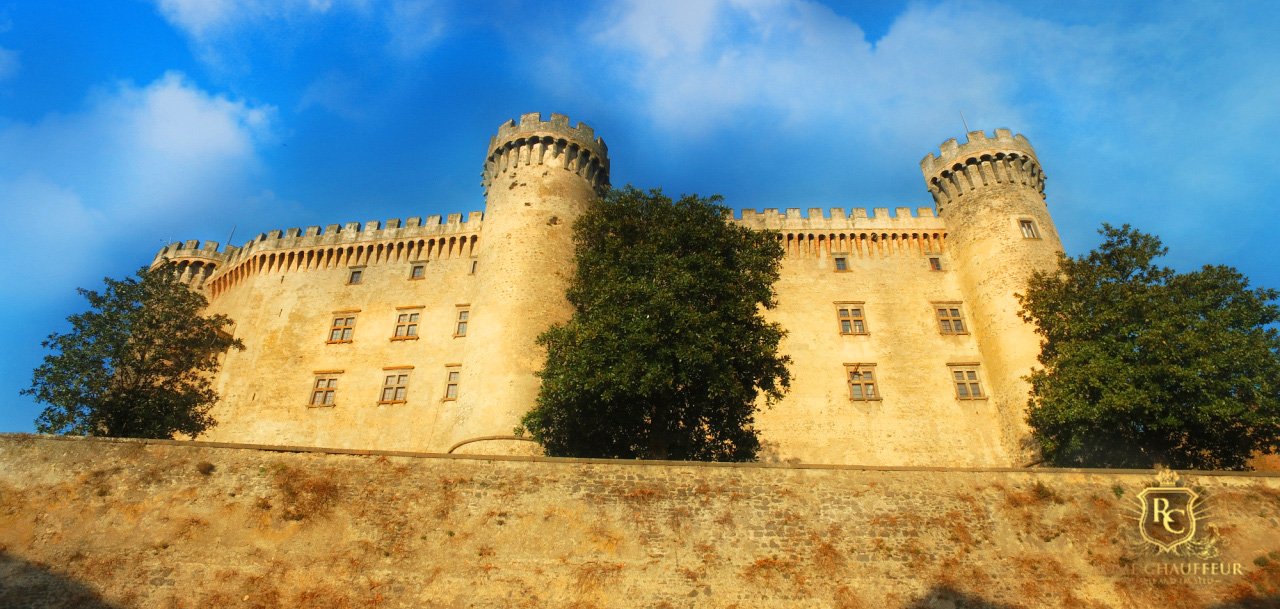 Rome's Enchanting Countryside Tour starts with a lovely drive into the rustic Roman countryside, you will arrive in the small town of Bracciano, famous for its shimmery volcanic lake and well-preserved castle.
Lake Bracciano itself is a sight to behold, a pristine lake that lies within a dormant prehistoric volcanic crater.
Overlooking the lake is the imposing castle, also referred to as Bracciano Castle or by its official name Castello Orsini-Odescalchi.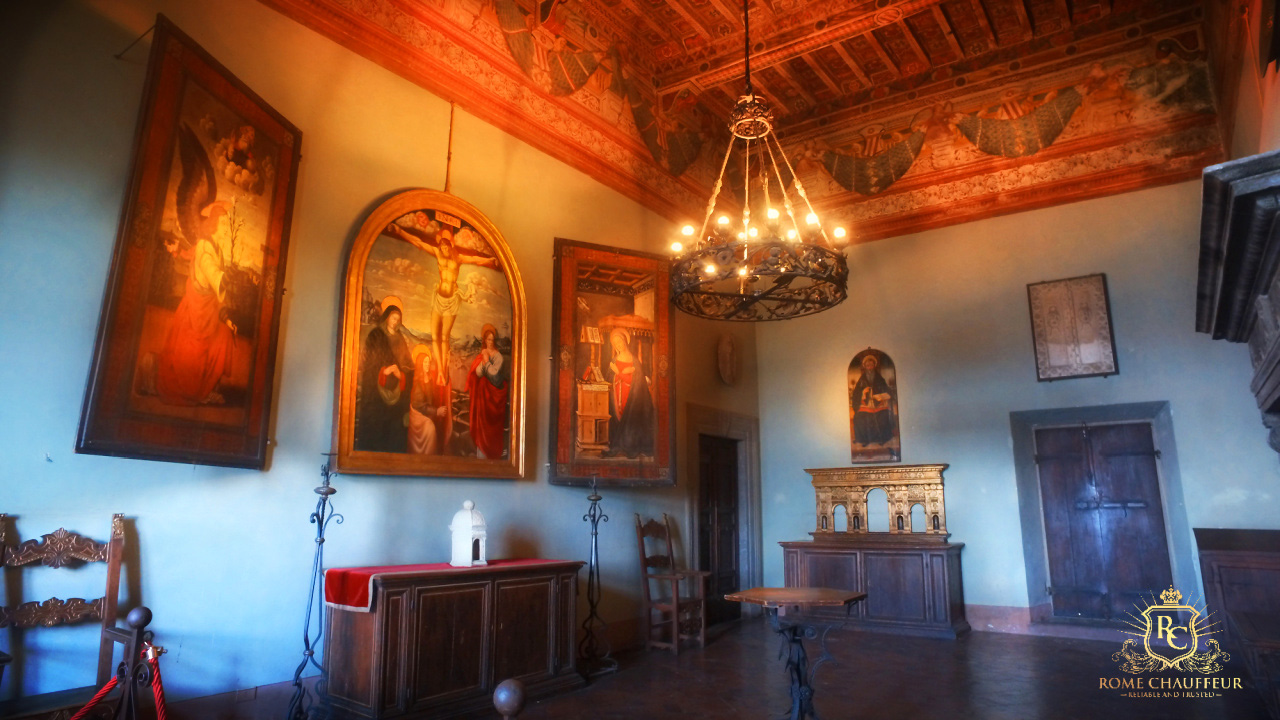 A glimpse of this formidable Renaissance military fortress will transport you to bygone eras of feudal lords, noble families, princes, and dukes. For four centuries the castle has been the private property of the Odescalchi family who transformed it into a historical museum open to the public to visit.
Glimpse into the private quarters and lives of some of Italy's most powerful historical figures. Make your way through two stories of sumptuous rooms fit for Kings and Popes and admire priceless medieval and Renaissance paintings, original furniture from centuries past, weaponry and armor worn by knights in battle, exquisite wall frescoes, and ornate ceilings.
From Bracciano, your Rome's Enchanting Countryside Tour continues through the rural countryside to your next destination, a hidden gem that appears to rise out of a steep rock formation: the medieval hamlet of Ceri (Borgo di Ceri in Italian)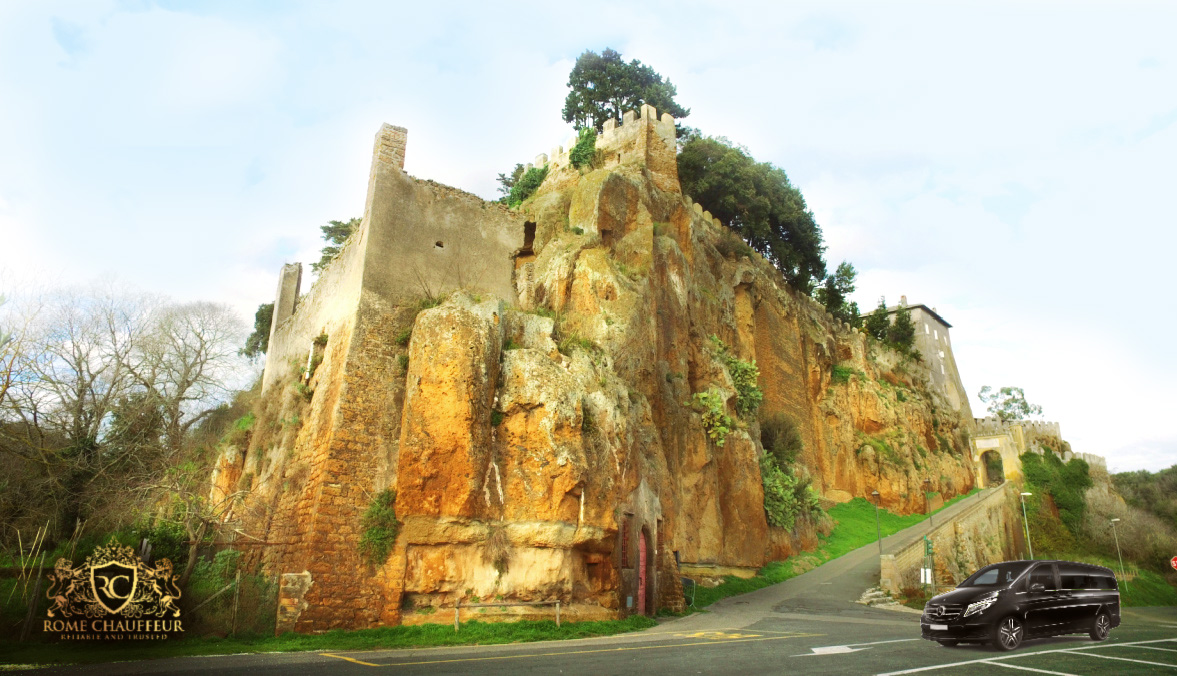 Due to the defensive protection this small fortified plateau offers, Ceri has been inhabited since the ancient times when the Etruscans and Romans ruled these lands. Its original name "Caere Novum" was shortened to Ceri.
Frozen in time to when it was founded in the early 1200s, Ceri invites visitors to experience an authentic medieval hamlet and enchants them with an atmosphere that evokes eras that fairytales are made of.
What not to miss in Ceri is its famous Romanesque Church of the Madonna of Ceri which was built on top of an ancient Etruscan temple dedicated to goddess Vesta and decorated with stunning frescoes from the 12th century.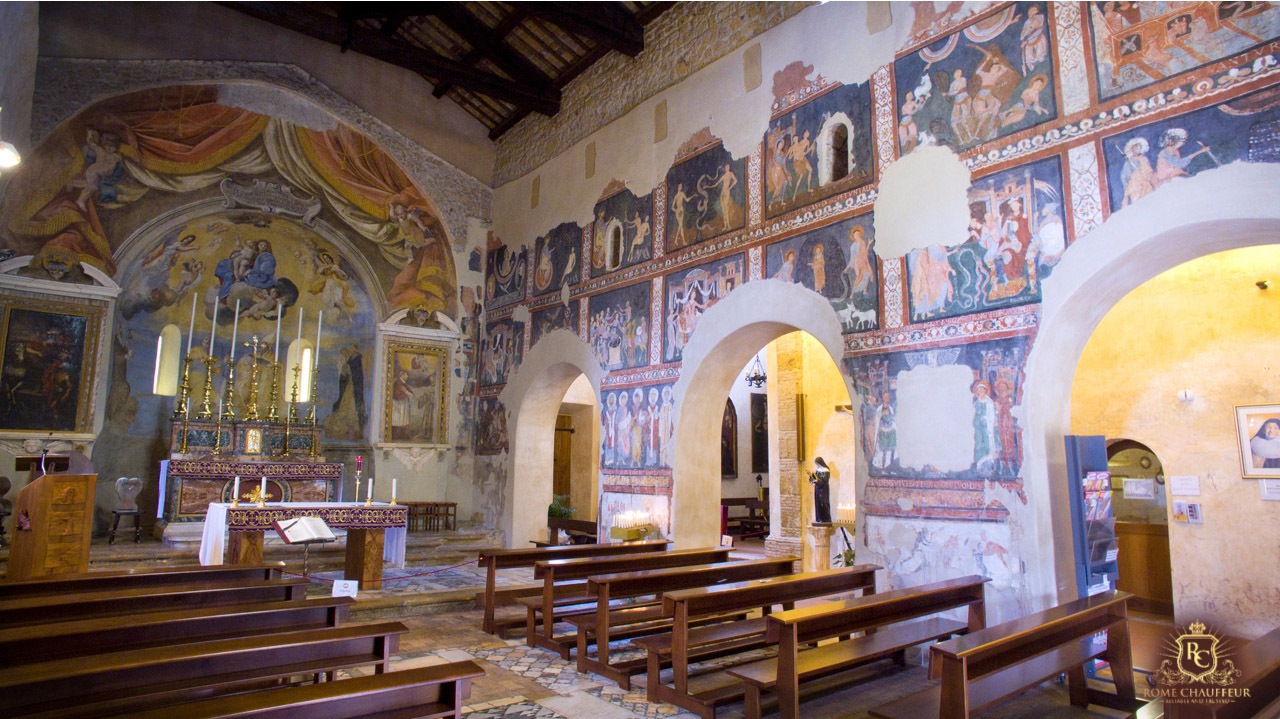 The restaurants in Ceri are among the most sought-after by discerning Italians for their fine local cuisine and quality ingredients that produce the tastiest dishes. For an unforgettable gastronomic experience, you don't want to miss Lunch in Ceri.
From here you will continue your next adventure as you explore some of Italy's most fascinating sites: the Banditaccia Necropolis in Cerveteri where for several centuries the ancient Etruscans built and expanded their enormous necropolis (or city of the dead).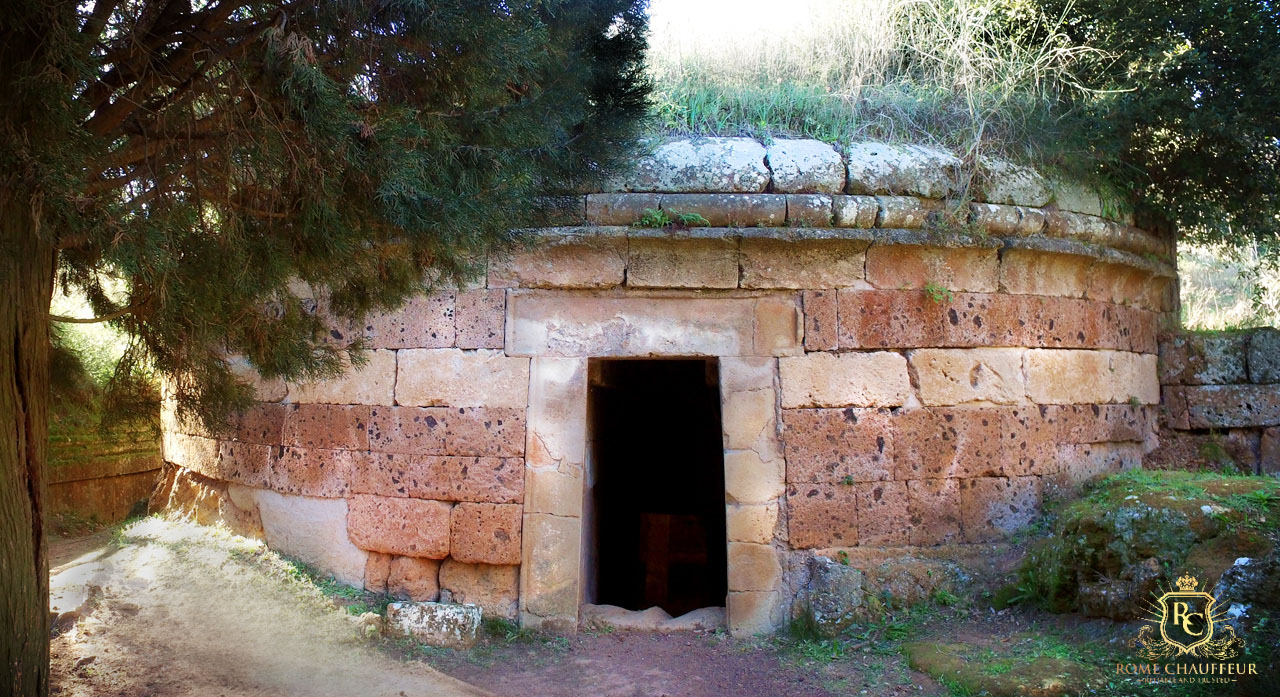 Originally a powerful Etruscan city-state named Caere Vetus, Cerveteri is famous for its necropolis that has been declared a UNESCO World Heritage Site.
Of the nearly 1,000 acres that the necropolis covers, about 25 acres have been excavated with about 1,000 tombs open to visitors.
Spanning 6 centuries of the Etruscan civilization, the Banditaccia necropolis offers the unique opportunity to witness the advancement of this pre-Roman civilization whose tombs evolved from simple stone pits or potholes where the ashes were housed, to elaborate round and cube-shaped tombs built like city blocks with roads.
Although you may not be Indiana Jones or Lara Croft of Tomb Raiders, exploring these ancient tombs hand carved into the living tufa rock, and experiencing such a unique place sacred to one of Italy's most significant ancient civilizations is undeniably profound and will leave you yearning to learn more about the mysterious people whom these tombs once belonged to.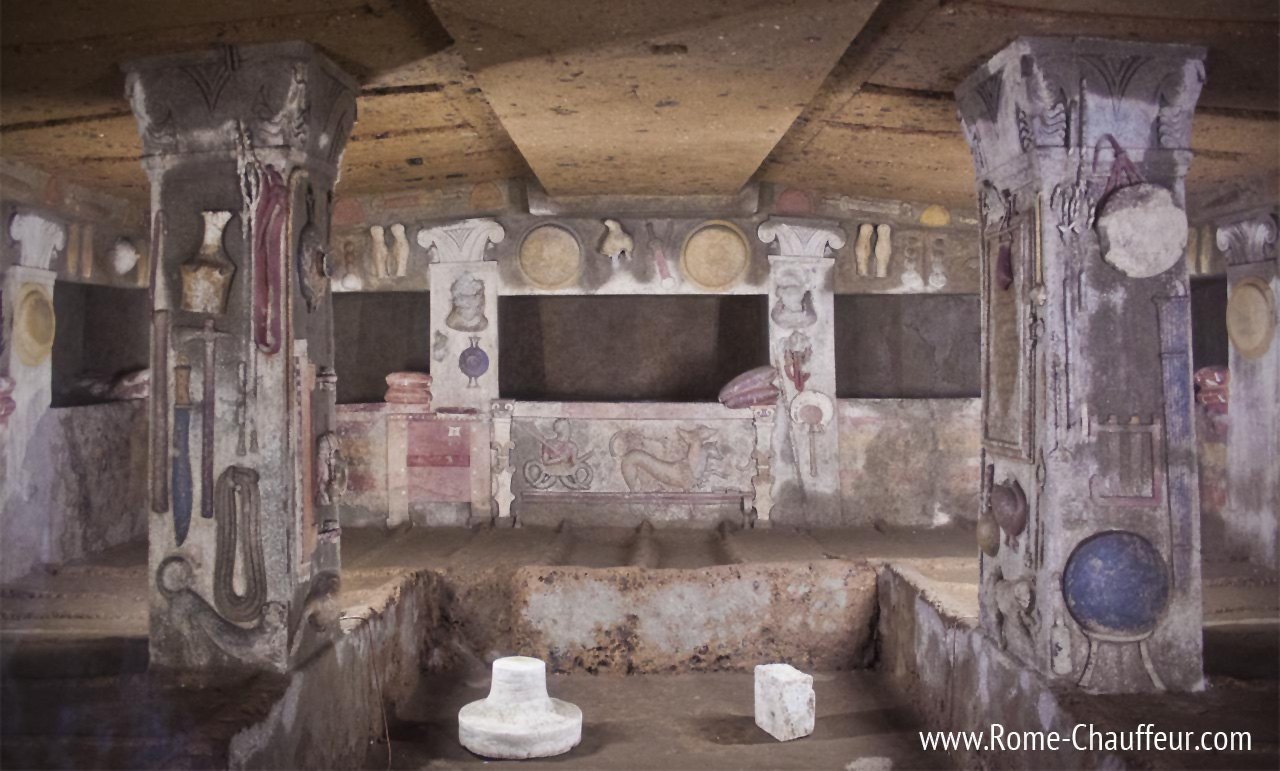 Among the most famous tombs is the most recent Tomb of the Reliefs (Tomba dei Rilievi), which dates to the 3rd century BC.
After spending a day traveling through Italy's important historic eras, you will enjoy a relaxing drive back to Rome or your cruise ship in Civitavecchia.
Thank you for your interest in our Rome's Enchanting Countryside Tour and for choosing Rome Chauffeur for your Italy private tours and shore excursions. We look forward to meeting you and to helping you create unforgettable memories in Italy!
Important Information

* NOTE: Please READ carefully the Important Information below, as well as Read and Accept our TERMS OF SERVICE and Privacy Policy before booking.


PAYMENT METHODS:
The listed price of the tour is per vehicle, not per person. Rome Chauffeur accepts online prepayment via PayPal or Credit Card at the time you confirm your tour or you may pay on the Date of Service in Euro funds at the end of the tour made directly to your Chauffeur. If at any time you need extra funds on the day of your tour, your chauffeur will be happy to help you locate an ATM machine.

CANCELLATION ADVISORY:

Cancellations must be made at least 7 days prior to your Date of Service. Prepaid services canceled last minute less than 3 days or are No Show on the Date of Service are NOT Refundable.
Cancellations must be made in writing via E-Mail followed by an official cancellation confirmation E-Mail from our office in order for your cancellation to be valid. Cancellations are NOT accepted by Phone, Text, or through 3rd Party individuals such as hotel clerks, friends, or concierge services.


* CANCELLATION FOR PREPAID SERVICES: Only NET RATE will be issued on prepaid services. Net Rate is what we receive from your prepayment after PayPal / CC takes out their fees which they don't reimburse us in case of refunds. Therefore, we are only able to refund what we receive from you after PayPal/ CC takes out their fees.
FOR A DAY TOUR FROM ROME:
Your Rome's Enchanting Countryside Day Tour will start at 9:00 AM when you meet your English-speaking Rome Chauffeur at your hotel accommodation in Rome, and your tour will complete when you arrive back at approximately 5:00 PM.


SHORE EXCURSION FROM CIVITAVECCHIA CRUISE PORT:
Your Rome's Enchanting Countryside Shore Excursion will start at 8:00 AM when you meet your English speaking Rome Chauffeur on the pier next to your ship, and your tour will complete when you arrive back in Civitavecchia at approximately 5:00 PM

ADMISSION TICKETS
Tickets to Odescalchi Castle in Bracciano are currently 10 Euros per person (Ticket Prices can change without advance notice).
Please be aware that Bracciano Castle may unexpectedly close for private events or restorations without advance notice. If closed upon your arrival in Bracciano, your chauffeur will be happy to take you to explore other lakeside villages such as Trevignano or Anguillara following your visit to the historical town of Bracciano.


* Private Tours of the Castle: Odescalchi Castle offers private tours in English with advance booking at 180 Euros INCLUDING entry tickets. Availability of English-speaking tour guides is limited, please inform us in advance so we can secure this tour. Advance NON-Refundable Prepayment is required to reserve the guided tour. The Castle does NOT issue refunds in case of cancellation.


Entry tickets to Cerveteri Banditaccia Necropolis are currently 10 Euros per person.
You have the option to self-tour the necropolis or book a local licensed tour guide for an informative guided tour of the necropolis. If interested in a private tour guide, please inquire within for rates and availability.

YOUR TOUR CHAUFFEUR
Tour Chauffeurs are not licensed tour guides, therefore they are forbidden by law to accompany or guide guests to sightsee during the tour. In order to comply with local laws, drivers are required to stay with the vehicle while our guests sightsee.


PRIVATE SHORE EXCURSIONS MONEY-SAVING TIP:
HOW TO SAVE ON SHORE EXCURSIONS: Place an ad on Cruise Critic for your chosen date of the service. Make new friends and share your tour and fun with other like-minded travelers.
ROME COUNTRYSIDE TOUR TIPS:


Wear comfortable clothes and walking shoes
Visiting the upper level of the castle's private apartments that also lead to the castle's ramparts requires climbing a flight of stairs along a spiral stairway. If you have trouble with stairs, you may enjoy the lower level of the castle, as well as the atrium and castle kitchen.
You will be walking on uneven terrain, and climbing stairs may be required to access some of the most fascinating tombs during your exploration of Banditaccia Etruscan Necropolis. If you are unable to climb steps, you may enjoy visiting tombs that are easier to access. The necropolis is located in a natural park-like setting that makes for a lovely stroll as you admire the fascinating tombs throughout.
Bring your cameras for ample photo-taking opportunities!