description

Experience the Jewels of Maremma on our Pitigliano and Sovana Tuscany Excursion from Civitavecchia cruise port in your private deluxe vehicle and personal English-speaking chauffeur at your service. Escape the tourist crowds and embrace the authentic essence of Southern Tuscany's Maremma region which boasts a harmonious blend of open landscapes, rustic charm, and Etruscan heritage.
Explore the enchanting hilltop towns of Sovana and Pitigliano, steeped in rich history and boasting a remarkable unbroken legacy since ancient times. Unveil the captivating jewels of Maremma on this unforgettable private excursion from Civitavecchia to Tuscany.
If you are staying in Rome, you may also book our Pitigliano and Sovana Tour from Rome.
PITIGLIANO & SOVANA Tuscany Excursion from Civitavecchia Prices:


For 1-4 participants from Rome: 650 Euros
For 5-6 participants from Rome: 700 Euros
For 7-8 participants from Rome: 800 Euros


Your personal English-speaking Rome Chauffeur will meet you on the pier next to your cruise ship in Civitavecchia at 8:30 AM for a fun-filled shore excursion to Tuscany to your first destination: Pigiliano.
VISIT PITIGLIANO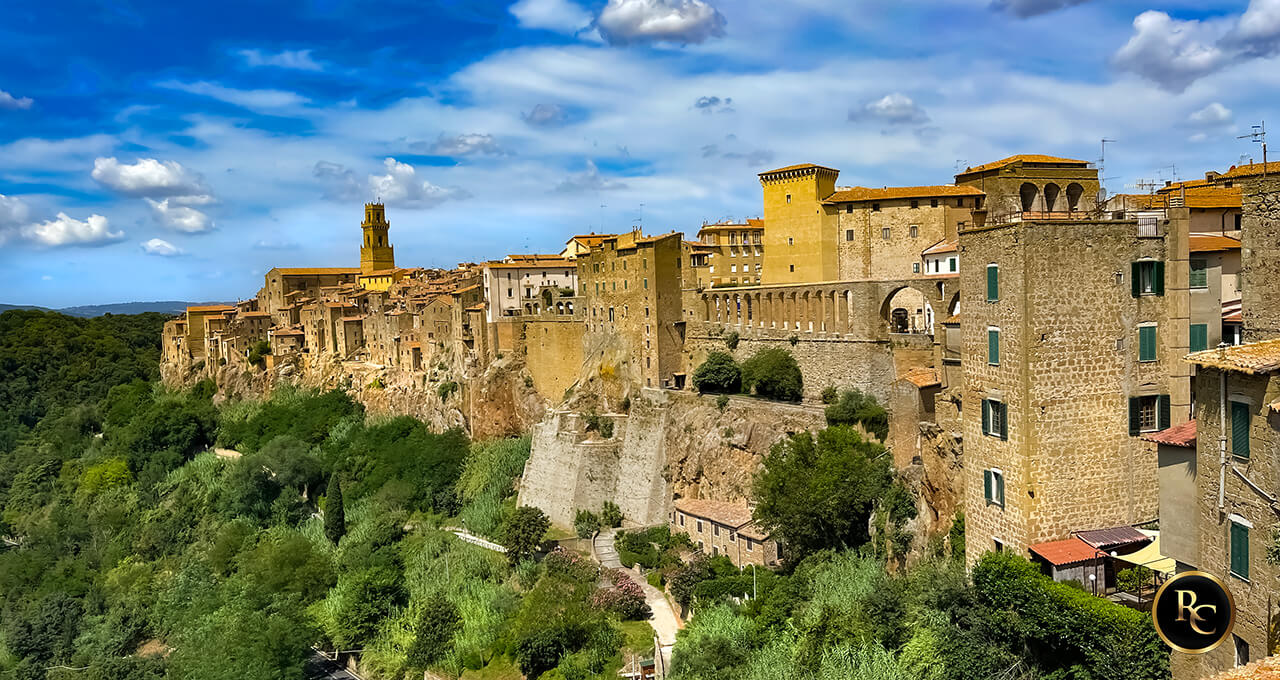 Behold Pitigliano, a timeless treasure perched upon a mystical promontory, where medieval stone buildings gracefully emerge from rugged cliffs. Pitigliano's extensive history spans from prehistoric origins to the glory of Roman colonization, once known as Petilia Gens in honor of its legendary founders, Petilio and Celiano. The enchanting tapestry unfolds through the captivating eras of the Medieval and Renaissance with the grand Palazzo Orsini and towering Medici Aqueduct standing as timeless testaments to their legacy.
Stroll through the enchanting maze of medieval streets lined with historical buildings that host inviting shops and boutiques, and immerse yourself in the echoes of bygone times when legendary figures once called this place home.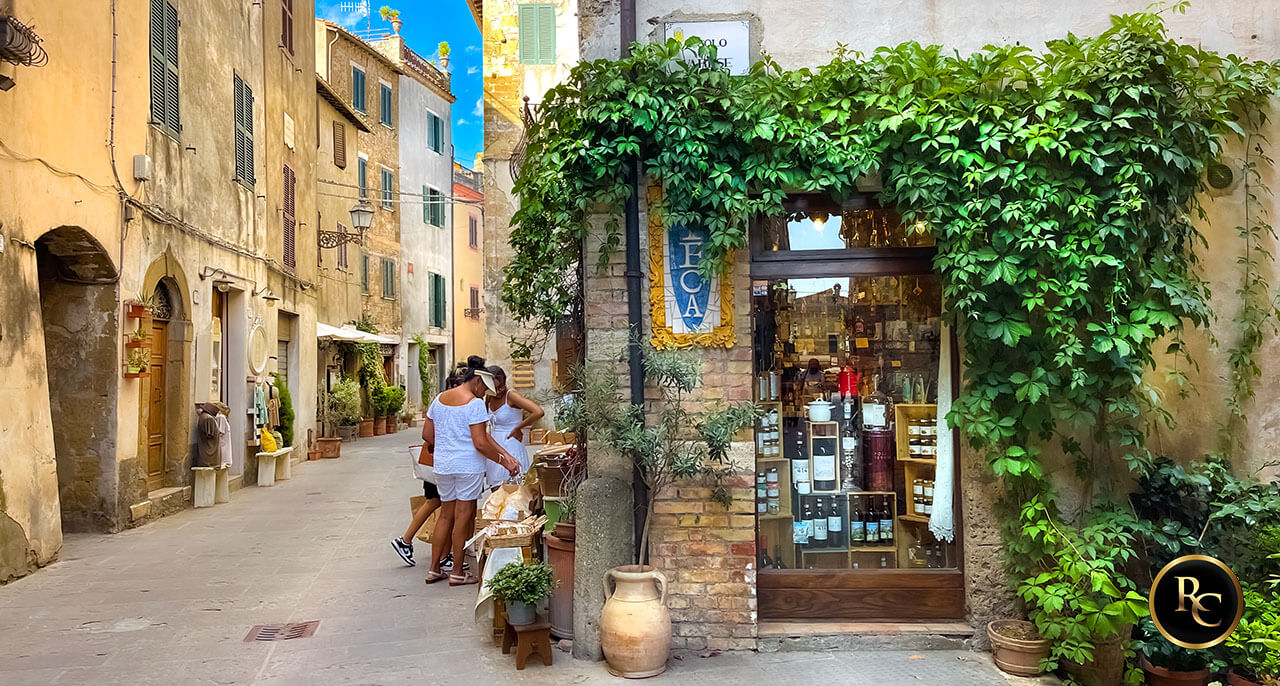 TIPS: Things of Interest in Pitigliano



Explore Piccola Gerusalemme (Little Jerusalem)


During your visit, you have the opportunity to explore "Little Jerusalem" (Piccola Gerusalemme) by visiting the ancient neighborhood where the echoes of a once-vibrant Jewish community seeking solace from persecution resonate through time.
Explore the ancient Passover Matzoh bakery, cleverly concealed within a rock cave, and visit the beautifully restored Synagogue dating back to the late 16th century. Delve deep into the enduring legacy of this community as you wander through hidden underground cellars and ritual baths, where the poignant stories of a profound and significant history come to life.
Admission Tickets are required to visit the Little Jerusalem sites.



While immersing yourself in the wonders of Pitigliano, indulge in the exquisite "Sfratto di Pitigliano", a savory baton-shaped biscuit composed of walnuts, honey, nutmeg, orange peel, and anise, baked in a hard doughy shell. This local sweet honors the enduring legacy of the Jewish community in Pitigliano when the Grand Duke of Tuscany, Cosimo II de Medici, issued an edict.
This edict resulted in the resettlement of Jews from neighboring towns like Sovana and Sorano to a specific area in Pitigliano, located between Via Zuccarelli and the southern walls of the city. This area came to be known as the Jewish ghetto, and the decree itself earned the name "sfratto", an Italian term meaning "eviction".




According to legend, during the implementation of this order, officials would knock on the doors of Jewish homes using a stick. A century later, in a tribute to their history and to symbolize their resilience, the Jewish community in Pitigliano created a sweet pastry known as Sfratto di Pitigliano. This delightful treat served as a symbolic replacement for the evictions and stands as a delicious reminder of the town's history and the enduring legacy of its Jewish community.
Explore Pitigliano's Boutiques


Strolling along Via Roma and Via Zucarelli, you'll encounter charming boutiques, each extending an alluring invitation. These streets weave a story of craftsmanship and creativity, inviting you to wander amidst their treasures. Uncover a realm of the artistry of hand-crafted hats, supple leather goods, captivating ceramics, and clothing that exudes individuality. Delight in the exquisite detailing of hand-crafted jewelry that mirrors the town's character, and discover irresistible souvenirs that encapsulate the very spirit of Pitigliano.
As you traverse these streets, surrender to the temptations of gastronomic boutiques, where regional delights await to tantalize your taste buds.

Visit Palazzo Orsini Museum


For those with a penchant for museums and the grandeur of Renaissance palaces, Palazzo Orsini presents an opportunity to visit a 14th-century palace. Comprising twenty-one rooms, the palace museum hosts restored 15th-century frescoes and ornate ceilings, antique furnishings, intricate jewelry, an assortment of coins, wooden sculptures, and several paintings fit for a palace.
NOTE: The palace spans multiple floors accessible via medieval stone staircases. While these architectural gems exude historical charm, it's important to mention that navigating these stairs might pose challenges for visitors with mobility considerations.


After a tasty Tuscan lunch at a local ristorante in Pitigliano, your Tuscany shore excursion continues to your next destination: Sovana.
VISIT SOVANA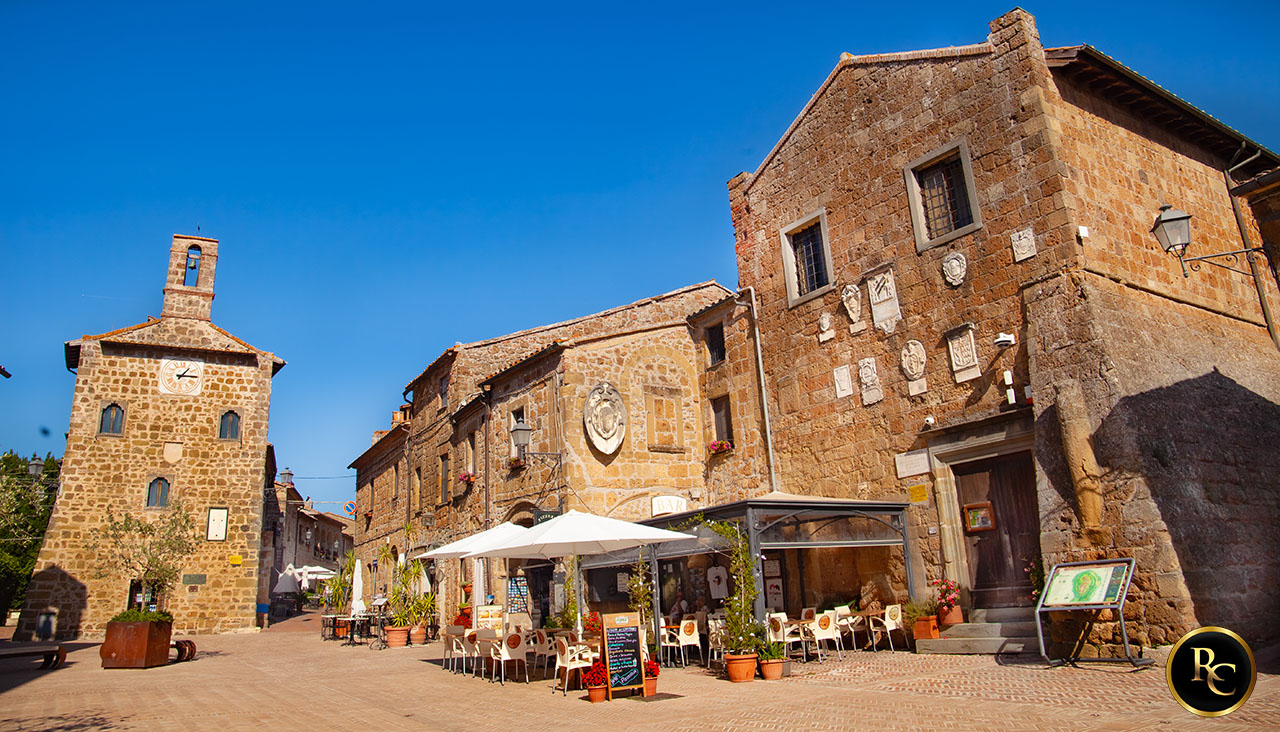 Journey into the hidden treasures of Sovana, a well-kept secret with a history that spans back to ancient times, where echoes of ancient Neolithic and Bronze Age settlements resonate throughout the landscape. This picturesque village carries the legacy of Roman colonization, preserving remnants of the ancient Roman colony Suana.
Step into Sovana, and you'll find yourself immersed in a captivating Middle Ages tale. Sovana's enduring allure bears witness to its resilience over the centuries, overcoming the tests of time, and triumphing over challenges like wars, sackings, and even the trials of malaria-induced depopulation.
At the heart of Sovana lies the captivating Piazza del Pretorio, hailed as one of Italy's 100 most stunning squares, framed by medieval stone buildings and palazzi, and paved with bricks arranged in the traditional herringbone pattern.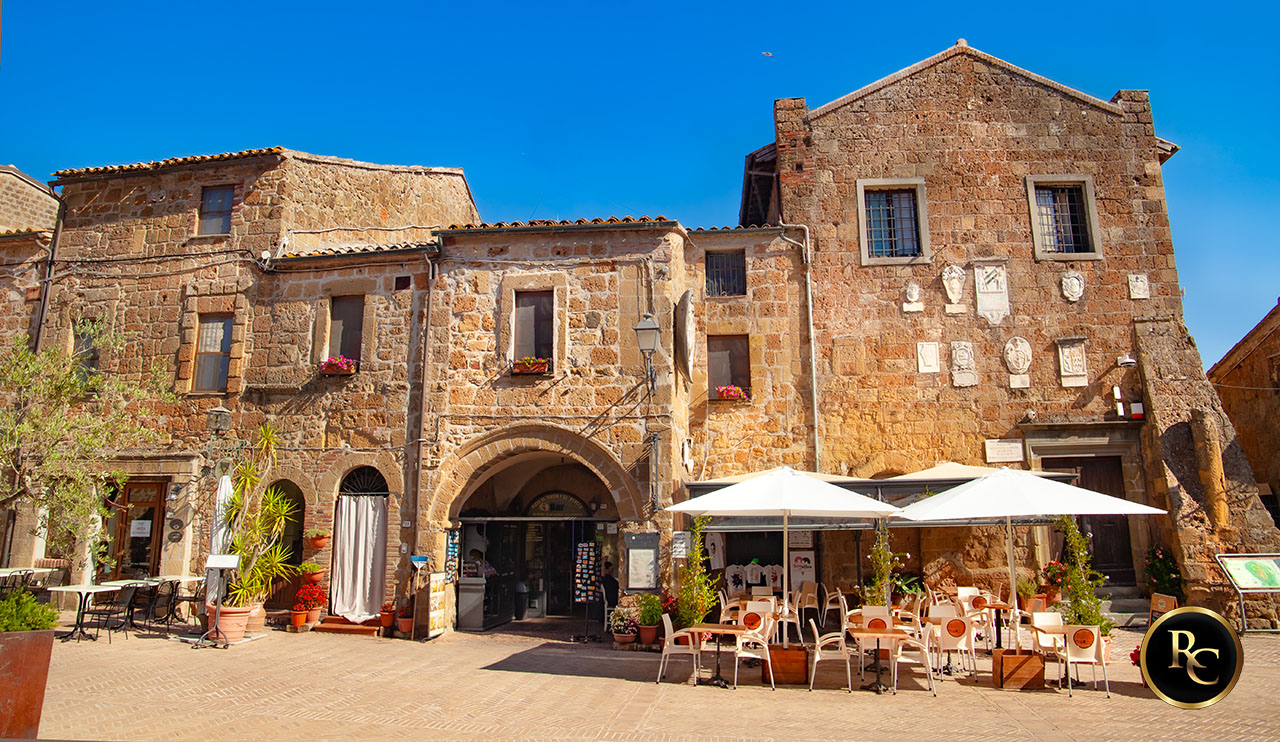 TIPS: Things of interest in Sovana



Stroll through the Sovana


Indulge in the timeless enchantment that Sovana holds, as you traverse beyond the central piazza and follow the paved lane that guides you alongside medieval stone buildings. These ancient buildings house not only history but also the allure of cozy cafes, one-of-a-kind boutiques, and windows adorned with vibrant floral displays.
As your exploration unfolds, the path leads you further along, unveiling the majestic Cathedral of Saint Peter, a testament to the village's rich spiritual heritage. On the opposite frontier of Sovana, the ruins of Rocca Aldobrandesca stand as a silent testament to ancient fortifications. Surrender to the harmonious blend of bygone tales and medieval charisma that shape this remarkable village.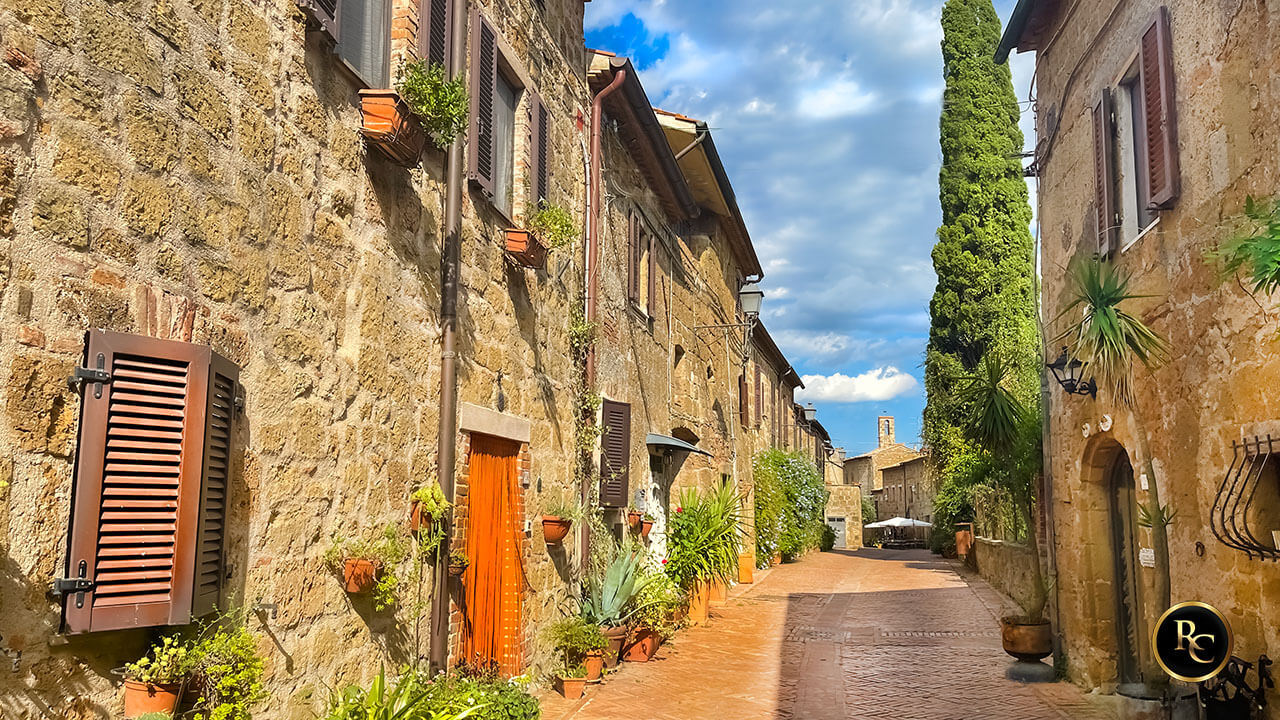 Visit Church of Santa Maria Maggiore and the Cathedral of St Peter


Within the vibrant embrace of Piazza del Pretorio is the unassuming Church of Santa Maria Maggiore. Venture inside to discover its evocative interior, including a pre-Romanesque ciborium that hovers gracefully above the altar, held aloft by four pillars. This masterpiece thought to have been repurposed from San Mamiliano church, emanates an aura of antiquity.
Sovana's allure also resides in the Cathedral of St. Peter, a Romanesque and Gothic monument steeped in history. Its construction stands atop the reputed site of the Etruscan acropolis, and its Gothic entrance is adorned with intricate marble flourishes, each an enigmatic symbol evoking the spirit of medieval mysticism. As you navigate the cathedral's interior, you'll be captivated not only by its architectural symmetry but also by the palpable sense of timelessness that envelops it.
NOTE: Tickets are required to visit the Cathedral of St Peter, which you may purchase inside the cathedral's gift shop at the entrance.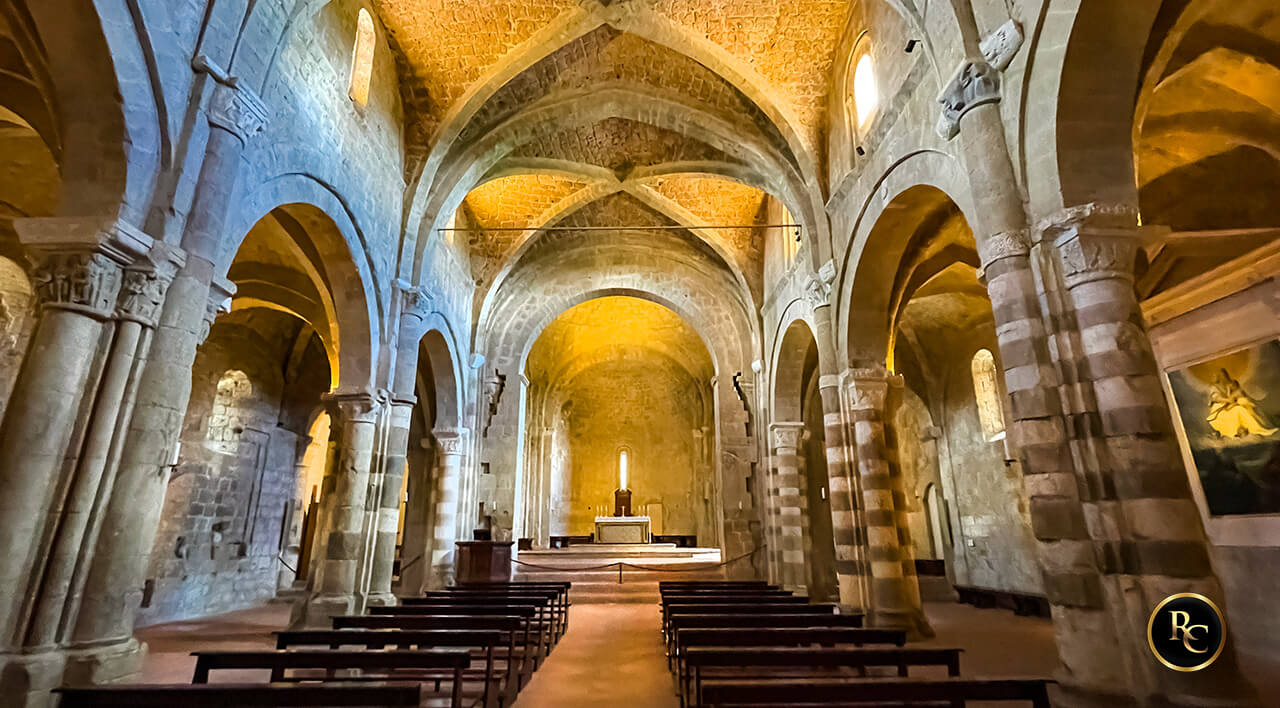 Admire the ruins of Rocca Aldobrandesca


Commanding a presence at the farthest opposite end of the village, the vestiges of Rocca Aldobrandesca narrate a tale etched by the hands of time. Once a vibrant epicenter of the town's life, it stood as a bastion of strength, providing sustenance through its water source, a thriving bakery, and ensuring the security of precious grains.
Presently, only fragments endure: a gracious and inviting main entrance, a vigilant watchtower standing tall, and a steadfast segment of protective walls.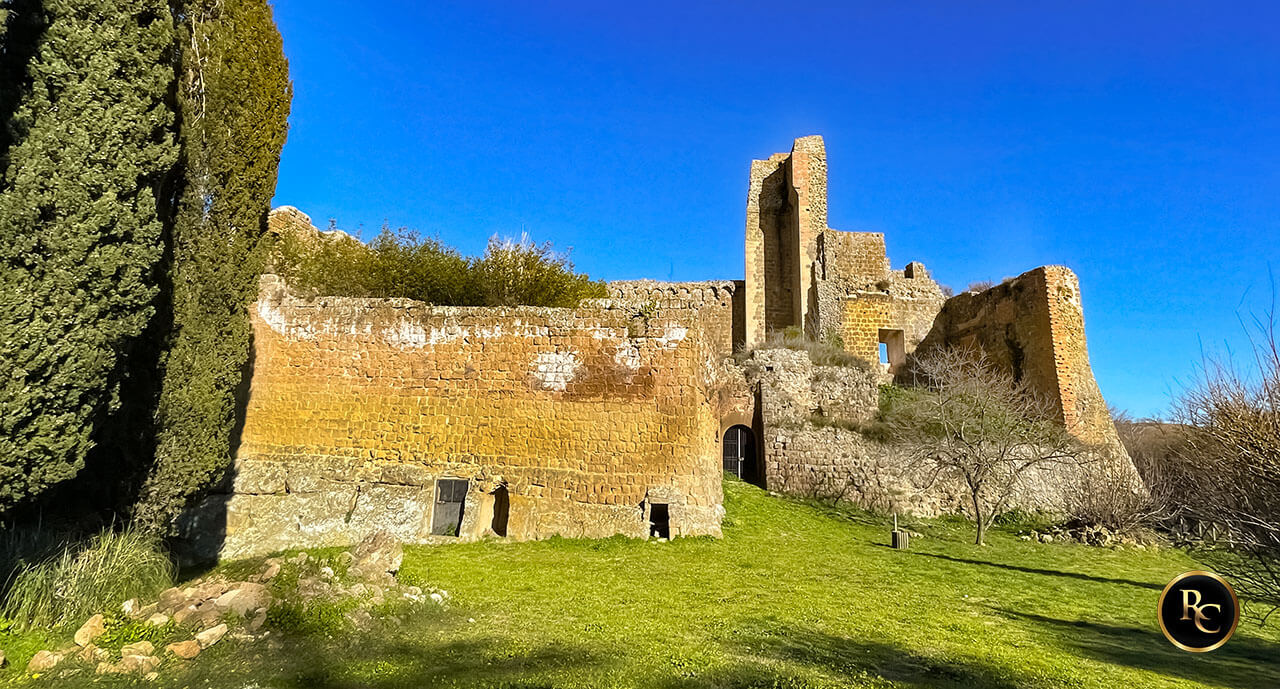 As your wonderful Tuscany shore excursion to Pitigliano and Sovana concludes, you will depart from Sovana at 3:30 PM heading back to your awaiting cruise ship in Civitavecchia carrying with you a treasure trove of cherished memories from the heart of Tuscany's hidden gems. Your estimated arrival back to the port will be approximately 5 PM.
Thank you for booking your Italy private excursions with Rome Chauffeur. We look forward to showing you the marvels and wonders of Tuscany on our Pitigliano and Sovana Tuscany Shore Excursion from Civitavecchia.
Important Information

* NOTE: Please READ carefully the Important Information below, as well as Read and Accept our TERMS OF SERVICE and Privacy Policy before booking.

The listed price of this Pitigliano and Sovana Shore Excursion from Civitavecchia is per vehicle, not per person. Rome Chauffeur accepts online prepayment via PayPal or Credit Card at the time you confirm your tour, or you may pay on the Date of Service in Euro funds at the end of the tour made directly to your Chauffeur. If at any time you need extra funds on the day of your tour, your chauffeur will be happy to help you locate an ATM machine.

Cancellations must be made at least 7 days prior to your Date of Service. Prepaid services canceled last minute less than 7 days or are No Show on the Date of Service are NOT Refundable.
Cancellations must be made in writing via E-Mail followed by an official cancellation confirmation E-Mail from our office in order for your cancellation to be valid. Cancellations are NOT accepted by Phone, Text, Or through 3rd Party individuals such as hotel clerks, friends, or concierge services.
* CANCELLATION FOR PREPAID SERVICES: Only NET RATE will be issued on prepaid services. Net Rate is what we receive from your prepayment after PayPal / CC takes out their fees which they don't reimburse us in case of refunds. Therefore, we are only able to refund what we receive from you after PayPal/ CC takes out their fees.

MEETING POINT for SHORE EXCURSION FROM CIVITAVECCHIA:
Pick Up Time for this Pitigliano and Sovana Tuscany Tour from Civitavecchia is 8:30 AM when you meet your English-speaking Rome Chauffeur on the pier next to your ship, and your tour will complete when you arrive back in Civitavecchia at approximately 5:00. You will receive Meeting Point information in your Confirmation Voucher.


YOUR TUSCANY TOUR CHAUFFEUR
On this Tuscany shore excursion, you are provided with an English-speaking Chauffeur who is not a licensed Tour Guide. Only locally licensed tour guides can guide and accompany guests to sightsee. In order to be in compliance with Italian laws, Chauffeurs are required to remain with the vehicle while you SELF-TOUR on your own.
ADMISSION TICKETS:
Admission Tickets are required for some places of interest in Pitigliano and Sovana.
Ticket prices are always subject to change and are not guaranteed.
See also the COMBO TICKETS option below.


PITIGLIANO ADMISSION TICKETS
To visit Little Jerusalem / "La Piccola Gerusalemme":
Admission Tickets: 5 Euros per person
The site is CLOSED on Saturdays, Jewish holidays, and Christmas Day.
To visit the Museum of Orsini Palace:
Admission Tickets: 5 Euros Per Person
** Please note that the Museum, which is hosted across many rooms inside the palace, is not suitable for visitors with mobility issues or difficulty in ascending and descending multiple flights of medieval-era stairs.


SOVANA ADMISSION TICKETS
To visit the Cathedral of St. Peter in Sovana:
Admission Tickets: 2.50 EURO Per Person
Cathedral of St Peter Openings Hours in the afternoon are 14:30 - 19:00
In January & February, the Cathedral is open only on Saturday and Sunday

** PITIGLIANO AND SOVANA COMBO TICKETS:
1 Combo Ticket valid for Orsini Palace Museum in Pitigliano AND Cathedral of Saint Peter in Sovana is 6 Euros Per Person * (Inquire at the reception of the Orsini Palace Museum)