description

WINE TOUR OVIETO AND MONTEPULCIANO PRICES:


For up to 4 participants from Rome: 500 Euros
For up to 6 participants from Rome: 550 Euros
For up to 8 participants from Rome: 600 Euros
Umbria and Tuscany are two of central Italy's characteristic regions and this popular Rome Chauffeur tour offers you the opportunity to enjoy both while exploring two distinctive towns famous for their unique history, architecture, food, wine, and breathtaking landscapes: Orvieto in Umbria, and Montepulciano in Tuscany.


Wine Tour: Orvieto in Umbria

A leisurely 90-minute drive through the Roman countryside into Umbria will take you to your first stop, Orvieto, easily recognized as the medieval hilltop town that appears to dramatically rise out of a steep tuffa cliff.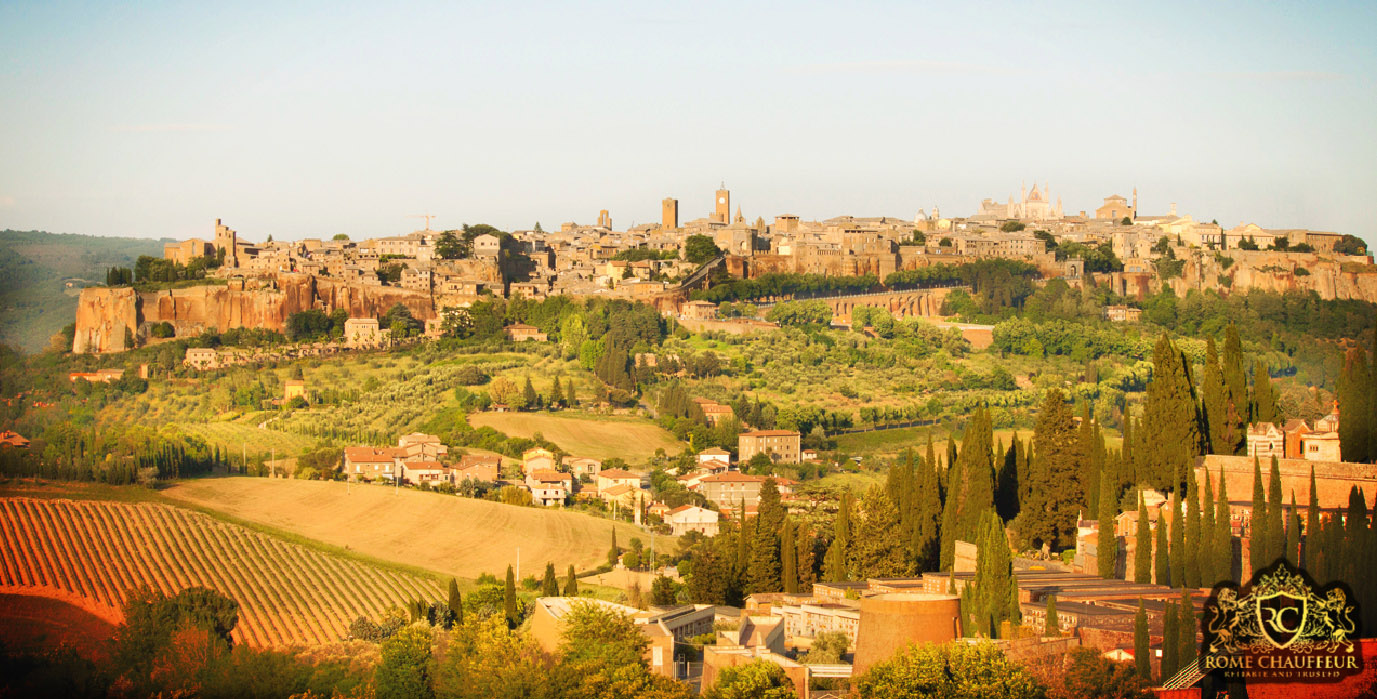 Orvieto is indeed an ancient city - "urbs vetus" in Latin evolved into "Orvieto" - was previously an Etruscan acropolis, settled by the highly advanced pre-Roman civilization that once ruled central Italy.
The medieval era saw the town grow into a significant cultural center producing architectural masterpieces like its famous Duomo (cathedral), dedicated to the Assumption of the Virgin.
The glittering golden mosaics that adorn its facade, make this 14th-century Gothic cathedral one of the most stunning churches in Italy. The interior of the Duomo is decorated with frescoes painted by some of Italy's most famous artists of that period, making it one of the must-see churches in Italy.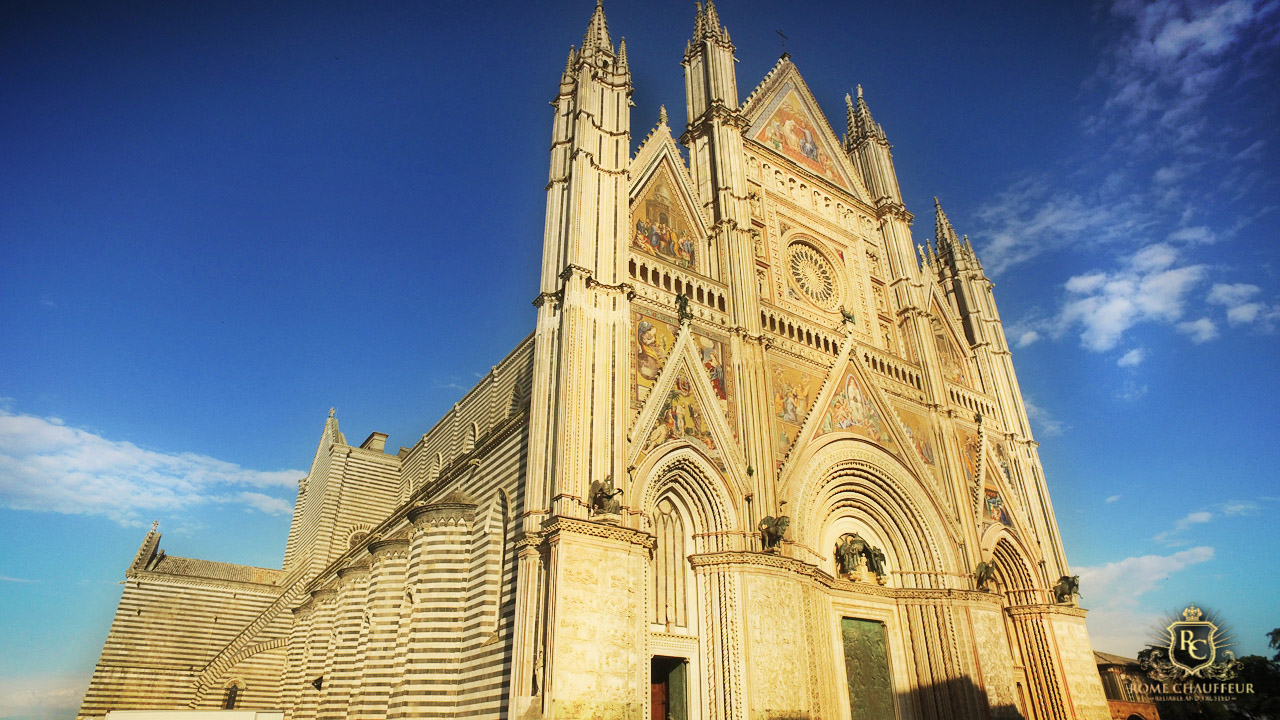 Aside from its unique history and architecture, Orvieto's spacious and nearly traffic-free streets are lined with cafes and restaurants, enoteche (wine shops), shops specializing in local products, ceramics, leather goods and more.

Wine lovers will be pleased to know Orvieto is famous for its excellent local white wines available for tasting and purchasing at wine shops throughout the town. Some of the most famous wines in this region are produced from a blend of mostly Grechetto and Trebbiano grapes and is known as Orvieto Classico. Also popular is the local Rosso Orivetano DCO, which is a blend of red wines.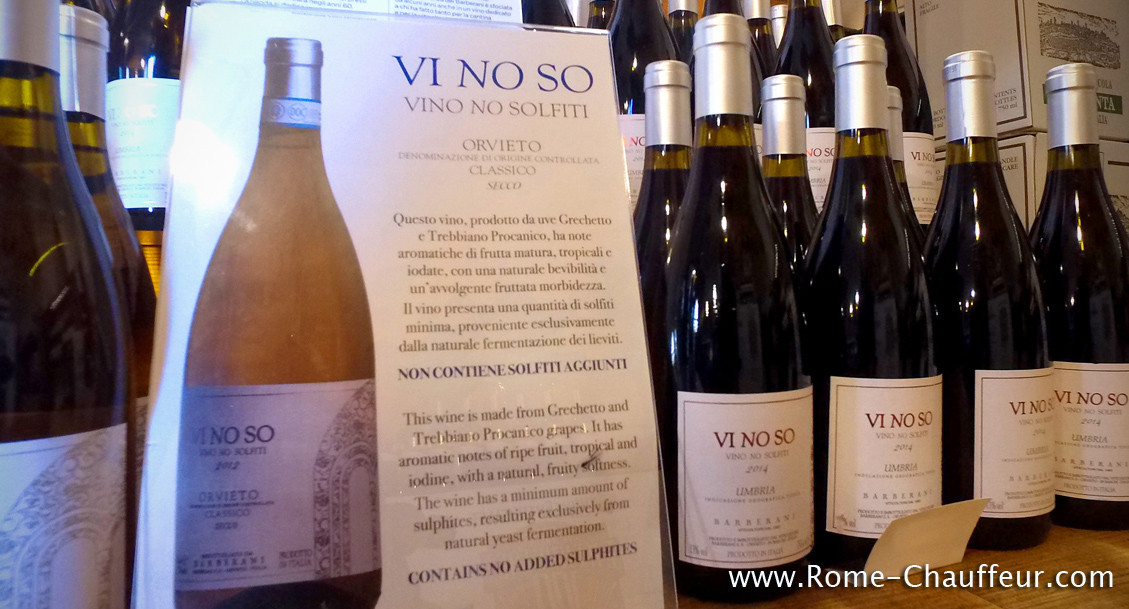 For shoppers, Orvieto has a long-standing tradition of producing beautiful hand-crafted and vibrantly painted ceramics that add a taste of Italy to homes worldwide. Food lovers will find the local Umbrian cuisine and food products a gastronomic delight.



Wine Tour: Montepulciano in Tuscany


Leaving Orvieto, your tour continues as your Chauffeur takes you through the Umbrian countryside to Tuscany for your next destination: Montepulciano.
A delightful Renaissance hilltop town, Montepulciano is surrounded by the enchanting Val di Chiana valley in the heart of Tuscany.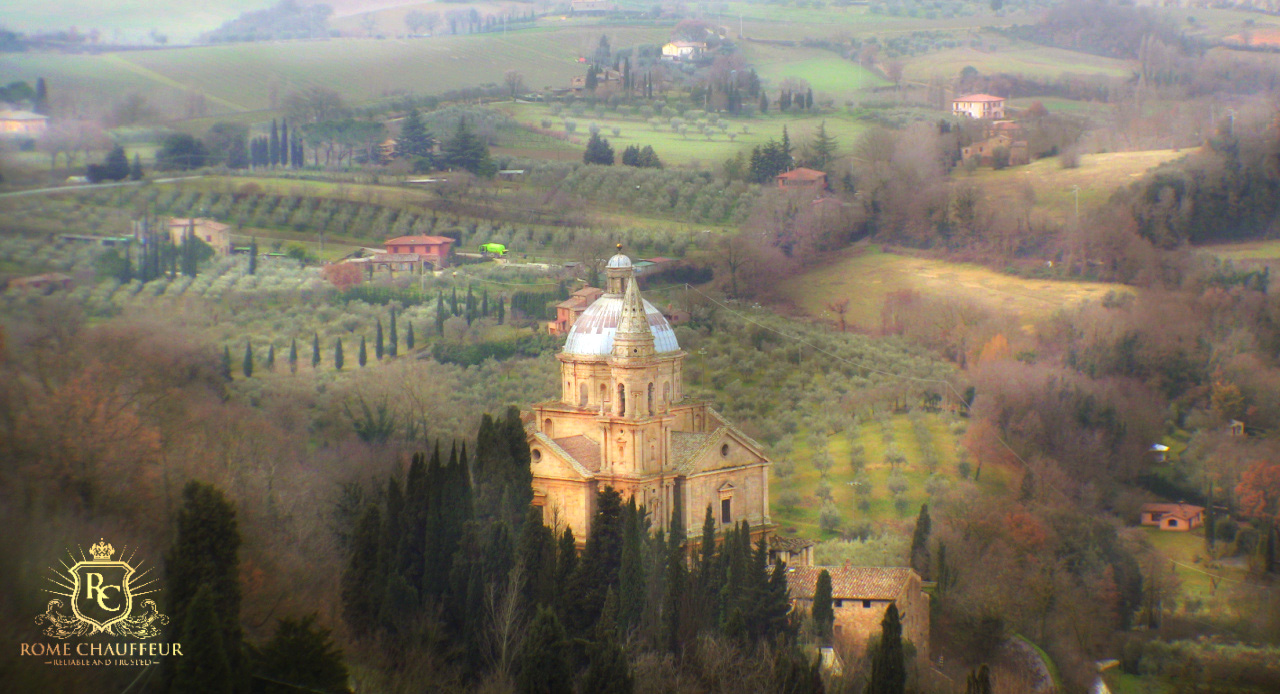 Well preserved with many distinguished 16th century palazzi (palaces), Montepulciano is an elegant Tuscan town that offers ample opportunities to admire its historic architecture and spacious square, shop at local artisan shops, and of course wine lovers can enjoy a variety of wine tastings offered at wine shops owned by local wineries.

Tuscan cuisine is world famous, and while in Montepulciano you will enjoy a nice Tuscan lunch at a local restaurant or trattoria of your choice.
Connoisseurs (and aristocrats alike) have considered Montepulciano the "King of All Wines", well recognized for its elegant full-bodied red Vino Nobile di Montepulciano (Noble wine of Montepulciano). Also not to be dismissed is its younger Rosso di Montepulciano (Montepulciano Red) that is not aged as long as its famous older brother.
Montepulciano offers you ample opportunities to both savor the local wines and to enjoy the magnificence of the town.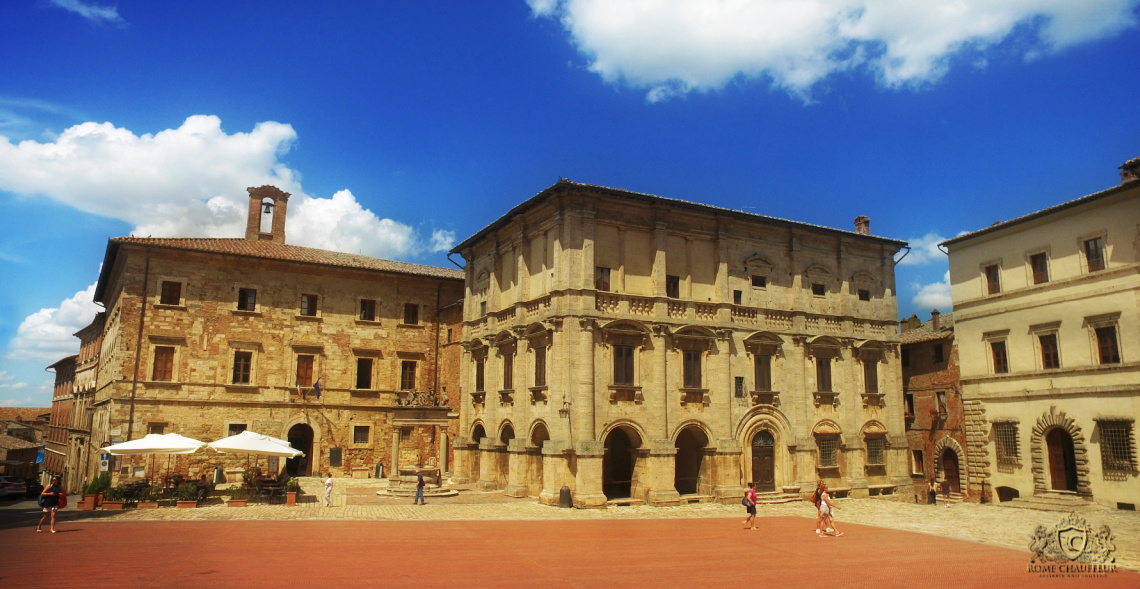 From here you will enjoy a relaxing journey back to Rome, reminiscing about your wonderful day in Umbria and Tuscany, filled with treasured memories, good food and good wine.
We at Rome Chauffeur thank you for booking our tours, and we look forward to meeting you in Italy and helping you create unforgettable memories!
Important Information

* NOTE: Please READ carefully the Important Information below, as well as Read and Accept our TERMS OF SERVICE and Privacy Policy before booking.

The listed price of the tour is per vehicle, not per person. Rome Chauffeur accepts online prepayment via PayPal or Credit Card at the time you confirm your tour, or you may pay on the Date of Service in Euro funds at the end of the tour made directly to your Chauffeur. If at any time you need extra funds on the day of your tour, your chauffeur will be happy to help you locate an ATM machine.

Cancellations must be made at least 7 days prior to your Date of Service. Prepaid services canceled last minute less than 7 days or are No Show on the Date of Service are NOT Refundable.
Cancellations must be made in writing via E-Mail followed by an official cancellation confirmation E-Mail from our office in order for your cancellation to be valid. Cancellations are NOT accepted by Phone, Text, Or through 3rd Party individuals such as hotel clerks, friends, or concierge services.
* CANCELLATION FOR PREPAID SERVICES: Only NET RATE will be issued on prepaid services. Net Rate is what we receive from your prepayment after PayPal / CC takes out their fees which they don't reimburse us in case of refunds. Therefore, we are only able to refund what we receive from you after PayPal/ CC takes out their fees.

PICK UP FROM ROME HOTEL
Your English-speaking Rome Chauffeur will pick you up at your Rome hotel accommodation at 8:00 AM, and you will arrive back at approximately 5:00 PM.

WINE TASTING FEES
Wine tasting fees in Orvieto and Montepulciano vary depending on the wine shops you visit. Please sample wine responsibly, and not on an empty stomach.
Wine tastings will be enjoyed inside the towns at various wine shops. This tour does NOT include visits to wineries or vineyards outside the towns in order to afford our guests plenty of time to also enjoy these magnificent towns.


YOUR TOUR CHAUFFEUR
On this tour, you are provided with an English-speaking Chauffeur who is not a licensed Tour Guide or sommelier. Only locally licensed tour guides can guide and accompany guests to sightsee. In order to be in compliance with Italian laws, Chauffeurs are required to remain with the vehicle while you sightsee.
Local wine shops have experts about local wines who can provide in-depth information about regional wines.

ORVIETO AND MONTEPULCIANO TOUR TIPS
Comfortable clothes and walking shoes are recommended on this tour.
Please sample wine responsibly, and never on an empty stomach.