description

Tuscany entices visitors not only with its picture-perfect countryside and unforgettable vistas but also with its unique flavors that are celebrated worldwide.

On this Tuscany Post Cruise Tour to Montepulciano and Pienza from Civitavecchia, you will look forward to your debarkation day to have the opportunity to spend the day in some of Tuscany's most photographed valleys, explore enchanting hill towns of Montepulciano and Pienza. Delight your palette and excite your taste buds with Italy's finest Pecorino of Pienza and Vino Nobile di Montepulciano for a spectacular enogastronomic journey through Tuscany on your debarkation day in Civitavecchia.
TUSCANY POST CRUISE TOUR TO MONTEPULCIANO, PIENZA prices:


For 1- 2 participants from Rome: 540 Euros
For 3- 4 participants from Rome: 600 Euros
For 5- 6 participants from Rome: 650 Euros
For 7- 8 participants from Rome: 720 Euros


Please include your ROME DROP OFF HOTEL, ADDRESS in the Booking Form Message Box.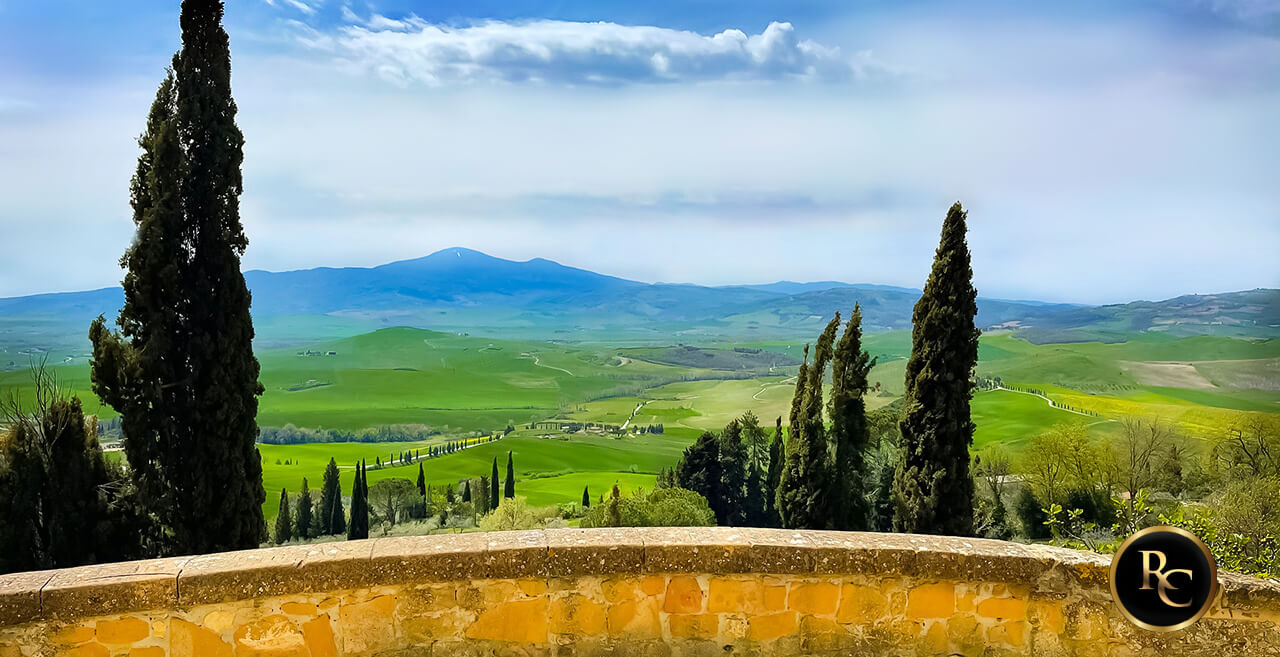 - Explore Montepulciano


Your personal Rome Chauffeur will pick you up at 8:00 AM on the Pier next to your Cruise Ship at the Port of Civitavecchia and will take you directly to your hotel in Rome at the conclusion of your Tuscany Post Cruise Tour at approximately 6 PM. Your luggage will conveniently travel with you stowed away in your vehicle's luggage compartment.

Once you meet your personal Rome Chauffeur in Civitavecchia, you will travel in your private deluxe vehicle through the countryside into Tuscany to your first destination: Montepulciano.

Montepulciano is one of Italy's captivating hill towns that vaunts both Medieval and Renaissance charm, style, and architecture. Montepulciano is internationally known by wine lovers as the producer of the excellent red Vino Nobile di Montepulciano (Noble Wine of Montepulciano).
Praised for centuries among Italy's nobility as one of Italy's finest wines, Montepulciano also earned the title "King of All Wines" in 1685 by poet Francesco Redi who regaled Montepulciano with this honor in his poems.



While in Montepulciano, you will appreciate free time on your own for independent exploration. Meander along historic streets lined with grand palazzi filled with inviting shops and boutiques that sell local fashion, ceramics, and vibrant works of art.

Sample the local wine varieties at any of the wine shops (enoteche) throughout the town, and even buy some to take with you and enjoy later! Some of the wine shops even boast historic wine cellars where the local elixir ages to perfection in huge barrels.




You may enjoy a traditional Italian lunch at a local trattoria either in Montepulciano or in Pienza. Your chauffeur will be happy to offer suggestions for local restaurants or a simple trattoria in either town.
- Visit Pienza


From Montepulciano, you will relax for a short drive through the picture-perfect Valley of Orcia making your way to Pienza. You will see why Pienza is listed as a UNESCO World Heritage Site, and the breathtaking Valley of Orcia (Val d'Orcia) that surrounds it is listed as a UNESCO World Cultural Landscape.



This enchanting village is the perfect example of Renaissance urbanism initiated in the 1400s by the locally-born Pope Pius II (Enea Silvio Bartolomeo Piccolomini) who intended to transform the medieval village into a papal summer residence. Previously named Corsignano, the village was later renamed Pienza in honor of the Pope.

Pienza set the standard for the humanist urban planning concept, a form of Utopia that became popular throughout Europe.



Appreciate independent free time to explore this small but charming village. Be sure to also stroll towards the perimeter of the ancient walls to glimpse a view of the spectacular Tuscan views from this hilltop village.

Pienza's claim to fame also comes in the tasty form of "Pecorino of Pienza", the much sought-after locally-produced cheese made from the milk of sheep that graze in the surrounding pastoral fields. Discover wheels upon wheels of various sizes and flavors of this delicious cheese in local shops throughout Pienza.


From Pienza, you will enjoy a leisurely drive through the picturesque countryside as you make your way through Tuscany back to Rome to your hotel or accommodation.
We at Rome Chauffeur thank you for choosing our Tuscany Post Cruise Tour to Montepulciano and Pienza from Civitavecchia. We look forward to making your debarkation day in Tuscany your most memorable!
Important Information

* NOTE: Please READ carefully the Important Information below, as well as Read and Accept our TERMS OF SERVICE and Privacy Policy before booking.

The listed price of the tour is per vehicle, not per person. Rome Chauffeur accepts online prepayment via PayPal or Credit Card at the time you confirm your tour, or you may pay on the Date of Service in Euro funds at the end of the tour made directly to your Chauffeur. If at any time you need extra funds on the day of your tour, your chauffeur will be happy to help you locate an ATM machine.

Cancellations must be made at least 7 days prior to your Date of Service. Prepaid services canceled last minute less than 7 days or are No Show on the Date of Service are NOT Refundable.
Cancellations must be made in writing via E-Mail followed by an official cancellation confirmation E-Mail from our office in order for your cancellation to be valid. Cancellations are NOT accepted by Phone, Text, Or through 3rd Party individuals such as hotel clerks, friends, or concierge services.
* CANCELLATION FOR PREPAID SERVICES: Only NET RATE will be issued on prepaid services. Net Rate is what we receive from your prepayment after PayPal / CC takes out their fees which they don't reimburse us in case of refunds. Therefore, we are only able to refund what we receive from you after PayPal/ CC takes out their fees.


MONTEPULCIANO WINE-TASTING FEES
Wine-tasting fees in Montepulciano vary depending on the wine shops you visit. Please sample wine responsibly, and not on an empty stomach.
Wine tastings will be enjoyed inside the towns at various wine shops. This tour does NOT include visits to wineries or vineyards outside the towns in order to afford our guests plenty of time to also enjoy these magnificent towns.


POST CRUISE TOUR - MEETING POINT AT CIVITAVECCHIA

Your professional English-speaking Tour Chauffeur will meet you on the Civitavecchia pier next to your ship holding a sign with your name at 8:00 AM with Rome hotel drop off at approximately 6 PM.


YOUR TUSCANY TOUR CHAUFFEUR
On this tour you are provided with an English-speaking Chauffeur who is not a licensed Tour Guide or sommelier. Only locally licensed tour guides can guide and accompany guests to sightsee. In order to be in compliance with Italian laws, Chauffeurs are required to remain with the vehicle while you sightsee.