description

TIVOLI VILLAS from Rome Tour Price:


For up to 4 persons from Rome Hotel 400 EUROS
For up to 6 persons from Rome Hotel 450 EUROS
For up to 8 persons from Rome Hotel 500 EUROS



Discover the captivating beauty of Tivoli on an exclusive day tour from Rome with Rome Chauffeur, where you will journey in your private deluxe vehicle driven by your dedicated English-speaking chauffeur. This day trip from Rome to Tivoli takes you through time, allowing you to explore not one, but two of Italy's most opulent and enthralling historical periods in a single day.
Tivoli's allure lies not only in its proximity to Rome but also in its ability to transport you far from the city's hustle and bustle. Here, amidst the tranquility of the Tivoli villas, you'll experience the perfect blend of beauty and serenity.

While exploring Hadrian's Villa and Villa d'Este, you'll find yourself immersed in the rich history of these UNESCO World Heritage Sites. During your Tivoli Villas tour, take time to savor the delights of Tivoli itself—a charming historic town that offers excellent options for lunch and a delightful stroll through its picturesque streets.

Discover the splendor of Tivoli with us and embark on a journey that seamlessly combines the grandeur of the Ancient Roman Empire with the elegance of the Italian Renaissance, all within the captivating embrace of Tivoli's tranquility.
You will SELF TOUR inside the Villas.
HADRIAN'S VILLA - An Imperial Oasis

Your Tivoli Villas tour begins with your visit to Hadrian's Villa. Step back in time to explore the grandeur of Hadrian's Villa, an imperial complex dating back to the 2nd century AD. This splendid countryside retreat, meticulously preserved, was the sanctuary where Emperor Hadrian found respite and governed the empire.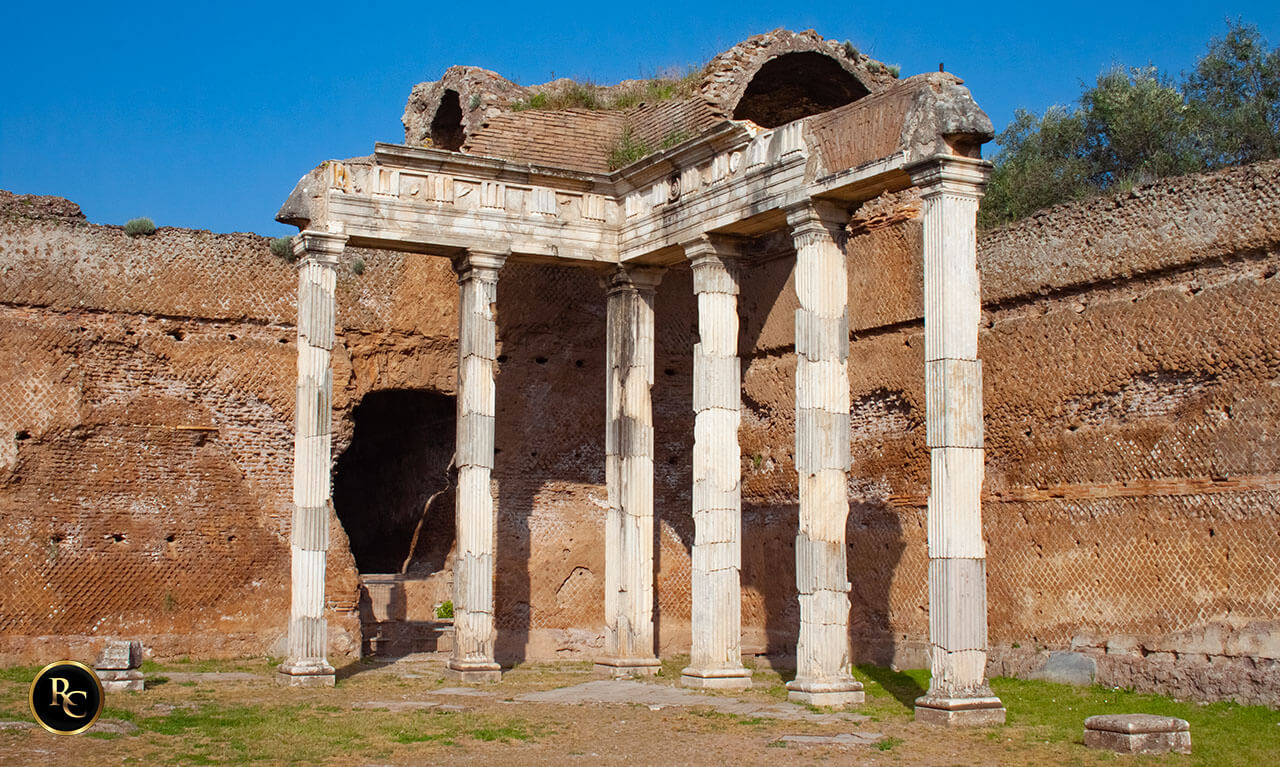 During your immersive visit to this remarkable archaeological site, you'll be transported through time as you uncover the astonishing remnants of grandeur. See the colossal ruins of Hadrian's Imperial Palace and stand in awe before the lifelike sculptures that grace this imperial sanctuary.

As you roam the villa's sprawling grounds, you'll encounter architectural marvels such as Canopus and Serapeum, where opulent Egyptian influences converge with Roman elegance. Marvel at the Heliocaminus Baths, a testament to ancient Roman bathing rituals, and admire the regal beauty of Piazza d'Oro (the Golden Square).
The Maritime Theater will transport you to another world, featuring a circular pool surrounded by Doric columns. Hadrian's Villa stands as one of the most culturally and archaeologically significant sites in ancient Rome, a treasure trove of history and opulence.

After your exploration through Hadrian's imperial complex, the town of Tivoli beckons with its charming streets and alleys. Here, you'll have the opportunity to enjoy a delectable lunch at a local restaurant. Take a leisurely stroll through the town's historic heart, where every corner exudes the timeless charm of Tivoli.
If you are touring on Mondays, please note that Villa d'Este opens at 2:00 PM.
VILLA D'ESTE - A Renaissance Symphony of Gardens and Fountains
Your Tivoli Villas tour from Rome continues to Villa d'Este. Your visit to Villa D'Este promises an enchanting journey through both the Renaissance villa and its masterpiece gardens, a true testament to artistry and elegance.
Villa D'Este derives its name from Cardinal Ippolito II d'Este, the visionary behind this 16th-century marvel and the captivating Renaissance garden that graces its grounds.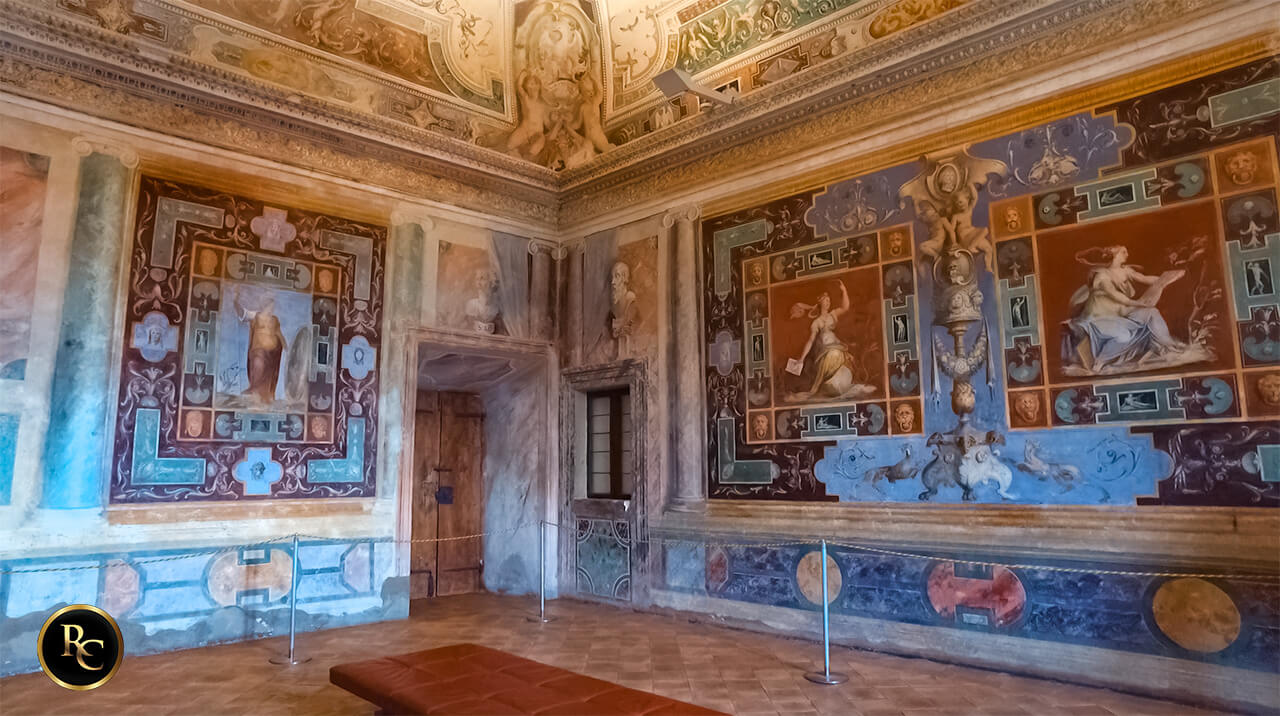 As you step into the verdant embrace of the gardens, you'll find yourself immersed in a world of dramatic waterplays and breathtaking fountains. Jet fountains, cascades, and water organs orchestrate a captivating aquatic ballet, providing a sensory delight that mesmerizes visitors. Classical sculptures adorn the landscape, nestled within grottoes that offer respite and intrigue.
The gardens, meticulously manicured and elegantly terraced on a grand slope, embody the quintessential style of Italian Renaissance gardens that emerged in the late 15th century. Here, you'll not only witness the breathtaking beauty of nature but also experience the harmonious interplay of sights, sounds, and scents that define this era of art and culture.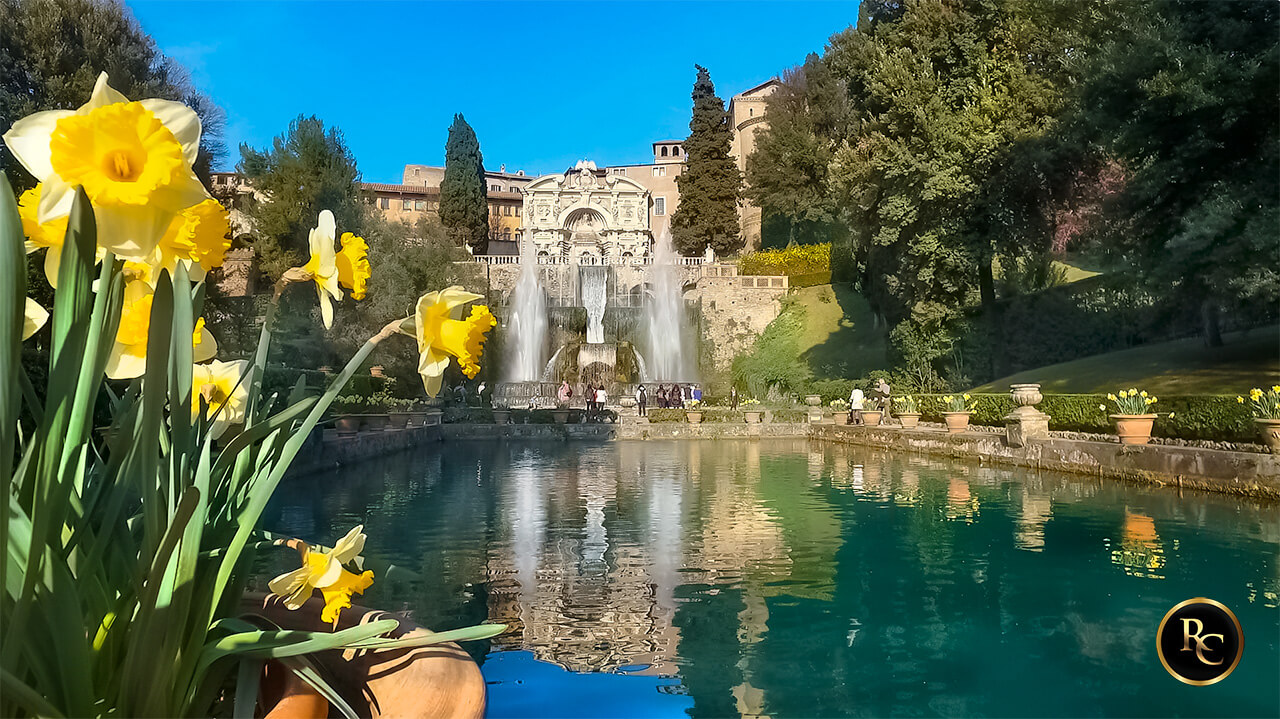 Winding stairways beckon you to explore the lower terraces, unveiling a symphony of verdant gardens and elaborate fountains. Among the must-see fountains, the Fontana dell'Ovata, known as the Fontana di Tivoli, graces the renowned Viale delle Cento Fontane (Avenue of the One Hundred Fountains). The Fontana del Bicchierone, a creation by the masterful Gian Lorenzo Bernini, stands as a testament to artistic brilliance.

Don't miss the captivating "musical fountains," including the Fontana della Civetta (Fountain of the Owl) and the Fontana dell'Organo (the Organ Fountain), which produce mesmerizing harmonies as water dances gracefully through them.
Villa D'Este is not just a destination; it's an enchanting journey through the pages of history, where art, architecture, and nature unite to create an enduring masterpiece for all to behold.
Following your visit to Villa d'Este, your personal chauffeur will take you back to your hotel in Rome.
Important Information

* NOTE: Please READ carefully the Important Information below, as well as Read and Accept our TERMS OF SERVICE and Privacy Policy before booking.

PAYMENT FOR OUR TIVOLI VILLAS TOUR
The listed price of the tour is per vehicle, not per person. Rome Chauffeur accepts online prepayment via PayPal or Credit Card at the time you confirm your Tivoli Tour, or you may pay on the Date of Service in Euro funds at the end of the tour made directly to your Chauffeur. If at any time you need extra funds on the day of your tour, your chauffeur will be happy to help you locate an ATM machine.


CANCELLATION ADVISORY FOR TOURS
Cancellations must be made at least 3 days prior to your Date of Service. Prepaid services cancelled last minute less than 3 days or are No Show on the Date of Service are NOT Refundable.
Cancellations must be made in writing via E-Mail followed by an official cancellation confirmation E-Mail from our office in order for your cancellation to be valid. Cancellations are NOT accepted by Phone, Text, Or through 3rd Party individuals such as hotel clerks, friends, or concierge services.
* CANCELLATION FOR PREPAID SERVICES: Only NET RATE will be issued on prepaid services. Net Rate is what we receive from your prepayment after PayPal / CC takes out their fees which they don't reimburse us in case of refunds. Therefore, we are only able to refund what we receive from you after PayPal/ CC takes out their fees.
TIVOLI VILLAS ADMISSION TICKETS

Tickets to both Villa d'Este and Hadrian's Villa can be purchased on-site at the ticket office upon arrival.
Tickets for Hadrian's Villa are currently approximately 10 Euros per person (prices are subject to change or vary in conjunction with occasional exhibitions). Ticket prices are subject to change without notice. First Sunday of every month entry is Free.
Tickets for Villa d'Este are currently approximately 10 Euros per person (prices are subject to change or vary in conjunction with exhibitions inside the villa). Ticket prices are subject to change without notice. First Sunday of every month entry is Free.
If you are touring on Mondays, please note that Villa d'Este opens at 2:00 PM.

YOUR TOUR CHAUFFEUR
This tour provides English speaking Chauffeurs who are not licensed Tour Guides. Only locally licensed tour guides can guide and accompany guests to sightsee. In order to be in compliance with Italian laws, Chauffeurs are required to remain with the vehicle while you sightsee.


PRIVATE LICENSED TOUR GUIDE FOR HADRIAN'S VILLA
Visitors interested in history and architecture can request to reserve a Private Licensed Tour Guide for Hadrian's Villa for a 2-hour informative walking tour of the archaeological area. Please inquire within for detailed information and tour guide fees.

TIVOLI TOURS TIPS:
Please wear comfortable clothes and shoes as you will be walking on uneven terrain inside Hadrian's villa
The gardens of Villa d'Este are situated on a slope with many steps and multiple stairways to access it. It may not be suitable for guests with mobility issues or using wheelchairs. Please take this into consideration to determine if this tour is right for you.
If visiting during the warm sunny months, be sure to use sunblock, and wear sunglasses and perhaps a protective sun-hat. Also, bring a small bottle of water with you in case you may become thirsty during your sightseeing tours.
You will be visiting beautiful places, be sure to bring your camera!