description
NOTE: To inquire about booking a tour please SEND US AN EMAIL

SIENA AND SAN GIMIGNANO SHORE EXCURSION PRICES:


For up to 4 people from Livorno Port: 750 Euros
For up to 6 people from Livorno Port: 850 Euros
For up to 8 people from Livorno Port: 950 Euros
Siena and San Gimignano are two of Italy's most well-recognized medieval towns in Tuscany are favored among visitors for their unique architectural beauty, colorful history, old-world charm, and local Tuscan flavors.
From the cruise port of Livorno, we take you on an exciting fun-filled journey into Tuscany to visit Siena and San Gimignano.


SIENA
Legends tell us that Siena was founded by Senius, the son of Remus (his famous twin brother Romulus is said to have founded Rome), and you will find testament of this legend in the symbol of Siena throughout the town in form of the she-wolf suckling the infants Remus and Romulus.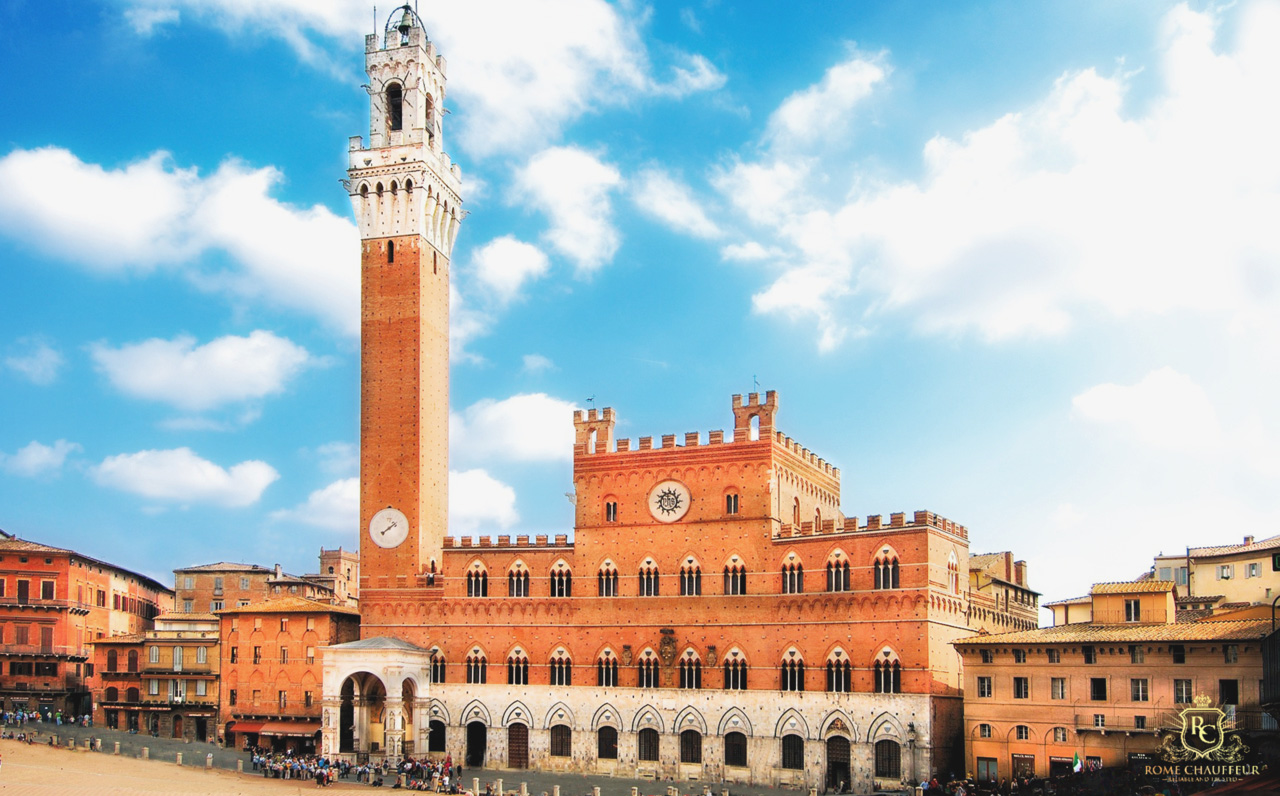 One of Italy's most visited towns, Siena is also a UNESCO World Heritage Site.
Over an ancient and now gone Roman forum, is Siena's shell shaped main square Piazza del Campo that hosts the famous Palio, the biannual horse race.
Surrounded by medieval buildings and palaces, Piazza del Campo is the most popular square in Siena.


SAN GIMIGNANO

Nicknamed "the Town of Fine Towers", or "Tuscany's Manhattan", San Gimignano has one of Italy's most unforgettable skylines with medieval towers jutting out like skyscrapers above the historic town.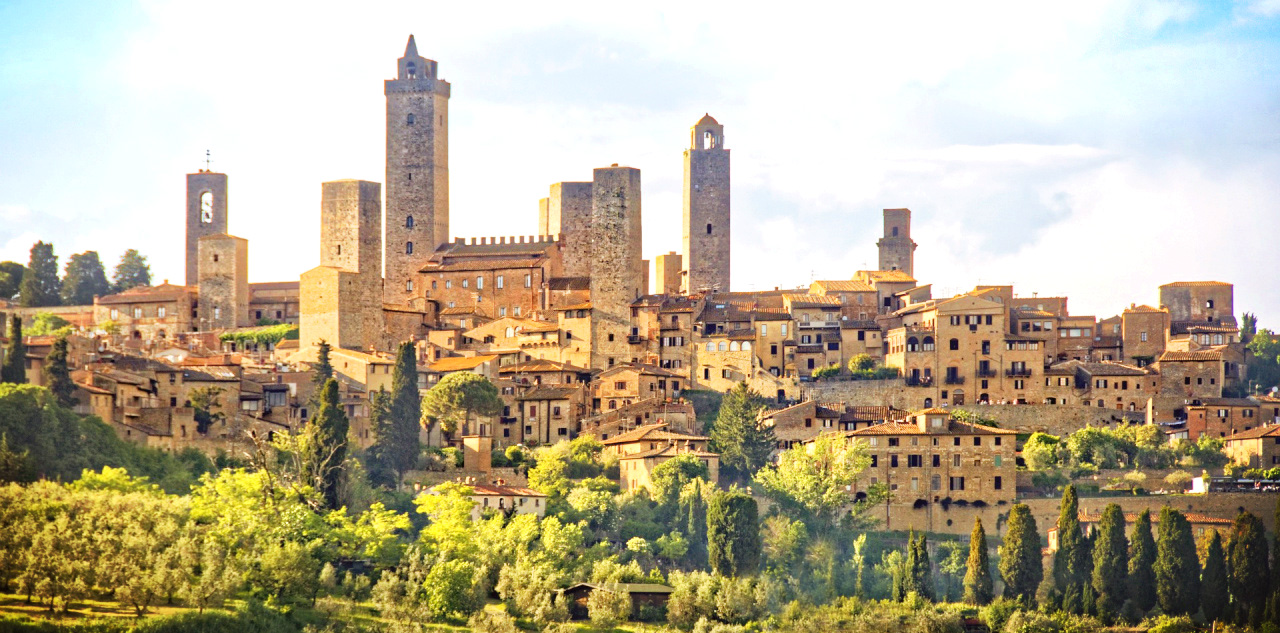 During the medieval times there were 72 towers up to 230 feet that were built by prominent families flaunting their political power and economic status.
Unlike other cities like Florence that lost their towers in wars or urban development, San Gimignano has preserved about 14 of its towers that sets it apart from all the other medieval towns and retains its feudal atmosphere.
Resting on a ridge of a hill surrounded by the enchanting Valley of Elsa and fortified by three walls, San Gimignano is a delightful town with an eclectic array of architectural features and influences borrowed from surrounding towns creating an original appearance not duplicated anywhere else.
The historic center of San Gimignano has been named a UNESCO World Heritage site.
Not to be missed is the town's lively triangular square, Piazza della Cisterna, named after the cistern, or rather a well, located in the square's center.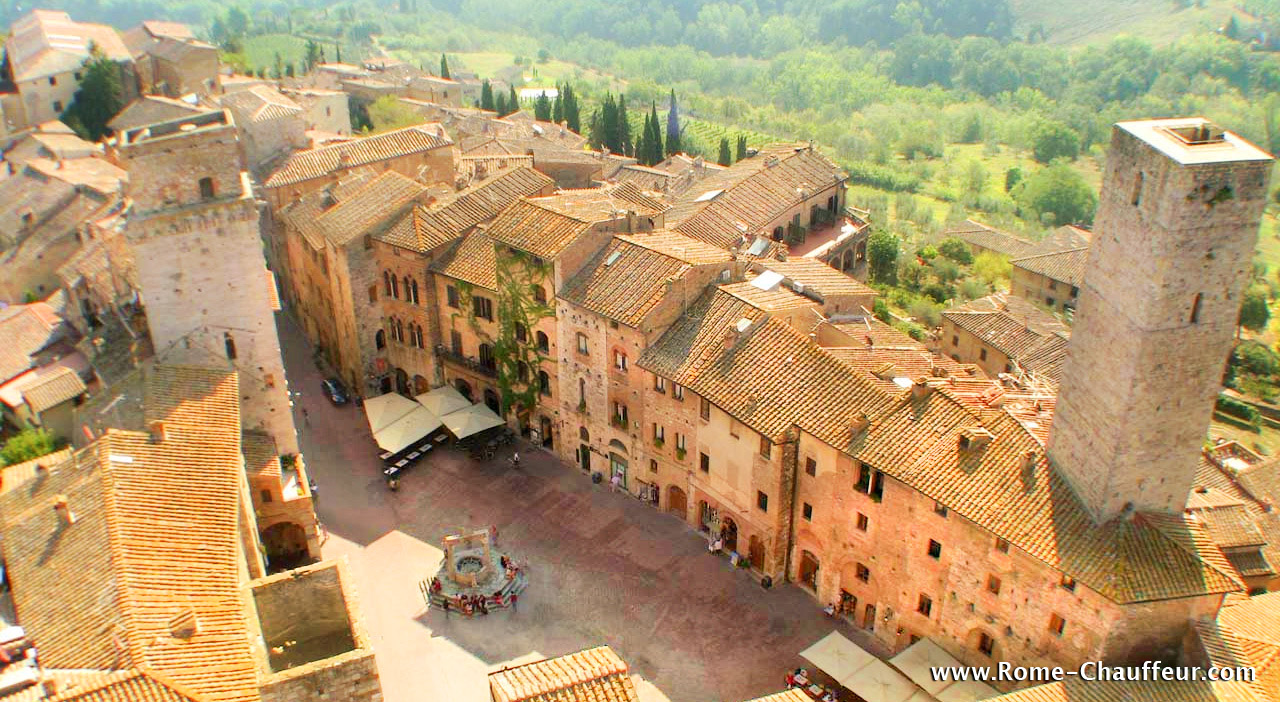 Enjoy the charm and beauty of San Gimignano, visit various local shops that feature hand crafted items and beautiful ceramics, and be sure to sample the delicious local products and its fine white wine, the Vernaccia di San Gimignano.
San Gimignano is also the ideal place to enjoy an authentic Italian lunch at any of the local restaurants or trattorias. Your chauffeur will be happy to offer you recommendations if you wish.
From here you will enjoy a leisurely journey through the scenic Tuscan countryside back to your ship in Livorno.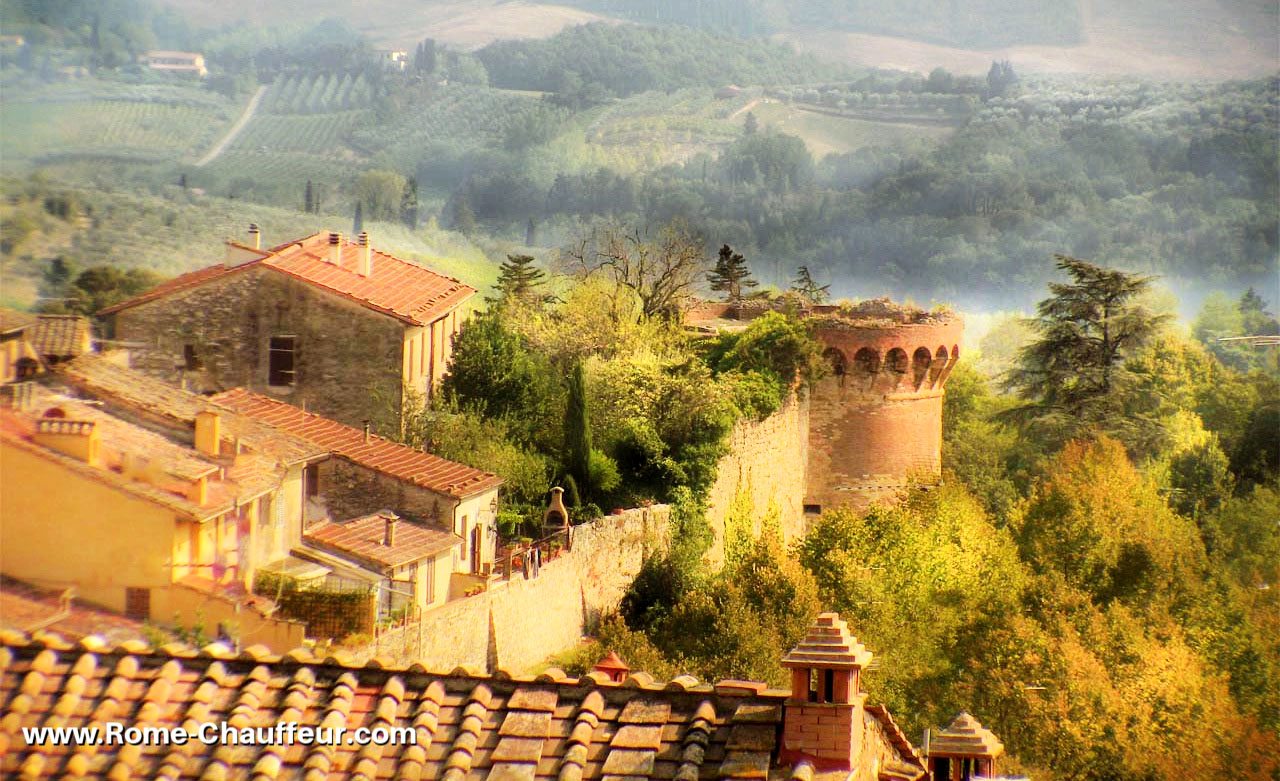 Important Information

* NOTE: Please READ carefully the Important Information below, as well as Read and Accept our TERMS OF SERVICE and Privacy Policy before booking.


PAYMENT FOR SIENA AND SAN GIMIGNANO SHORE EXCURSION
The listed price of this Siena and San Gimignano Shore Excursion is per vehicle, not per person. Rome Chauffeur accepts online prepayment via PayPal or Credit Card at the time you confirm your tour, or you may pay on the Date of Service in Euro funds at the end of the tour made directly to your Chauffeur. If at any time you need extra funds on the day of your tour, your chauffeur will be happy to help you locate an ATM machine.


CANCELLATION ADVISORY FOR TOURS
Cancellations must be made at least 3 days prior to your Date of Service. Prepaid services cancelled last minute less than 3 days or are No Show on the Date of Service are NOT Refundable.
Cancellations must be made in writing via E-Mail followed by an official cancellation confirmation E-Mail from our office in order for your cancellation to be valid. Cancellations are NOT accepted by Phone, Text, Or through 3rd Party individuals such as hotel clerks, friends, or concierge services.
* CANCELLATION FOR PREPAID SERVICES: Only NET RATE will be issued on prepaid services. Net Rate is what we receive from your prepayment after PayPal / CC takes out their fees which they don't reimburse us in case of refunds. Therefore, we are only able to refund what we receive from you after PayPal/ CC takes out their fees.
LIVORNO SHORE EXCURSIONS Meeting Point
Your professional English speaking Tour Chauffeur will meet you on the pier next to your ship holding a sign with your name at 8:00 AM and will return you to the ship by approximately 5:00 PM.

YOUR TOUR CHAUFFEUR
This tour provides an English-speaking Chauffeur who is not a licensed Tour Guide. In Italy, only locally licensed tour guides have permission to guide and accompany guests to sightsee. In order to comply with the laws, Chauffeurs are obliged to remain with the vehicle while you sightsee.
PRIVATE SHORE EXCURSIONS MONEY-SAVING TIP:
HOW SAVE ON SHORE EXCURSIONS: Join thousands of happy cruisers and simply place an ad on Cruise Critic Roll Call and invite fellow like-minded cruisers from your ship to join your tour. Include the Date of Tour, and a link to the Tour page on our website so others can learn more about it. Make new friends and share your tour and fun with other like-minded travelers.