description
Explore Rome on Your Own without a preset itinerary in the comfort of your private deluxe vehicle and English-speaking chauffeur. If you have ideas of what you wish to see and do in Rome, your chauffeur will assist you with organizing your day so you will have the opportunity to see and do as much as possible during your tour.
The Rome on your own is offered starting from Rome hotels or from Civitavecchia (cruise port or hotel). If you require a Rome on your Own tour from other cities or airports please send us an email for a price quote.
ROME ON YOUR OWN TOUR PRICES

For 1 - 4 participants from Rome: 390 EUROS
For 5 - 6 participants from Rome: 420 EUROS
For 7 - 8 participants from Rome: 450 EUROS

For 1 - 4 participants from Civitavecchia: 550 EUROS
For 5 - 6 participants from Civitavecchia: 600 EUROS
For 7 - 8 participants from Civitavecchia: 650 EUROS
* Rome Tours starting from Rome Hotel is NOT Valid from other cities or from airports. Inquire within if you require a tour starting from other locations than in Rome.
Rome On Your Own Tour is a perfect option for the do-it-yourself independent and knowledgeable traveler.
Do you want to be in charge of your day, have done your research and already know what you want to see and do but don't want to waste precious time on trains to and from Rome, waiting for public transportation, walking great distance from one site to another or searching for taxis to take you where you need to go?
On a shore excursion time is of the essence, and you would want to make the most of your day in Rome from Civitavecchia on a chauffeur-driven sightseeing opportunity.
Simplify your shore excursion and visit Rome On Your Own with your personal chauffeur who will assist you with your itinerary to get the most out of your day in Rome, will drive you in a comfortable deluxe vehicle where you wish to go, and bring you back to your ship in plenty of time for your departure.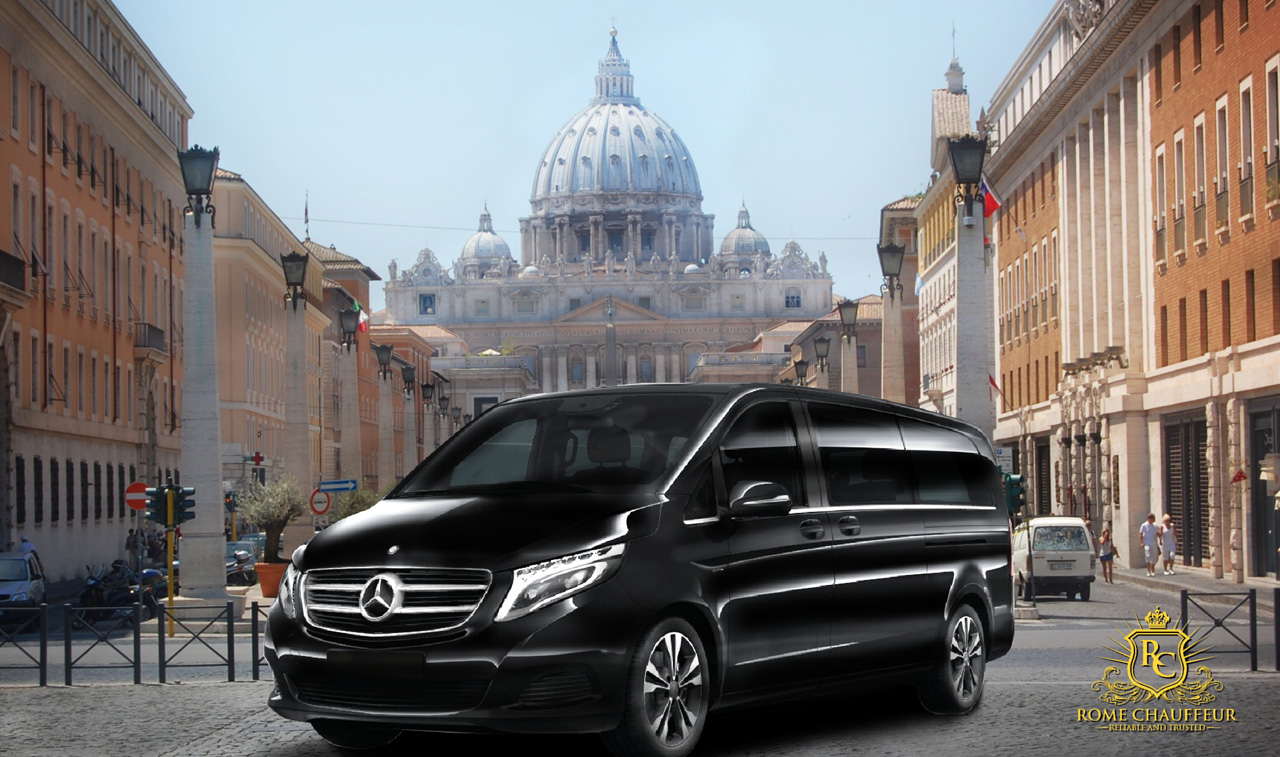 You have the opportunity to design your own day in Rome to spend your time as you wish....all the while your personal chauffeur will be at your disposal.
Whether you've seen Rome's main sites before and wish to explore off-the-beaten-path places, would like to mix and match different sites and monuments, or would like to shop in Rome's fashion district and local outdoor markets such as in Campo dei Fiori, this tour is open to many great possibilities to create special memories the way you envisioned them.
Thank you for choosing Rome Chauffeur tour services. We look forward to meeting you and showing you Italy!
Important Information

* NOTE: Please READ carefully the Important Information below, as well as Read and Accept our Terms of Service and Privacy Policy before booking.

How and When do we pay for our Rome Tour?
Rome Chauffeur accepts online prepayment via PayPal or Credit Card once your reservation is confirmed, or payment in Euro funds at the end of your journey made to your chauffeur directly. If at any time you need extra funds during your tour time, your chauffeur will be more than happy to help you locate an ATM machine.
If you would like us to book for you a private licensed tour guide for the Vatican, Colosseum, Roman Forum, or any other sites in Rome, you must pay the guide directly at the end of the guided tour in Euro funds.


CANCELLATION POLICY FOR TOURS
Cancellations must be made at least 7 days prior to your Date of Service. Prepaid services canceled last minute less than 7 days or are No Show on the Date of Service are NOT Refundable.
Cancellations must be made in writing via E-Mail followed by an official cancellation confirmation from our office in order for your cancellation to be valid. Cancellations are NOT accepted by Phone, Text, Or through 3rd Party individuals such as hotel clerks, friends, or concierge services.
* CANCELLATION FOR PREPAID SERVICES: Only NET RATE will be issued on prepaid services. Net Rate is what we receive from your prepayment after PayPal / CC takes out their fees which they don't reimburse us in case of refunds. Therefore, we are only able to refund what we receive from you after PayPal/ CC takes out their fees.
DAY TOURS FROM ROME HOTEL
From Rome hotel accommodation: Your personal Chauffeur will meet you at your hotel or accommodation.


SHORE EXCURSIONS FROM CIVITAVECCHIA
Shore excursion from Civitavecchia cruise port: Your personal Chauffeur will meet you on the Civitavecchia pier next to your ship holding a sign with your name at recommended Pick Up Time 8:00 AM and will return you to the ship by approximately 5:00 PM. From the port you will journey approximately 90 minutes on the motorway through the countryside of Lazio into Rome.


YOUR PERSONAL CHAUFFEUR IN ROME
Your private chauffeur will be at your service during the duration of the Rome On Your Own tour to take you anywhere in the beautiful historic districts of Rome.
Your Rome On Your Own Chauffeur will point out places of interest and assist you with your itinerary, but will not be able to accompany guests to sightsee on foot as Chauffeurs are not licensed tour guides with the legal permission to guide visitors on foot. You will SELF TOUR away from the vehicle. Your chauffeur will remain with the vehicle at all times when you are sightseeing on your own.

SAFETY TIPS FOR TOURING ROME
Rome is a safe city to enjoy, however, always mind your belongings and valuables so as to not become a victim of pickpockets that plague most cosmopolitan cities.
Don't leave any bags, backpacks, cameras, wallets, or anything of value inside the vehicle cabin while you are away. Stow all your bags inside the luggage compartment of the vehicle.
Ladies: Travel with purses that strap across your chest, don't carry valuables in easy-to-reach purse compartments, and don't leave your purse hanging on a chair laid by your feet at restaurants. Don't travel with expensive jewelry and accessories
Gentlemen: Don't carry your wallet in your back pocket or anywhere that's easily accessible by pickpockets. Bring only enough cash you need for the day and 1 credit card.
Wear money belts discreetly secured and tucked beneath your clothes for your money, credit cards, and passport. Carry on your wallet or purse only small amounts you need to get you through the day.
Carry with you your credit card company's international number to call in case your credit card is lost or stolen.