description

BEST OF ROME IN ONE DAY TOUR PRICE LIST

For 1-2 participants from Rome: 380 EUROS
For 3-4 participants from Rome: 400 EUROS
For 5-6 participants from Rome: 425 EUROS
For 7-8 participants from Rome: 450 EUROS
For 1-2 participants from Civitavecchia: 490 EUROS
For 3-4 participants from Civitavecchia: 550 EUROS
For 5-6 participants from Civitavecchia: 600 EUROS
For 7-8 participants from Civitavecchia: 650 EUROS


* You may also do a PRICE CHECK using the form on this page.
Rome wasn't built in a day, but we will show you the best it has to offer in a single day our best tour of Rome in one day!
Our private Best of Rome in One Day tour is designed to provide our guests with an overview of the Eternal City from ancient monuments to exciting piazzas and incredible museums and churches.
ADMIRE ROME'S ANCIENT ROMAN MONUMENTS


Your first destination is Colosseum Square dominated by the most recognized ancient monument and iconic symbol of Rome: the Colosseum! This ancient wonder built in 79 AD was first named the Flavian Amphitheater after the family of Emperors Vespasian and his son Titus under whose leadership the amphitheater was built. The name Colosseum is believed to have originated from the colossal bronze statue of Emperor Nero that was erected near the amphitheater. You will have the opportunity to visit the interior of the Colosseum.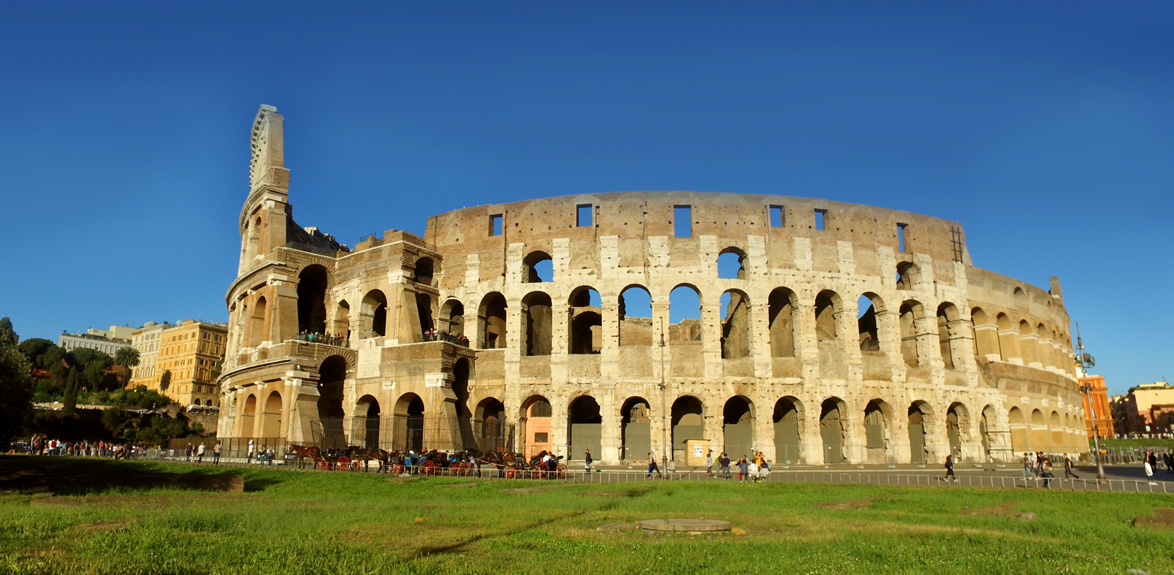 Enjoy a stroll through Colosseum Square and admire Rome's ancient Roman monuments that surround this space. Next to the Colosseum, you will see the famous Arch of Constantine, dedicated in 315 AD to commemorate Emperor Constantine's victory over Maxentius at the Battle of Milvian Bridge in 312 AD.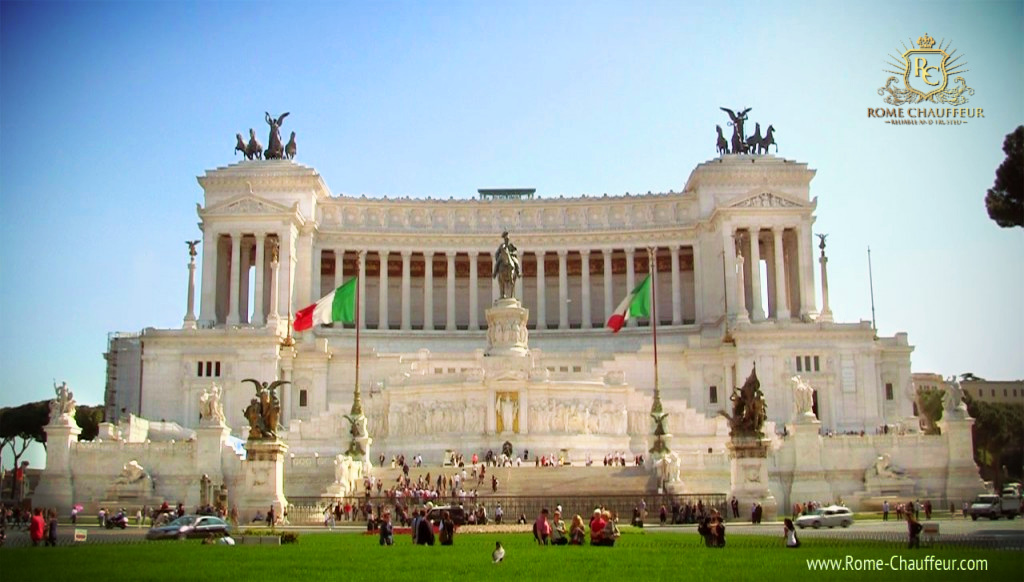 Next, you will drive by the grand Piazza Venezia where you will notice the imposing white marble monument dedicated to King Vittorio Emanuele II. Nicknamed the "wedding cake", the monument is one of the most recognizable buildings in Rome and the designated place for the eternal flame of the tomb of the unknown soldier.
Next to the monument is Capitoline Hill with an exquisite spot where you will enjoy the most spectacular view of the Roman Forum, Palatine Hill, and the Colosseum in the distance. This spot is one of the most picturesque in Rome, so be sure to have your camera ready!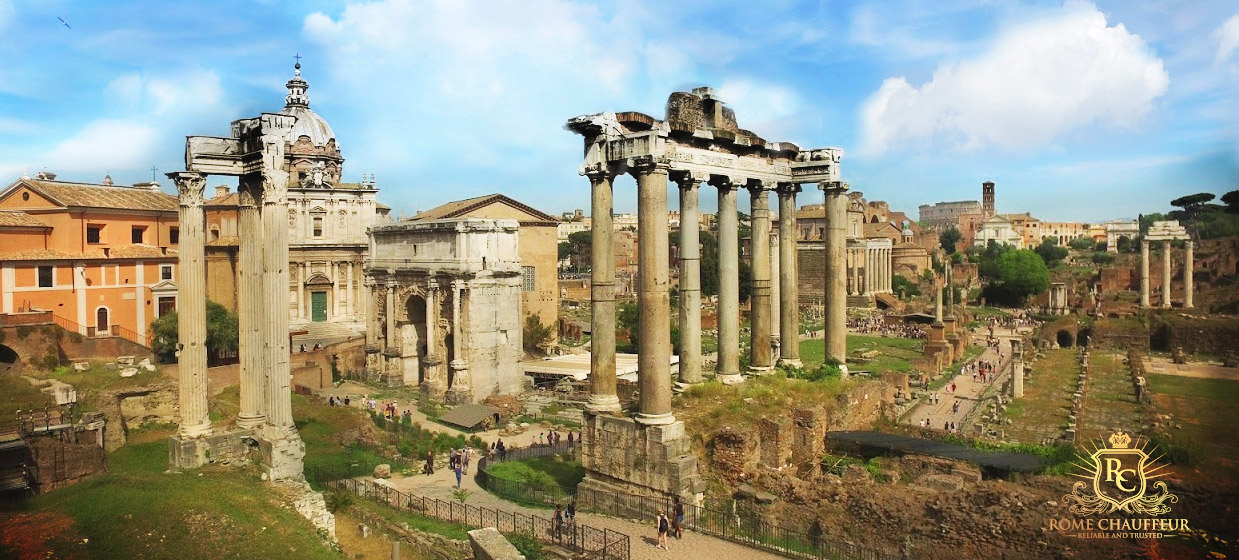 From here you will continue on to the ancient Roman temple dedicated to all gods: the Pantheon.
One of the oldest and best-preserved ancient monuments built in 126 AD, it's been in continuous use throughout history and converted into the church dedicated to Saint Mary and the Martyrs in the 7th century.
Some of history's most distinguished figures are buried here: Kings Vittorio Emanuele II, Umberto I, Queen Margherita, and the celebrated artist Raphael. The oculus in the center of the coffer dome above provides light and ventilation, and when it rains the water drains below the floor through a drainage system.
VISIT ROME'S FAMOUS SQUARES


From here you will visit Rome's famous piazzas: the Trevi Fountain and the Spanish Steps.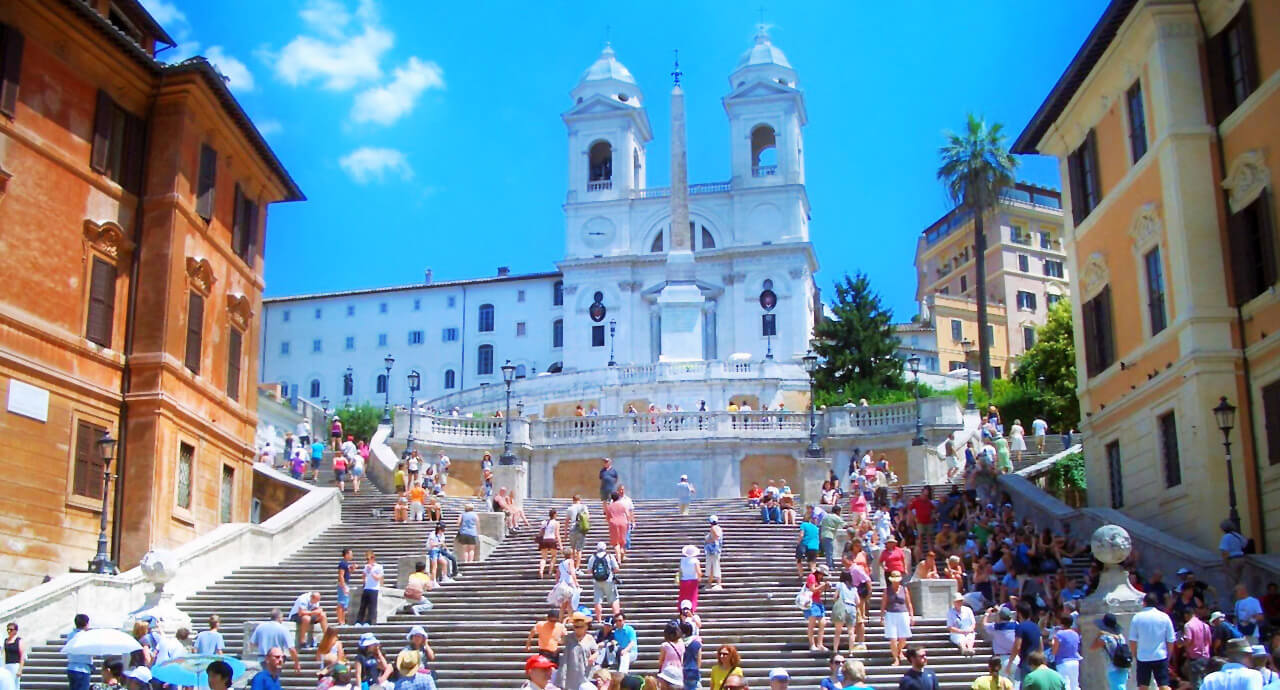 The Spanish Steps is famous for its curved 18th-century stairs that connect the French church of Trinita dei Monti and the tall obelisk overlooking the square to the Baroque Fountain of the Old Boat below created by Bernini's father, Pietro Bernini.
From La Dolce Vita to Three Coins In A Fountain, the Trevi Fountain has been featured in so many films that it's one of the most distinguished fountains in Rome! No visit to Rome is complete without a visit to the Trevi Fountain.
People crowd around the gushing Baroque fountain and its nautical statues for the opportunity to throw a coin over their shoulder and wish for a return visit to Rome.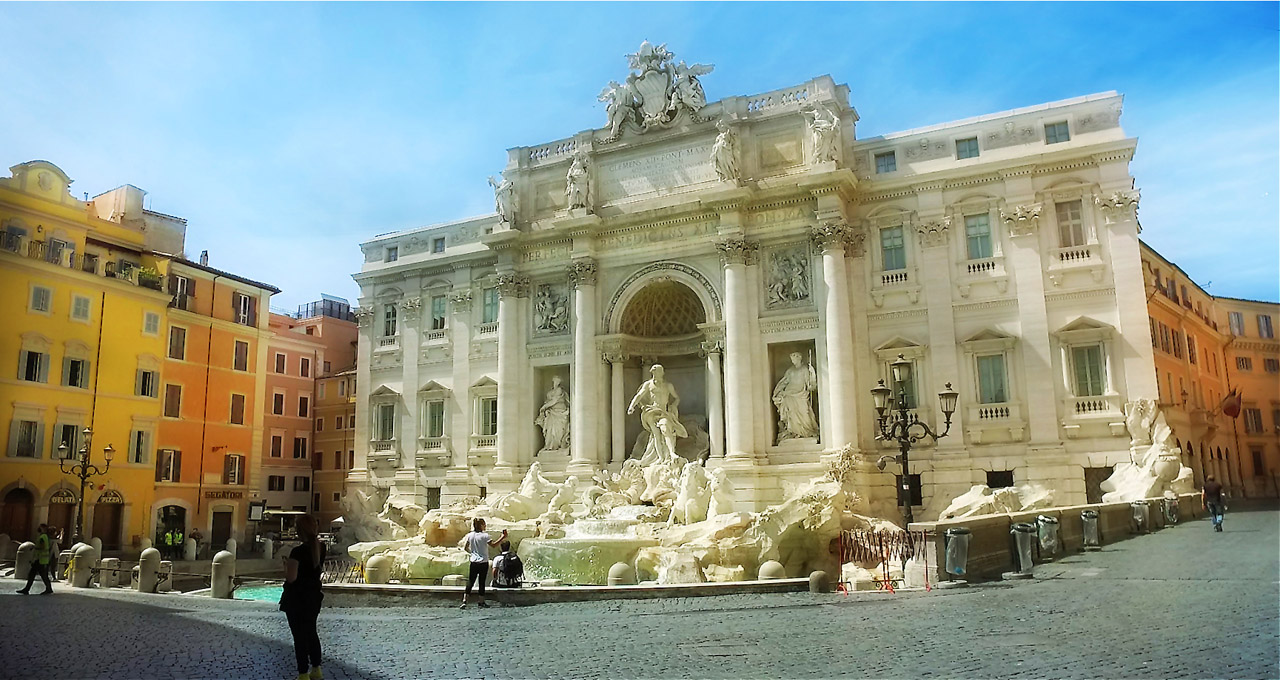 By now it's time for lunch where you will enjoy local specialties according to your taste.
VISIT THE VATICAN MUSEUMS AND ST PETER'S BASILICA


After lunch, you will visit the smallest state in the world: the Vatican!
Your first visit will be Vatican Museums where you'll walk through the spectacular halls covered in art displaying significant masterpieces.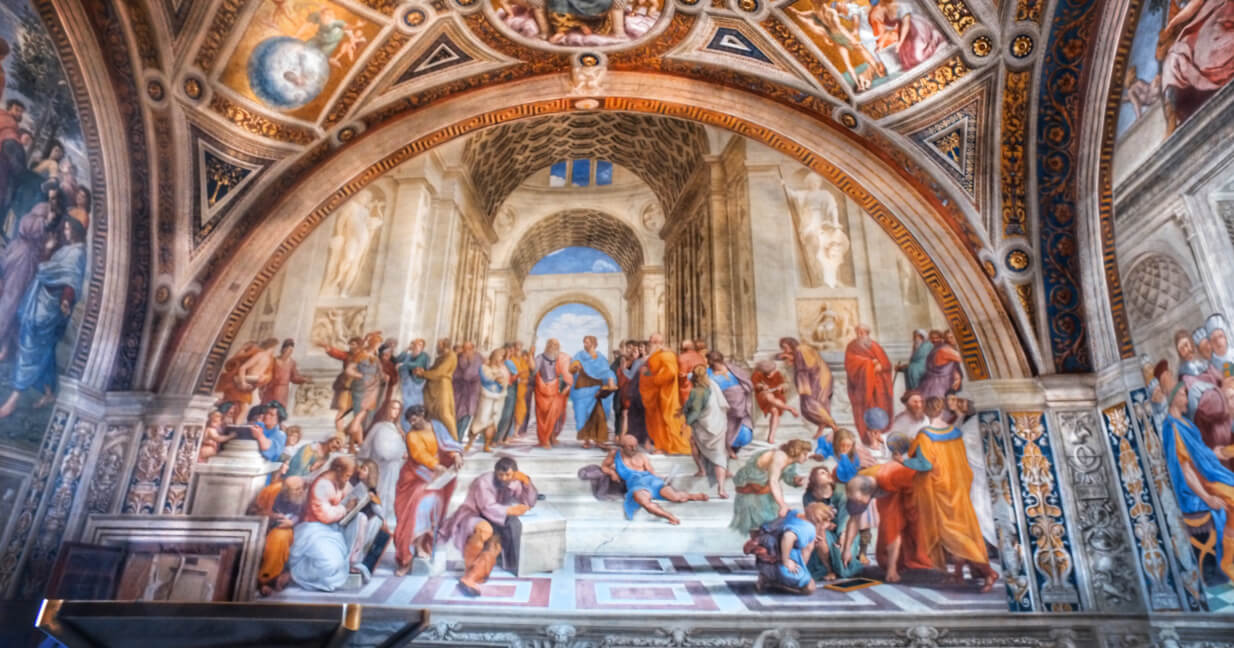 You will have the opportunity to admire the famous sculpture of Laocoon that was the first purchased piece for the museum founded in the early 16th century by Pope Julius II.
Walk through the breathtaking Cortile del Belvedere. You will pass through the remarkable Raphael Rooms, the Gallery of the Maps, The Flemish Tapestry Room, and many more galleries with breathtaking masterpieces.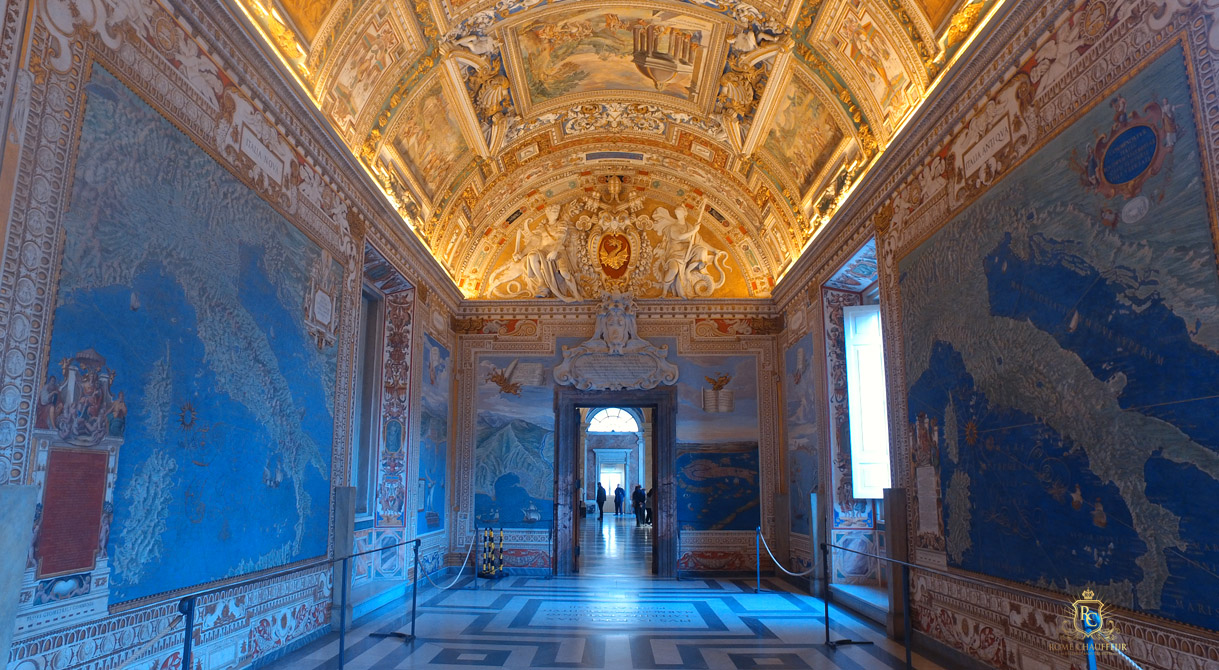 At the end you will arrive at the Sistine Chapel with Michelangelo's finest work: the Sistine Ceiling and the Last Judgment that inspire awe in each visitor.
Pending available time, after the Vatican Museums, you may also visit the largest church in all of Christendom: Saint Peter's Basilica.
Prominently over the high altar is Bernini's Baldacchino (the 98-foot tall bronze canopy altar), and behind it Cathedra Petri (throne of St Peter) with the yellow alabaster window with the Dove of the Holy Spirit in the center illuminating the altar area, the large niches surrounding the central space around the Baldacchino with statues of religious figures displaying the four most precious relics of the Basilica. Not to be missed is Michelangelo's other awe-inspiring treasure, the Pieta.
* Vatican Museums are CLOSED on Sundays, and cannot be visited on Free Entry Last Sunday of the month without secured time slot tickets due to extremely long lines and wait times.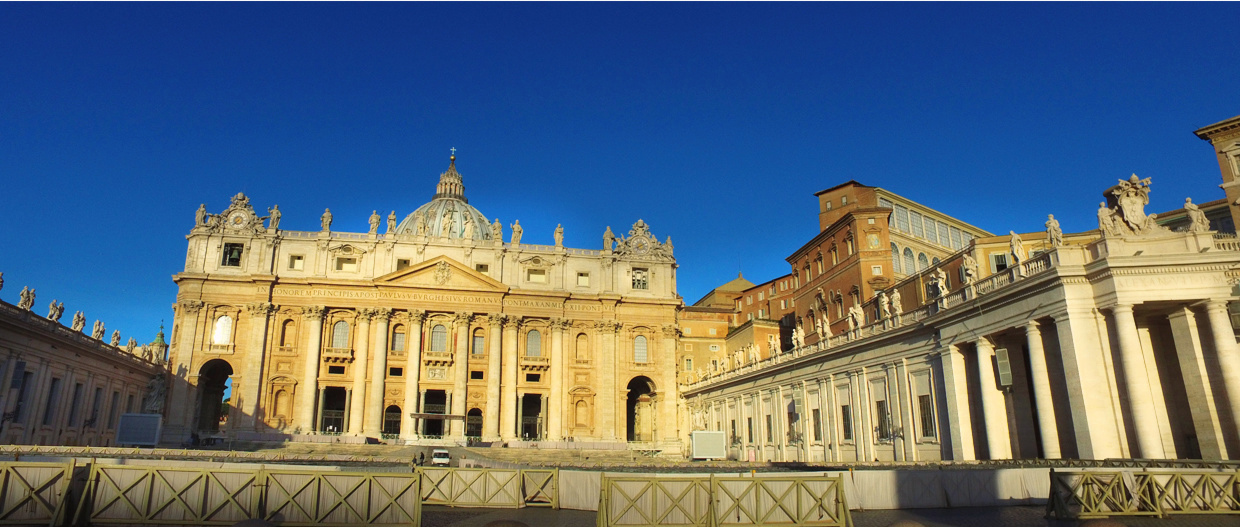 From the Vatican, your personal chauffeur will take you back to your hotel in Rome. If you booked this tour as a Shore Excursion from Civitavecchia, your chauffeur will take you back to your cruise ship inside the Port of Civitavecchia.
We thank you for reserving our Best of Rome in One Day tour, and for choosing Rome Chauffeur private tour services. We look forward to meeting you and showing you Italy!
Important Information

* NOTE: Please READ carefully the Important Information below, as well as Read and Accept our Terms of Service and Privacy Policy before booking.


* HOW AND WHEN DO WE PAY FOR OUR BEST OF ROME TOUR?
The listed price of this Best of Rome in One Day tour is per vehicle, not per person. Rome Chauffeur accepts online prepayment via PayPal or Credit Card at the time you confirm your Rome tour, or you may pay on the Date of Service in Euro funds at the end of the tour made directly to your Chauffeur. If at any time you need extra funds on the day of your tour, your chauffeur will be happy to help you locate an ATM machine. Prepaid services will be only refunded the NET RATE.


* CANCELLATION ADVISORY FOR Best of Rome Tour

Cancellations must be made at least 7 days prior to your Date of Service. Prepaid services canceled last minute less than 7 days or are No Show on the Date of Service are NOT Refundable.
Cancellations must be made in writing via E-Mail followed by an official cancellation confirmation E-Mail from our office in order for your cancellation to be valid. Cancellations are NOT accepted by Phone, Text, Or through 3rd Party individuals such as hotel clerks, friends, or concierge services.
* CANCELLATION FOR PREPAID SERVICES: Only NET RATE will be issued on prepaid services. Net Rate is what we receive from your prepayment after PayPal / CC takes out their fees which they don't reimburse us in case of refunds. Therefore, we are only able to refund what we receive from you after PayPal/ CC takes out their fees.
* BEST OF ROME TOUR - starting from your Rome hotel
Your professional English-speaking Tour Chauffeur will meet you at your hotel or accommodation at 8:00 AM and bring you back by approximately 4:30 PM.
For Day Tour starting from Rome, a valid and complete Hotel or Accommodation address is required in order to book this tour.


* CIVITAVECCHIA SHORE EXCURSION - tour from Cruise Port:
Your professional English-speaking Tour Chauffeur will meet you on the Civitavecchia pier next to your ship holding a sign with your name at 7:30 AM and will return you to the ship by approximately 5:00 PM.
From the port, you will journey approximately 90 minutes on the motorway through the countryside of Lazio into Rome.



* PRE-PURCHASE YOUR VATICAN MUSEUMS ADMISSION TICKETS

Please be sure to PRINT at home all our ticket vouchers and bring them with you as they are required to be converted into tickets at the Colosseum and Vatican Museum. Admission prices mentioned here can change without notice. Vatican Museums tickets are also subject to availability and during busy periods they can sell out in advance.


*** VATICAN MUSEUMS: Please purchase your no-line Vatican Museums admission tickets in advance at 21 Euros per person (17 Euros standard + 4 Euros online booking fee) at 2:00 PM time slot directly from the Vatican: VATICAN MUSEUMS TICKET OFFICE
* Vatican Museums are CLOSED on Sundays (and NOT possible to visit on Last Sunday of the Month without tickets to skip the very long lines)


Vatican Museums Tickets frequently SELL OUT in advance during the peak travel season. In the event that Vatican Museums tickets are NOT available, you may substitute the Vatican Museums with other sites in Rome. Pending the security lines and wait times, you may instead visit St Peter's Basilica.
Pantheon Time Slot Entrance Tickets are Required on WEEKENDS
The Pantheon requires Entry Tickets at specific Time Slots to be able to visit on weekends. We will provide you with links and information for a recommended time slot visit at Pantheon most suitable for your tour. Book your tickets early as the time slots get filled up fast!
Do you wish to visit the Colosseum?
While this tour does not include a visit inside the Colosseum. You may enjoy viewing the Colosseum from the outside and have extra time to explore more of Rome.
If you wish to visit the Colosseum let us know in advance and we will send you a link with information and time slot to book your Colosseum tickets in advance. These tickets are NON-Refundable. Colosseum tickets tend to SELL OUT QUICKLY and securing Colosseum tickets are not guaranteed.
* PRIVATE GUIDED TOUR OF THE VATICAN
If you wish to reserve a licensed tour guide for a private tour of the Vatican Museums and Sistine Chapel, please inquire within about tour guide fees and reserving your own private tour guide.
A guided tour of the Vatican is highly recommended to ensure you will not miss the most significant works of art as the Vatican Museums are vast and complex and often confusing.
A licensed tour guide will offer in-depth information about the works of art you are seeing, will guide you to see all the best works of art, will assist you to not get lost inside the confusing museums, and will keep you in good time so you are not delayed leaving the Vatican (this is especially important on Shore Excursions where you must depart from Rome at a specific time or risk arriving late to your ship).

St Peter's Basilica is NOT guaranteed on this tour as the Basilica can only be accessed through St Peter's Square, and a visit to St Peter's Basilica is only possible pending available time and the extent of the queues to clear security prior to accessing the basilica.

* YOUR BEST OF ROME TOUR CHAUFFEUR

Tour Chauffeurs are not licensed tour guides, therefore chauffeurs are prohibited by law to accompany or guide guests on foot to sightsee. Only licensed tour guides with identifiable badges are authorized to do so.
Chauffeurs are required to remain with the vehicle while guests sightsee / Self Tour away from their vehicle.



* HOW TO SAVE on Civitavecchia Shore Excursions and Post Cruise / Debark tours:

Interested in sharing your tour with fellow cruisers and saving on your Rome Shore Excursions from Civitavecchia? Join the thousands of happy cruisers who simply place an ad on ad on Cruise Critic Roll Call for your cruise ship and chosen date of the service. Make new friends and share your tour and fun with other like-minded cruise mates.
* TIPS FOR TOURING IN ROME
Rome is a safe city to enjoy, however, always mind your belongings and valuables so as to not become a victim of pickpockets that plague most cosmopolitan cities.
Don't leave any bags, backpacks, cameras, wallets, or anything of value inside the vehicle cabin while you are away. Stow all your bags inside the luggage compartment of the vehicle.
Ladies: Travel with purses that strap across your chest, don't carry valuables in easy-to-reach purse compartments, and don't leave your purse hanging on a chair laid by your feet at restaurants. Don't travel with expensive jewelry and accessories
Gentlemen: Don't carry your wallet in your back pocket or anywhere that's easily accessible by pickpockets. Bring only enough cash you need for the day and 1 credit card.
Wear money belts discreetly secured and tucked beneath your clothes for your money, credit cards, and passport. Carry on your wallet or purse only small amounts you need to get you through the day.
Carry with you your credit card company international number to call in case your credit card is lost or stolen.
* TIPS FOR VISITING THE VATICAN

St Peter's Basilica and the Sistine Chapel enforce a modest dress code that requires visitors to have their shoulders and knees completely covered. Visitors not in compliance with the dress code may be turned away.
Please wear comfortable shoes and clothing.
Photography and videography are permitted inside St Peter's Basilica and the Vatican Museums (with selected areas forbidding flash photography). Photography or videography is forbidden inside the Sistine Chapel.