description
Due to frequent requests from our cruising clients who couldn't decide between our Post Cruise Rome Tour and our Post Cruise Rome's Enchanting Countryside Tour, we combined the best of both tours to create an exciting Post Cruise Rome and Countryside Tour.

Revel in a morning visit to a formidable lake-side castle in the historic town of Bracciano with a visit to the famous Bracciano Castle, savor lunch in the medieval hamlet of Ceri in the countryside, and delight in an afternoon exploring Rome's top squares and monuments.

If your cruise ends in Civitavecchia and you are staying in Rome post-cruise, there is no better way to spend your debarkation day than enjoying a taste of Eternal Rome and its enchanting Countryside from Civitavecchia with drop off at your hotel in Rome.
Your personal English-speaking Rome Chauffeur will meet you on the pier next to your cruise ship in Civitavecchia, and take you directly to your hotel in Rome at the conclusion of your Post Cruise Tour. Your luggage will travel with you stowed in your vehicle's luggage compartment for optimal convenience.
POST CRUISE ROME AND COUNTRYSIDE TOUR From Civitavecchia:

For 1-2 participants from Civitavecchia: 490 EUROS
For 3-4 participants from Civitavecchia: 550 EUROS
For 5-6 participants from Civitavecchia: 600 EUROS
For 7-8 participants from Civitavecchia: 680 EUROS
EXPLORE THE ROMAN COUNTRYSIDE FROM CIVITAVECCHIA
Visit BRACCIANO CASTLE

From Civitavecchia, you will journey through the countryside to Bracciano, the medieval town along the shores of Lake Bracciano. Crowning Bracciano and overlooking the lake is the spellbinding Medieval / Renaissance Castello Orsini-Odescalchi, also referred to as Bracciano Castle.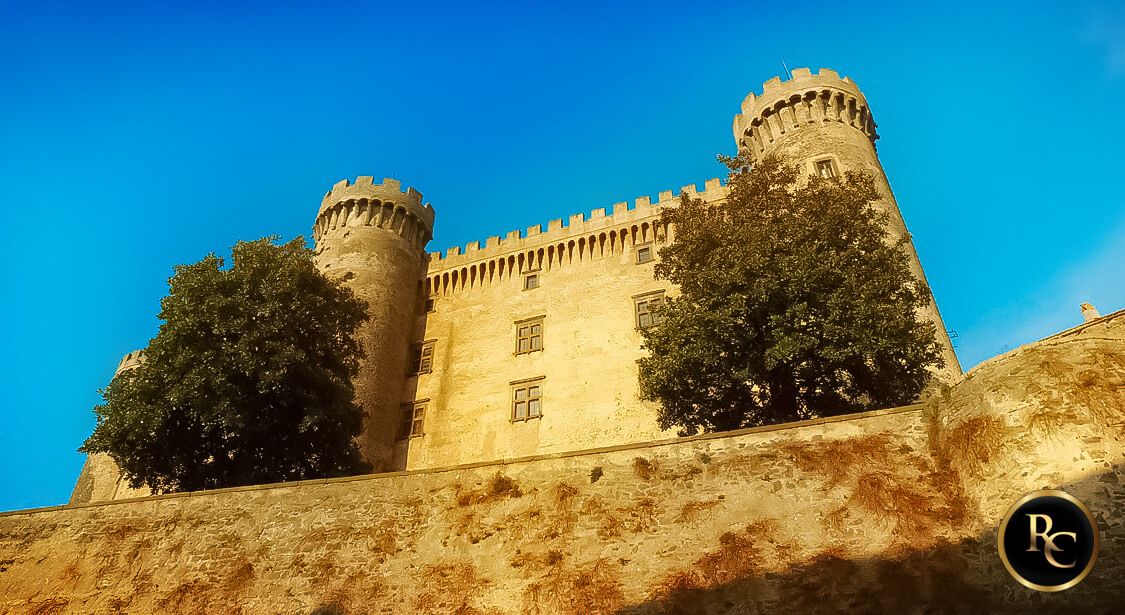 Gazing at this formidable medieval military fortress transformed during the Renaissance era into a residential castle will transport you to distant times of feudal lords, noble families, princes, and kings. The castle is still the private property of the Odescalchi family, and the interior of the castle became a historical museum with opulent rooms across two levels.

Make your way through the sumptuous castle rooms fit for Kings, Lords, and Popes you will be awed by the priceless medieval and Renaissance artwork, original furniture, weaponry, knightly armor, opulent ceilings, and exquisite frescoes providing you with a unique glimpse into the private quarters and lives of some of Italy's most powerful historical figures.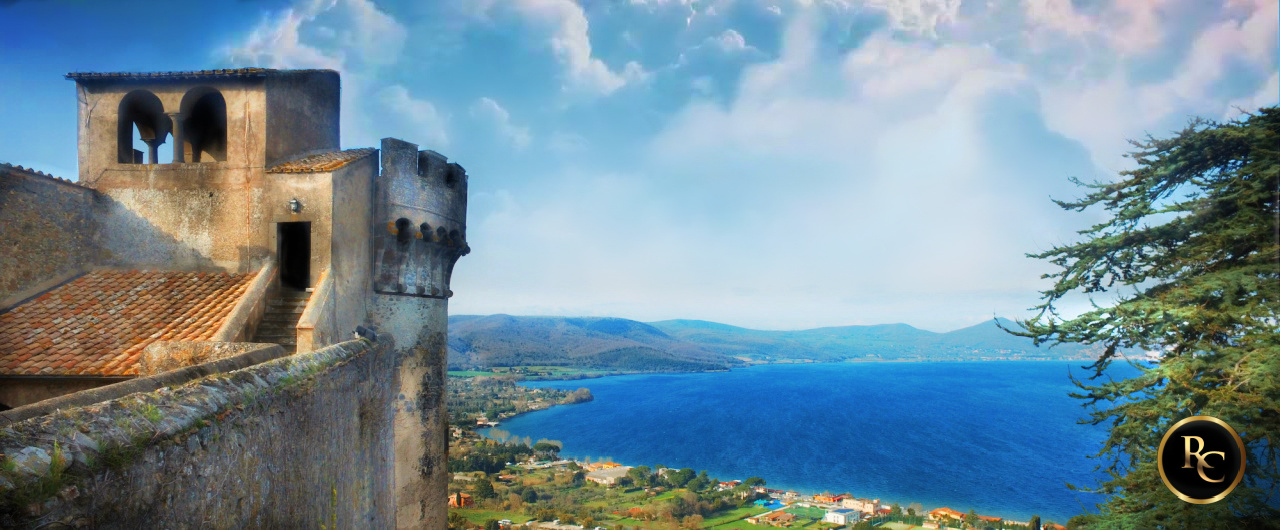 For breathtaking views of Lake Bracciano and the countryside, be sure to also climb the castle walls and stroll along the ramparts that were once patrolled by the garrison protecting the castle. Lake Bracciano itself is a sight to behold, a pristine lake that lies within a dormant prehistoric volcanic crater surrounded by the lush landscapes of the Roman countryside.
Visit CERI for lunch


From Bracciano, you will journey through the rustic countryside to your next destination, a hidden gem that seems to rise out of a steep rock formation: the medieval hamlet of Ceri (Borgo di Ceri in Italian).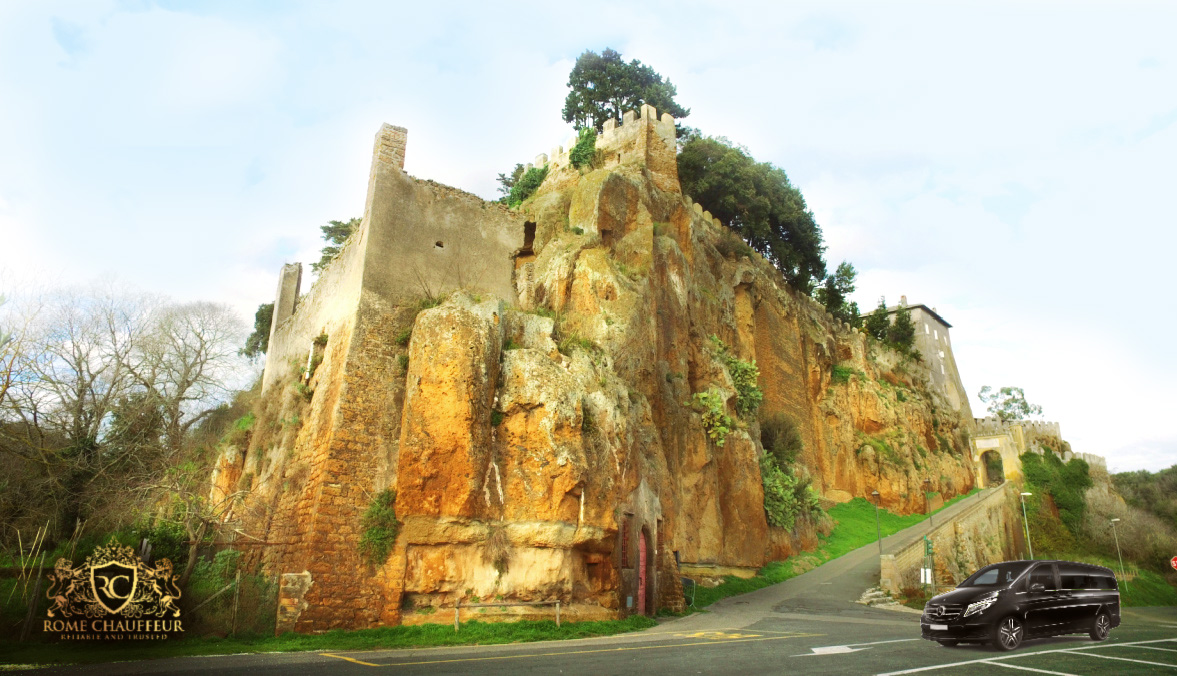 Owing to the fortified plateau's natural defensive protection, Ceri has been inhabited since ancient times when the Etruscans and Romans thrived in this region. Frozen in time, Ceri is an authentic medieval hamlet that enchants visitors with an atmosphere of bygone eras.

Dominating the village square is the lovely Romanesque Church of the Madonna of Ceri which was built above an ancient Etruscan pagan temple that was dedicated to the goddess Vesta. The interior of the small church is decorated with stunning 12th-century frescoes depicting biblical stories.
AFTERNOON SIGHTSEEING TOUR OF ROME HISTORIC CENTER

Revel in the glory of the PANTHEON


The Pantheon is one of Rome's most famous ancient Roman pagan temples dedicated to all gods, its name combines the word Pan (all) and Theion (gods). In the 7th century, the Pantheon was converted into a church dedicated to Saint Mary and the Martyrs.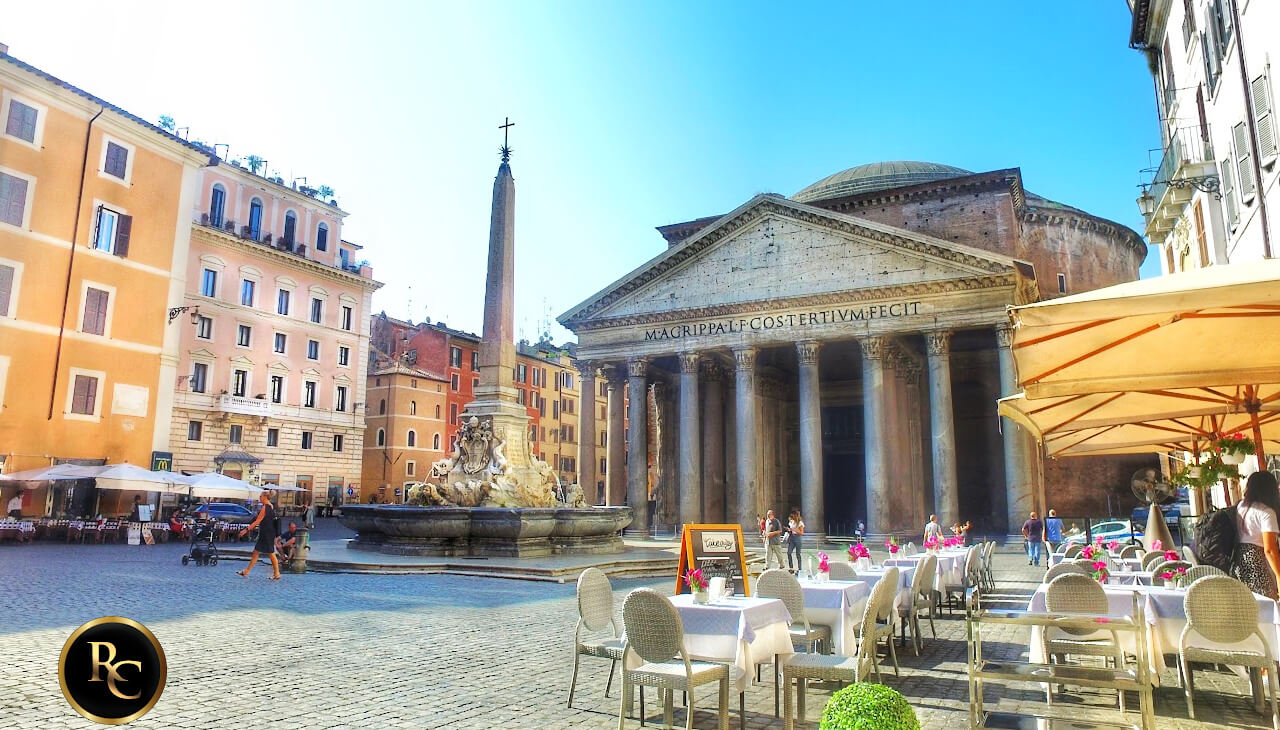 Built in 126 AD, Pantheon is one of the oldest and best-preserved ancient monuments in Rome that has also been in continuous use throughout history thanks to its conversion into a church that helped preserve it to this day.
Upon entering the Pantheon, you will be greeted by a vast round room whose walls and floor are sheathed with fine marble. The monument is covered by an enormous coffered dome with an oculus at its apex. Open to the elements, the oculus provides light and ventilation inside the monument. When it rains through the oculus, the water falls onto the marble floor and drains into an underground drainage system.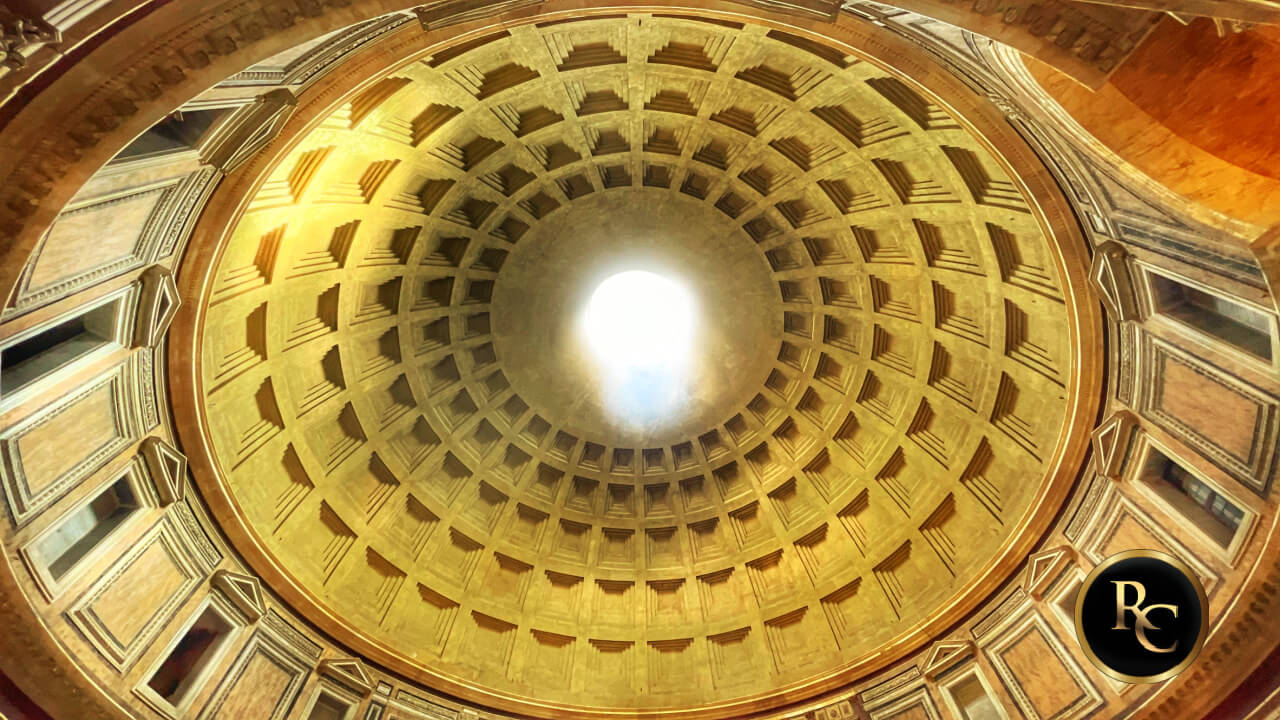 Some of Italy's most illustrious historical figures are entombed inside the Pantheon: King Vittorio Emanuele II, King Umberto I, Queen Margherita, and the celebrated Renaissance artist Raphael.


Delight in ROME'S MOST FAMOUS SQUARES

The Spanish Steps, Trevi Fountain, and Piazza Navona are among Rome's unmissable squares included in this Post Cruise Rome and Countryside Tour from Civitavecchia.
The Spanish Steps is the graceful 18th-century stairway built on a slope that connects the Baroque Fountain of the Old Boat created by Bernini's father, Pietro Bernini, at the bottom of the square to the French church of Trinita dei Monti and the obelisk on top. Its simple elegance is its most admired feature, and no wonder it draws so many admirers.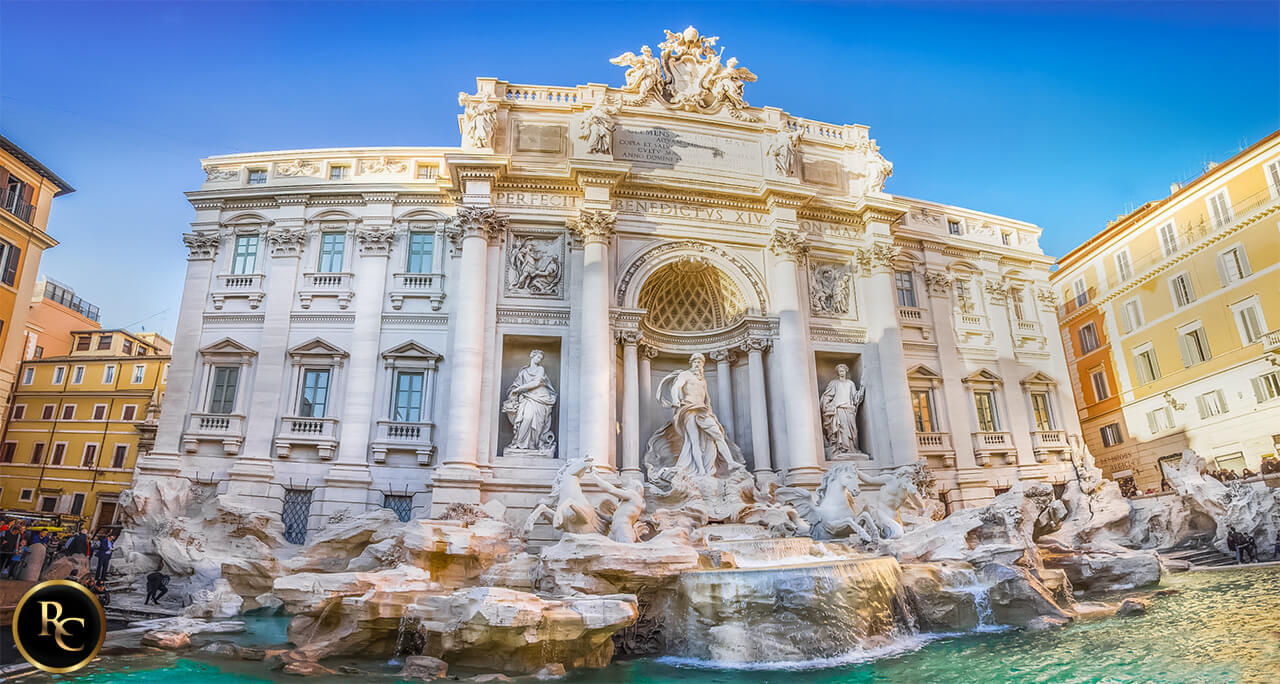 The Baroque Trevi Fountain is the most famous fountain in Rome and the most recognizable in the world! Trevi Fountain has been immortalized in many classic films such as La Dolce Vita to Three Coins In A Fountain. Crowds always gather around the gushing fountain and its nautical statues for the opportunity to throw a coin over their shoulder and wish for a return visit to the Eternal City of Rome.
Piazza Navona takes its unique name and oblong shape as it outlines the 1st-century AD Roman Stadium of Emperor Domitian upon which the square was built. The ancient Roman stadium whose ruins can still be found underground held competitive games that were known as "agone" - a word that evolved into Navona. The lively Piazza Navona is ringed by the impressive church of Sant'Agnese in Agone and grand palazzi with inviting outdoor cafes and restaurants.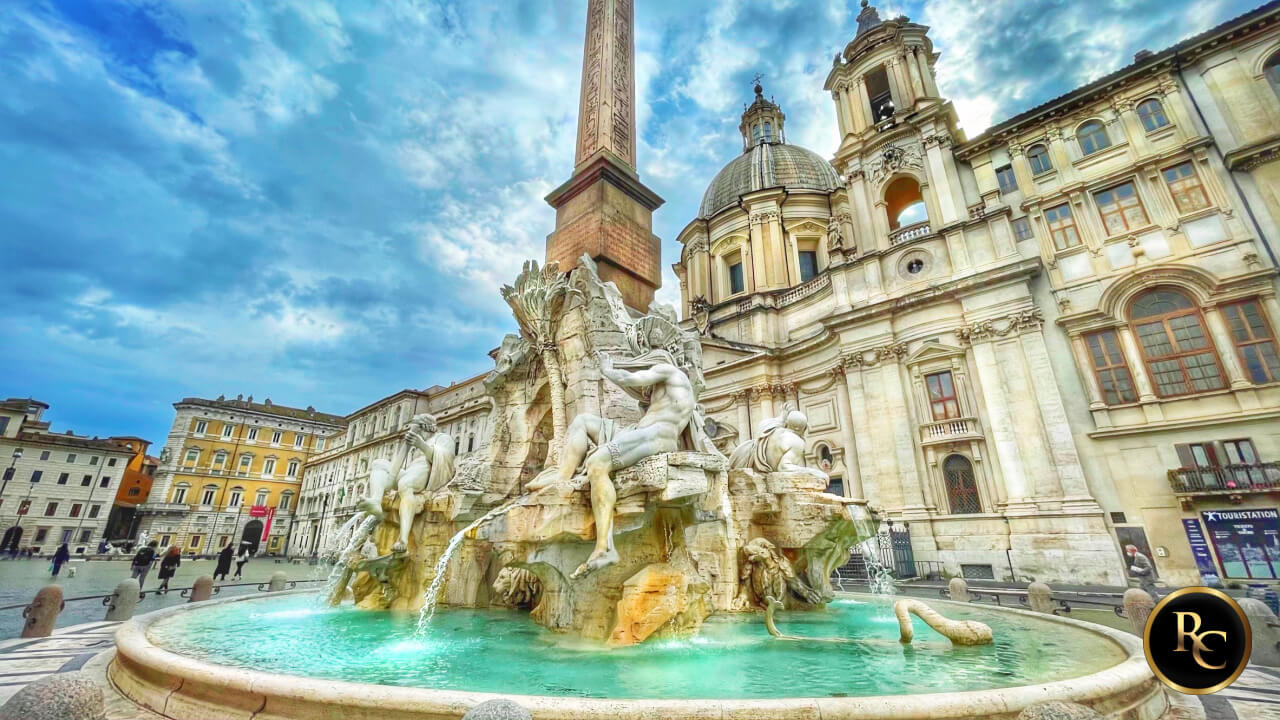 Piazza Navona boasts three sublime Baroque fountains: one in the center and two at each end of the square. The most significant fountain is Bernini's Fountain of the Four Rivers (Fontana del Quattro Fiumi) which graces the center of the square.
This magnificent fountain represents four major rivers of the known continents Renaissance Era: The Nile River (representing Africa), the Danube River (representing Europe), the Ganges River (representing Asia), and the Rio del la Plata River (representing the Americas). A copy of an Egyptian obelisk that bears the symbol of the Pamphili family tops the fountain.


Admire the COLOSSEUM and ARCH OF CONSTANTINE


Your Rome and Countryside Tour continues with a stop in Colosseum Square, a cobblestoned pedestrian area surrounded by some of the city's most impressive Ancient Roman monuments: the Colosseum and the nearby Arch of Constantine.
Officially named Flavian Amphitheater after the dynasty family of Emperors under whose leadership this ancient Roman engineering wonder was built in 79 AD, the Colosseum is the largest amphitheater ever built in the world accommodating an audience of 50,000-80,000 spectators.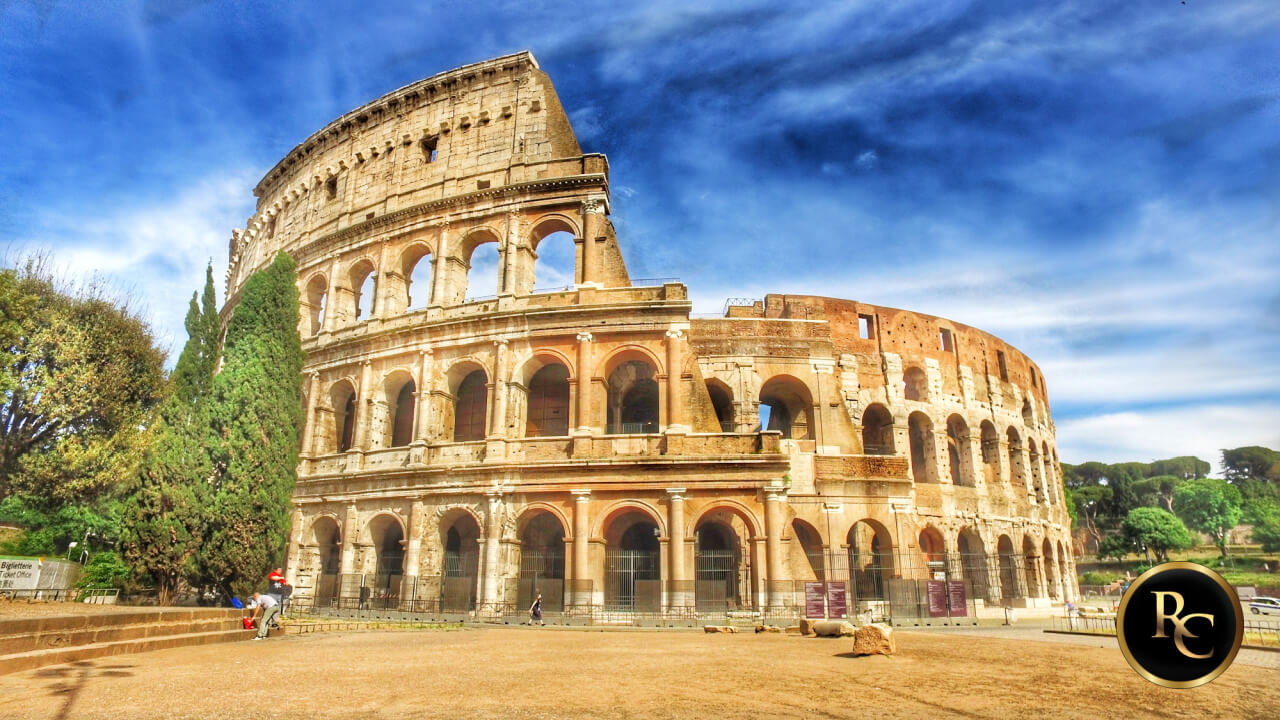 For over four centuries the Colosseum's arena held gladiatorial combats, animal hunts, re-enactments of famous battles, mock sea battles, theatrical dramas, and public executions as part of a grand public entertainment venue.
Its more common name, Colosseum, is believed to have originated from the colossal 30-meter-tall bronze statue of Emperor Nero (the Colossus of Nero) that was erected near the Colosseum in what used to be the vestibule of the emperor's Domus Aurea between 37-68 AD.
Near the Colosseum is the towering Arch of Constantine. This ornate victory arch was built in 315 AD to commemorate Emperor Constantine's victory over Maxentius at the Battle of Milvian Bridge in 312 AD.


Following your sightseeing tour in Rome, your personal chauffeur will take you directly to your hotel in Rome.

Thank you for your interest in our Post Cruise Rome and Countryside Tour from Civitavecchia and for choosing Rome Chauffeur for your Italy private tours and shore excursions. We look forward to meeting you and to helping you create unforgettable memories in Italy!
Important Information

* NOTE: Please READ carefully the Important Information below, as well as Read and Accept our TERMS OF SERVICE and Privacy Policy before booking.


The listed price of the tour is per vehicle, not per person. Rome Chauffeur accepts online prepayment via PayPal or Credit Card at the time you confirm your tour or you may pay on the Date of Service in Euro funds at the end of the tour made directly to your Chauffeur. If at any time you need extra funds on the day of your tour, your chauffeur will be happy to help you locate an ATM machine.

Cancellations must be made at least 7 days prior to your Date of Service. Prepaid services canceled last minute less than 7 days or are No Show on the Date of Service are NOT Refundable.
Cancellations must be made in writing via E-Mail followed by an official cancellation confirmation E-Mail from our office in order for your cancellation to be valid. Cancellations are NOT accepted by Phone, Text, or through 3rd Party individuals such as hotel clerks, friends, or concierge services.


* CANCELLATION FOR PREPAID SERVICES: Only NET RATE will be issued on prepaid services. Net Rate is what we receive from your prepayment after PayPal / CC takes out their fees which they don't reimburse us in case of refunds. Therefore, we are only able to refund what we receive from you after PayPal/ CC takes out their fees.
POST CRUISE TOUR FROM CIVITAVECCHIA CRUISE PORT:
Your Post Cruise Rome and Countryside Shore Excursion will start at 9:00 AM when you meet your English-speaking Rome Chauffeur on the pier next to your ship, and your tour will complete when you arrive back in Civitavecchia at approximately 6:00 PM. Your Rome Chauffeur will meet you on the Pier next to your Ship in Civitavecchia. Do NOT take any buses or shuttles away from the pier.

BRACCIANO CASTLE ADMISSION TICKETS
Tickets to Odescalchi Castle in Bracciano are currently 10 Euros per person (Ticket Prices can change without advance notice)
* Private Tours of the Castle: Odescalchi Castle offers private tours in English with advance booking at 180 Euros INCLUDING entry tickets. Availability of English-speaking tour guides is limited, please inform us in advance so we can secure this tour. Advance NON-Refundable Prepayment is required to reserve the guided tour. The Castle does NOT issue refunds in case of cancellation.
YOUR ITALY TOUR CHAUFFEUR
Tour Chauffeurs speak English but chauffeurs are not licensed tour guides. Chauffeurs are prohibited by law to accompany or guide guests on foot to sightsee. Only licensed tour guides with identifiable badges are authorized to do so. Your Chauffeur will take you as close as lawfully permitted to the attractions you visit to minimize walking distance. Chauffeurs are required by law to remain with the vehicle while guests sightsee on their own (Self Touring).
IMPORTANT LUGGAGE INFORMATION:
Sedans can accommodate up to 2 suitcases and up to 2 small carryons. If you will travel with more luggage than indicated, please request a minivan upgrade at an additional rate.
Vans can accommodate a maximum of 6 suitcases and 6 small carryons. If you will travel with more luggage than indicated, you may either require an upgrade to an even larger vehicle, or 2nd vehicle at additional costs.
IMPORTANT CIVITAVECCHIA POST-CRUISE TOURS INFORMATION:
Allow up to 24 hours for your booking request to be processed and to receive further email correspondence from our booking specialists.
If you do not hear from us within 24 hours, check your spam folder and white list our email address to ensure future delivery

Traveling with children? Upon request, we can provide Child Safety Seats. Please include in the Message Request Box of the booking form your child safety seat request along with the number of children, their ages, and weight in kilograms.
LUGGAGE (Sedans): For parties of 1-2, if your luggage amount exceeds 2 suitcases and 2 carryons, you will require a Vehicle size Upgrade at EXTRA FEE. Please contact us via Email for more information and prices.
LUGGAGE (Minivans): For parties 3-8, Minivans can accommodate up to 6 suitcases and up to 6 carry-ons in total. If traveling with more luggage than that, please contact us via E-Mail prior to booking so for further assistance and options.



ROME AND COUNTRYSIDE TOUR TIPS:


Wear comfortable clothes and walking shoes

Visiting the upper level of the castle's private apartments that also lead to the castle's ramparts requires climbing a flight of stairs along a spiral stairway. If you have trouble with stairs, you may enjoy the lower level of the castle, as well as the atrium and castle kitchen.
There are many cobblestoned streets and squares in Rome
Bring your cameras as you will be visiting amazing places!



PRIVATE SHORE EXCURSIONS MONEY-SAVING TIP:
HOW TO SAVE ON POST CRUISE TOURS FROM CIVITAVECCHIA: Place an ad on Cruise Critic for your chosen date of the service. Make new friends and share your tour and fun with other like-minded travelers.