description
NOTE: To inquire about booking a tour please SEND US AN EMAIL

PISA AND FLORENCE SHORE EXCURSION PRICES:


For up to 4 people from Livorno Port: 700 Euros
For up to 6 people from Livorno Port: 800 Euros
For up to 8 people from Livorno Port: 900 Euros
For up to 4 people from La Spezia Port: 800 Euros
For up to 6 people from La Spezia Port: 900 Euros
For up to 8 people from La Spezia Port: 1,000 Euros

On this shore excursion from the cruise port of Livorno or port of La Spezia, you have the opportunity to visit 2 of Tuscany's most famous cities: Pisa and Florence.


PISA
A prominent ancient port city (called "Portus Pisanus" while it was a Ancient Roman colony) Pisa is recognized worldwide for its famous leaning tower - the bell tower of the Cathedral.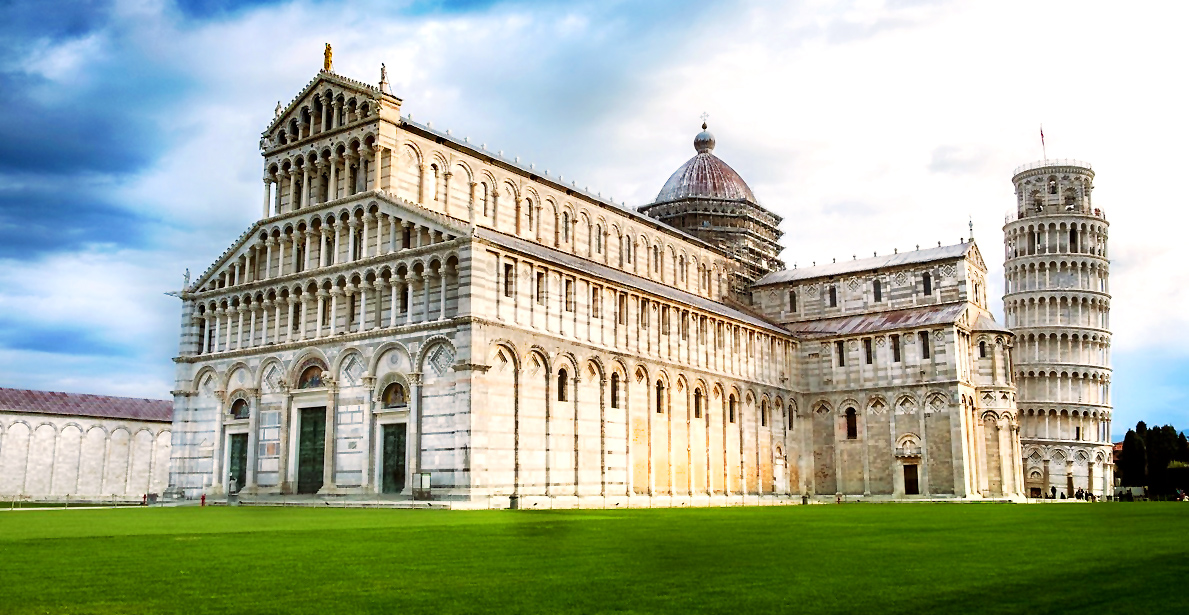 In Pisa, you will visit Piazza dei Miracoli (Square of the Miracles), a spacious square where Pisa's most sacred and renowned buildings are located: Pisa's impressive Duomo (cathedral), the Leaning Tower, the Baptistery, and Campo Santo (the monumental cemetery).
While here, you will have ample opportunity to photograph the monuments and enjoy this bustling square. Overall visit time: 40 minutes


FLORENCE
Florence is the capital of Tuscany, and the birthplace and symbol of the Renaissance that has gifted the world with celebrated artists like Michelangelo, Leonardo da Vinci, Donatello, Raphael and Sandro Botticelli... prominent thinkers and writers like Machiavelli and Dante, and revered scientists like Galileo.
You will have the opportunity to walk in the footsteps of the greatest and most influential Florentines as you explore the historic center and discover Florence's most important heritage sites.
On this tour, you will enjoy these Must-See sites in Florence:


PIAZZALE MICHELANGELO




What better way to start or end a visit to Florence that a stop on Piazzale Michelangelo for a splendid panoramic overview of the city that has graced innumerable postcards.


PIAZZA DEL DUOMO
One of the most visited squares in the world, Piazza del Duomo is dominated by 3 religious monuments: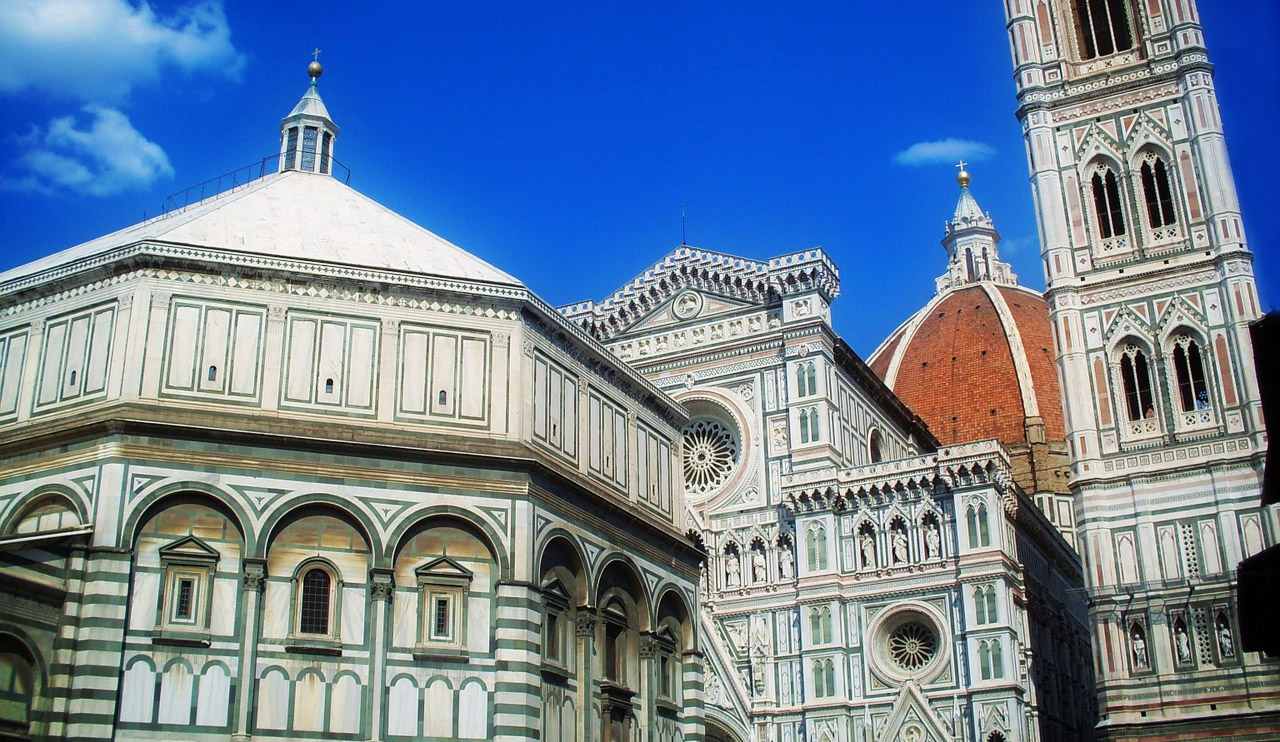 * Santa Maria del Fiore Cathedral with the famous Brunelleschi dome
* The richly decorated Giotto's Campanile (Giotto's Bell Tower)
* The octagonal Baptistery of Saint John whose famous bronze doors by Lorenzo Ghiberti were named by Michelangelo the "Gates of Paradise".

BASILICA DI SANTA CROCE (Basilica of the Holy Cross)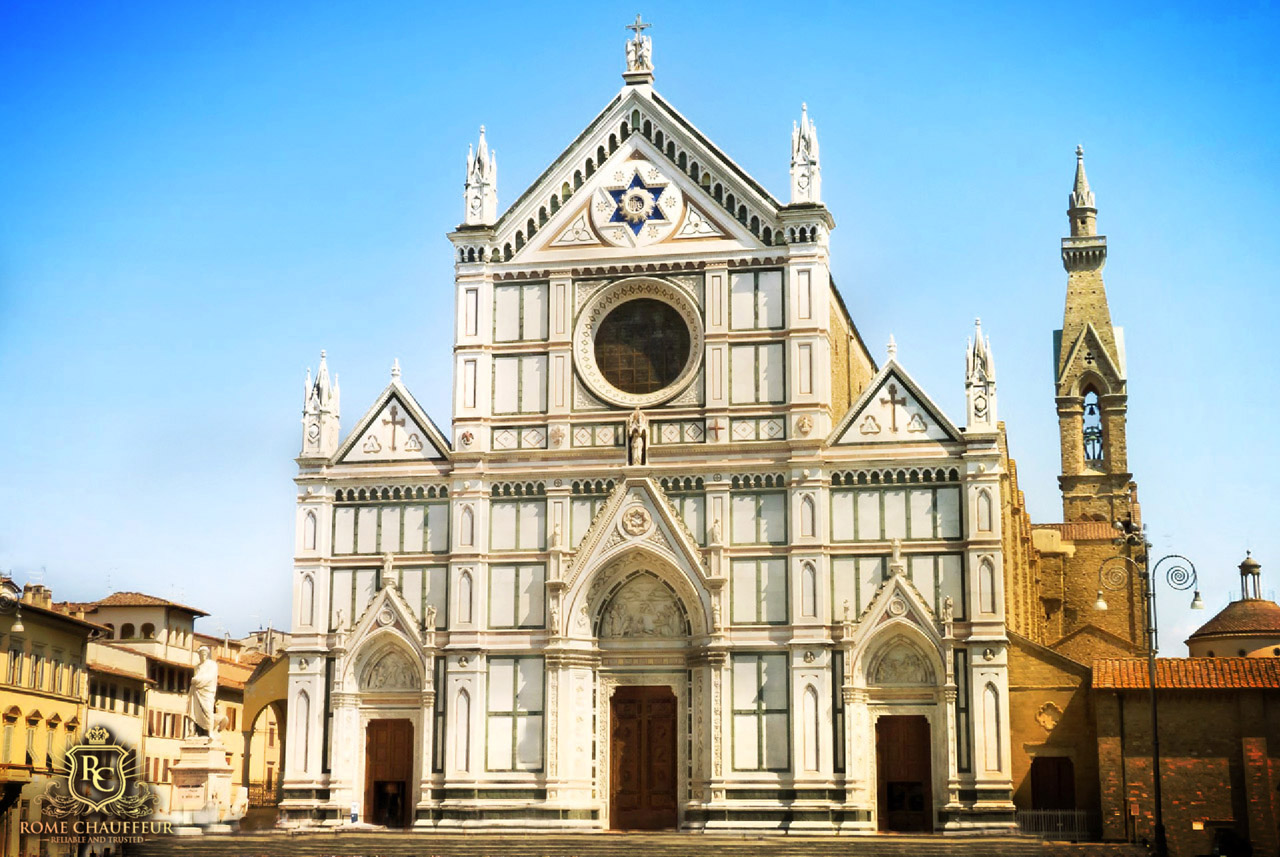 This 15th century basilica is the largest Franciscan church in the world and also referred to as "The Temple of the Italian Glories" as it's also the burial place of some of Italy's most illustrious Italians including Michelangelo, Galileo and Machiavelli to name a few.
The basilica also contains artwork by famous artists such as Donatello, Vasari, Giotto and more.


PIAZZA DELLA SIGNORIA
Piazza della Signoria is named after the 14th century Palazzo della Signoria (today known as Palazzo Vecchio - the "Old Palace") that dominates the spacious square.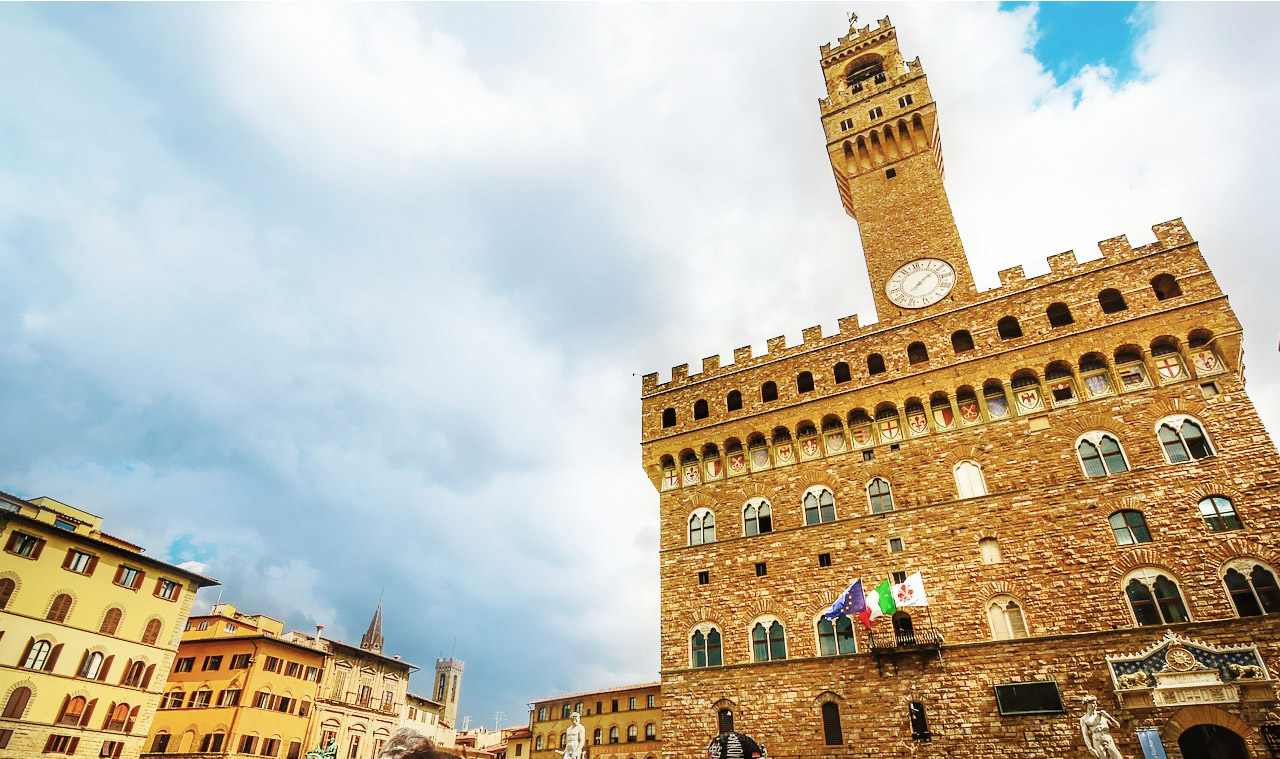 This square is a perfect example of why many refer to Florence as an outdoor museum.
On the corner close to Palazzo Vecchio is Loggia dei Lanzi, a covered terrace recognized by its wide arches and its open-air exhibition of fabulous bronze and marble sculptures depicting classical and mythological themes.

PONTE VECCHIO (The Old Bridge)
Translated to "Old Bridge", Ponte Vecchio is a medieval stone arch bridge that spans the Arno River.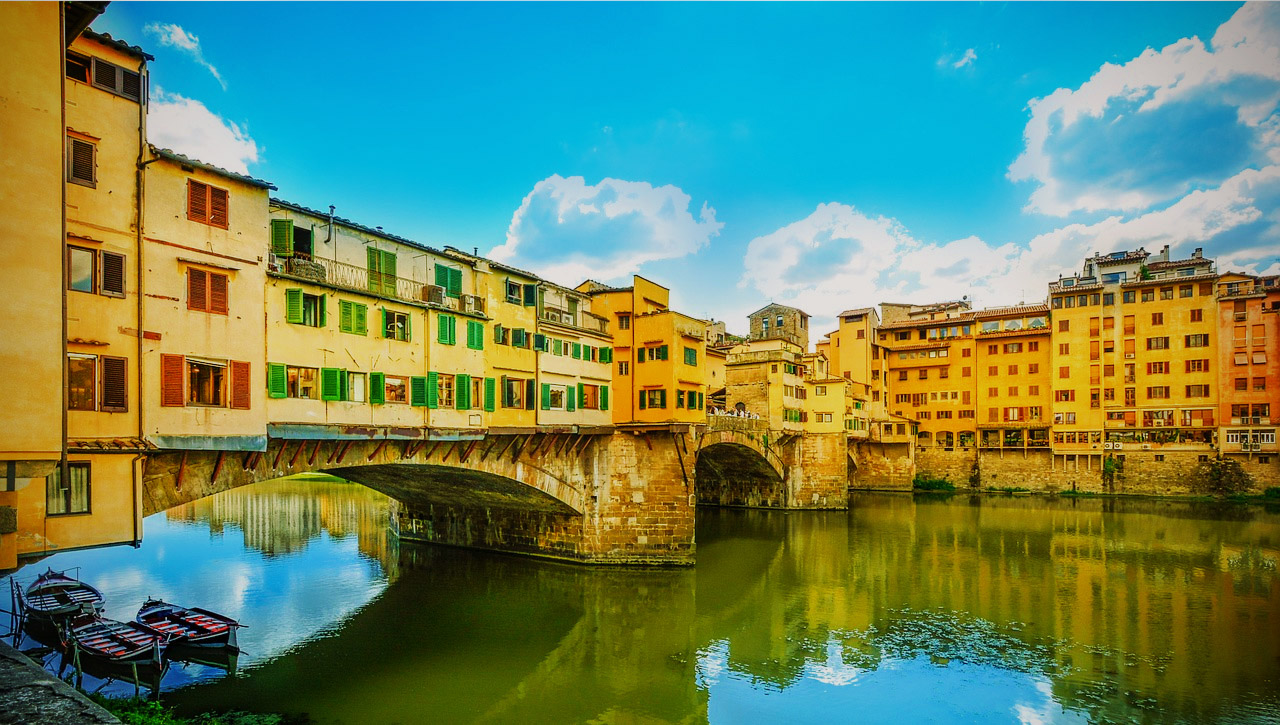 Initially occupied with butcher shops, nowadays you'll find it filled with upscale jewelry shops, artists, and souvenir vendors.
An interesting aspect about this bridge is Vasari's Corridor, an enclosed passageway commissioned by Cosimo I de'Medici to connect Palazzo Vecchio (Florence's Town Hall) with Palazzo Pitti (the private residence of the Medici family).


ACCADEMIA GALLERY
The Gallery of the Academy of Florence is the famous art museum that displays the original statue of David by Michelangelo along with other of his sculptures, as well as and masterpiece works of art by well known artists like Botticelli, Ghirlandaio and Giambologna, making it a perfect museum to visit on a day trip to Florence.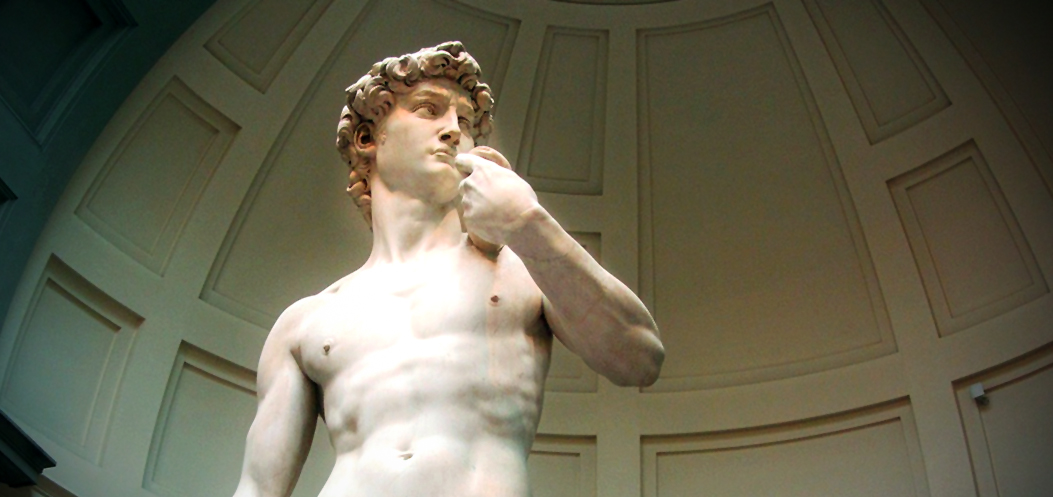 At the end of your fun filled Pisa and Florence Shore Excursion, you will enjoy a relaxing drive back to your cruise ship at the port of Livorno, or return to the port of La Spezia.
Important Information

* NOTE: Please READ carefully the Important Information below, as well as Read and Accept our TERMS OF SERVICE and Privacy Policy before booking.
PAYMENT OPTIONS FOR PISA AND FLORENCE SHORE EXCURSION
The listed price of the tour is per vehicle, not per person. Rome Chauffeur accepts online prepayment via PayPal or Credit Card at the time you confirm your tour, or you may pay on the Date of Service in Euro funds at the end of the tour made directly to your Chauffeur. If at any time you need extra funds on the day of your tour, your chauffeur will be happy to help you locate an ATM machine.


CANCELLATION ADVISORY FOR TOURS
Cancellations must be made at least 3 days prior to your Date of Service. Prepaid services canceled last minute less than 3 days or are No Show on the Date of Service are NOT Refundable.
Cancellations must be made in writing via E-Mail followed by an official cancellation confirmation E-Mail from our office in order for your cancellation to be valid. Cancellations are NOT accepted by Phone, Text, Or through 3rd Party individuals such as hotel clerks, friends, or concierge services.
* CANCELLATION FOR PREPAID SERVICES: Only NET RATE will be issued on prepaid services. Net Rate is what we receive from your prepayment after PayPal / CC takes out their fees which they don't reimburse us in case of refunds. Therefore, we are only able to refund what we receive from you after PayPal/ CC takes out their fees.


SHORE EXCURSIONS CHAUFFEUR MEETING POINTS


* Shore Excursions from Livorno Cruise Port:
Your professional English-speaking Tour Chauffeur will meet you on the pier next to your ship holding a sign with your name at 8:00 AM and will return you to the ship by approximately 5:00 PM.


* Shore Excursions from La Spezia Cruise Port:
La Spezia Port does not permit access to vehicles inside the port. ALL cruisers are obliged to make use of the Port Shuttle to exit the Port. Your Chauffeur will meet you at the "Bus Stop" outside the port gates, holding a sign with the name in the booking.


* This tour is NOT offered from Rome due to the great distances of Pisa and Florence from Rome that cannot be achieved in a day tour.
MUSEUM INFORMATION and PRE-PURCHASED TICKETS
We suggest visiting the famous Accademia Gallery if you prefer to have more time to visit sites in Florence as the Accademia is a shorter museum visit.
Please book your Accademia Gallery Museum Tickets in advance for the 11:30 AM time slot at the link below, and be sure to bring your Ticket Vouchers with you on the Tour as they will be required: FLORENCE MUSEUM TICKETS
Academia Museum (as are most museums in Italy) are closed on Mondays, January 1, May 1, and December 25.
It is also NOT possible to visit the Museums on the 1st Sunday of Every Month as these are "Free Museum Days" with no possibility for Skip The Line tickets and wait times are very long.
If your tour falls on days of closure or on "Free Sunday", the museum visit will be replaced with different sites in Florence according to your interests and desires.
* You may substitute a visit to the Uffizi Gallery with Accademia Gallery (and shorten your sightseeing time at other locations), but due to time restrictions, it's not possible to visit both on the same day.


** Admission Tickets to Santa Croce Basilica: Tickets to visit this remarkable church are approximately 5 Euros per person and can be purchased on arrival.


YOUR TOUR CHAUFFEUR
This tour provides an English-speaking Chauffeur who is not a licensed Tour Guide. In Italy only locally licensed tour guides have permission to guide and accompany guests to sightsee. In order to comply with the laws, Chauffeurs are obliged to remain with the vehicle while you sightsee.

PRIVATE SHORE EXCURSIONS MONEY-SAVING TIP:
HOW SAVE ON SHORE EXCURSIONS: Join thousands of delighted cruisers who shared their private tours with like-minded fellow cruises from their ship by simply placing an ad on Cruise Critic Roll Call for their cruise ship, with a link to their preferred tour and date of the service. Make new friends and share your tour and fun with other like-minded travelers.