description

ORVIETO AND CIVITA DI BAGNOREGIO TOUR PRICES


For 1-3 participants from Rome: 500 EUROS
For 4-6 participants from Rome: 550 EUROS
For 7-8 participants from Rome: 600 EUROS


On this popular Orvieto and Civita di Bagnoregio day tour from Rome, you have the wonderful opportunity to escape the busy city life and enjoy a day excursion to Umbria and the Roman countryside.
Umbria is a unique region in central Italy characterized by green hills and fertile valleys, historical hilltop towns, excellent local wines and cuisine, long standing traditions, as well as artistic and spiritual influence on Italian culture.
Drawing its name from the ancient "Umbri" tribes that once thrived here during the 9th-4th centuries BC, Umbria has been settled by the the Ancient Etruscans and Romans, followed by a series of occupations during the Medieval and Renaissance by various other kingdoms and empires that seeked to conquer this much sought after region.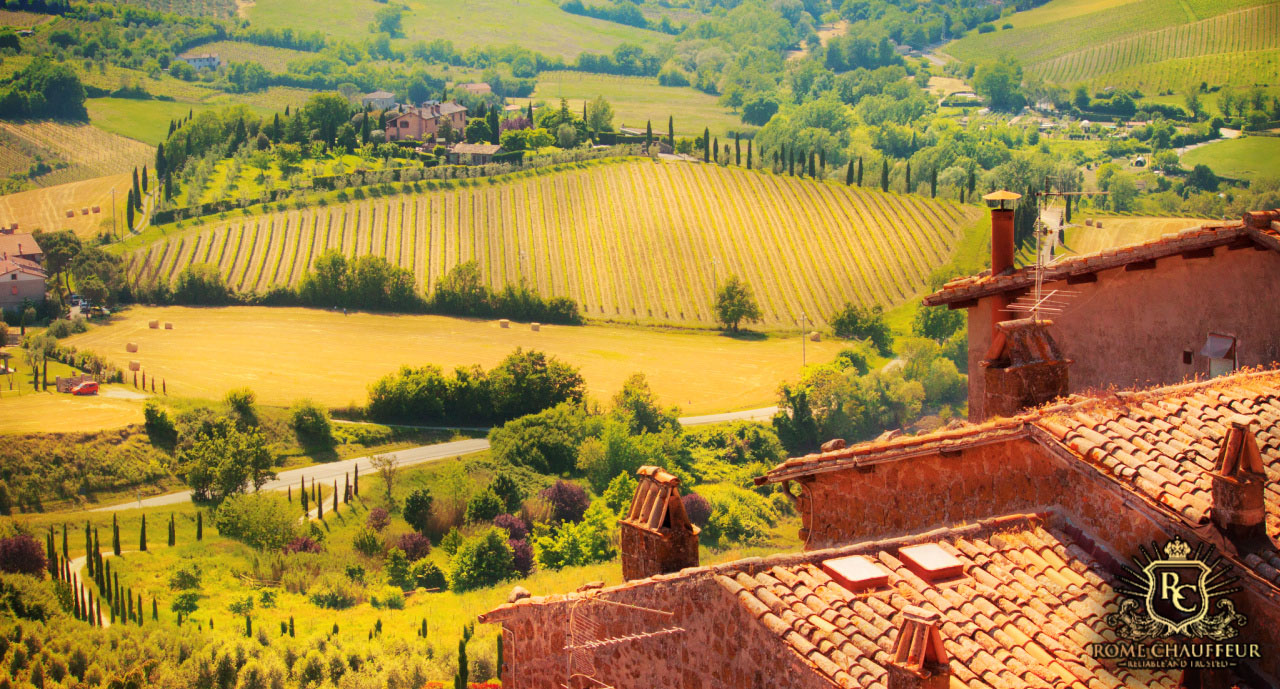 Rome is located in the Lazio region of Italy, bordering Umbria. The name "Lazio" stemmed from the Latin word "Latium", which was the area where the ancient tribes of the Latini resided from about 1,000 BC, and their "latin" language was passed on to the ancient Romans.
The Roman countryside in the region of Lazio is dotted with amazing historic towns, enchanting hamlets, and archaeological ruins that are products of its rich Roman, Medieval and Renaissance heritage.
Umbria's and Lazio's long and fascinating history resulted in some of Italy's most remarkable hilltop towns, including Orvieto and Civita di Bagnoregio.
ORVIETO: A Jewel on the Hill

Appearing to rise out of a steep vertical tuffa cliff, Orvieto sits dramatically on the summit of a volcanic plug that has served as a natural fortification making the town virtually impenetrable. This defense strategy granted Orvieto its distinctive features that makes it so stunningly beautiful.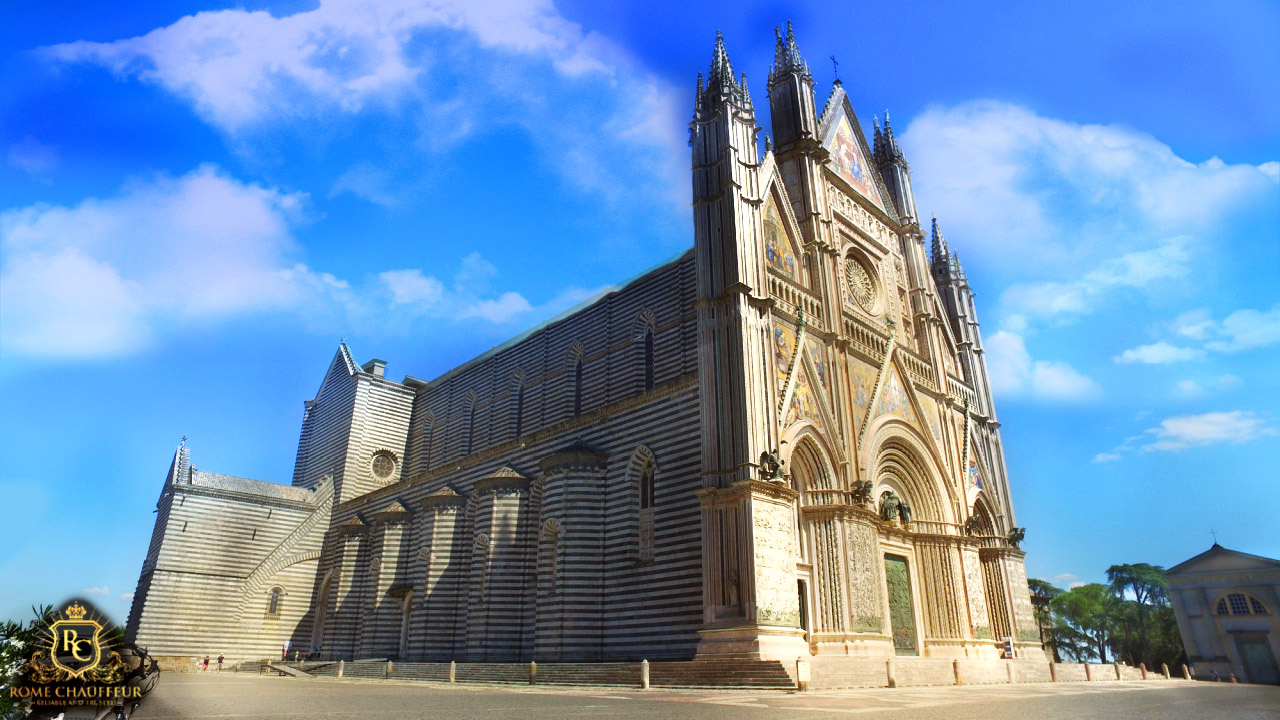 One of the most unique structures you will discover upon arriving in Orvieto is its remarkable 14th century cathedral that is nothing short of a masterpiece with a Gothic facade decorated with bas-reliefs and statues, and stunningly adorned with shimmering mosaics that sets it aglow under the sun's rays.
Dedicated to the Assumption of Mary (Santa Maria Assunta), the cathedral's interior contains precious frescoes by some of Italy's best artists of that era.
Beyond the Duomo (cathedral), Orvieto delights its visitors with spacious streets lined with beautifully preserved historic buildings where you'll find cafes, artisan emporiums, unique boutiques, and shops that sell local products.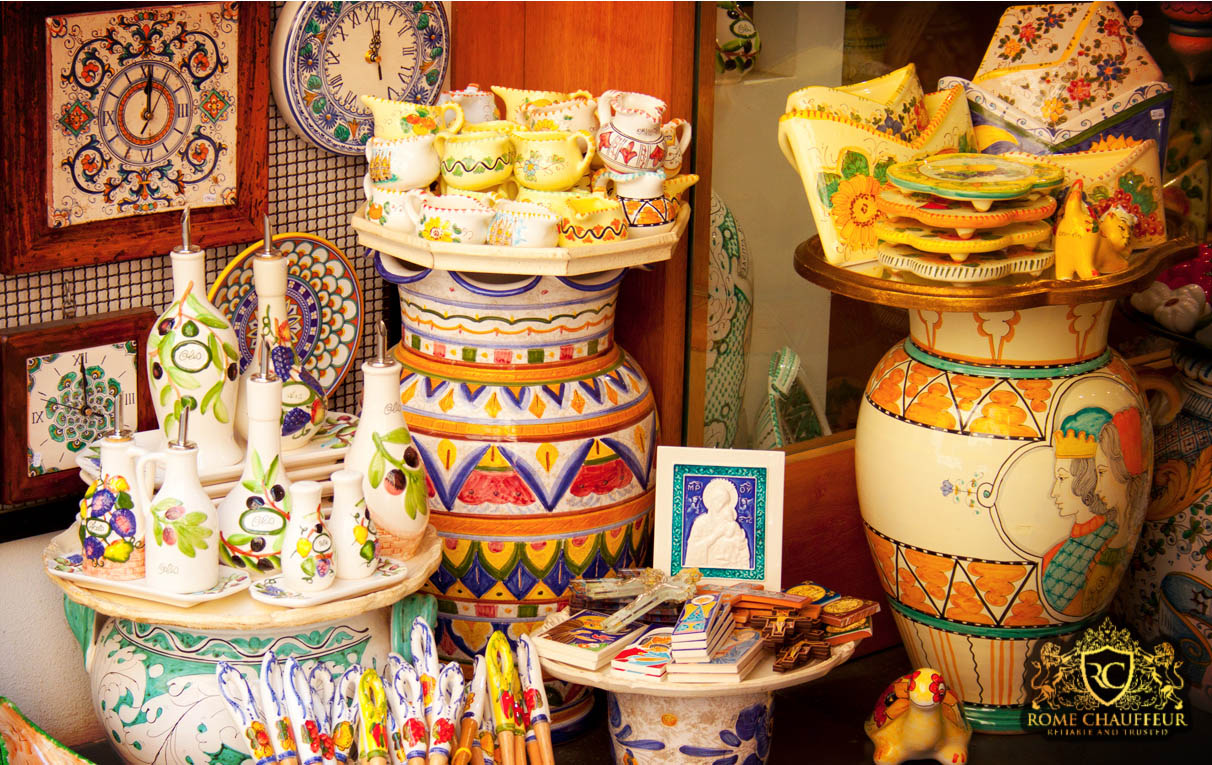 Wine connoisseurs can sample the local wines at the various wine shops in town, and discover why Orvieto is famous for its superior white wines, and is the lead wine producer in Umbria.
Shoppers will love the wide varieties of vibrant hand painted ceramics that have been part of Orvieto's long standing tradition.
CIVITA DI BAGNOREGIO - a floating island
One of the most photogenic medieval hamlets in Italy is Civita di Bagnoregio. Suspended in time, and in air, as it sits perched on top of a precipitous volcanic tuff floating like a tiny island above a steep lunar ravine, Civita is a sight to behold.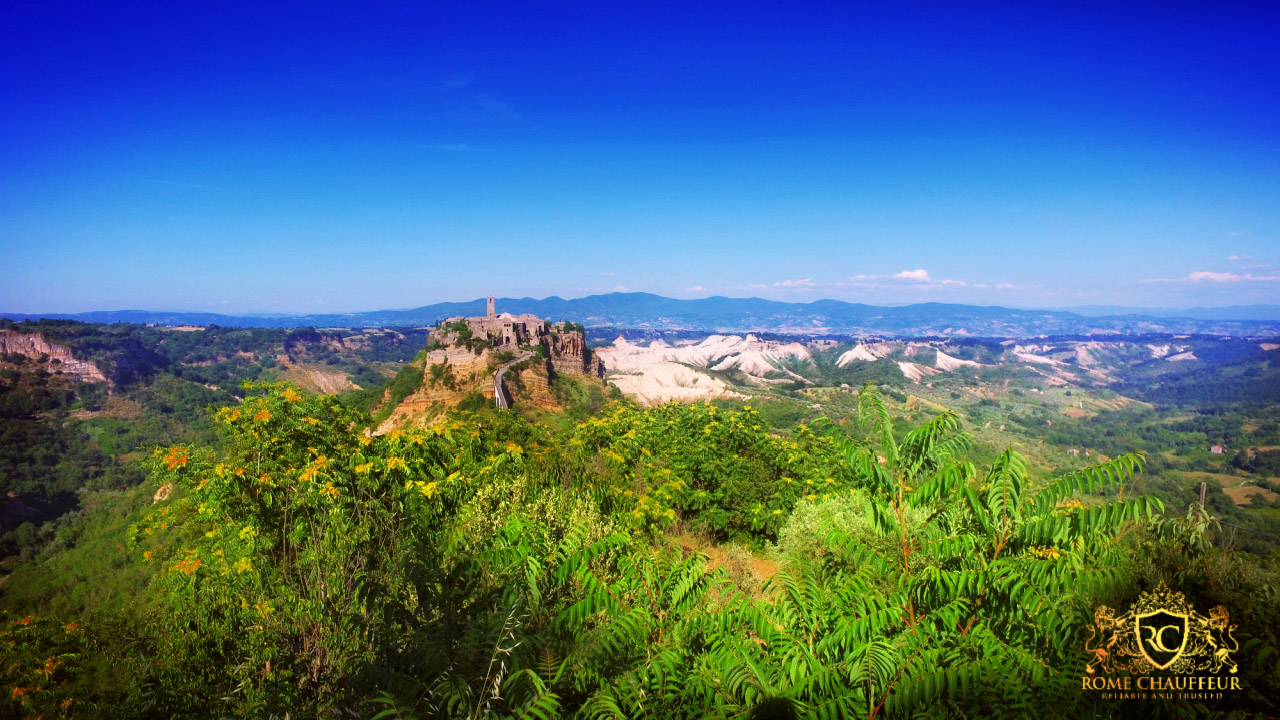 Connected to the real world by a quarter mile footbridge, this ancient citadel is traffic free and unaltered in appearance since the middle ages.
Originally founded by the ancient Etruscans more than 2,500 years ago due to its naturally fortified location (the hamlet's main stone gateway was carved by the Etruscans), Civita remained frozen in time.
After centuries of erosion and earthquakes that separated the citadel from the mainland, it immunized it from changes brought on by modernity, thus preserving its historic charm.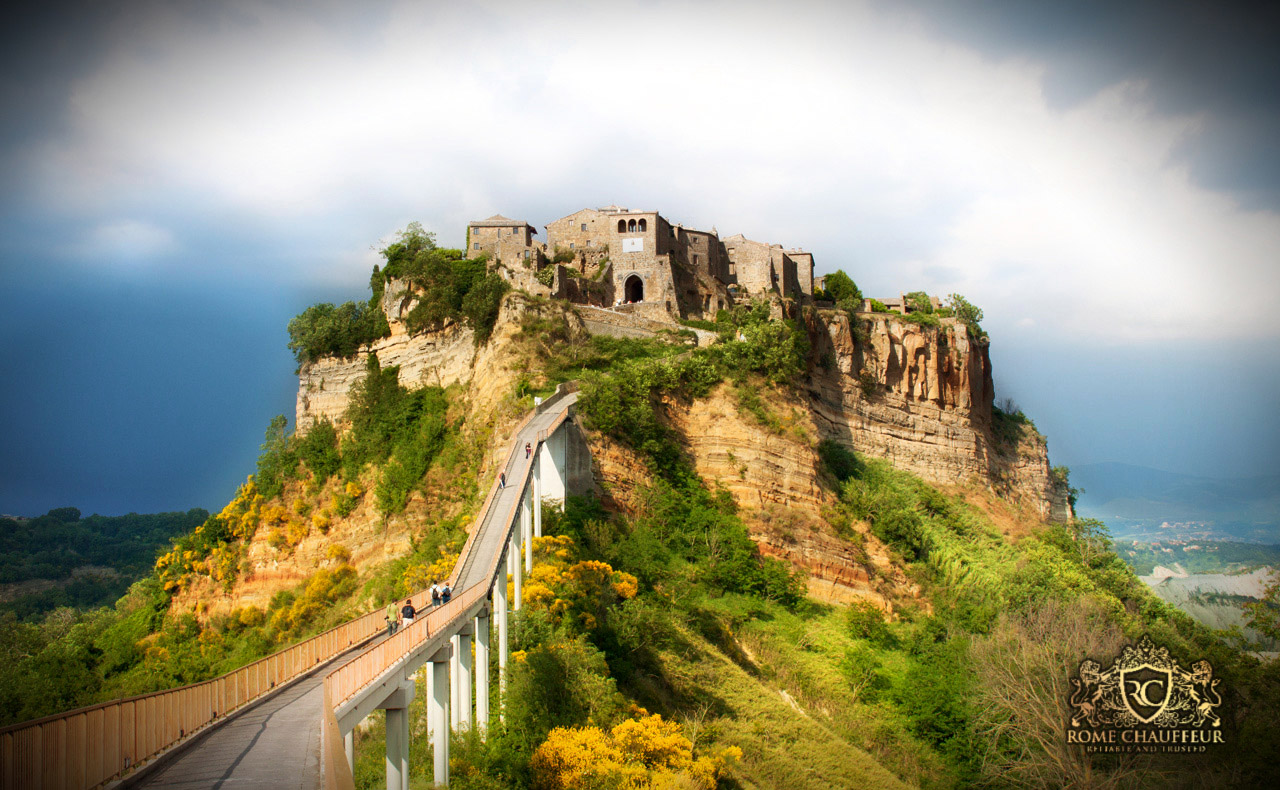 Civita di Bagnoregio enchants visitors with quiet lanes lined with beautifully preserved historic buildings accentuated with vibrant flower pots and hanging ivy, sun bathed square, breathtaking panoramic views, and a tranquil atmosphere that's authentic Italy. There simply isn't another town in Italy as unique and remarkable as Civita di Bagnoregio!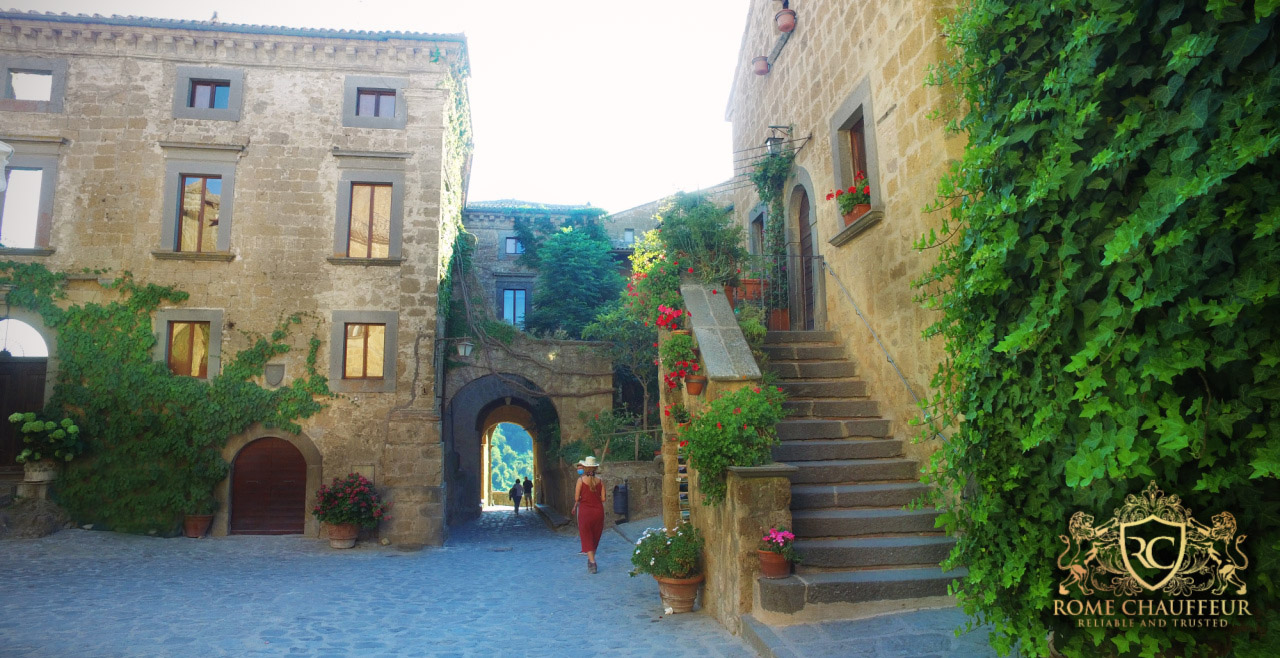 From here, your chauffeur will take you on a relaxing drive back to your accommodation in Rome.
Thank you for booking our tours. We look forward to meeting you and to helping you create unforgettable memories in Italy!
Important Information

* NOTE: Please READ carefully the Important Information below, as well as Read and Accept our Terms of Service and Privacy Policy before booking.

PAYMENT FOR OUR ORVIETO AND CIVITA DI BAGNOREGIO TOUR
The listed price of the tour is per vehicle, not per person. Rome Chauffeur accepts prepayment via PayPal or Credit Card, or you may pay on the Date of Service in Euro funds at the end of the tour made directly to your Chauffeur. If at any time you need extra funds on the day of your tour, your chauffeur will be happy to help you locate an ATM machine.

CANCELLATION ADVISORY FOR TOURS
Cancellations must be made at least 7 days prior to your Date of Service. Prepaid services canceled last minute less than 7 days or are No Show on the Date of Service are NOT Refundable.
Cancellations must be made in writing via E-Mail followed by an official cancellation confirmation E-Mail from our office in order for your cancellation to be valid. Cancellations are NOT accepted by Phone, Text, Or through 3rd Party individuals such as hotel clerks, friends, or concierge services.
* CANCELLATION FOR PREPAID SERVICES: Only NET RATE will be issued on prepaid services. Net Rate is what we receive from your prepayment after PayPal / CC takes out their fees which they don't reimburse us in case of refunds. Therefore, we are only able to refund what we receive from you after PayPal/ CC takes out their fees.

PICK UP AT YOUR ROME HOTEL
Your English-speaking Rome Chauffeur will pick you up at your Rome hotel or accommodation at 8:00 AM, and you will arrive back at approximately 5:00 PM.
At a hotel, your chauffeur will meet you inside the hotel lobby.
At apartment rentals, B&B's, or hotels without a lobby your chauffeur will meet you at your address. In case your hotel or accommodation is located on a street or square with traffic restrictions, your chauffeur will park the vehicle as close as lawfully possible, meet you at your address on foot, and accompany you to the parked vehicle.


THE ELEVATED FOOTBRIDGE OF CIVITA DI BAGNOREGIO
Please note that there is a "toll fee" to access the footbridge to Civita di Bagnoregio, approximately 5 Euros per person. These toll fees help offset the cost of preserving this ancient and delicate hamlet.
ADVISORY: The footbridge is approximately ¼ mile long and at an incline for some of the distance. The elevated footbridge of Civita di Bagnoregio is the only access to this hamlet that is surrounded by breathtaking badlands and detached from the rest of civilization. Please be sure this type of walking is suitable for you levels of stamina and ability. You may refer to photos and videos of Civita di Bagnoregio to better assess it.

YOUR TOUR CHAUFFEUR
This tour provides an English-speaking Chauffeur who is not a licensed Tour Guide. Italian laws stipulate that only licensed tour guides are permitted to guide and accompany guests to sightsee. In order to comply with such laws, Chauffeurs are required to remain with the vehicle while you sightsee.


TOUR TIPS:

Please wear comfortable clothing and shoes on this tour as it involves quite a bit of walking to enjoy exploring Orvieto and strolling through Civita di Bagnoregio