description

HERCULANEUM AND MOUNT VESUVIUS TOUR PRICES:


For up to 4 people from Rome: 700 Euros
For up to 6 people from Rome: 750 Euros
For up to 8 people from Rome: 850 Euros


For up to 4 people from Naples: 650 Euros
For up to 6 people from Naples: 700 Euros
For up to 8 people from Naples: 750 Euros
HERCULANEUM


Your first stop will be Herculaneum, a UNESCO World Heritage Site and Pompeii's smaller sister town that suffered the same fate during the catastrophic eruption of Mount Vesuvius in 79 AD, burying this once-thriving ancient Roman town in more than 50 feet of ash and mud, preserving it through the millennia in a solid tomb of volcanic tuff.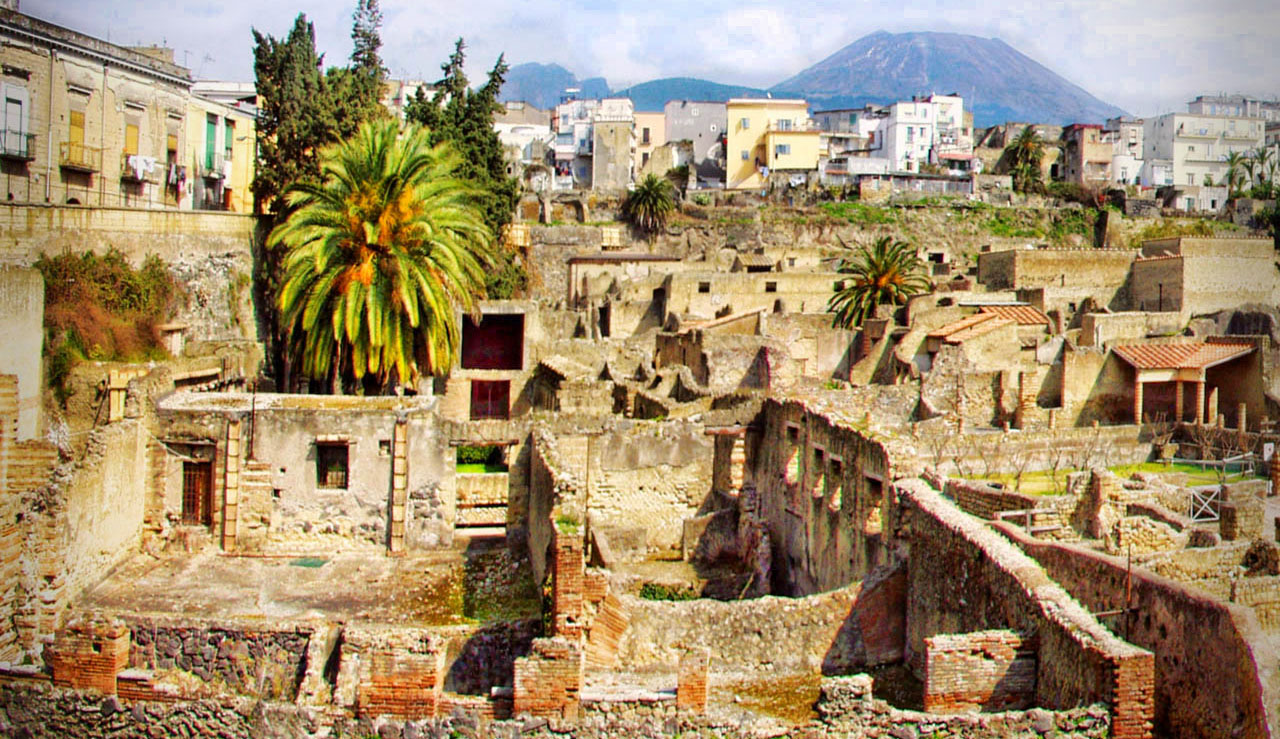 Excavations that were initiated nearly 3 centuries ago revealed well preserved buildings with frescoes and mosaics, nymphaeum, Roman baths, gymnasiums, luxurious villas like Villa of Papyri that contained a rich library of scrolls, the opulent House of Neptune and Amphitrite, House of Deer, the House of the Beautiful Courtyard and more.
The advantage of visiting Herculaneum over Pompeii is that due to its lesser popularity and location that deter large tour shuttle buses you are not met with large crowds of visitors and tour groups, its smaller size ensures you have the opportunity to see far more of the site, and most importantly Herculaneum is better preserved than Pompeii.


MOUNT VESUVIUS


After lunch at a local traditional restaurant or trattoria, you will make your way up Mount Vesuvius itself. At more than 4,000 feet in height, Vesuvius is the smallest active volcano in the world.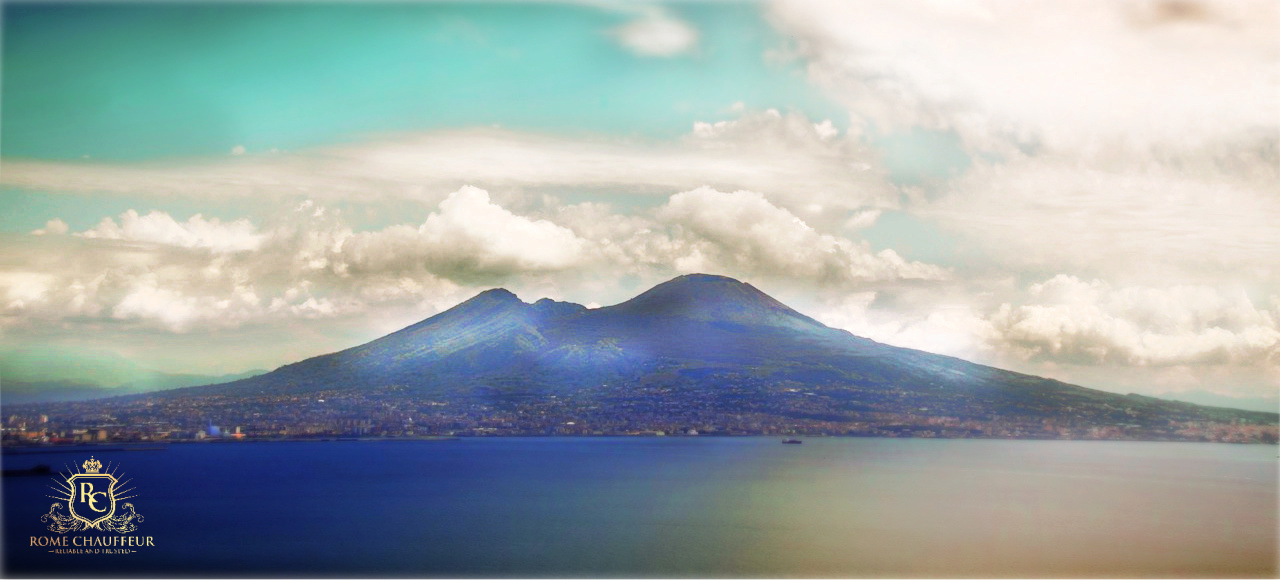 Considered among the most dangerous due to its enormous eruption in 79 AD, it erupted more than three dozen times, with the most recent eruption in 1944 during WWII destroying several villages along its slopes. Since then, however, this giant has been peacefully asleep.
In mid 1990's the area surrounding Mount Vesuvius was declared a national park. The rich volcanic soil on its surface allows for lush dense vegetation to grow unbridled.
You will be driven within 660 feet of the summit, after which the distance to the crater is accessible only on foot along the dirt paths.
Once you reach the crater you will be amazed at its spectacular size and depth. Equally spectacular is the panoramic view of the Bay of Naples, Pompeii, Capri, Sorrento, and more.
This concludes your Herculaneum and Mount Vesuvius tour. From here your driver will bring you back to your cruise ship in Naples or hotel in Rome.
Thank you for choosing Rome Chauffeur tour services. We look forward to meeting you and showing you Italy!
Important Information

* NOTE: Please READ carefully the Important Information below, as well as Read and Accept our TERMS OF SERVICE and Privacy Policy before booking.


PAYMENT FOR HERCULANEUM AND MOUNT VESUVIUS TOUR
The listed price of the tour is per vehicle, not per person. Rome Chauffeur accepts online prepayment via PayPal or Credit Card at the time you confirm your tour, or you may pay on the Date of Service in Euro funds at the end of the tour made directly to your Chauffeur. If at any time you need extra funds on the day of your tour, your chauffeur will be happy to help you locate an ATM machine.


CANCELLATION ADVISORY FOR TOURS
Cancellations must be made at least 3 days prior to your Date of Service. Prepaid services canceled last minute less than 3 days or are No Show on the Date of Service are NOT Refundable.
Cancellations must be made in writing via E-Mail followed by an official cancellation confirmation E-Mail from our office in order for your cancellation to be valid. Cancellations are NOT accepted by Phone, Text, Or through 3rd Party individuals such as hotel clerks, friends, or concierge services.

* CANCELLATION FOR PREPAID SERVICES: Only NET RATE will be issued on prepaid services. Net Rate is what we receive from your prepayment after PayPal / CC takes out their fees which they don't reimburse us in case of refunds. Therefore, we are only able to refund what we receive from you after PayPal/ CC takes out their fees.
ADMISSION TICKETS for Herculaneum and Mount Vesuvius
* Herculaneum admission tickets are currently 11 Euros per person (can be purchased on-site)
* Mount Vesuvius admission tickets are approximately 12 Euros per person. (must be purchased in advance online)
*** Ticket prices are subject to change without notice and are not guaranteed.


PRIVATE GUIDED TOUR OF HERCULANEUM

If you wish to reserve a local English-speaking licensed tour guide for an in-depth personal 2-hour private tour of Herculaneum please inquire within for quotes and reservation.



IMPORTANT MOUNT VESUVIUS ADVISORY
Please be aware that Mount Vesuvius may close without notice if and when wind and weather conditions become unsafe for visits.
Rome Chauffeur does not assume responsibility for unforeseen park closure due to unsafe weather conditions. Weather conditions appear more unpredictable in the winter, spring, and fall months.
In case Mount Vesuvius closes due to weather conditions, this part of the tour will be substituted with Sorrento. Tours will not be discounted or shortened in duration on account of Mt Vesuvius closures.

HERCULANEUM & MOUNT VESUVIUS TOUR FROM ROME HOTEL
Your professional English-speaking Tour Chauffeur will meet you at your hotel or accommodation at 8:00 AM and bring you back by approximately 5:30 PM.
For Day Tour starting from Rome, a valid and complete Hotel or Accommodation address is required in order to book this tour.

HERCULANEUM & MOUNT VESUVIUS SHORE EXCURSION FROM NAPLES PORT
Your personal English-speaking Tour Driver will pick you up at 8:00 AM on the pier next to your ship and bring you back at approximately 5:00 PM.
At Naples Port, passengers are required to walk to the TAXI Area. This is the only location where vehicles are permitted to park and for chauffeurs to meet their passengers. Your Chauffeur will be standing next to his/her vehicle, holding a sign with the NAME in the booking.

YOUR TOUR CHAUFFEUR
This tour provides an English-speaking Chauffeur who is not a licensed Tour Guide. In Italy only locally licensed tour guides have permission to guide and accompany guests to sightsee. In order to comply with the laws, Chauffeurs are obliged to remain with the vehicle while you sightsee.


HERCULANEUM AND MOUNT VESUVIUS VISIT TIP:
Comfortable shoes and clothing are recommended on this tour as both Herculaneum and Mount Vesuvius are sites with uneven terrain. Please be sure to be mindful of your steps as you visit these sites.
The upward walk to the crater of Mount Vesuvius requires a certain level of physical fitness and the ability to handle uneven terrain. Keep in mind that shoes may become dirty with ash dust.
Temperature is cooler at high elevations, so please bring extra clothing in case you feel chilly.


PRIVATE SHORE EXCURSIONS MONEY-SAVING TIP:
HOW SAVE ON SHORE EXCURSIONS: Place anad on Cruise Critic Roll Call for your chosen date of the service. Make new friends and share your tour and fun with other like-minded travelers.