description

RENAISSANCE FLORENCE TOUR PRICES:


For 1-4 people from Rome Hotel: 680 Euros
For 5-6 people from Rome Hotel: 740 Euros
For 7-8 people from Rome Hotel: 780 Euros
For 1-4 people from Livorno Port: 800 Euros
For 5-6 people from Livorno Port: 880 Euros
For 7-8 people from Livorno Port: 980 Euros
For 1-4 people from La Spezia Port: 800 Euros
For 5-6 people from La Spezia Port: 900 Euros
For 7-8 people from La Spezia Port: 1,000 Euros
Our Day Tour from Rome, and Shore Excursion from Livorno and/or La Spezia Ports to Renaissance Florence takes you on a lovely journey filled with breath taking art, architectural beauty, and Tuscan charm.
A pleasant relaxing drive through the breathtaking region of Tuscany will take you to Florence, the birthplace of the Renaissance as well as many influential figures like the Medici family, Dante, Cimabue, Donatello, Brunelleschi, and the home of Michelangelo and Leondardo da Vinci.
Whether you are fascinated by Italy's Renaissance history, art, architecture...or prefer to stroll through its fascinating piazzas and shop for Italy's finest leather goods, gold jewelry and designer labels, Florence has something special to offer all its visitors.
Once you arrive in Florence you will be greeted by an unforgettable vista of the city and its famous Ponte Vecchio and Arno River from Piazzale Michelangelo. This is one of the most picturesque spots in Florence, so don't forget to bring your camera!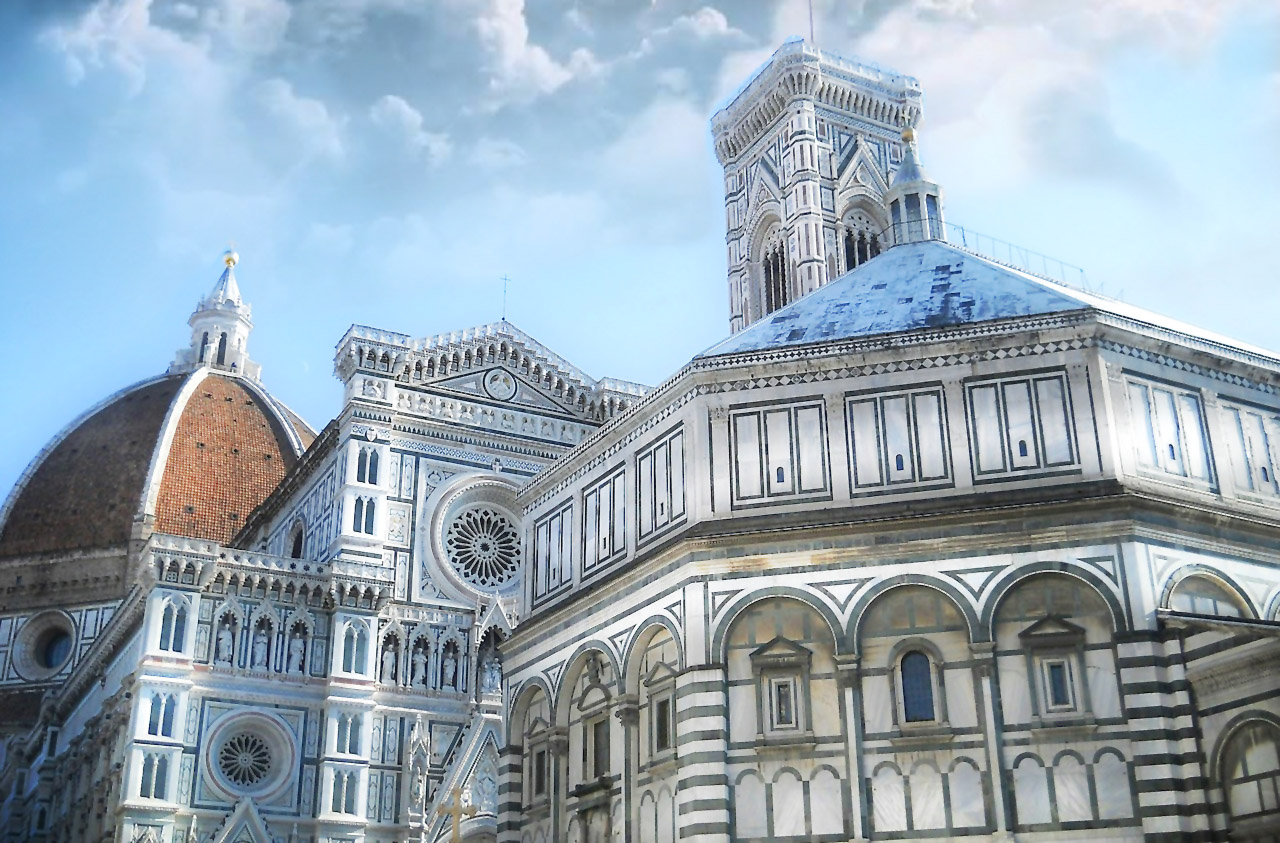 From here you will visit the Cathedral of Florence, also known as the Basilica di Santa Maria dei Fiori.
Centuries in the making, it begun in 1296, was consecrated in 1436, but it took until the 19the century for it to look like it does today with the stunning green, pink and white marble facade.
The Piazza of the Duomo also includes Giotto's bell tower and the Baptistry with its famous door by Ghiberti that was considered by Michelangelo to be the "gates of paradise".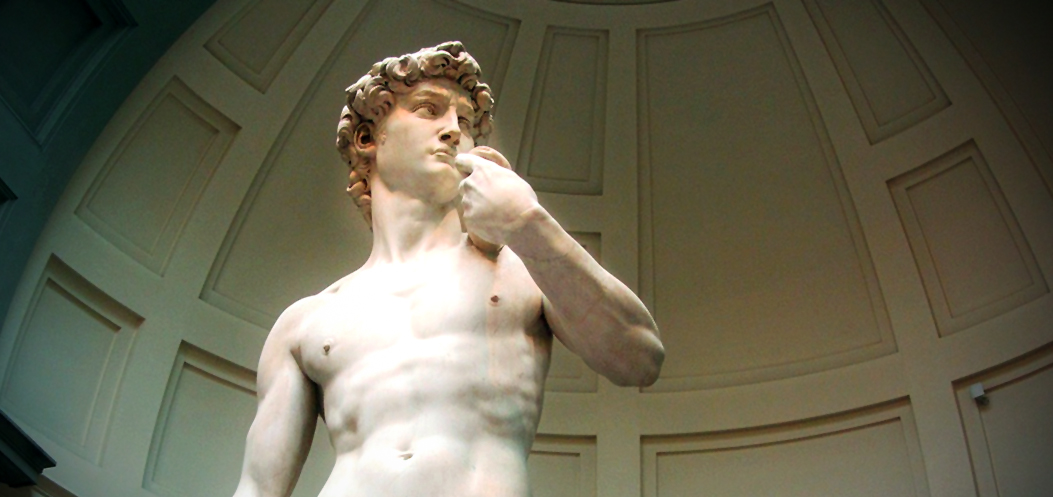 At this time you will have the opportunity to visit the famous Accademia Gallery museum that features the famous statue of David by Michelangelo along with other remarkable masterpieces by renown artists.
Lunch will be enjoyed in Florence at a restaurant or trattoria of your preference. Your chauffeur will be happy to offer suggestions for lunch.
Next to the Uffizi Gallery is Piazza della Signoria, the most recognized piazza in Florence, with the replica of Michelangelo's iconic statue of David displayed prominently with Palazzo Vecchio behind it, and the Loggia dei Lanzi that's an open-air gallery of incredible sculptures.
Piazza della Signoria is lined with various restaurants that offer a perfect setting for a traditional Italian lunch in Florence.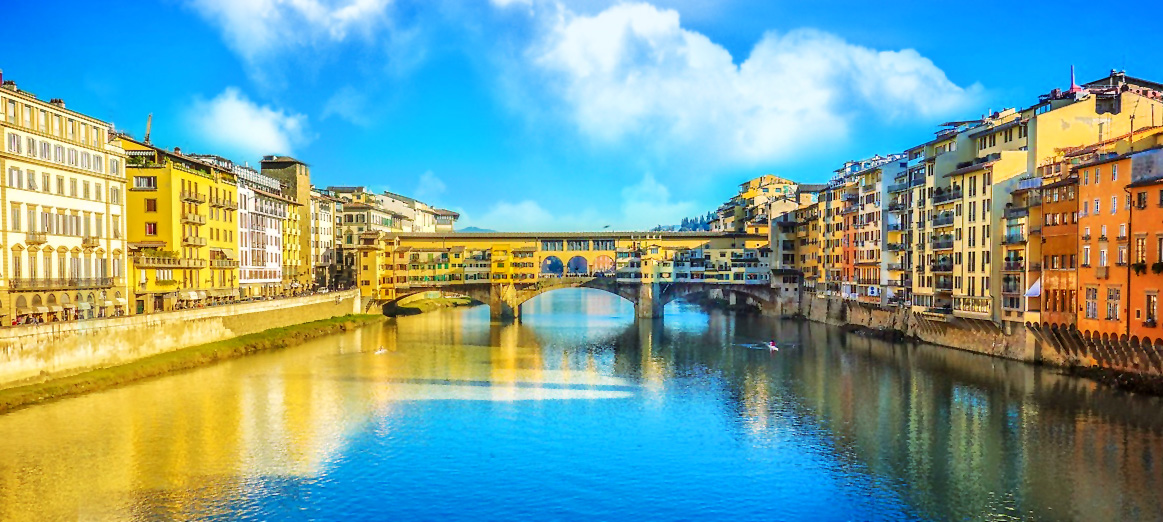 Nearby you'll discover the most famous and picturesque bridge in Italy: Ponte Vecchio (the Old Bridge).
Once an unappealing setting for malodorous butcher shops, the Medici family turned it over to Florentine goldsmiths adding a jewel box charm and prestige to this famous pedestrian bridge.
Florence is not only the birthplace and home of many Renaissance illustrious figures. You will soon discover the impressive Church of Santa Croce (Holy Cross) that is the burial place of many of them as well.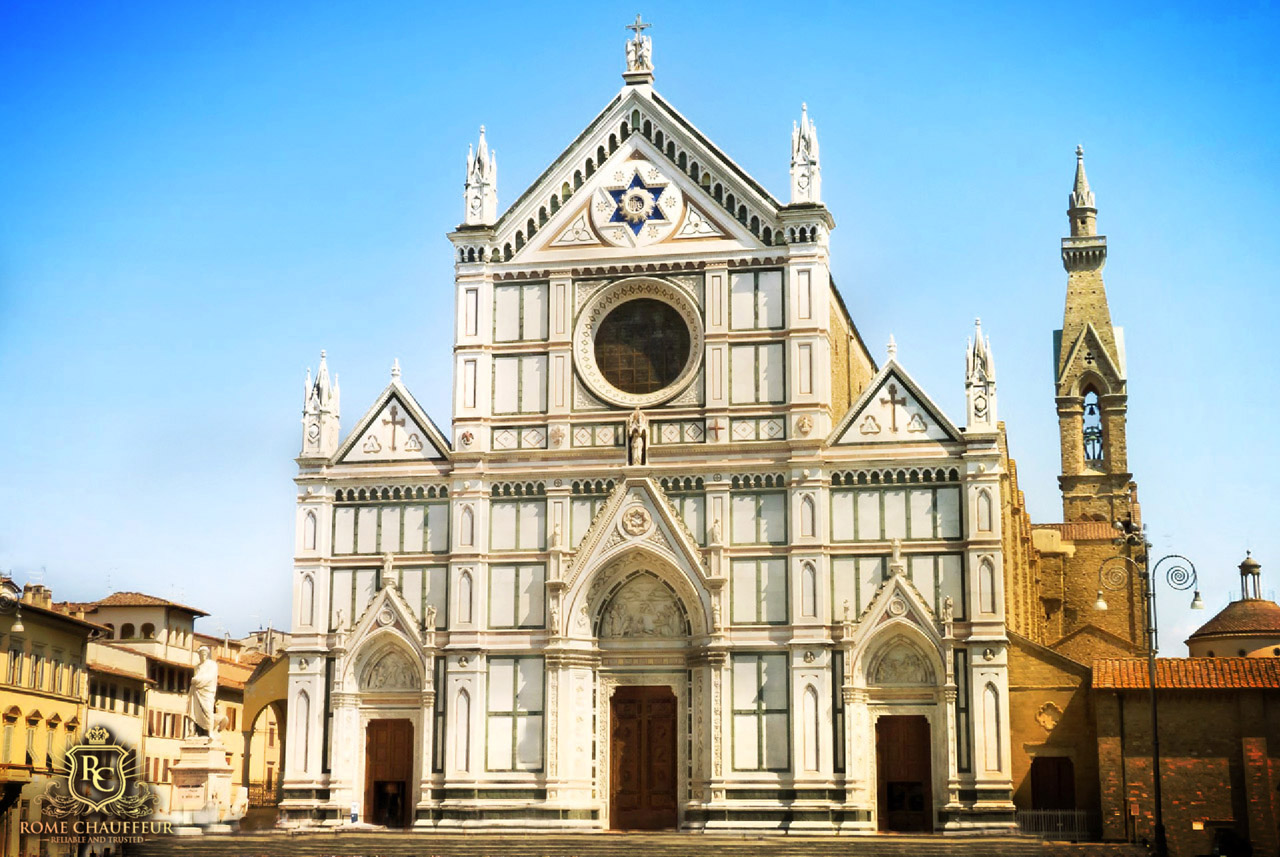 Also considered the Temple of the Italian Glories, the church houses funerary monuments dedicated to Michelangelo, Galileo, Machiavelli, Ghiberti (the artist who created the Gates of Paradise doors for the Baptistry) and Rossini to name a few. You'll also see the tomb of Dante, but he is actually buried in Ravenna.


From here you will enjoy a comfortable drive back to your cruise ship in Livorno or La Spezia, or your hotel accommodation in Rome.
Thank you for choosing Rome Chauffeur tour services. We look forward to meeting you and showing you Italy and to help you create special memories in Italy that you will treasure forever!
Important Information

* NOTE: Please READ carefully the Important Information below, as well as Read and Accept our TERMS OF SERVICE and Privacy Policy before booking.


PAYMENT FOR OUR FLORENCE TOUR / SHORE EXCURSION
The listed price of the tour is per vehicle, not per person. Rome Chauffeur accepts online prepayment via PayPal or Credit Card at the time of confirming your tour, or you may pay on the Date of Service in Euro funds at the end of the tour made directly to your Chauffeur. If at any time you need extra funds on the day of your tour, your chauffeur will be happy to help you locate an ATM machine.


CANCELLATION ADVISORY for Florence Tour

Cancellations must be made at least 3 days prior to your Date of Service. Prepaid services cancelled last minute less than 3 days or are No Show on the Date of Service are NOT Refundable.
Cancellations must be made in writing via E-Mail followed by an official cancellation confirmation E-Mail from our office in order for your cancellation to be valid. Cancellations are NOT accepted by Phone, Text, Or through 3rd Party individuals such as hotel clerks, friends, or concierge services.
* CANCELLATION FOR PREPAID SERVICES: Only NET RATE will be issued on prepaid services. Net Rate is what we receive from your prepayment after PayPal / CC takes out their fees which they don't reimburse us in case of refunds. Therefore, we are only able to refund what we receive from you after PayPal/ CC takes out their fees.
FLORENCE FROM ROME TOUR - starting from your Rome hotel
Your professional English speaking Tour Chauffeur will meet you at your hotel or accommodation at 8:00 AM and bring you back by approximately 6:00 PM.
For Day Tour starting from Rome, a valid and complete Hotel or Accommodation address is required in order to book this tour.


FLORENCE SHORE EXCURSIONS
* Florence Shore Excursions from Livorno Cruise Port:
Your professional English-speaking Tour Chauffeur will meet you on the pier next to your ship holding a sign with your name at 8:00 AM and will return you to the ship by approximately 5:00 PM.
* Florence Shore Excursions from La Spezia Cruise Port:
La Spezia Port does not permit access to vehicles inside the port. ALL cruisers are obliged to make use of the Port Shuttle to exit the Port. Your Chauffeur will meet you at the "Bus Stop" outside the port gates, holding a sign with the name in the booking.
FLORENCE MUSEUM INFORMATION and PRE-PURCHASING TICKETS
We suggest visiting the famous Accademia Gallery if you prefer to have more time to visit sites in Florence as the Accademia is a shorter museum visit.
Please book your Accademia Gallery Museum Tickets in advance for the 11:30 AM time slot at the link below, and be sure to bring your Ticket Vouchers with you on the Tour as they will be required: FLORENCE MUSEUM TICKETS
Academia Museum (as are most museums in Italy) are closed on Mondays, January 1, May 1, and December 25.
It is also NOT possible to visit the Museums on the 1st Sunday of Every Month as these are "Free Museum Days" with no possibility for Skip The Line tickets and wait times are very long.
If your tour falls on days of closure or on "Free Sunday", the museum visit will be replaced with different sites in Florence according to your interests and desires.
* You may substitute a visit to the Uffizi Gallery with Accademia Gallery (and shorten your sightseeing time at other locations), but due to time restrictions, it's not possible to visit both on the same day.


** Admission Tickets to Santa Croce Basilica: Tickets to visit this remarkable church are approximately 5 Euros per person and can be purchased on arrival.
YOUR FLORENCE TOUR CHAUFFEUR
This tour provides an English-speaking Chauffeur who is not a licensed Tour Guide. In Italy only locally licensed tour guides have permission to guide and accompany guests to sightsee. In order to comply with the laws, Chauffeurs are obliged to remain with the vehicle while you sightsee.


PRIVATE SHORE EXCURSIONS MONEY-SAVING TIP:
HOW TO SAVE ON SHORE EXCURSIONS: Join thousands of satisfied cruisers who shared their private shore excursions with fellow cruisers from their ship. Simply place an ad on Cruise Critic Roll Call for your cruise ship and chosen date of the service. Make new friends and share your tour and fun with other like-minded fellow cruisers!