description

ETRUSCAN WONDERS TOUR PRICES


For up to 4 people from Rome: 450 EUROS
For up to 6 people from Rome: 500 EUROS
For up to 8 people from Rome: 550 EUROS

For up to 4 people from Civitavecchia: 550 EUROS
For up to 6 people from Civitavecchia: 600 EUROS
For up to 8 people from Civitavecchia: 650 EUROS
Before Rome became a Republic and then the Roman Empire, it was a small city state ruled by seven legendary kings, the last three being Etruscan and ending with Tarquin the Proud - the final Etruscan king who was expelled in 509 BC.
For about 5 centuries central Italy was known as Etruria, and it was ruled by the ancient civilization called the Etruscans. Where they came from nobody knows with absolute certainty, much of their language and history is still a mystery, but their technical and cultural advancements continue to inspire awe to this day.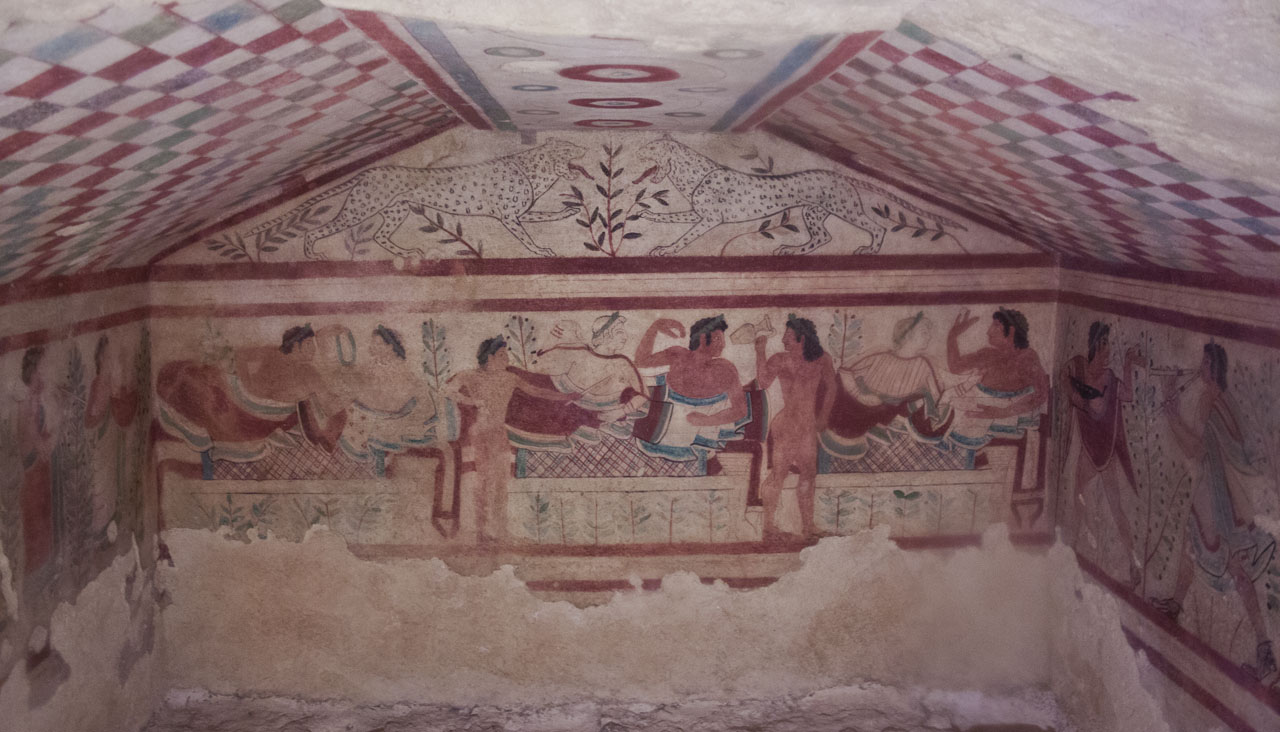 On this Etruscan Wonders tour you have the opportunity to explore one of the most unique tombs in the world, the painted tombs of the Monterozzi Necropolis in Tarquinia, followed by a visit to the nearby museum to see the many artifacts that were discovered in these tombs.
Lunch and a visit to the lovely town of Tuscania that was once an Etruscan settlement, and renowned for its picturesque valley, medieval structures, excellent local cuisine, and serene atmosphere.


MONTEROZZI ETRUSCAN NECROPOLIS IN TARQUINIA


This Etruscan necropolis contains about 6,000 tombs from as far back as 7th century BC, and about 200 tombs were originally decorated with beautiful frescoes, a vibrant pictorial depiction of the life of these ancient Etruscans. Today, about a dozen of these remarkable tombs are open at a time in effort to preserve them.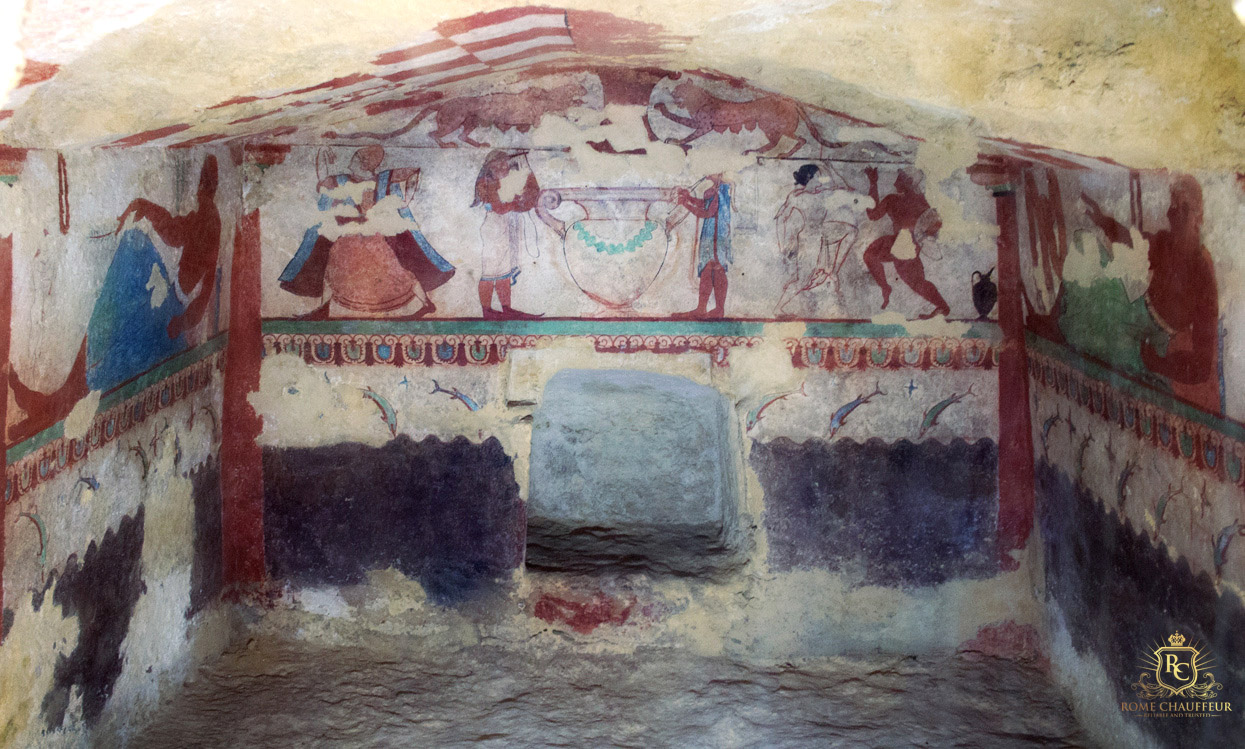 As you descend a flight of stairs to each underground tomb, you will step back in time and into the extraordinary world of the ancient Etruscans as they reveal through their paintings their daily life activities, special ceremonies, banquets, mythologies, and artistic abilities.
There are no other tombs like these in the world, and it's no wonder the Monterozzi Necropolis has been declared a UNESCO World Heritage Site.
The nearby National Museum in Tarquinia houses a wonderful collection of precious artifacts that were excavated from the Monterozzi necropolis, giving you a more complete understanding of this formidable ancient civilization.


TUSCANIA

Your Etruscan Tour continues with a relaxing drive across ancient "Etruria" to your next destination, Tuscania.
Although evidence of humans living in this area dates back to the Neolithic era, legends surrounding Tuscania's origin are quite fascinating. One legend attributes Tuscania's foundation to the son of Aeneas, a Trojan hero of Greco-Roman mythology.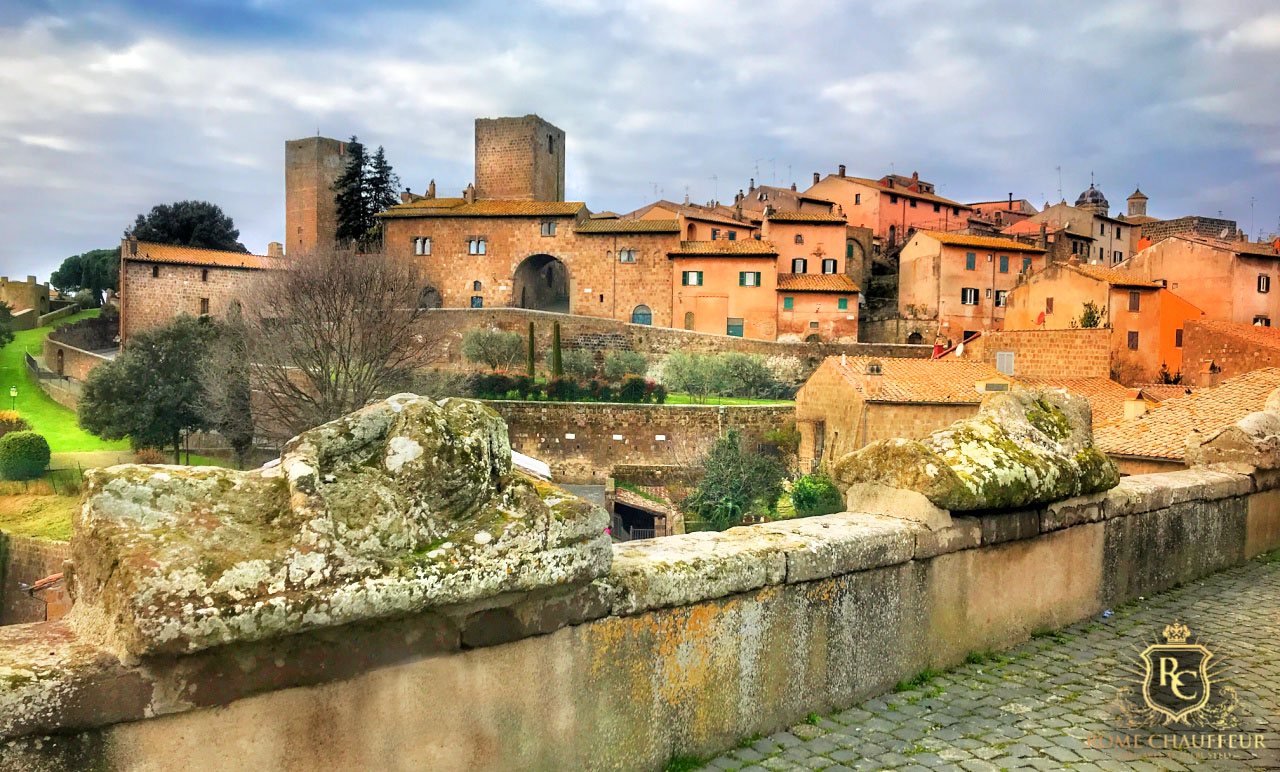 Another legend tell us that Tuscania was founded by Tusco, the son of Hercules and Araxes.
No matter who founded Tuscania, by 7th -6th century BC, it played a significant rome in ancient Etruria as it became a center for maritime trade.
The Tuscania we see today is the product of the medieval era with fortified walls and towers, but its deep Etruscan roots are evident in the many ancient necropolis and artifacts have also been discovered here.
The monument church of Saint Peter is worth a visit. It dates back to 8th century AD, with renovations taken place in 11th-12 centuries.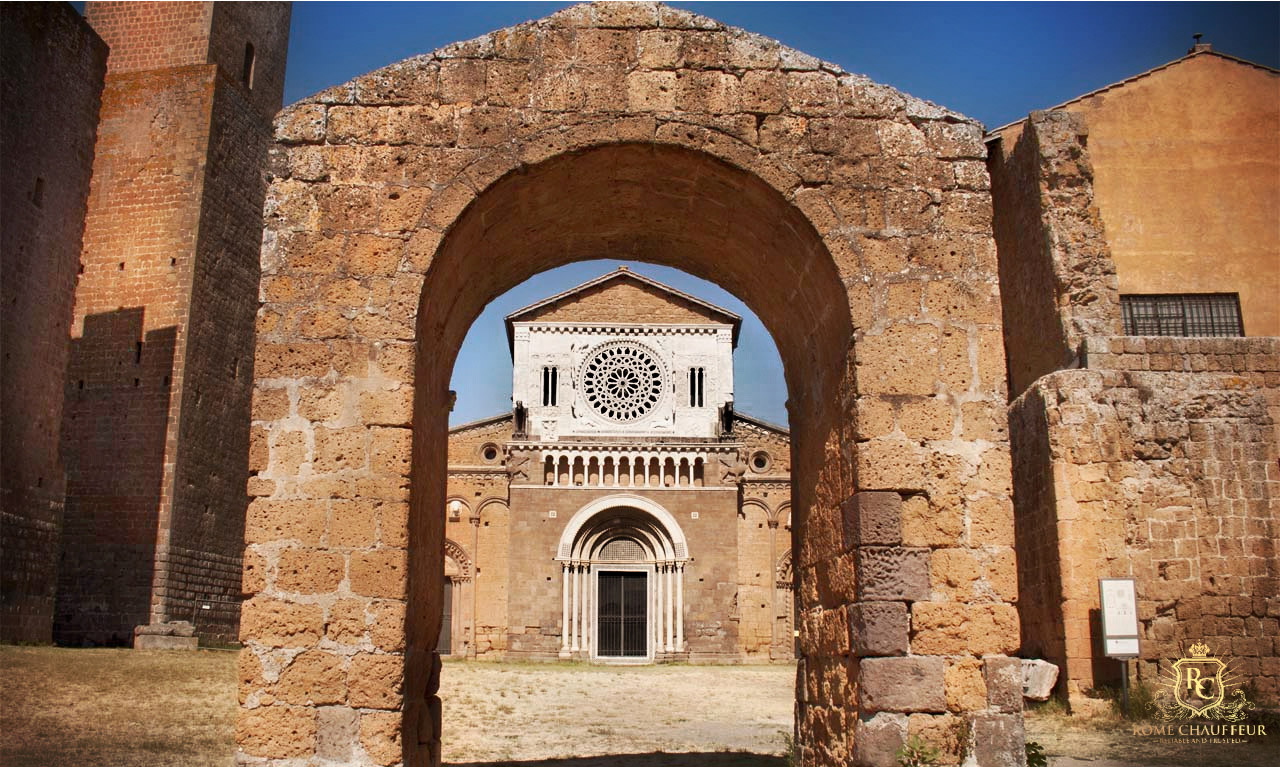 Not to be missed is Parco Torre di Lavello with a breathtaking panoramic belvedere of the majestic Italian countryside landscape that inspired poets and artists for centuries.
From here you will enjoy a relaxing drive through the ancient lands of the Etruscans back to your accommodation in Rome or cruise ship in Civitavecchia.
Thank you for your interest in our Etruscan Tour. We look forward to helping you create an unforgettable holiday in Italy!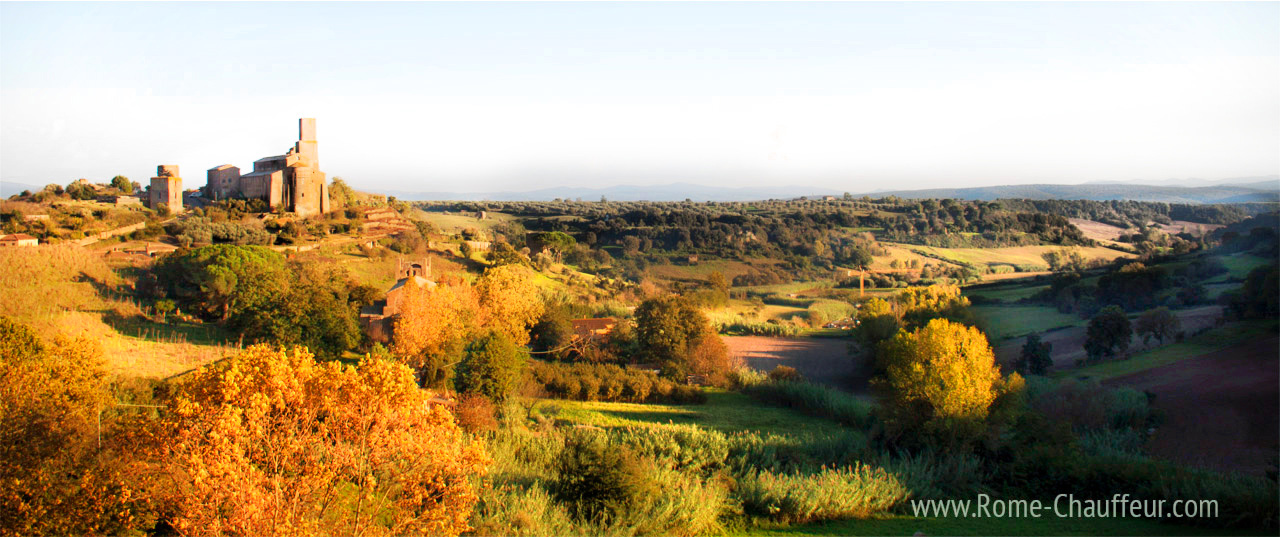 Important Information

* NOTE: Please READ carefully the Important Information below, as well as Read and Accept our TERMS OF SERVICE and Privacy Policy before booking.


PAYMENT FOR YOUR ETRUSCAN WONDERS TOUR
The listed price of the tour is per vehicle, not per person. Rome Chauffeur accepts online prepayment via PayPal or Credit Card at the time you confirm your tour, or you may pay on the Date of Service in Euro funds at the end of the tour made directly to your Chauffeur. If at any time you need extra funds on the day of your tour, your chauffeur will be happy to help you locate an ATM machine.


CANCELLATION ADVISORY FOR TOURS
Cancellations must be made at least 3 days prior to your Date of Service. Prepaid services canceled last minute less than 3 days or are No Show on the Date of Service are NOT Refundable.
Cancellations must be made in writing via E-Mail followed by an official cancellation confirmation E-Mail from our office in order for your cancellation to be valid. Cancellations are NOT accepted by Phone, Text, Or through 3rd Party individuals such as hotel clerks, friends, or concierge services.
* CANCELLATION FOR PREPAID SERVICES: Only NET RATE will be issued on prepaid services. Net Rate is what we receive from your prepayment after PayPal / CC takes out their fees which they don't reimburse us in case of refunds. Therefore, we are only able to refund what we receive from you after PayPal/ CC takes out their fees.


DAY TOUR from your Rome hotel
Your professional English-speaking Tour Chauffeur will meet you at your hotel or accommodation at 8:00 AM and bring you back by approximately 5:00 PM.
For Day Tour starting from Rome, a valid and complete Hotel or Accommodation address is required in order to book this tour.


SHORE EXCURSION from Civitavecchia Cruise Port:
Your professional English-speaking Tour Chauffeur will meet you on the Civitavecchia pier next to your ship holding a sign with your name at 8:30 AM and will return you to the ship by approximately 5:00 PM.
HOW TO SAVE on Shore Excursions and Post Cruise tours:
Would you like to SAVE on your tour by sharing it with fellow cruisers from your cruise ship? Simply place an ad on Cruise Critic for your cruise and chosen date of the service. Join thousands of crusiers who made new friends and shared their tour and fun with other like minded cruisers.


ADMISSION TICKETS
The current price of entry tickets to Tarquinia Monterozzi Necropolis and Museum is approximately 8 Euros per person. Tickets are purchased on site upon arrival. Ticket prices are subject to change without notice.

YOUR TOUR CHAUFFEUR
On this tour you are provided with an English speaking Chauffeur who is not a licensed Tour Guide. Only locally licensed tour guides can guide and accompany guests to sightsee. In order to be in compliance with Italian laws, Chauffeurs are required to remain with the vehicle while you sightsee.


PRIVATE GUIDED TOUR OF TARQUINIA NECROPOLIS
This is a self touring tour. However, if you wish to book a private guide for your Tarquinia necropolis visit please inquire within for a price quote and reservation.
TIPS FOR VISITING THE ETRUSCAN NECROPOLIS IN TARQUINIA


* Wear comfortable shoes and clothing as there will be quite a bit of walking on this tour.
* Each painted tomb is underground that requires climbing down a flight of metal stairs. This tour may not be suitable for guests with mobility issues, or for guests unable to climb multiple stairs to view the tombs. Please evaluate your personal level of ability and stamina for this tour.