description
On our Castles and Vines Tuscany Wine Tour from Rome, toast the day with a glass of the local red nectar and delight in the symphony of scents and flavors of Vino Nobile di Montepulciano and Brunello di Montalcino, two of Tuscany's most celebrated wines made with local Sangiovese grapes, the Tuscan grape varietal par excellence. With every sip, these elegant wines tell a story.

Journey through Tuscany's dreamy landscapes of undulating hills studded with medieval villages, vast pastoral valleys, and endless vineyards. Relish the local flavors and meander through historical hilltop towns like Montepulciano and Montalcino filled with grand palazzi, spacious squares, and formidable fortresses, soaking in the unrivaled Tuscan atmosphere. Delight in a visit to the enchanting Castello Banfi wine resort with wine-tasting opportunities at the elegant Enoteca (wine shop) adjacent to the castle.
Castles & Vine Tuscany Wine Tour from Rome prices:


Minimum 2 participants from Rome: 590 Euros
For 3- 4 participants from Rome: 650 Euros
For 5-6 participants from Rome: 700 Euros
For 7-8 participants from Rome: 750 Euros


* ADDITIONAL Wine Tasting Fees not included in our prices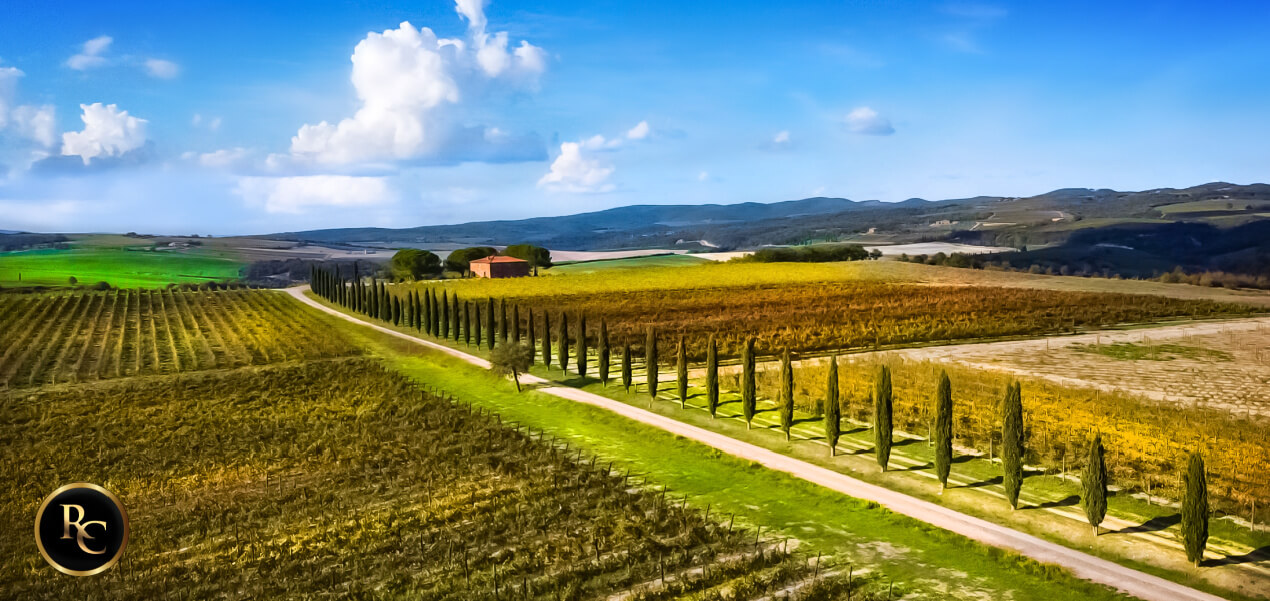 Your personal English-speaking Rome Chauffeur will pick you up at your hotel in your private climate-controlled deluxe vehicle. Your Castles and Vines Tuscany Wine Tour begins with a leisurely drive traversing the Roman countryside into southern Tuscany as you make your way to Montepulciano, the splendid Tuscan hilltop town overlooking the picturesque Val di Chiana valley.

Montepulciano offers visitors exciting opportunities to admire its grand palazzi, magnificent architecture, spacious square, and formidable fortress. You will enjoy free time to shop at local artisan shops, and wine lovers can sample a variety of wines at in-town wine shops owned by local wine producers.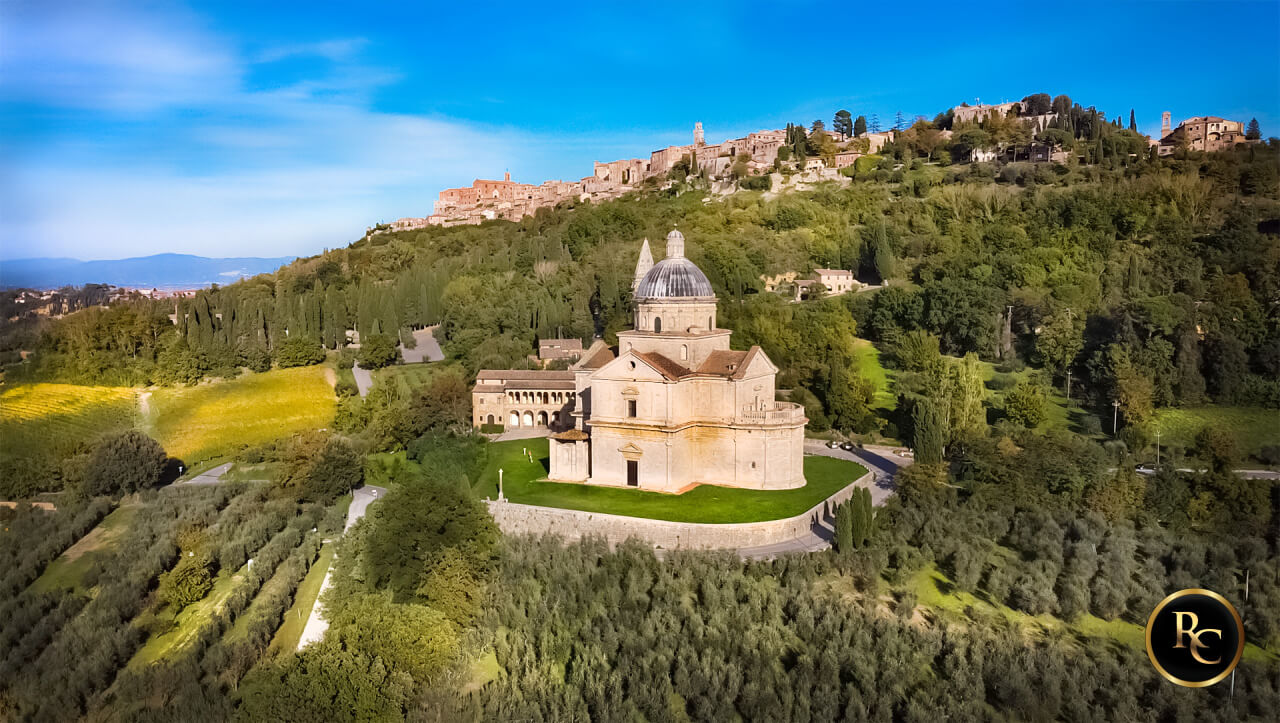 Wine connoisseurs have exalted Montepulciano as "King of All Wines", appreciated worldwide for its elegant full-bodied red Vino Nobile di Montepulciano (Noble wine of Montepulciano). Rosso di Montepulciano (Montepulciano Red) is the junior appellation associated with the Vino Nobile, and it is a younger, fresher, and fruitier wine.
From Montepulciano, you will journey through the Tuscan countryside to your next destination: Montalcino, another charming historical hilltop town with spellbinding views of the picturesque Val d'Orcia landscape.

You will appreciate free time to explore Montalcino's historic streets filled with artisan shops, restaurants, cafes, and wine shops (enoteche). Behold the formidable medieval fortress on top of the town. For lunch, choose a preferred restaurant and feast on tasty traditional Tuscan dishes.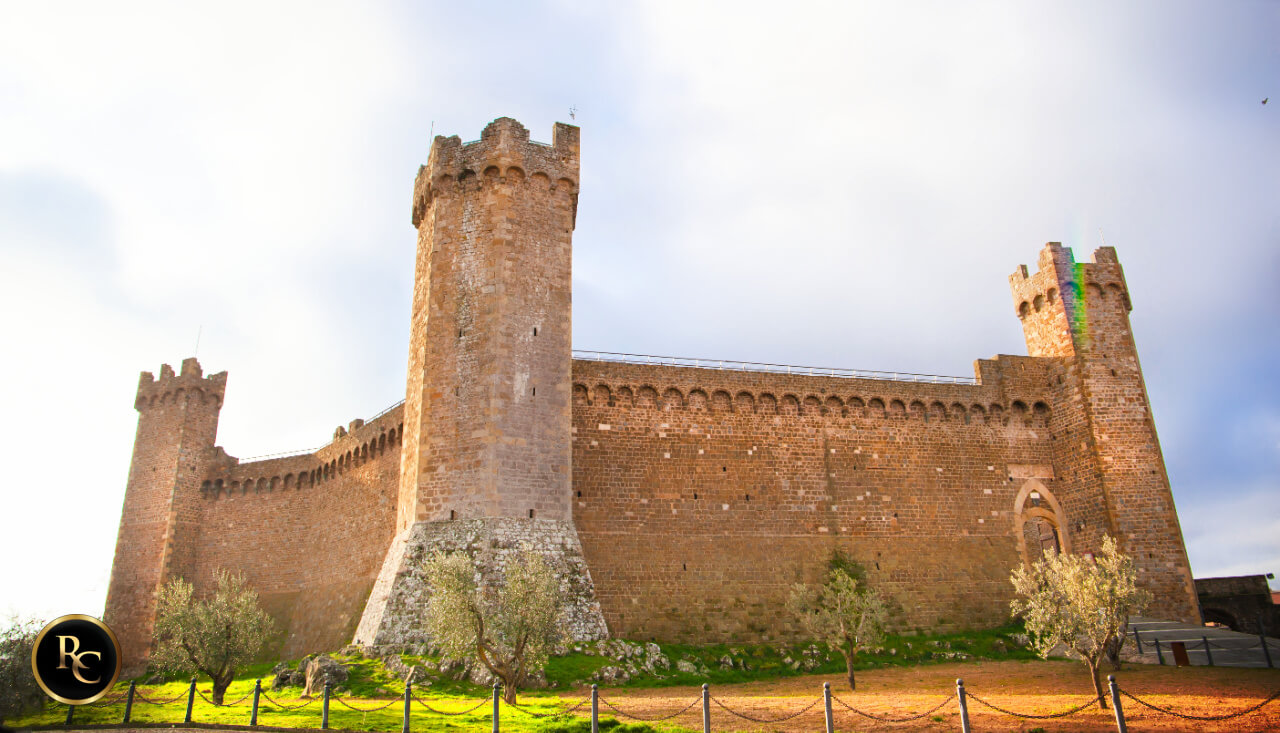 Local wine shops in Montalcino offer wine tastings and opportunities to purchase a variety of local wines as well. You will be surprised to discover a well-stocked wine shop with wine-tasting opportunities right inside the fortress.

Brunello di Montalcino wine is a classic ruby red deeply rooted in local tradition. Intense, complex, structured, and long-lasting, Brunello is one of Tuscany's most graceful red wines produced by local Montalcino winemakers whose endless rows of vineyards thrive in this enchanting wine country.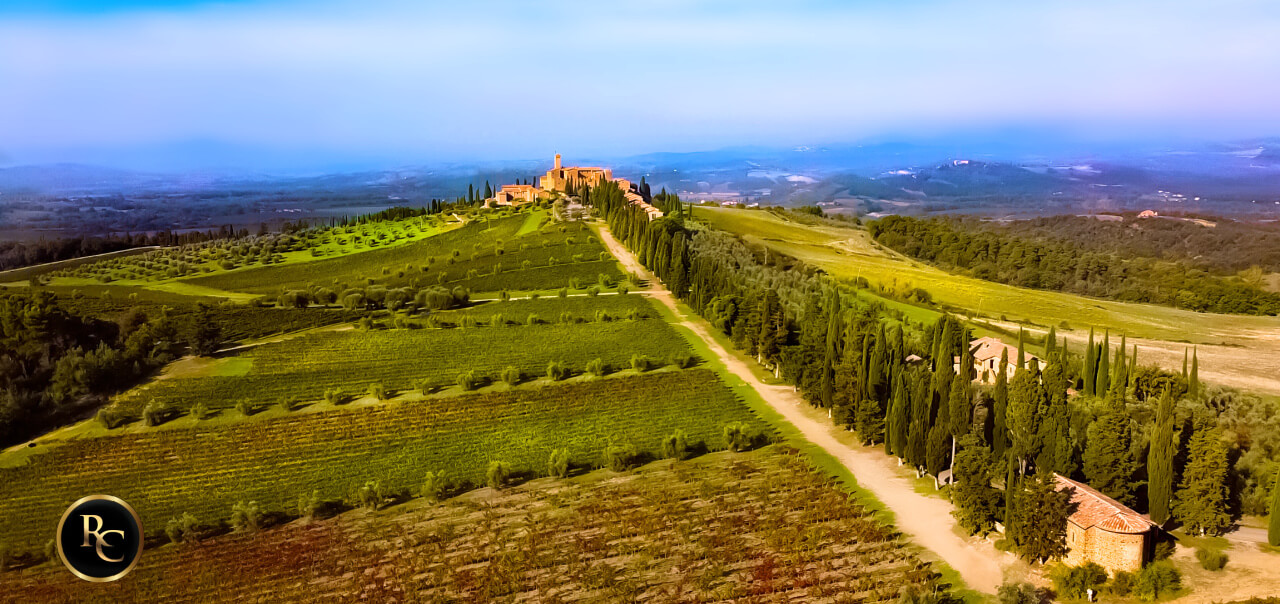 Following your visit in Montalcino, your private chauffeur will take you on a scenic drive through the Tuscan wine country to the Castello Banfi wine resort, a fairytale castle surrounded by a Tuscan oasis of endless vineyards and olive groves. Delve into the extensive history of glass from ancient Rome to modern eras in the Bottle and Glass Museum inside the castle.

Adjacent to the castle in the beautifully restored medieval stone hamlet, you will visit the castle's elegant Enoteca (wine shop) and sample the estate's prestigious still and sparking wines, spirits, and extra virgin olive oil. A convenient wine bar menu offers different tasting options and prices. The Enoteca's shelves are beautifully stocked with fine wines, artisan delicacies, and crafts to purchase for yourself or as perfect gifts for loved ones back home.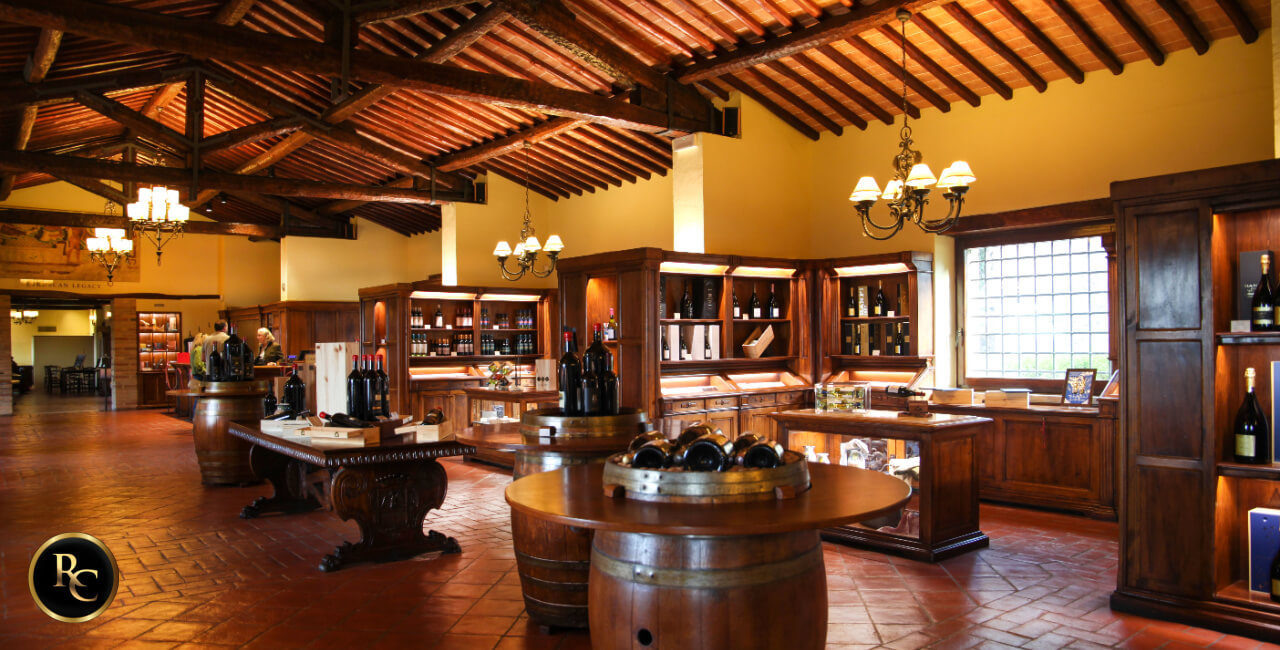 Following your visit to Castello Banfi wine resort and wine-tasting experience at the castle's Enoteca, you will join your chauffeur on a journey through the enchanting Tuscan landscapes towards Rome to your hotel.
We are grateful for your interest in our Castles & Vines Tuscany Wine Tour from Rome and for choosing Rome Chauffeur for your wine tours in Italy. We look forward to seeing you in Italy!
Important Information
* NOTE: Please READ carefully the Important Information below, as well as Read and Accept our TERMS OF SERVICE and Privacy Policy before booking.

The listed price of the tour is per vehicle, not per person. Rome Chauffeur accepts online prepayment via PayPal or Credit Card at the time you confirm your tour, or you may pay on the Date of Service in Euro funds at the end of the tour made directly to your Chauffeur. If at any time you need extra funds on the day of your tour, your chauffeur will be happy to help you locate an ATM machine.

Cancellations must be made at least 7 days prior to your Date of Service. Prepaid services canceled last minute less than 7 days or are No Show on the Date of Service are NOT Refundable.
Cancellations must be made in writing via E-Mail followed by an official cancellation confirmation E-Mail from our office in order for your cancellation to be valid. Cancellations are NOT accepted by Phone, Text, Or through 3rd Party individuals such as hotel clerks, friends, or concierge services.
* CANCELLATION FOR PREPAID SERVICES: Only NET RATE will be issued on prepaid services. Net Rate is what we receive from your prepayment after PayPal / CC takes out their fees which they don't reimburse us in case of refunds. Therefore, we are only able to refund what we receive from you after PayPal/ CC takes out their fees.
TUSCANY WINE TASTING FEES


Wine tasting fees at Wine Shops in Montepulciano, Montalcino, and at the Castello Banfi Enoteca vary depending on the wine shops you visit. The Enoteca at Castello Banfi wine resort offers a wine bar menu with prices.
This Castles & Vines Tuscany Wine tour does NOT include winery tours or winery visits. Wine-tasting opportunities are possible at wine shops in the towns of Montepulciano and Montalcino, and at the Castello Banfi Enoteca.
Please sample wine responsibly, and not on an empty stomach.
YOUR TOUR CHAUFFEUR
On this tour, you are provided with an English-speaking Chauffeur who is not a licensed Tour Guide or sommelier. Only locally licensed tour guides can guide and accompany guests to sightsee. In order to be in compliance with Italian laws, Chauffeurs are required to remain with the vehicle while you sightsee.
Local wine shops have experts about local wines who can provide in-depth information about regional wines.
Castles & Vines Tuscany Wine Tour Tips:


Comfortable clothes and walking shoes are recommended on this tour.
Bring a camera with you as you will be visiting beautiful places in Tuscany
Please sample wine responsibly, and never on an empty stomach.