description

ASSISI DAY TOUR FROM ROME PRICES

For up to 3 participants from Rome: 450 Euros
For up to 4 participants from Rome: 500 Euros
For up to 6 participants from Rome: 550 Euros
For up to 8 participants from Rome: 600 Euros
Assisi... In the Footsteps of of the Saints
Assisi is famously associated with Saint Francis and Saint Clare (the founders of the Franciscan order and the Order of the Poor Clares), who lived in this captivating medieval town that rests peacefully on the serene slopes of Mount Subasio, overlooking the breathtaking vistas of the Umbrian countryside.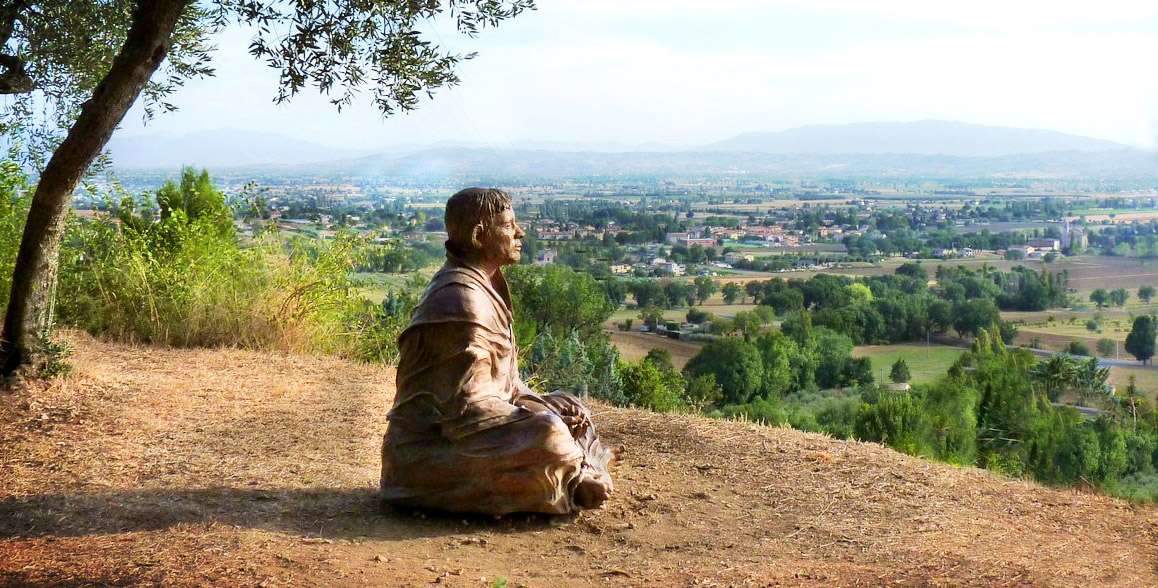 You will be awe-inspired by the perfectly preserved town primarily built with pale pink and grey stones quarried nearby, its imposing basilicas that house the tombs of the saints, and the ruins of the imperial fortress that crowns Assisi.
Rome Chauffeur will take you on a splendid journey to Assisi and Santa Maria degli Angeli to walk in the footsteps of the saints.

Santa Maria degli Angeli
At the foot of the hill upon which Assisi rests, is the town of Santa Maria degli Angeli with the basilica by the same name (Saint Mary of the Angels) that houses the famous Porziuncula.
Translating to "small portion of land", the Porziuncola is a tiny ancient stone chapel that was given to Saint Francis in 1211 and it has been the most sacred place for the Franciscans as this is also the place where Saint Francis died on October 3, 1226.

Basilica of Saint Francis / San Francesco Basilica
The massive Basilica of Saint Francis is composed of 2 levels: the Upper Basilica and the Lower Basilica.




Construction began immediately after St Francis was canonized in 1228, and it features the well recognized frescoes by the famous medieval artists Giotto and Cimabue.
Beneath the Lower Basilica, you can visit the tomb of Saint Francis.

Piazza del Commune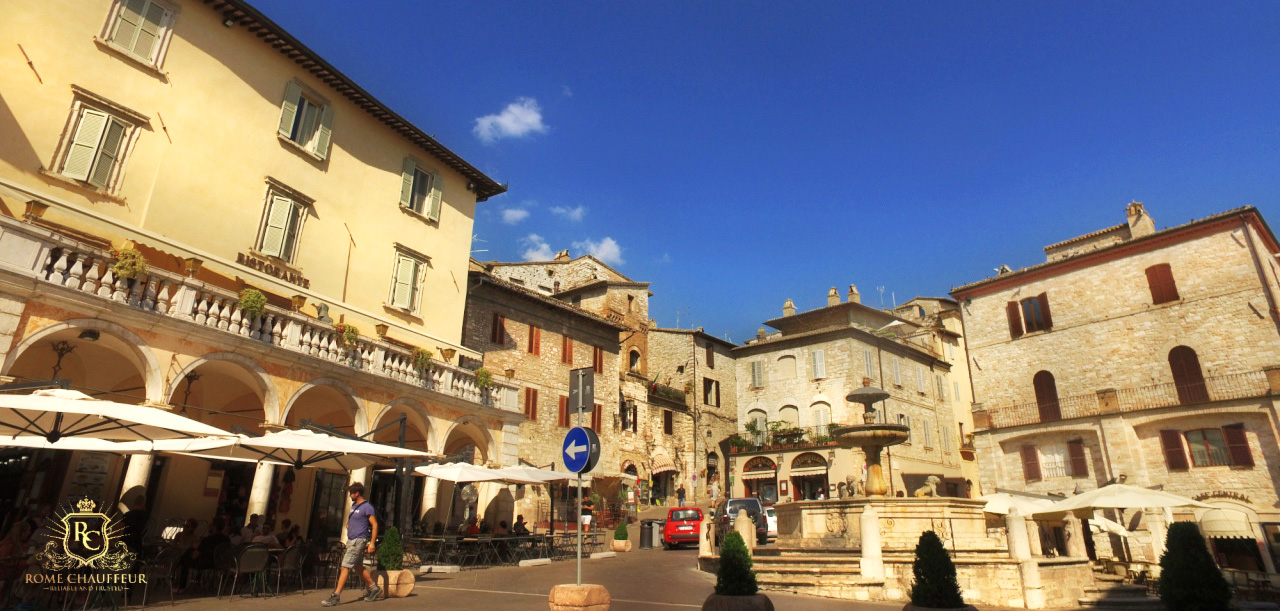 Previously an ancient Roman forum, this popular square situated in the center of Assisi is the town's nucleus, and it's surrounded by excellent restaurants, cafes, shops that sell local products, boutique markets, and more, making it an ideal place to enjoy a stroll, shopping, and some sightseeing.


LUNCH:
You will have the opportunity to enjoy delicious local cuisines in Assisi at a restaurant or eatery of your choice. The food is excellent in Assisi as the Umbrians take great pride in their culinary traditions.


Santa Maria Sopra Minerva Church / Temple of Minerva
Right on Piazza del Commune you will see the visible remains of the ancient Roman pagan Temple of goddess Minerva.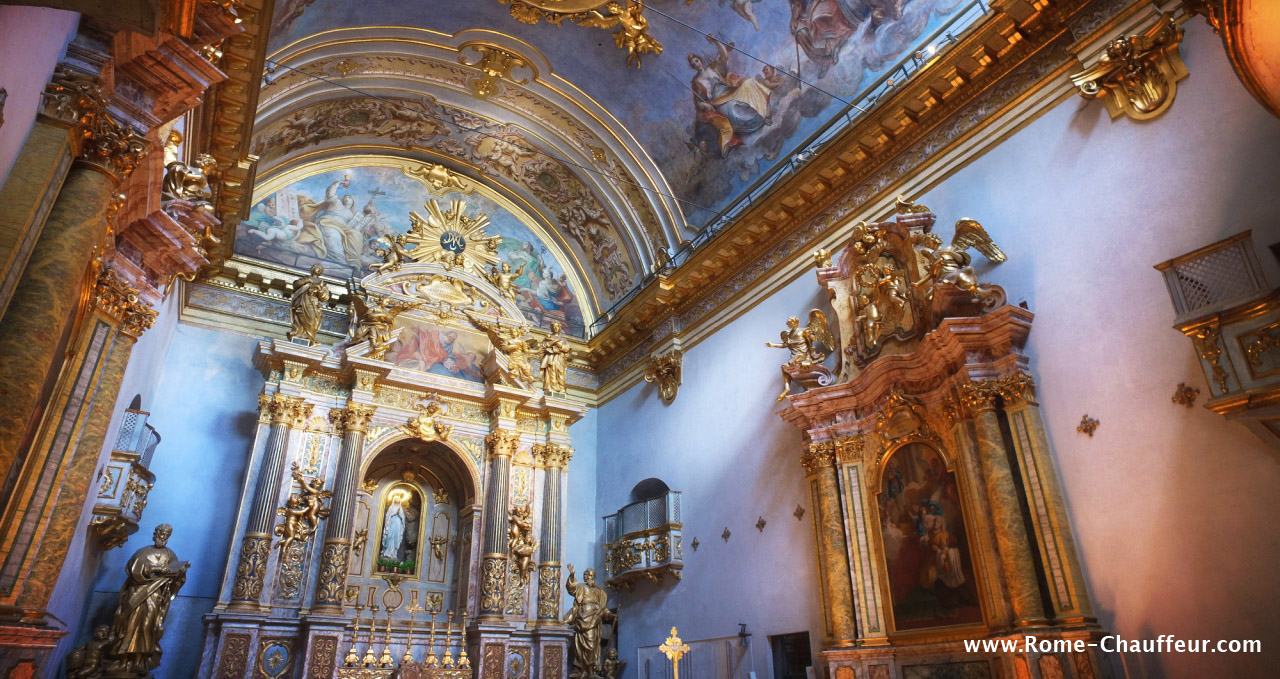 In the 1500's the structure was transformed into the church of Santa Maria Sopra Minerva. In the 17th century the church was further renovated in the richly ornate Baroque style that resembles a "jewel box".


Basilica of Santa Chiara (Saint Clare)
This 13th century basilica dedicated to Saint Claire features enormous lateral buttresses on the outside, and simple Gothic interior.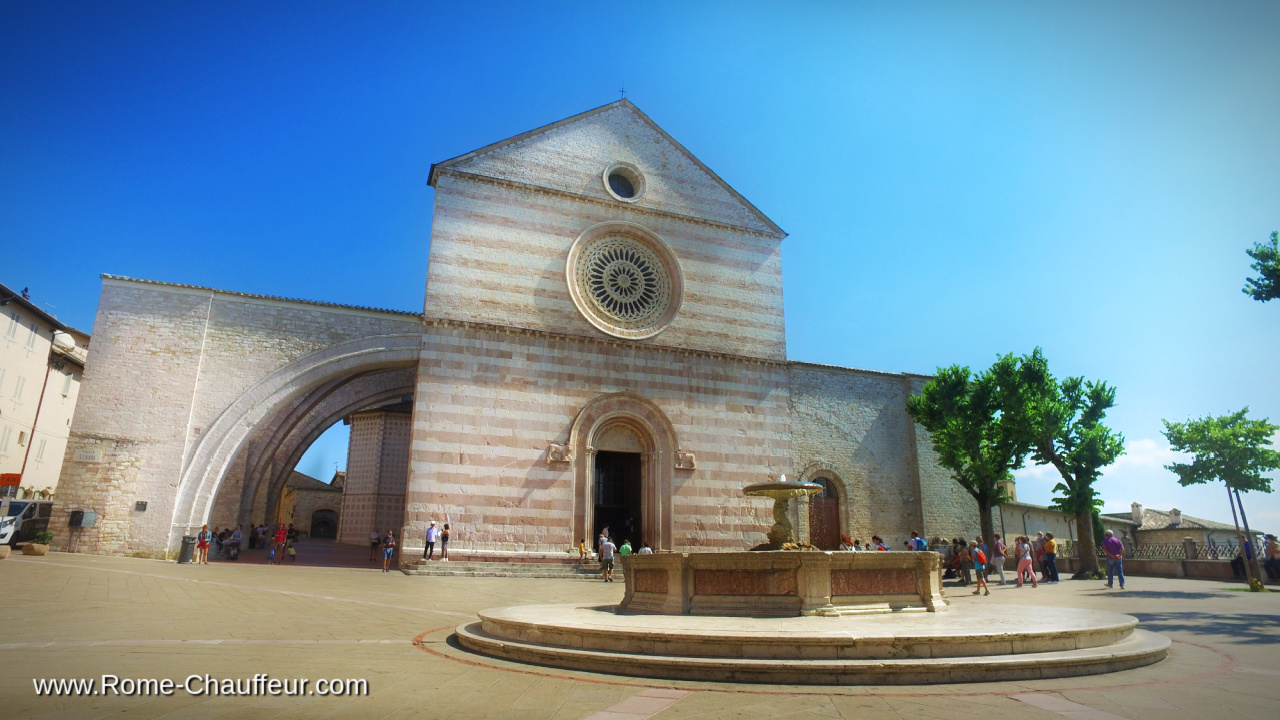 Below, you can visit the tomb of Saint Claire. Inside the Chapel of the Crucifix, hangs the cherished "San Damiano Cross", large wooden crucifix that is believed to have come alive and spoken to Saint Francis.
Outside, the outer side of the square in front of the basilica will reward you with a stunningly beautiful panorama of the Umbrian valley.

San Damiano Monastery
The distant history of this famous church and convent on the outskirts of Assisi, started with Saint Francis prior to his conversion.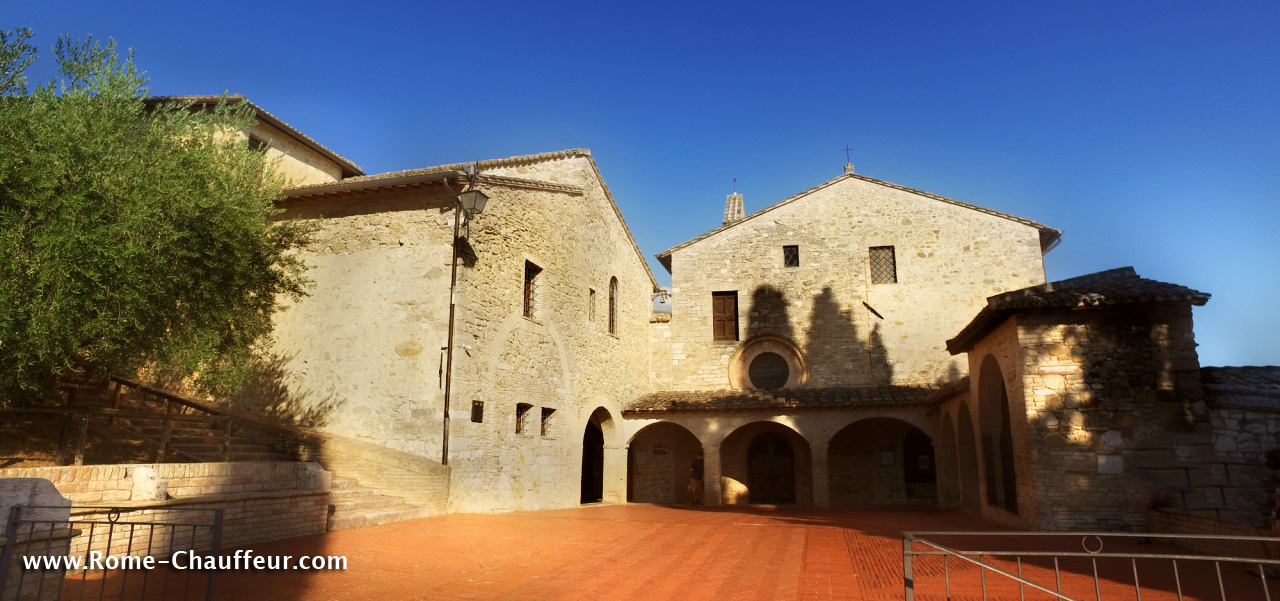 Tradition has that while praying in what used to be a run down Benedictine priory, young Francis had a divine encounter when the large painted crucifix spoke asking him to "Rebuild my church". In response, Francis set out to literally repair churches stone by stone.
This convent became a place of retreat for Francis and his followers (as well as the place where he composed the first draft of his famous Canticle of the Creatures), and later a convent for the Order of the Poor Clares founded by Saint Claire.
In August 1253, Saint Clair died here, and her body was transferred to the Basilica of Santa Chiara that was built in her honor.


At the end of your tour in Assisi, your Chauffeur will take you on a relaxing drive through Umbria and the Roman countryside as you return to your hotel accommodation in Rome.
We at Rome Chauffeur thank you for booking our tours, and we look forward to meeting you in Italy and to helping you create unforgettable memories!
Important Information

* NOTE: Please READ carefully the Important Information below, as well as Read and Accept our TERMS OF SERVICE and Privacy Policy before booking.

PAYMENT FOR ASSISI TOUR
The listed price of the tour is per vehicle, not per person. Rome Chauffeur accepts online prepayment via PayPal or Credit Card at the time you confirm your Assisi Tour, or you may pay on the Date of Service in Euro funds at the end of the tour made directly to your Chauffeur. If at any time you need extra funds on the day of your tour, your chauffeur will be happy to help you locate an ATM machine.

CANCELLATION ADVISORY FOR TOURS
Cancellations must be made at least 7 days prior to your Date of Service. Prepaid services canceled last minute less than 7 days or are No Show on the Date of Service are NOT Refundable.
Cancellations must be made in writing via E-Mail followed by an official cancellation confirmation E-Mail from our office in order for your cancellation to be valid. Cancellations are NOT accepted by Phone, Text, Or through 3rd Party individuals such as hotel clerks, friends, or concierge services.
* CANCELLATION FOR PREPAID SERVICES: Only NET RATE will be issued on prepaid services. Net Rate is what we receive from your prepayment after PayPal / CC takes out their fees which they don't reimburse us in case of refunds. Therefore, we are only able to refund what we receive from you after PayPal/ CC takes out their fees.
HOTEL PICK UP
Your English-speaking Rome Chauffeur will pick you up at your Rome hotel accommodation at 8:00 AM, and you will arrive back at approximately 5:00 PM.


Your Tour Chauffeur
Our chauffeured tours provide an English-speaking Chauffeur who is not a licensed Tour Guide. In Italy only locally licensed tour guides are lawfully permitted to guide and accompany guests to sightsee. In order to be in compliance with the law, Chauffeurs are obliged to remain with the vehicle while you sightsee.


PRIVATE LICENSED TOUR GUIDE IN ASSISI
If you wish to reserve a private tour guide for a walking tour in Assisi, please inquire within for a price quote and to place a reservation.


ASSISI TOUR TIPS:
Comfortable clothes and walking shoes are recommended on this tour.
Photographs are not permitted inside St Francis Basilica, St Claire Basilica and St Damian Monastery.
The town of Assisi is beautiful and do bring your camera for all the rest of the places you will enjoy during your Assisi visit